Even though Ryan Necci—the founding member, bandleader, and namesake of Ryan Necci And The Buffalo Gospel—now calls Tennessee home, we've continued keeping tabs on him since he left Milwaukee to start a career as a professional songwriter. Since relocating, Necci has been part of some exciting co-writes and has made the most of awesome opportunities in the Nashville music scene.
On Friday, November 25, Necci will return to his former hometown to join his Buffalo Gospel bandmates on stage at The Back Room @ Colectivo for their first public outing in Milwaukee since pre-pandemic times. Prior to next week's homecoming concert, Milwaukee Record caught up with Necci to ask him about his new EP's reception, special guests he has in store for this special show, what he misses about Milwaukee, and what's in store for him in 2023.
Milwaukee Record: Last time we chatted, you were releasing a music video and single for your then-forthcoming Battle Cry EP. Well, the EP is out now and you've played some shows in support of it. How has the reception been?
Ryan Necci: The reception has been really great. We approached these songs a little differently than past recordings since these were the first releases after I signed with BMG Music as an artist. They've been my publisher for a while now, and we've been just piling up songs. We all sat down for a little listening session and at the end everyone agreed some of these should probably see the light of day. BMG offered to help me make that happen. It was incredibly generous and speaks to the wonderful team they've built down here.
We had Haley [Rydell] and Kevin [Rowe] fly down to Nashville and we called a handful of heavy-hitting session players to round out the band. It's also the first time we've worked with a traditional producer, Bill McDermott. Bill's a great guy with a crazy good ear and a foot in the commercial country world, as well as the strange alternative-country that I love to make. He helped us create recordings that I think could live in both of those worlds pretty well, which is a tough needle to thread. All that said, it seems as though folks are really enjoying the new songs. We haven't had too many opportunities to play some of them live and songs have a real tendency to grow and shift the more we play them on stage, so I'm really looking forward to that.
MR: How does it feel to be coming back to play right after Thanksgiving? Other than the show itself, is there anything you're especially excited to do while you're back in town?
RN: Honestly, I'm really stoked to just wander around Milwaukee with my headphones in and see what's new. It's been quite a while since I've been back and had the time to do that. The city has changed so much since I lived there. I'm flying in a little early and I've got myself a room downtown so I can, hopefully, get some writing in and explore a bit.
MR: This won't just be a homecoming show for you. It also seems like it'll be a reunion of sorts between you and past collaborators. How did the involvement of Ryan [Ogburn], Kat [Wodtke], Allen [Cotè], and Kyle [Keegan] come about? Why is it important to showcase them at this show?
RN: We had the idea early this year to come back and play a show of our own in Milwaukee. We haven't really done a hometown thing since before the pandemic, so it felt like this was a little more special than the usual homecoming and maybe it called for something a little over the top. If you've been following the band for a while, you know the lineup has shifted quite a bit over the 10 or 12 years we've been playing. There have been so many amazing musicians and humans that have influenced this project. It just felt right to invite a whole bunch of them to the party and celebrate together. Unfortunately, the original list of folks to invite was way too long for one night of music, so we had to trim things a bit. I'm hoping we can do this again and invite an entirely new group of guests. The plan, at least on paper, is pretty chaotic in a very exciting way, so we'll just have to see how this one goes!
MR: Any other surprises up your sleeve for this one? Perhaps a Ted Perry cameo on mandolin?
RN: We've got a few more guests that we're going to be announcing in the coming days, but beyond that, we're just excited to be on stage together again. We don't see each other nearly enough, and as much as I love playing music with The Buffalo Gospel, I love hanging out with them and laughing until my face hurts even more.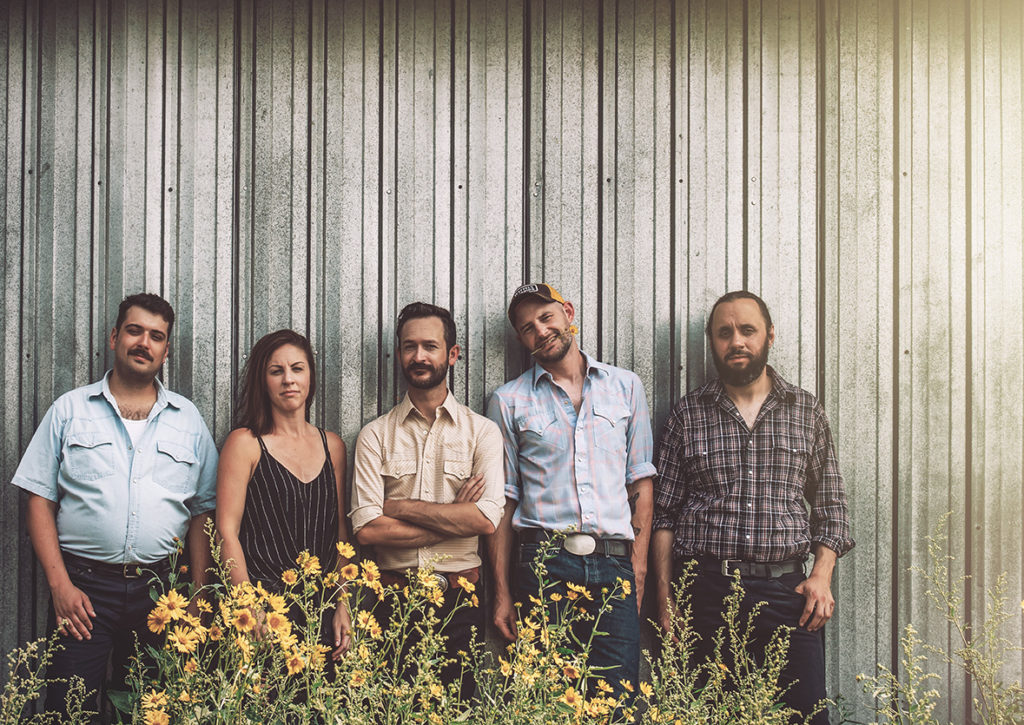 MR: This show comes a few days before the release of a new recording of your song "If I Was The Last Man." It seems like it's been a staple of your set for a while, so why'd you decide to record and release it now?
RN: We'd been ramping up our social media output for the last year or so. It's not always the most satisfying thing to put time into, but there obviously wasn't much of an outlet for performing live when the world was locked down. The one thing we could do to scratch that itch and reach new listeners a bit was release videos and music online. We got lucky and had a couple videos kind of catch fire on Instagram. Within a week, we went from about 1,500 folks following us to almost 50,000. The videos that took off happened to both be clips of me playing "If I Was The Last Man" in a very stripped-down manner compared to the original album version. I can't tell you how many messages we get asking us to release a version closer to those videos. It got to a point where we just said, "Why not?" We all like that song and, you're right, it's been a staple of our shows since we first recorded it.
So I called my friend, Jamie Mitchell, who's a former Milwaukee guy living down here in Nashville and asked if he'd be willing to help me cut a new version of the song. He's a great player, writer, and engineer. Jamie and I built a track down here and had a few old friends record some parts remotely. The finished version is much more acoustic and live-feeling than the original. I really like where it landed and hope our listeners do as well.
MR: Beyond Buffalo Gospel stuff, how is the co-writing work going? Is there anything that came out recently you're excited about or any collaborations on the way that you can talk about?
RN: Co-writing is going really great. I'm a lucky man. I've written with some of my heroes, made some new great writing buddies, had a couple of cuts and a few more on the horizon that I don't think I can talk about just yet. The biggest thing is just the time I have to write these days. Before, it was much more of a grind: come home after my day job, write late into the night, pile up 10 or 12 songs, record them, repeat. Doing this full-time has allowed me to accumulate a ton of material and really think about which ones are worth polishing and releasing. I'm just so incredibly grateful for the opportunity and I'm trying my best not to squander a moment of it. I don't know how long I get to keep living this dream, but I certainly don't want to wake up any time soon.
MR: Is there anything else you'd like to say about anything—the show, coming back to Milwaukee, what 2023 holds?
RN: First and foremost, thank you guys for the work you do and for caring about the work we do. It doesn't go unnoticed and it means the world. There are less and less opportunities for artists to amplify their messages these days and having Milwaukee Record as a champion of that art, music, and the wonderful city of Milwaukee really is a gift. We are absolutely thrilled that we get to come back and play in the city we love and we're so thankful we get to do it with some of our oldest, dearest friends. We hope you all can carve out a little time during the holiday to come join us. I don't think you'll regret it. Just make sure to shine your boots!