And on the sixth day, Summerfest rested. Yes, today is Summerfest's day off, a day for relaxation, contemplation, and probably a good delousing. Nearly half of the Big Gig '14  is behind us, with only six more days of music, beer, and the magic stylings of David Seebach remaining. So what better time than now to round up the weird, wacky, and downright awful moments from the fest's first five days? From terrible cover songs to, well, more terrible cover songs, Milwaukee Record offers up these adorably questionable Summerfest highlights (so far).
1. A stunning lack of fireworks
Nothing kicks off the Big Gig quite like the Big Bang Fireworks. Unfortunately, nothing kills a fireworks show quite like thick, unrelenting fog. Wednesday's Big Bang was rescheduled to Thursday when Summerfest officials decided lakeside atmospheric conditions weren't ideal for watching stuff blow up. Then, the fireworks were postponed yet again when the same fog rolled back in Thursday evening. Currently, the Big Bang is scheduled for Tuesday night. Maybe.
2. Seeing the Summerfest Dancing Guy just about everywhere
You know him, you love him, you can't live without him: He's the Summerfest dancing guy! (You know, THAT guy.) The oft-tie-dyed interpretive dancer has been a fixture of the Big Gig for years, bringing joy and/or mild annoyance to performers and crowds alike with his devil-may-care 'tude and sweet, sweet moves. We spotted the Summerfest Dancing Guy so often during the fest's first five days that we wouldn't be surprised to learn he was a clone, or perhaps a Westworld-esque automaton designed by nefarious Summerfest officials. Dance like no one is watching, Summerfest Dancing Guy. Dance.
3. Watching people watch Five Finger Death Punch on a monitor by the lake
Occasionally, we just have to stop and marvel that some of the weirdos who help make Summerfest the people-watching Mecca it is manage to exist beyond festival gates 354 other days a year. A prime example of one of those "What the fuck?"-type moments was stumbling upon a small group of people by the lake watching Five Finger Death Punch on a monitor, despite the band playing to an overflowing audience at the nearby Harley-Davidson Roadhouse. Moreover, when the lead singer asked fans to "throw 'em up" ("'em" being middle fingers), a woman watching remotely complied, emphatically whipping double-birds in the direction of the monitor. For future reference, if you're watching a band on a closed-circuit screen that's not facing the stage, participation isn't necessary.
4. The Championship playing "Ferris Wheel" in front of a ferris wheel
Amid the countless fuck-ups at the KNE New Music Stage this year, the decision to book veteran Milwaukee folk rockers The Championship was an outstanding choice for Friday's headliner. (An honor for which the band beat out three "Land The Big Gig" contest winners!) As Joe Crockett and Co. started their flawless, immensely enjoyable set with "Ferris Wheel," we looked up and realized, "Holy shit! There's a ferris wheel spinning right by us!"
5. Watching The WhiskeyBelles perform at the BMO Harris Pavilion
Summerfest has been good in recent years at giving local bands spots on big stages. Vic And Gab, Direct Hit!, and Klassik are just a few Milwaukee acts gracing the main stages this year. Add to that list The WhiskeyBelles, who put on a typically winning set at the BMO Harris Pavilion Friday afternoon. The new-ish Pavilion is easily the most picturesque place to play on the entire grounds, and the Belles' crowd-pleasing mix of country, bluegrass, and folk was a perfect fit. It wasn't a "weird" moment, exactly, but it was a (pleasant) surprise.
6. Every cover band doing that fucking "Wagon Wheel" song
"Wagon Wheel"—a.k.a. that "Heeeeey, mama rock me" song—began life as an unfinished Bob Dylan demo, and became a new American standard when old-timey bluegrass outfit Old Crow Medicine Show fleshed it out in 2004. Since then, everyone from Mumford & Sons to Darius Rucker have cashed in on the song. Also spinning the "Wagon Wheel": every single Summerfest cover band that played the fest over the weekend. Maybe the swarm of cowboy-booted Luke Bryan fans Saturday night was to blame, or maybe it was something in the Miller Lite, but we swear we heard a cover of "Wagon Wheel" at least a half-dozen times over the course of three days.
7. Brother Ali saying "give it up for Eyedea"
For the third year in a row, Brother Ali was holding down the pre-Atmosphere slot on the now-annual Rhymesayers Entertainment night at the Miller Lite Oasis. For the third straight year, the albino emcee was great, save for a between-song slip-up. After soliciting applause for the acts that preceded him, Ali asked the jam-packed crowd to "give it up for Eyedea"—a Rhymesayers rapper who died in 2010. He obviously meant Eyedea's longtime collaborator (and now-Milwaukee resident) DJ Abilities, who was on stage directly before Brother Ali. Most of the teenagers didn't bat an eye at the request, but to Eyedea fans, it was a reminder of a talent taken too soon.
8. Watching The Pretty Reckless at 3 p.m.
One of the more enjoyable things about Summerfest—other than those roasted nuts—is finding hidden "Easter eggs" in its expansive schedule. These surprises usually come in the form of relatively high-profile acts playing at less-than high-profile times of the day. Take The Pretty Reckless, a metal band fronted by Gossip Girl actress Taylor Momsen. Would the group's Friday 3 p.m. slot at the Harley-Davidson Roadhouse be a mid-afternoon train-wreck on par with the show's final season? Would anyone other than Five Finger Death Punch die-hards camping out for that band's headlining set show up? Turns out, tons of people turned out for the chance to be dazzled by Momsen, whose stage presence fell somewhere between Stevie Nicks and a passed-out Slash. But other than the novelty of seeing a Gossip Girl star perform at a time usually reserved for Air Force cover bands, it was a thoroughly unremarkable set.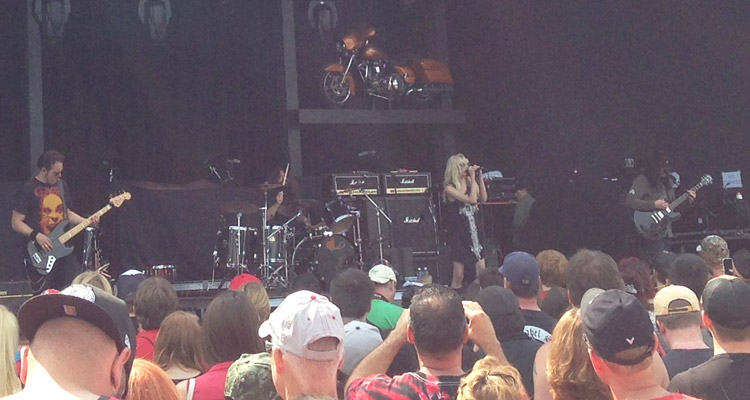 9. Stumbling into the Dennis DeYoung set…just as he played "Mr. Roboto"
It's easy to memorize the times and stages of the bands you're looking forward to seeing at Summerfest, but it's just as easy to completely blank on some semi-notable acts. For instance: Who knew former Styx singer-songwriter Dennis DeYoung was playing the Briggs & Stratton Big Backyard Saturday night? Not us, but it was downright delightful stumbling across DeYoung's set just as he dutifully launched into the timeless and agreeably ridiculous "Mr. Roboto." His set may not have been a secret (secret, I've got a secret), but it was a nice surprise for us.
10. Seeing David Gruber at "The World's Largest Draft Party"
If Summerfest's status as "The World's Largest Music Festival" can't be confirmed, Thursday's self-proclaimed "World's Largest Draft Party" on the Summerfest grounds is an even more difficult claim to verify. World's largest or not, a herd of Bucks faithful convened at the Big Gig to see who Milwaukee would take with the second pick. The party also brought out some local bigwigs, including John Henson, Jim Paschke, Bango, and none other than David Gruber himself. Shortly after the Bucks drafted Jabari Parker, party organizers were probably making one call to Time Warner, as the DirecTV feed froze up.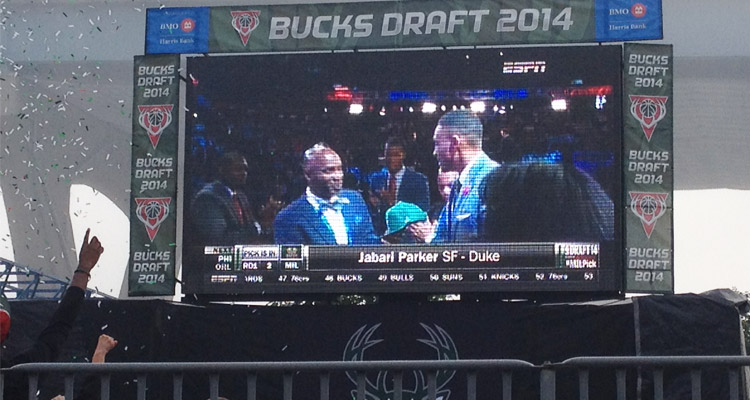 11. Seeing Ryan Braun's game-winning hit at the DirecTV kiosk
DirecTV might've froze during The World's Largest Draft Party, but the cable conglomerate really rose to the occasion Friday night, when it hosted an impromptu viewing party for the thrilling conclusion of the Brewers and Rockies game. With the game knotted in the bottom of the ninth, a wide array of Festers turned up to gawk at the game from outside the DirecTV kiosk. Just before Ryan Braun cracked the game-winning single, the lone employee said, "Oh yeah, do you guys have DirecTV?" We have no regrets about missing Third Eye Blind for that.
12. Plastic neon sunglasses out—cop shades back in
(This entry brought to you by Milwaukee Record's upcoming "What are the kids wearing these days?" fashion blog.)
13. The "goth rocks" are still a thing
Back when Hot Topic ruled malls nationwide, the rocks lining the east border of the Henry Maier Festival Grounds were a haven for surly goth teens decked out in giant black boots, giant wallet chains, and various Nightmare Before Christmas paraphernalia. Things cooled in the past few years, but we're happy to say that for 2014, Summerfest's beloved "goth rocks" are back—at least they were during the day The Pretty Reckless played. (Since goth kids believe photography steals their souls, we refrained from taking pictures. Just trust us.)
14. Seeing a guy sitting alone at JoJo's Martini Lounge, listening to pre-recorded music for an hour
Oh wait, that was us.