Concert venues were among the first businesses to close when the COVID-19 crisis came and they'll surely be among the last businesses to re-open if and/or when things ever improve. While many venues throughout the country have been forced to close in recent months (including a few places right here in Milwaukee), others are finding creative ways to keep at least some money coming in as we all wait for better days ahead.
About a month removed from turning out its lights to offer flashlight-guided "Halloween Blackout" tours, The Rave/Eagles Club is now selling off its impressive collection of memorabilia from musicians that have performed at the venue. More specifically, The Rave is auctioning off autographed show posters and concert canvases from past events.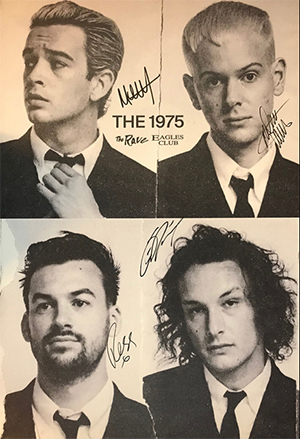 The 125 items offered include pieces that have been signed by The Replacements, Kesha, The 1975, Marilyn Manson, Weezer, Ice Cube, Andrew W.K., Big Sean, Paramore, The Shins, Alkaline Trio, Lamb Of God, GWAR, Wiz Khalifa, The Offspring, Trippie Redd, Mastodon, Billy Ray Cyrus, Erykah Badu, Motion City Soundtrack, Iggy Azalea, New Found Glory, Chevelle, and many more. There's also an unsigned 6-foot by 8-foot Jack White concert canvas that used to hang in the venue available to the highest bidder.
Opening bids start as low as $50 for some items, with the majority of offerings beginning with minimum bids in the neighborhood of $150-$250. The auction ends at 10 p.m. CST tonight (Monday, November 30). You can check out the treasure trove of autographed posters and concert canvases here.