It's an unprecedented and incredibly difficult time for restaurants right now. It's especially tough for restaurants in Wisconsin, where COVID-19 numbers are currently off the charts. Wanting to highlight local establishments who are keeping food quality high while also keeping its customers and employees as safe as possible, we're going to focus on restaurants that have completely shifted to carryout and/or delivery service in a series we're calling "Carryout Chronicles."
It seems like it's always been an uphill battle for Wonderland. The diner—located at 732 E. Burleigh St. in Riverwest—was originally slated to open sometime in 2014. However, issues with the building forced Wonderland owner Don Krause (who also owns connecting business, Art Bar) to sink an astounding $1.1 million into renovating and repairing the nearly 100-year-old building, while also delaying its opening by five years! Finally, in the fall of 2019, the restaurant specializing in fast and casual comfort food was able to open for real.
As you can likely predict, that stint of relative normalcy and rare good fortune lasted less than six months. In mid-March, the COVID-19 crisis threw another wrench in the gears of a restaurant that was now well-acquainted with hardship. Citing the government's inadequate handling of the pandemic and its slow response, Krause temporarily closed the restaurant in early April and started a GoFundMe campaign for the staffs of both Wonderland and Art Bar. In late September, after being dark for more than six months, the young diner that's already experienced a lifetime of unexpected difficulties finally reopened in an entirely carryout format called "Wonderland A Go-Go." Craving comfort food from a place we'd only managed to make it to once in the "before times," we recently headed to Riverwest to see if we could transform our dining room table into our own personal Wonderland.
Policies And Procedures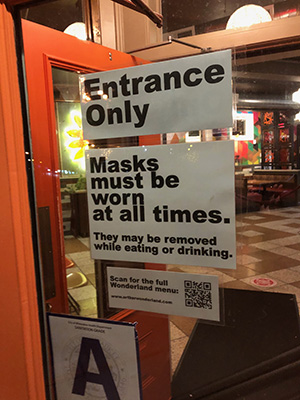 In addition to being able to call to-go orders in over the phone (414-372-7880), Wonderland A Go-Go can also be ordered online. We opted for the impersonal ease and efficiency of ordering online last weekend. Once we decided on our items from the somewhat limited-yet-unflappable menu options (more on that later), we we given an approximate pickup time via email. The time we were given was 15 minutes from when we placed the order, so we immediately made our way from Bay View to the restaurant about 15 minutes away in Riverwest.
Upon arrival, we masked up—as both local ordinance, common decency, and signage on the front door instructed, applied some hand sanitizer that was at the now-unoccupied host station, and followed the floor markings to the plexiglass-partitioned counter. There, we gave our name to an employee who was situated it and immediately received our order. And with that, we were out of the restaurant and on our way back to Bay View within two or three minutes. This might be the easiest and most painless pick-up process we've experienced in the history of this young article series.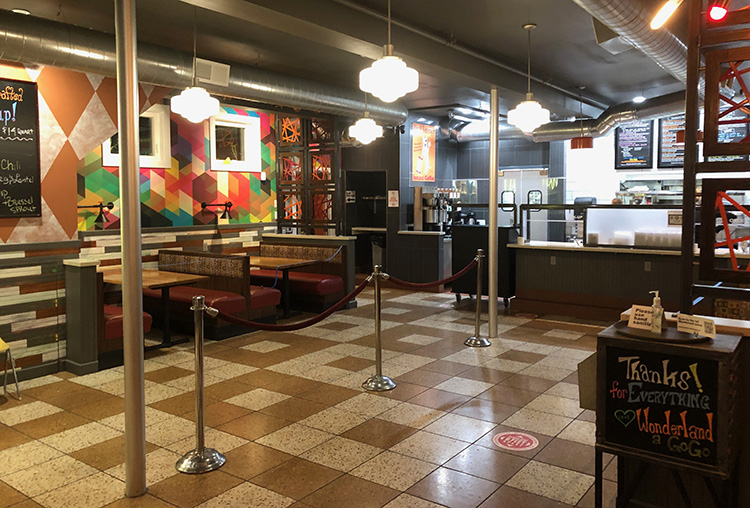 Carryout Quality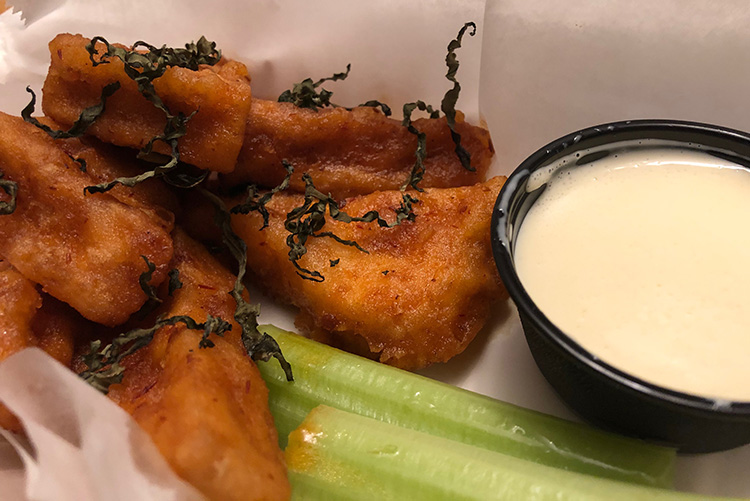 As noted above, the "A Go-Go" menu Wonderland offers has been pared-down considerably. That said, the eight sandwiches/burgers, six snacks with the broad "munchies" moniker, two salads, two sides, two soups, and small array of soft drinks is like a list of greatest hits. Moreover, it seems as if the majority of items were selected based on their travel capabilities. That probably explains why Wonderland's outstanding Reuben wasn't available. Though the menu was halved (at least) upon re-opening for carryout, we should note Wonderland made sure to keep a fair amount of vegan and vegetarian fare on its abbreviated collection of items.
We took advantage of one the vegan options by starting off with an order of six Tofu Wings ($8). Before adding to our order, we had to select a style. We bypassed more standard selections like Nashville Hot and House Dry Rub and, instead, decided to take a gamble on Chipotle Sambuca tofu wings topped with fresh basil. The risk paid off, as the clashing combination of pepper and the anise-flavored Italian liqueur yielded an inexplicable but altogether satisfying flavor. They paired well with the buttermilk aioli dipping sauce (blue cheese and vegan garden mayo sauces are also available).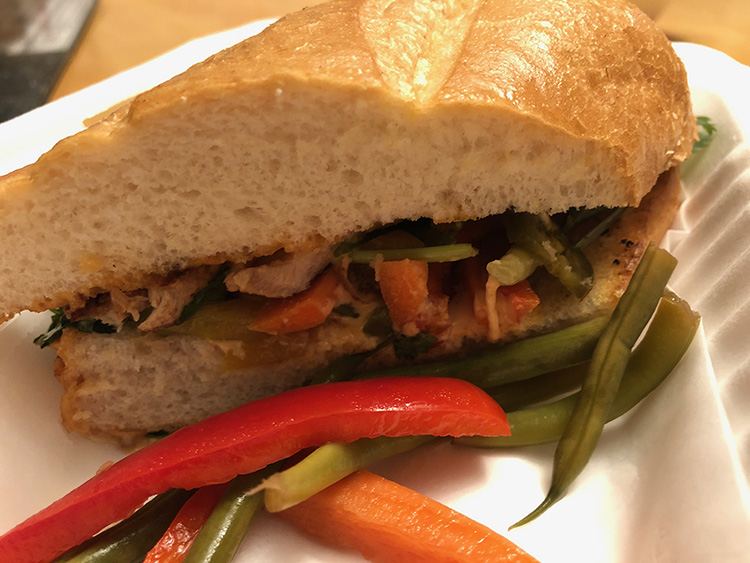 From there, we ventured into meatier territory, starting with the Banh Mi ($9). The Riverwest rendition of the Vietnamese sandwich comes in three variations—chicken thigh, pork belly, or chili aioli-fermented tofu.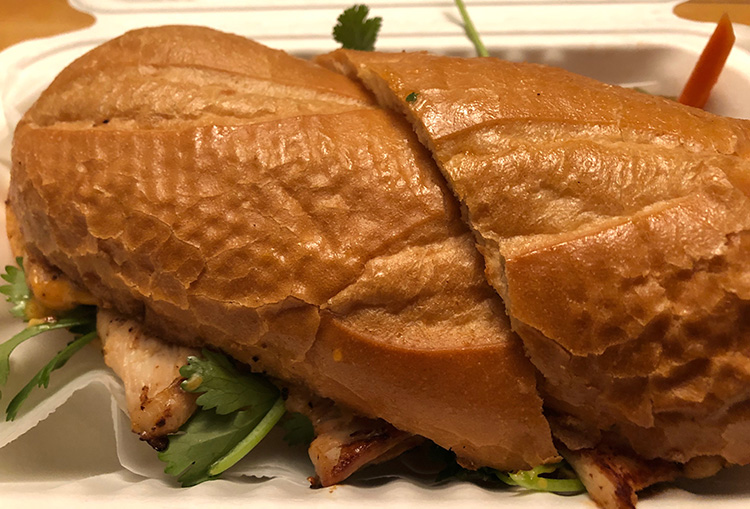 We went with chicken, which also featured crunchy pickled veggies (red pepper, jalapeno, carrot, green beans), a few sprigs of cilantro, and a spiced mayo-adjacent sauce pressed between a toasted baguette. While more dense and bread-y than anticipated, it and its tender poultry was still an enjoyable component to our multi-item order. It was solid, but had it been the only thing we ordered, we might have questioned our decision to drive to Riverwest on a cold autumn night. We'll never be able to say for sure, though, because we ended our Wonderland staycation on an especially high note.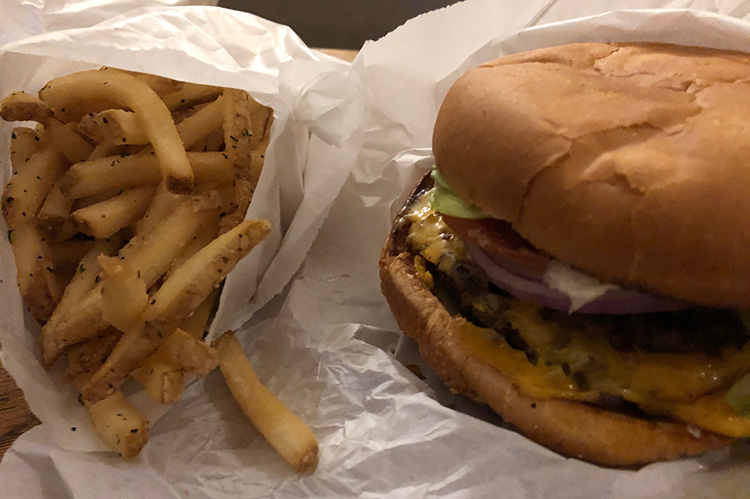 After enjoying two more adventurous items, we brought our meal in for a landing with a good old fashioned cheeseburger. The Dream Burger ($8 for a single patty, $12 for a double. We had the 2/3-pound double!) is a no-frills, no messing around stack of fresh ground beef, melted American cheese, lettuce, tomato, onion, and so-called "savory seasoned butter" between a toasted artisan bun. Not only was it huge, it was also quite tasty. It was an excellently executed rendition of a classic cheeseburger, with fresh raw veggies along with some elevated accents in the form of high quality beef and a show-stealing bun.
If you're looking to liven things up, you can also add on toppings like bacon, an egg, or fancier cheeses for an additional fee. Instead of loading up the burger even more, we opted to add on a massive sack of seasoned french fries, which was well worth the $3 price. With the possible exception of the innards of the warm Banh Mi, the food traveled very well, and we even found the leftover tofu wings and fries to be just as good the next day when we reheated them in the oven.
Other Info
We should mention that all the sandwiches and entrees are a la carte. Just remember that if you want to make sure you get fries with your burger or something. Even with the a la carte format, our meal for two—consisting of a burger, a sandwich, an abundance of fries, and six tofu wings—came to $40 including tax and a tip that was over 20 percent. Beyond that, please note that Wonderland's carryout hours are 4-9 p.m. Tuesdays through Sundays. Also make sure to keep an eye out for daily specials, including a rotating cast of burgers, fried chicken, and a Friday night fish fry.
It took five years for Wonderland to get off the ground. Nobody could have expected how its first year in business would be, but you can help make sure they make it through a second year in existence—and get some great, affordable comfort food in the process—by stopping by and picking up a meal.