I'm so tired.
Between the unending and unexpected stresses of business ownership and the confusing gauntlet of modern existence in general, I'm just plain exhausted. Throw in a steady diet of interpersonal strife, depression, and mounting financial concerns, and I'm rendered emotionally immobile. Oh yeah, and if you haven't noticed, the planet is literally dying as its inhabitants become more divided and less empathetic than any other point in my life. Factor in being confronted by at least 50 reminders of animal cruelty, child death, growing violence, unnecessary incarceration, and various other unspeakable atrocities on my Facebook and Twitter feeds before I somehow get out of bed each and every morning, and I'm spiritually paralyzed. All the time.
The world I knew and once had at least some semblance of hope for is ending and I'm utterly helpless to change that in any lasting or significant way. I have no desire to bring a life into this cursed mess that's changing much too quickly and far too discouragingly to ever be restored. It's sad, but it's true. And compared to so many others, I've had an easy go of it. To acknowledge that, by sheer chance, I'm one of the lucky ones—and I still feel this way!—is a thought too crushing to dare spend very much time with. I'm just so, so tired.
I'm happy to keep working to write fun articles that hopefully brighten other people's days and assist in informing their weekend plans, book interesting events, raise money, and do whatever I can with my limited voice and ability to improve my immediate surroundings. Still, as a direct result of the rapidly-diminishing society as a whole, I'm now too spent to muster any outrage regarding insignificant shit. Stuff like the programming at JoJo's Martini Lounge, for example. Recognizing as much months ago, I approached Summerfest this spring to ask if I might be able to curate a local music playlist to help kick off the first hour of the first day at the Big Gig. I wanted to try to put a positive, fun, and inviting spin on a miserable experience I'd tasked myself with enduring alone since 2014. No doubt having, like, much bigger things to worry about than the noon to 1 p.m. Wednesday slot at a tent, nobody from Summerfest got back to me.
To be clear, it was totally understandable that my request went unrequited, but it left me at a loss about how to approach this year's Taped Music recap. How could I possibly synthesize misery and outrage when the world at large is already doing such an outstanding job of smacking me and billions of others with the real deal on a daily basis? More importantly, why would I do that to myself? So as I walked to the familiar site on an uncharacteristically sunny day, I made the decision that I would just take the hour-long block of pre-recorded music at its base level. Instead of focusing on what the 60-minute span of radio favorites wasn't (original local music, stand-up comedy, or anything else the area once offered long ago) like I had in previous years, I would just absorb what was happening.
Like usual, JoJo's was devoid of anyone except a few employees as noon approached. That's expected, especially since the gates weren't open yet. After walking around and taking in the favorable weather that's dodged Milwaukee much of the spring and early summer, I returned to the tent to take a seat on a comfortable piece of wicker furniture in the shade. It was 11:58 a.m. and "Semi-Charmed Life" by Third Eye Blind was playing. In previous years, I probably would've labored to make some strained connection between the song's name and how bad I was feeling at the moment. This time around, I just relaxed in privacy in an otherwise-empty covered portion of the festival grounds as a guilty pleasure played. If asked to do so, I could've conjured another song or a different element that would've heightened the experience for me, but this was perfectly fine at that moment.
After Robin Schulz's "Waves" got going at 12:02, I decided to walk to nearby Louise's Trattoria to keep my tradition of buying the first beer at Summerfest alive. However, once I got there, I found out the stand was now a wine bar. It seems like Summerfest and the world around me are both changing without warning, as I stay mostly the same. I returned beer-less at 12:07, just in time to hear the end of "She Likes Girls" by Metro Station. The song wasn't my cup of tea, but whatever. Neither was "Recess" by Skrillex, for that matter, but instead of taking the time or trouble to analyze it for some negative one-liner, I just left and got some food.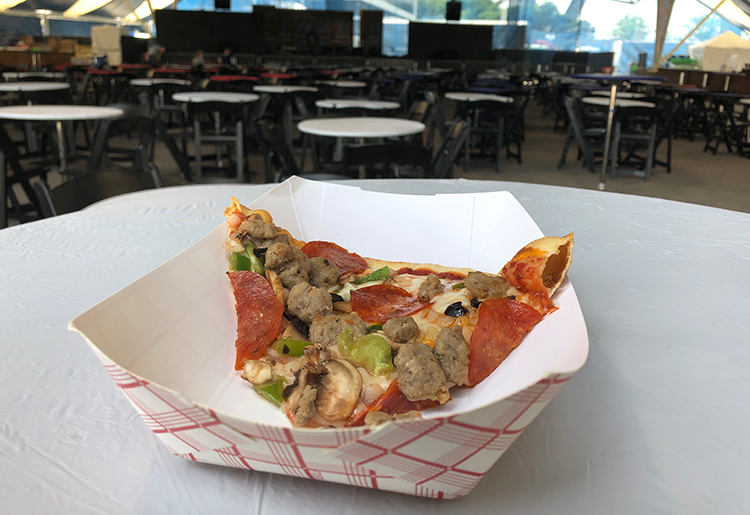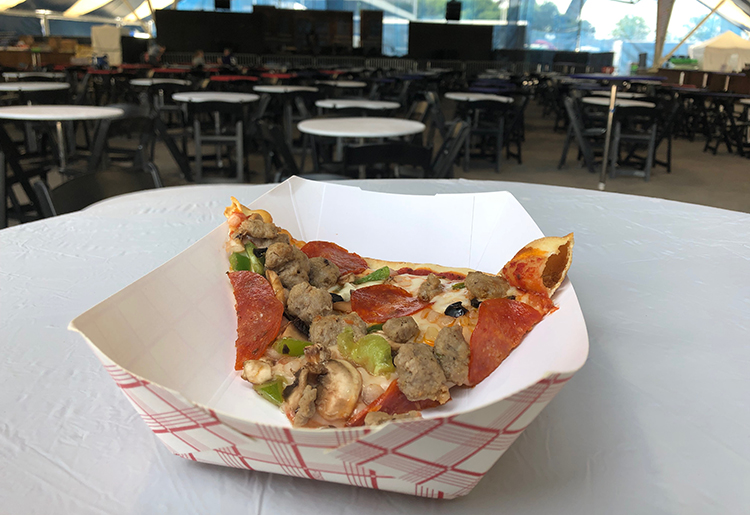 Typically, I'd force myself to endure the latest bacon-wrapped and/or "cone"-suffixed abomination at the JoJo's-adjacent Solo stand because that's what I've convinced myself that readers want. However, a mixture of Solo moving (or being gone from Summerfest entirely?) and my newfound perspective led me to its replacement: Pizza Man. Beyond proximity, I choose Pizza Man because, well, it sounded good. I ordered a slice of their Pizza Man Special and waited by the window. Meanwhile, I took notice of another local writer frantically typing notes in their phone as they waited for their food. Whether serving editorial demands, or trying to getting a head start on some non-existent scoop about the goddamn Eggplant Fries, they didn't seem to be enjoying their time in line as much as I was.
Being the first 'za of the day that was ordered a mere 10-minutes into the Fest, the order took a lot longer than usual. Tyler from 2014 to 2018 would've made sure to run back and forth to the tent to get song names as a means of sticking to the theme. Tyler in 2019 didn't give a fuck. I was outside and minutes away from eating a piece of pizza purchased on my company card in a spacious tent as a part of my self-fashioned job. I could take notes at my own speed because I could put this article out whenever I wanted to (if I even wanted to at all). Around 12:20, I brought my fresh slice of excellent (at least by festival food standards, if not in general) Pizza Man back to my chair, where I listened to Hall & Oates' "Maneater" in peace.
At 12:25, the speakers played Nelly Furtado's "Promiscuous," which featured production flourishes from Timbaland. I forgot about this song, but was actually kind of glad to hear it. Remember when it was always "Timbaland & Magoo"? I hope Magoo is doing okay. I haven't heard from Magoo in a while. Fergie's "A Little Party Never Hurt Nobody" followed and was fine. Almost any song goes well with pizza.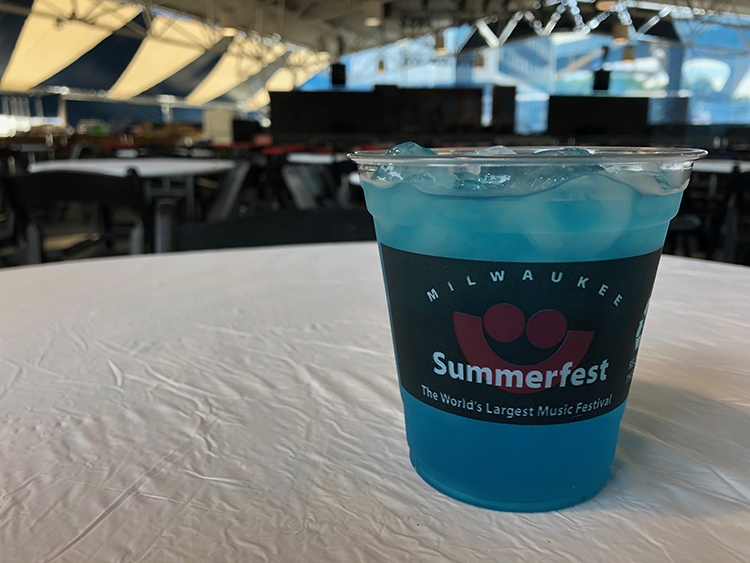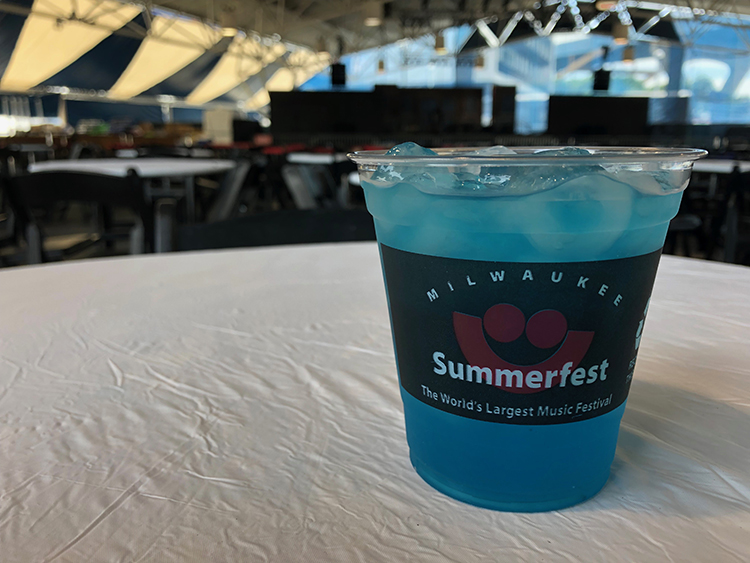 Having gone without my traditional beer, I realized at some point that I was feeling a little parched. Then it dawned on me: in all my years of sitting in JoJo's Martini Lounge and making fun of its technicolor beverages that were contained in tall plastic tubes, I'd never actually tried one. At 12:33, I decided to change that by ordering an Electric Lemonade. Even though the $12 price didn't make this a likely candidate for a repeat indulgence, we have to admit that the drink actually hit the spot at that moment. As we sipped it and looked around the venue that now had close to 20 patrons inside, LSD's "Thunderclouds" played, as did "All Of Me" by John Legend, "Rich Girl" by Hall & Oates (I no longer cared that they repeated an artist so soon in the set), "ABC" by The Jackson 5, and "Young Americans" by David Bowie in succession.
Then came "Good Day Sunshine" by The Beatles and "Killer Queen" by Queen. In all, most of these songs were good to great, especially compared to previous years and when put against the music of the first 10 minutes this year. At 12:57 Neil Diamond's "Delirious Love" came over the speakers and the volume increased, likely done in preparation of Neil impersonator and JoJo's regular Eric Diamond's 1 p.m set. And that was it. It was over.
No longer in search of a brutal button to help tie together my hour of self-imposed dissatisfaction, I just walked out of the tent at as the clock struck one. Usually, I'd make a B-line back to my car so I could go home and type this all out while the wound was still fresh in my mind. This time, though, I stayed and walked around Summerfest for a while longer. After all, it was a beautiful day and things could've been much worse. For so many people struggling to make it in the increasingly cruel world outside the festival gates, it is much worse.