Since reaching continental consciousness with its outstanding 2013 debut, PUP has toured aggressively—only stopping long enough to write and record their (even better) 2016 follow-up, The Dream Is Over. In spite of the Canadian pop-punk quartet's extensive travels, the band had never played a show in Milwaukee. That all changed Tuesday night when PUP packed Turner Hall's lower level with fans who were eager to mosh, crowdsurf (with impressive, reckless, and hilariously bad results), and scream along with every word of the up-and-coming outfit's 50-minute, catalog-traversing set.
PUP was preceded by Meat Wave, a Chicago rock trio who crammed 14 songs and a Bronze Fonz reference into a well-received 40-minute block. Following a workmanlike set that was pretty evenly split between material off Delusion Moon and 2017's The Incessant (thankfully, with "Brother" tossed in for good measure), Meat Wave gave way to their SideOneDummy labelmates, who began their headlining set by walking out to Kid Rock's "Bawitdaba" and substantial applause.
As the opening notes of "Guilt Trip" reverberated throughout the spacious downtown ballroom, the Milwaukee moat usually sitting between the stage and the crowd vanished, and hoards of people pushed their way forward to bellow the song's chorus back at the band. PUP chased the emphatic opener with "My Life Is Over And I Couldn't Be Happier," an equally rousing number from The Dream Is Over that incited the first of many audience members leaping from the stage into the sea of sweaty people. Near song's end, singer-guitarist Stefan Babcock boxed out a repeat crowdsurfer who was poised to take a second running dive from mid-stage. After the song, Babcock stressed the need for audience members to look out for each other. "Don't be a dick," he said to the man whose frames he knocked off while blocking his jump. "Sorry about your glasses!"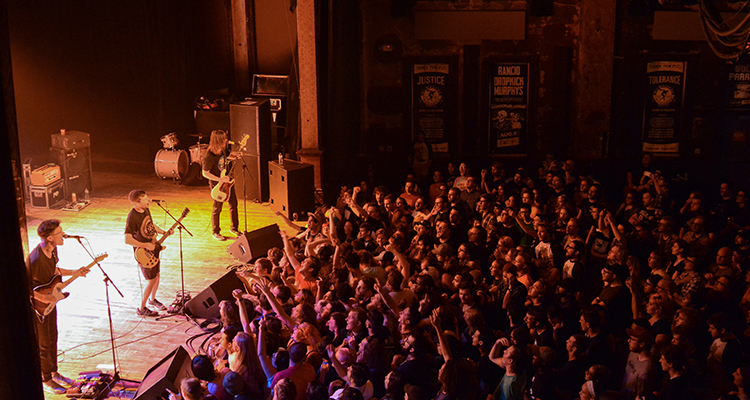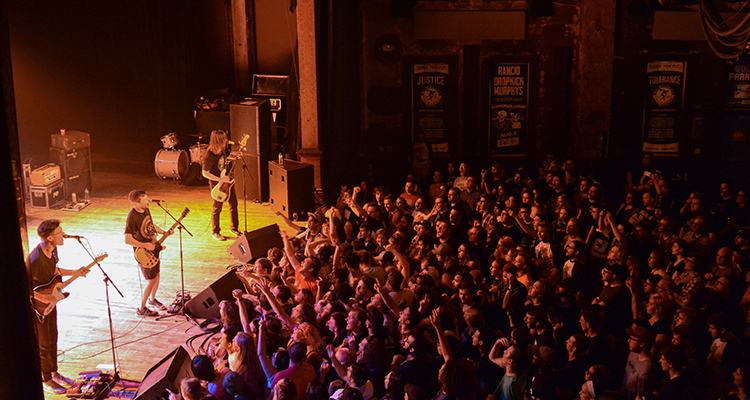 The quick lesson in show etiquette seemed to double as an invitation for folks to keep diving, and each subsequent song found a steady stream of showgoers doing their best swan dives, goofy pre-jump dances, or meek tumbles into the supportive arms at the base of the stage. Songs like "Doubts" and "The Coast" seemed to elicit the most audience activity, though it reached a crescendo late in the set with "Reservoir," a standout song on the self-titled debut. "I'm going in!" Babcock yelled, just moments before strumming his guitar while being hoisted by his star PUP-pils.
Amid all the activity happening around them, PUP turned in an excellent, near-album-caliber performance that was fairly equally portioned with material from each of their releases. Not counting the lampooning of the now-glassesless fan early on, PUP was nothing short of appreciative, gracious, and as polite as one would expect from a band that calls Canada home. "This place is way too nice for PUP, four perpetually hungover pieces of shit," Babcock said before saying they were skipping the tiresome encore posturing to, instead, play their last two songs.
The crowded ballroom collectively sang along to "If This Tour Doesn't Kill You, I Will" and got in their last remaining dives in during "DVP" as the band that's seemingly on the verge of breaking out brought their set to a close. Through the roar of the audience and the waning volume of guitar and cymbals, Babcock assured Milwaukee that PUP's first show in the city certainly wouldn't be its last.