In our MKE Music Rewind series, we revisit notable Milwaukee music that was released before Milwaukee Record became a thing in April 2014.
Every decade seems to have a band or two that, in one way or another, encapsulates that 10-year span in Milwaukee music. Now long removed from the '80s, people still speak fondly about Die Kreuzen. It's hard not to think about The Promise Ring when reminiscing about the city's music scene in the 1990s. More recently, bands like The Mistreaters and Call Me Lightning are now enough years beyond their early-aughts heydays to be garnering wistful recollections from local listeners.
To be honest, it's too early to anoint an "it" band that best exemplifies the spirit, the caliber, the promise, and the sound of Milwaukee rock and roll in the 2010s. But if you're taking bets on local bands that will be fondly recalled, openly lamented, regularly discussed, cited as an influence, and still thoroughly enjoyed by people in and around Milwaukee 20 years from now, my money is on Midnight Reruns.
The garage rock quartet technically started in 2010 and released its debut EP, Central Time, in late 2011. However, the story stretches much further back, as singer-guitarist and Graham Hunt and drummer Sam Reitman had played together in bands like Last In Line, Counterfeit Five, Stilettos, and The Sleazy Beat throughout middle school and high school. Along the way, Hunt spent some time playing guitar with Trapper Schoepp, serving as one of the troubadour's supporting musicians. Following the quietly impressive debut release by the Reruns, Hunt left Schoepp's band and threw himself into his passion project.
In November 2013, Midnight Reruns formally and loudly announced their presence in the Milwaukee music scene with a self-titled album. The full-length—released on Good Land Records, which is owned and operated by Hunt's former Trapper Schoepp & The Shades bandmate Jon Phillip—boasted 11 infectious, beyond-their-years garage rock gems. The first single from the virtually flawless effort is also a song that could very well go down as the Milwaukee song of the '10s.
"King Of Pop" was my first real gateway to Midnight Reruns. If memory serves, I learned about them by way of a Brooklyn Vegan article that announced the band's self-titled album and debuted the music video for the aforementioned lead single. I was instantly taken by the catchy hooks, the blistering guitar solos, and the infinitely fun feel of the song. While the article's comparisons to projects like The Replacements and Superdrag were apt, the band I saw goofing around with fireworks and fruit at a cookout was unlike anything I'd heard in Milwaukee to that point.
Midnight Reruns has the ability to nod to its predecessors with meat and potatoes garage rock, while simultaneously breaking new artistic ground. Their catalog is packed with lighthearted and upbeat material, but there's also no shortage of poignant perspectives, emotional depth, and lyrical significance beneath the guitar-forward, self-aware material. While the band undoubtedly took itself seriously, "King Of Pop" isn't exactly trying to pass as high art. Essentially, it's a song about prank calling power pop legend Paul Collins, who has been known to answer his phone any time someone calls—no matter the time of day. Though the song was the way I (and, likely, so many others) were introduced to the Reruns, I quickly learned there were songs I enjoyed even more than that quirky single with a catchy melody. I also learned the band was able to replicate the advanced instrumentation of their recordings in a live setting.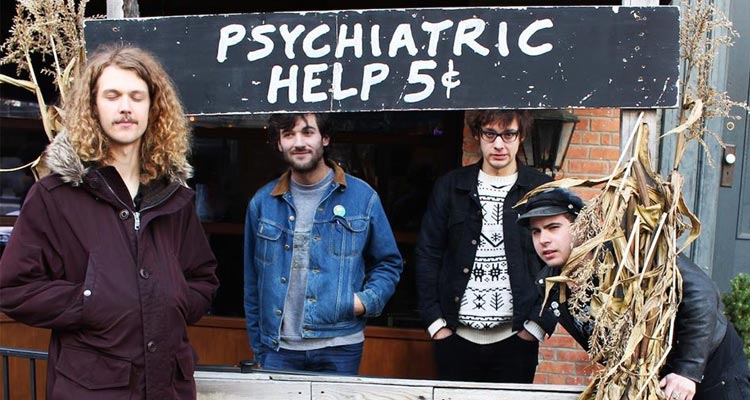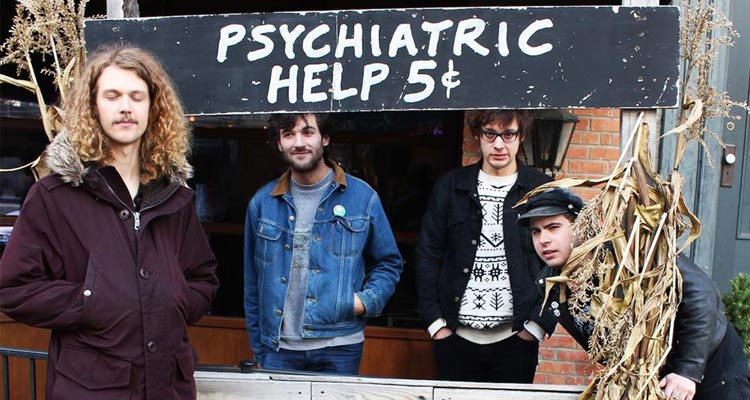 When Milwaukee Record had our launch party at Cactus Club in May of 2014, we made damn sure to have Midnight Reruns play. In the months and years that followed, I'd rarely allow myself to miss an opportunity to watch them in Milwaukee. I saw them—one of the few outliers who weren't a punk or hardcore band on the bill—win over the audience at the inaugural Dummerfest. I weaved my way through thousands of people at Mitten Fest to get a good view of the stage to see them play. Whether they were anchoring a local show or opening for out-of-towners, I'd be there if I could because I knew I was in for a great show and an even better time. I'm supposed to stay unbiased, but after I'd learned they existed, Midnight Reruns quickly became my new favorite Milwaukee band.
In 2015, the quartet put out Force Of Nurture, a full-length that found Midnight Reruns sounding even better and more focused than the record they put out two years earlier. Some of my favorite Midnight Reruns songs are on Force Of Nurture, including "There's An Animal Upstairs" and the album's default single "Canadian Summer." The outstanding follow-up was recorded by Tommy Stinson of The Replacements fame in his upstate New York home. A few months before the record was released, Midnight Reruns made the most of an opportunity to open for The Replacements at The Rave.
Force Of Nurture was followed by Spectator Sports in the spring of 2017. While the material on the 10-song album was as good as ever, it seemed as if priorities had shifted around the time of its release. By that point, members had started other projects and joined different bands. At one point, Hunt was in Midnight Reruns, Soda Road, Midwives, and Sundial Mottos at the same time. Reitman was splitting time between Reruns, Slow Walker, Surgeons In Heat, Soda Road, and sitting in on drums with any number of other bands. Midnight Reruns hasn't played a show in Milwaukee since they performed at The Little Gig outside DanDan on June 25, 2017. In the years since that show, Hunt moved and released Leaving Silver City, an excellent solo album full of could-be Midnight Reruns tunes. Reitman joined Rexxx and, along with Hunt, backed Mike Krol on some recent tours.
While Midnight Reruns has never publicly called it quits, I'd be shocked if they ever play another show. (Prove me wrong, guys!) Even if the band's apparent end was uncharacteristically quiet and subtle for a band known to be so loud and captivating, I'm happy to have five Midnight Reruns releases to periodically comb through when the mood strikes. I'm happy the band's stoppage has the bittersweet byproduct of letting members splay out into other projects that each help reinforce and improve the city's music scene. I'm happy they agreed to be part of a Local Coverage benefit, where they gave new life to Marielle Allschwang songs. I'm happy I shot a video of them covering "The Other Man" by The Mistreaters and that I got to see them as many times as I did.
All things considered, I'm just happy that Milwaukee got to have a band like Midnight Reruns, even if it might've only been for a few years. And I'm happy I clicked the link that first brought me to "King Of Pop" and, in doing so, introduced me to a supremely special band I'm sure to be talking about for years to come.