On paper, the inaugural Arte Para Todos festival seemed too good to be true. Seventy of the best Milwaukee musical acts would be playing dozens of shows at 15 venues spread throughout three neighborhoods and three days. (Also in tow would be more than 20 visual artists either displaying their work or producing it on-site.) Even better: 100 percent of the proceeds from the fest would go to benefit the arts programs of three Milwaukee-area schools. But could the sprawling, homegrown event live up to its lofty goals and considerable hype? After three days of more shows than we can count, we can only say this: Arte Para Todos was one of the best Milwaukee musical events in years, if not decades. It didn't just live up to its goals, it blew them away. Here are some of our personal highlights.
FRIDAY
• Ugly Brothers at Boone & Crockett is a good, clean, and shambling way to kick things off—and all in a makeshift shack constructed in B&C's outdoor patio, no less. The live art from Brandon Minga is a bit tough to appreciate in the dim light, but the warm vibes—and the industrial-strength heaters hanging from the ceiling—make up for it in spades. Our Arte Para Todos adventure is off to a winning start. [Matt Wild]
• Nearly a decade into its career, we're still struggling to come up with a genre for Scrimshaw. Like Frank Zappa or Ween, fans might get drawn in by the band's humor and then discover a vibrant and unique style of music that keeps them coming back. The band's APT set at Boone & Crockett is further evidence that the silly, experimental gags that comprised Scrimshaw's earliest recordings have somehow birthed a distinctive blend of punk, funk, and general weirdness that's exceedingly easy to dance to. There may not be a term for it yet, but it's no longer simply goofing off—it's some sort of entity. [Cal Roach]
• Meanwhile, the festival is starting strong over at Tonic Tavern. The Olives, the first act to take the underutilized stage, overcome Mary Johnson guitar malfunctions during set-starter "Bears, Beats, Battlestar Galactica" to turn in a boisterous-but-brief show. A shorthanded Faux Fir (missing Adam Bartell, who lives in Portland) echoes and subsequently exceeds the strong Olives set with renditions of Fashionable Life arena-ready indie-pop favorites that, even at 75 percent member attendance, seem to delight the ever-growing audience. By the time NO/NO takes the stage to celebrate both the arts and the cassette release of its double EP on guitarist Harrison Colby's spanking new Gloss Records label, Tonic is stuffed with people. NO/NO makes good on its headlining slot with a true-to-album rundown of the glut of both well-received EPs. On the cusp of their own huge week, Kiings entertain in the role of DJ. [Tyler Maas]
• Over at a packed Frank's Power Plant, we catch our first glimpse of Nightgown, the newest project from Daniel Spack (Group Of The Altos, Volcano Choir) and the excellent Gina Barrington. (We spend the hours leading up to the show mistakingly referring to the band as "Ghost Pajamas.") The group's minimal electronica is sleek, seductive, and the perfect shade of breathy '80s gloom-pop. "It's kind of relaxing watching painting while you're up here," quips Barrington at one point, referring to the live art of Amanda Iglinski and Thaison Nguyen. [MW]
• Headlining at Boone are Tapebenders, the band formerly known as Elusive Parallelograms. Their punchy psych-rock hasn't lost a bit of luster, and Tapebenders play it with the kind of raw energy we've come to expect. We're just baffled by the lack of new material. So far the rebranding doesn't seem to have been a very productive move. [CR]
• The APT philosophy prizes diversity, making for some odd artist lineups at various locations, and Club Garibaldi is a good example. We arrive in time to catch Kia Rap Princess and are immediately puzzled as to why this woman isn't getting more hype around town. She's equally adept with slow grooves and rapid-fire rhyming, and her rapport with DJ Moses and sheer physical enthusiasm onstage make for an electrifying performance. In the span of a half hour or so, she turns an almost empty room into a packed party. [CR]
• Whips—in the parlance of Myles Coyne—are killing it at Club Garibaldi. Cue fond memories of our inaugural Local Coverage show at Club G back in January. [MW]
• The final performer of the night at Cactus Club is Klassik, who manages to retain most of the crowd despite the late hour. Those who stick around do not regret it. He opens with the standout track from January's Winter EP, "Andromeda," and has the whole room singing "I see constellations" within seconds. In between songs he lashes out against declining support for the arts in schools, passionately driving home the whole point of this festival. Sticking mostly with new material, he saves a couple of his best older tracks for last: "Light" and "Boogie," from 2013's YRP (Young Rising Phenoms). If anyone in the crowd needs a refresher, these two bangers still sound incredibly fresh; in a perfect world, they'd already be widely considered…classics. [CR]
Other observations
• Amazingly enough, set times are incredibly punctual at every venue we visit on the first night, making us wonder whether this can even be considered a festival. [CR]
• During a sausage pitstop at The Vanguard, we witness perhaps the best thing ever: a protracted, ridiculous, and hilarious argument between co-owner Chris Schulist and a patron who sincerely requests that the Bolt Thrower song blasting on the stereo be replaced by something by Norah Jones. "Who are you, her brother?" Schulist asks incredulously after a full 30 minutes of good-natured back-and-forth. We conspire with a friend to start Milwaukee's finest Norah Jones tribute band, The Norah Jones Demographic. [MW]
• Fun fact: Every show we attend Friday night is at or near capacity. Remember when people worried that there weren't enough Milwaukee music fans to populate two—much less six—local shows in one night? Neither do we. [MW]
• A notable amount of those pushing fire codes are members of bands from other shows, either at different venues Friday or who will be playing subsequent nights. Say what you will about Milwaukee's (occasionally) insular scene, but there isn't a morsel of "scene beef" to be seen on opening night, or any other day. [TM]
• Quote of the night: "I wrote a song about the Westboro Baptist Church 'cause they're a bunch of dicks." (Palmer Shah of Ugly Brothers) [CR]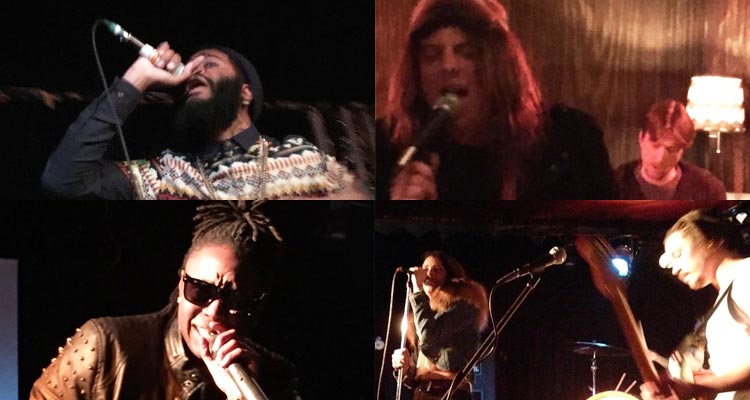 SATURDAY
• We start day two a little late, but enjoy a strong beginning to our evening's entertainment with an impassioned Low Down Sound performance at Cocoon Room. After, Midnight Reruns bring the all-ages venue's Arte installment to a close. With other shows now bumping into the slightly tardy Cocoon show, we only catch five Reruns songs, all unreleased. We didn't think it was possible, but nearly all are better than anything on their near flawless self-titled 2013 full-length. [TM]
• The always enchanting Lex Allen—all hair and gorgeous harmonies—is playing to a small but appreciative crowd at Linneman's. "Puppy Love" and "We R. Broken (Pieces)" are just the right mix of conversational, confessional, funny, and frank. Also, the art on display from Todd Mrozinski is Bob Dylan-themed, which makes perfect sense. [MW]
• Every time we see Christopher Porterfield live we realize just how lucky we are to have someone of his caliber in town—and playing intimate venues like Linneman's. ("One of my favorite places in the world.") The Field Report frontman is solo and in fine form tonight, playing old favorites ("Fergus Falls"), new classics ("Cups And Cups"), and even a few requests. He even gets a playful jab in after someone beats the old "Free Bird!" horse: "Your privileges have been revoked! Get him out of here!" [MW]
• After bumping into our old pal Ian Abston from Newaukee, we make our way over to the open-but-not-really-open-yet Company Brewing for GGOOLLDD. But what's this? A capacity bar and a line stretching around the block? Holy shit. Luckily, there are approximately 8,000 other good shows going on at the same time, such as… [MW]
• Canopies at Club Timbuktu. It's always a treat seeing live music here—the room sounds great—and Canopies' blistering space-rock makes it even more special. The $3 Jamaican Rum Punch special may be little more than Hawaiian punch with some rum splashed in, but who cares? With Jaill and Sat. Nite Duets following Canopies, this is one of the best APT shows we've seen yet. [MW]
• Over at Mad Planet, Bliss & Alice is getting the crowd whipped into a frenzy before the highly anticipated New Age Narcissism set. The line "Is this an orgy or a mosh pit?" from B&A's "Sin City Special" never fails to kill us. [MW]
Other observations
• One of the non-"Free Bird" requests Porterfield receives is for a song the audience member says is "pretty sad," to which the Linneman's headliner quips "They're all pretty sad." After the laughter subsides and the crowd returns to its state of hushed captivation, Portfield talks about how excited he is about the Bucks trading for Michael Carter-Williams. [TM]
• Watching Josh Evert beat the shit out of the drums during his Jaill set, we're hit with the realization that this is his second performance in the last 24 hours, not to mention he's worked the door at numerous venues, did the brunt of the entire event's organization, and just got done stocking Timbuktu's supply of Red Stripe. Just give this guy the 2015 Milwaukee Music Ambassador award right now, 88Nine! [TM]
SUNDAY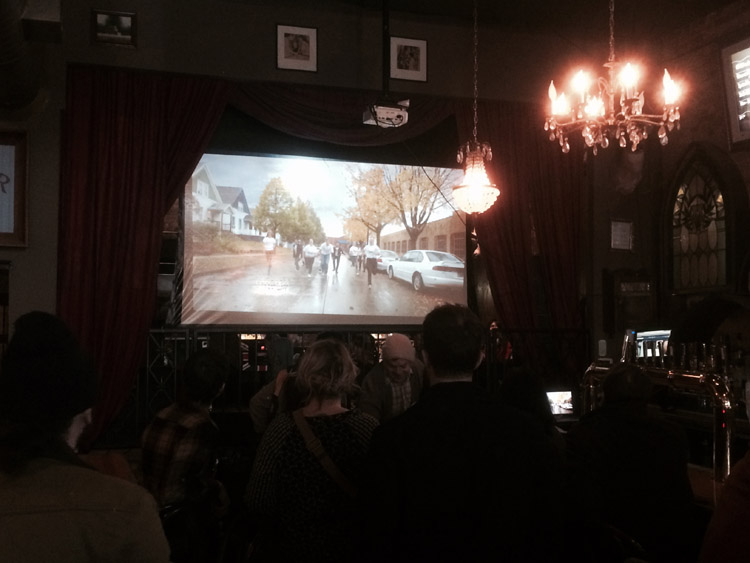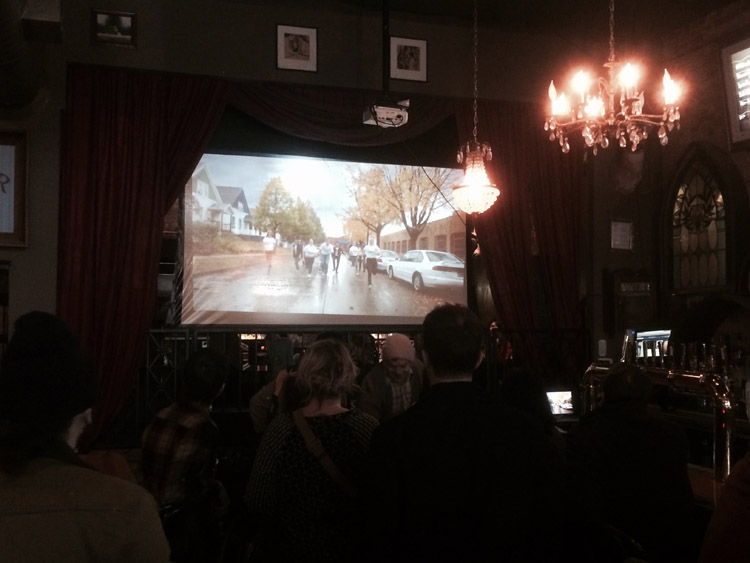 • Evert, along with fellow organizers Johanna Rose, Amelinda Burich, and a small, haggard-looking group who concluded their night at Timbuktu only hours earlier turns up a The Hotel Foster at the crack of noon to see what Wes Tank was able to gather for the Arte Para Todos film festival. Over coffee, doughnuts, and a staggering number of bloody marys, a small-but-attentive group watches a two-hour block of music videos and mini-docs from Direct Hit!, The Fatty Acids, Sat. Nite Duets, Brief Candles, Kane Place Record Club, Canopies, Jaill, Steven Look, The Grasping At Straws, Klassik, adoptahighway, Group Of The Altos, WC Tank himself, Kara Mulrooney's outstanding An Evening At Angelo's, and more. The inaugural APT Film Festival is a great way to ease into day three, and an excellent reminder of how far local music videos have come in the past few years. [TM]
• Over at Jazz Estate, aMilwaukee has enlisted an eclectic batch of women to ease APT attendees into the final day's musical portion (not to insinuate previous days were lacking feminine presence). Casual Vocals' aptly-named construct of soothing folk proves a perfect pairing to those alternating between sips of coffee and beer. Between sets, we're told all proceeds from ginger brandy shots will go to benefit Arte Para Todos. We do one…you know, for the kids! Our introduction to Jordin Bass and Amanda Jo Langley is impressive, as the duo alternates between instruments in a delicately dour set. No offense to Caley Conway, but we leave her Cukes-less set early to catch the end of Girls Rock Milwaukee success story Negative Positive in a BBC upper level that's brimming with parents and others enjoying the beyond-their-years performance in the youth-rock outfit's first bar show. [TM]
• It should be a crime for Heidi Spencer And The Rare Birds to play as, well, rarely as they do. No one has a voice like Spencer, and her sepia-toned songs are perfectly realized by her band. New and old songs sound wonderful at the Jazz Estate: "Under Streetlight Glow" makes us remember how much we love the 2011 album of the same name, and "The River" comes complete with a surprisingly scorching guitar solo from Allen Cote. We bump into Jim Linneman during the set and share our appreciation for one of Milwaukee's best singer-songwriters. (Also spotted: Group Of The Altos' Amelinda Burich, Twin Brother's Sean Raasch, Grasping At Straws' Maggie Iken, the one and only Myles Coyne.) [MW]
• Though we loved the indie-folk trio's spirit-crushing 2014 debut, Through The Dirt, Sunday's opening set at Yield is our first time ever seeing Antler House live. Singer Sean Anderson endures some early bass guitar difficulties, but switches to acoustic guitar for the majority of the set. The album translates well live, and we're happy to hear a few new songs with a heightened tempo—though Anderson is quick to let us know the peppy number we'd just heard is about an injured rabbit he'd found that ended up dying. Some things never change. [TM]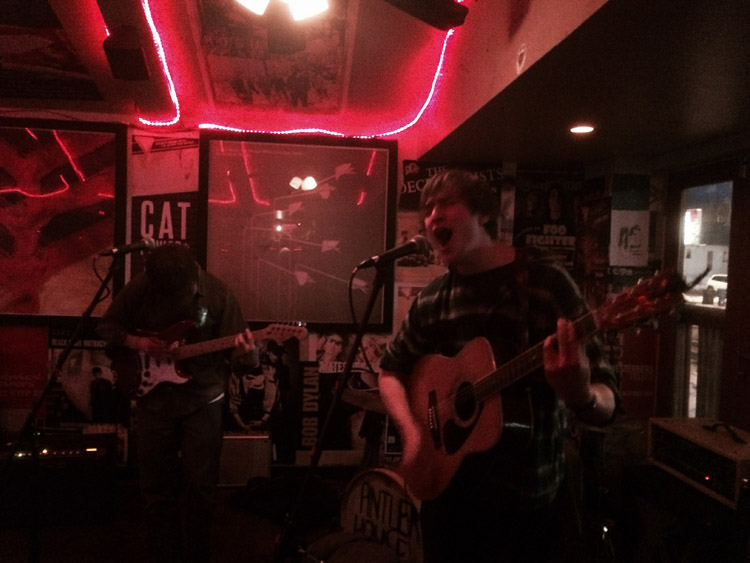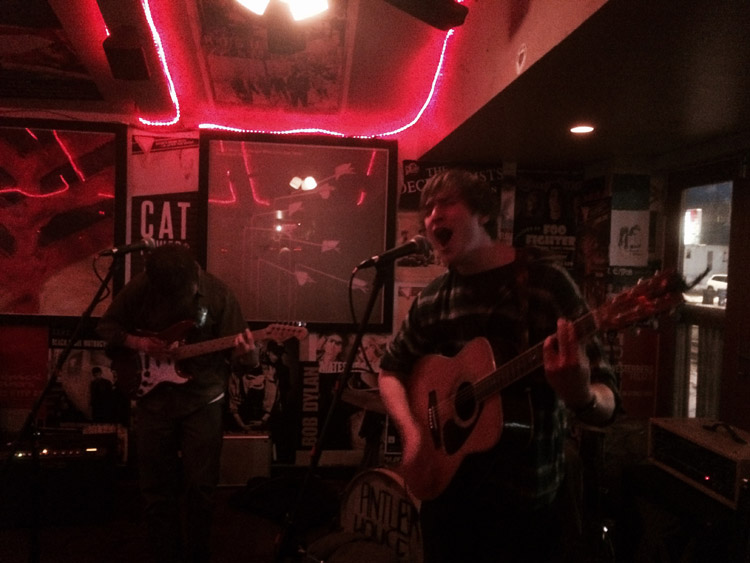 • Kicking off the night at The Hotel Foster is 18-year-old rapper IshDARR. The crowd is small, but IshDARR's energy level is somewhere between "packed club" and "arena" levels. He has an easy, funny rapport with his DJ, and the booming "Too Bad" sounds great. Definitely a name to watch out for. [MW]
• The rock portion of Sunday night's festivities at Hotel Foster is a mixed bag. Castle Thunder's ambition is a step ahead of its execution; it's fascinating to watch Ryan Rupprecht orchestrate his Theremin-like touchless synthesizer effects and hear a bunch of interesting new material, but frontman Cory Gorman has some vocal difficulties and the set's a little shaky overall. On the flip side of the coin, Cavewives stick with a pretty derivative '70s blues-rock sound, but their set is incredibly tight, and singer Michael Martin is in top form. We enjoy both sets for the most part. [CR]
• We pop over to the BBC for Holy Shit! and are initially captivated by a bizarre art installation. A canvass sits atop a speaker, and the sonic vibrations cause the pool of paint to geyser up in unpredictable patterns. Clearly no one here is on acid, or they'd be unable to tear themselves away from this display. The most hilariously benevolent mosh pit we've ever seen ensues as Holy Shit! plays a couple dozen of its eight billion songs. We are irrationally comforted by the fact that punk rock such as this still thrives. [CR]
• We're pretty stoked for the upcoming new album from Surgeons In Heat, who play a solid set of jangle pop at the BBC, although the tunes lack the breezy vocal harmonies that we're expecting. This is new bassist Ryan Reeve's first time ever playing live, and if he's shitting his pants, it doesn't show—we'd even venture to say his playing is notably impressive. [CR]
• Back in 2010, Open Mike Eagle coined the term "art rap," and his influence lays heavily on the hip-hop headliners at HoFo. Co-conspirators Safari Al and milo both perform a confrontational/confessional style of emo-rap with moody, glitchy beats as a backdrop, and they're both disarmingly effective on the mic. On one hand, it's occasionally frustrating watching milo focus so much on being his own DJ. When he's concentrating purely on vocalizing, he can be one of the most electrifying performers the rap world has ever seen, but tonight his gadgetry holds him back somewhat. Still, some of the beats he's coming up with are amazing, and he holds sway over the crowd with his increasingly unique style. It's like watching an artist hammer out his identity in real time, and it's an undeniable thrill. [CR]
Other observations
• Quotes of the night: "Listen, kids: Don't ever pick up a guitar!" "Or a paintbrush!" "ART SUCKS!" (various members of Holy Shit!) [CR]
• In a nutshell, Arte Para Todos 2015 was amazing. A huge thanks to all the organizers, bands, and volunteers who made it possible. It was incredible to see a true homegrown event succeed on all levels, and humbling to see Milwaukee support it every step of the way. Let's do this again next year.