Since 2005, venerable music festival Lollapalooza has taken over Chicago's Grant Park for a two-day summer celebration of the world's hottest musicians and the tank-top-and-neon-sunglasses-wearing fans that love them. But it wasn't always this way. In Lollapalooza's original, early-'90s incarnation, the fest was a ragtag traveling circus of alt-friendly headlining bands, semi-underground second-stage acts, and plenty of random weirdness going on in the margins. The fest was still a well-funded commercial enterprise, but it retained a scrappy counterculture vibe that manifested itself in performance art, poetry, idealistic activism, and a bunch of shit about Tibet. It was all very, very '90s—which explains why the fest fizzled by the end of the decade, only to be reborn as a modern, one-city-only event a few years later.
20 years ago this July, Lolla set up shop in and around Milwaukee's Marcus Amphitheater with bands like Smashing Pumpkins, Beastie Boys, and Nick Cave And The Bad Seeds in tow. (Cave makes his first Milwaukee appearance since Lollapalooza '94 Friday, June 20 at the Milwaukee Theater.) Also in tow: some terrific second-stage acts, a bunch of "road poets," and something called the "Electric Carnival." Once again, it was very, very '90s. So in honor of Lollapalooza '94's 20-year anniversary, let's take a look at its program, shall we?
Cover/table of contents/layout
The name of Lollapalooza 1994's official magazine is "Teeth." Why "Teeth"? "Because everyone's are different," proclaims the Jim Evans-illustrated cover. Clearly a clear-eyed '90s rebuke to the old "Everybody's got one" joke about assholes and opinions.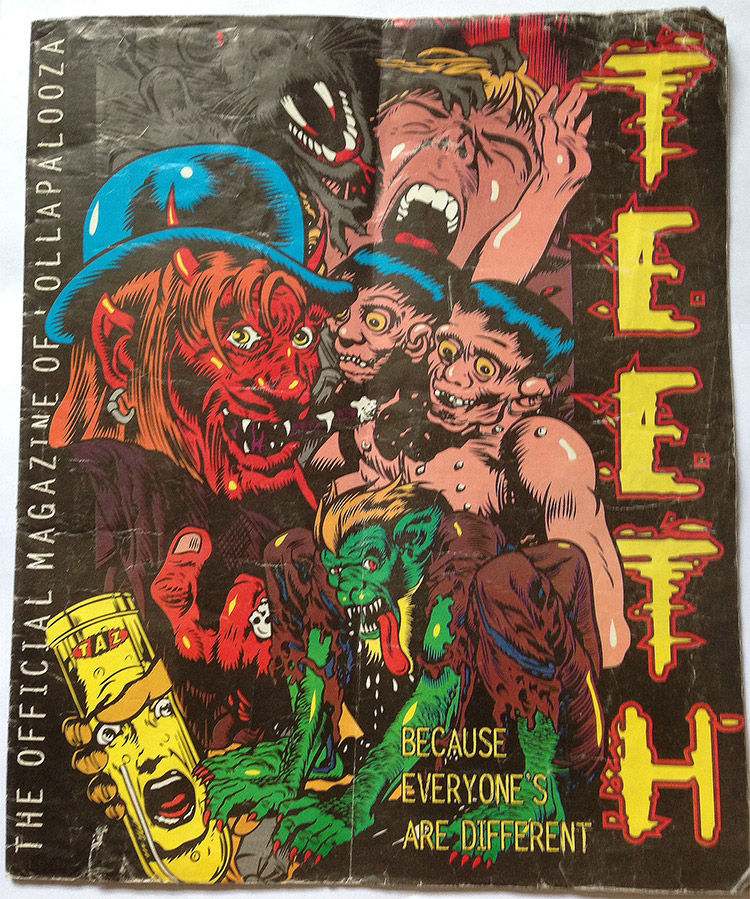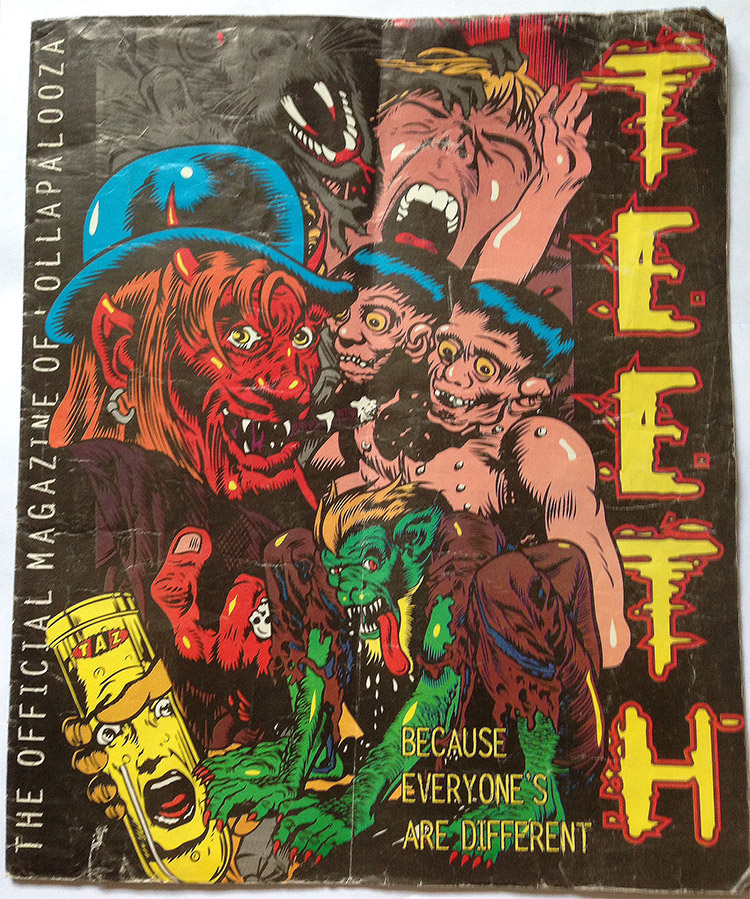 The table of contents gives modern readers a fascinating preview of the zine-inspired layout that follows, and makes you wonder why anyone in the '90s ever put up with that shit. Messy, cluttered, filled with approximately 8,000 different fonts, and virtually unreadable, the layout of "Teeth" is straight-up Kinko's. It's no wonder that in a short introduction, artist Jesse Higman reveals that he's writing from the now-extinct copy-chain, and that he's currently doing artwork for Alice In Chains and Blind Melon.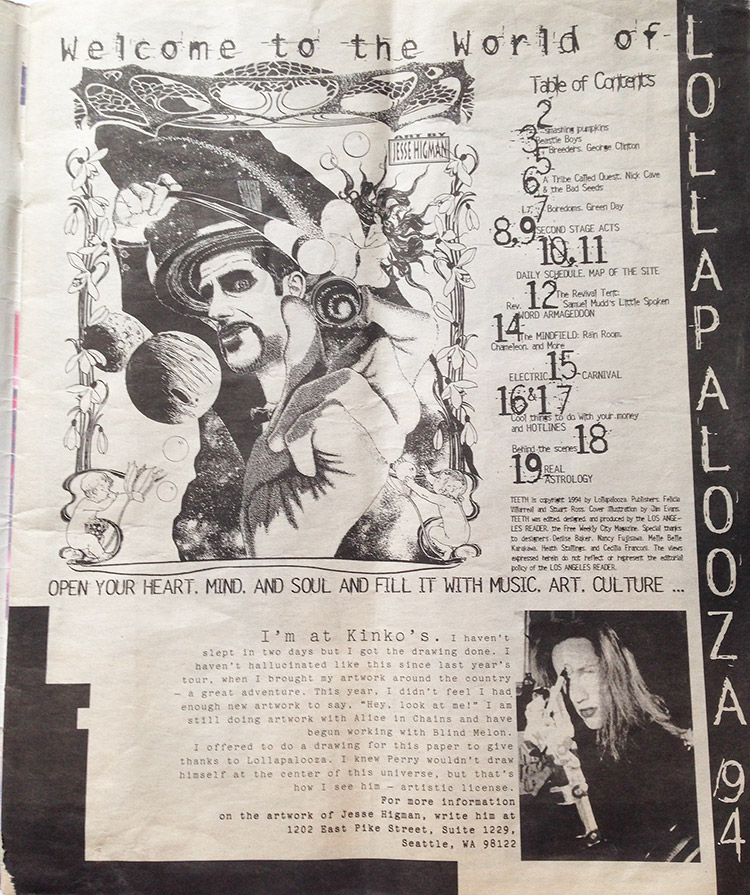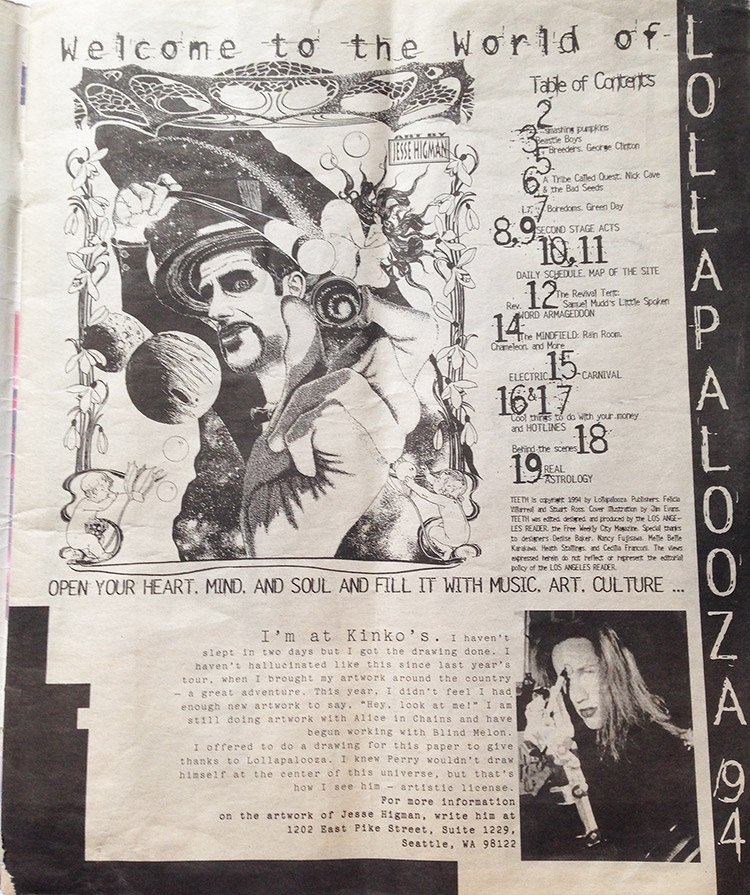 Bands
Say what you will about Lollapalooza's early attempts to remain "alternative" in the face of corporate influence, but the fest's '90s lineups were pretty killer. The 1994 headliners that graced the Marcus Amphitheater represented a murderer's row of buzz-bin heroes: Smashing Pumpkins, Beastie Boys, George Clinton, The Breeders, A Tribe Called Quest, Nick Cave And The Bad Seeds, L7, and The Boredoms. Nirvana was supposed to be the '94 headliner.
'90s highlight of the Smashing Pumpkins page:
"Greetings from the Smashing Pumpkins to all people from all walks of life, whatever race, creed, or body piercing you may have."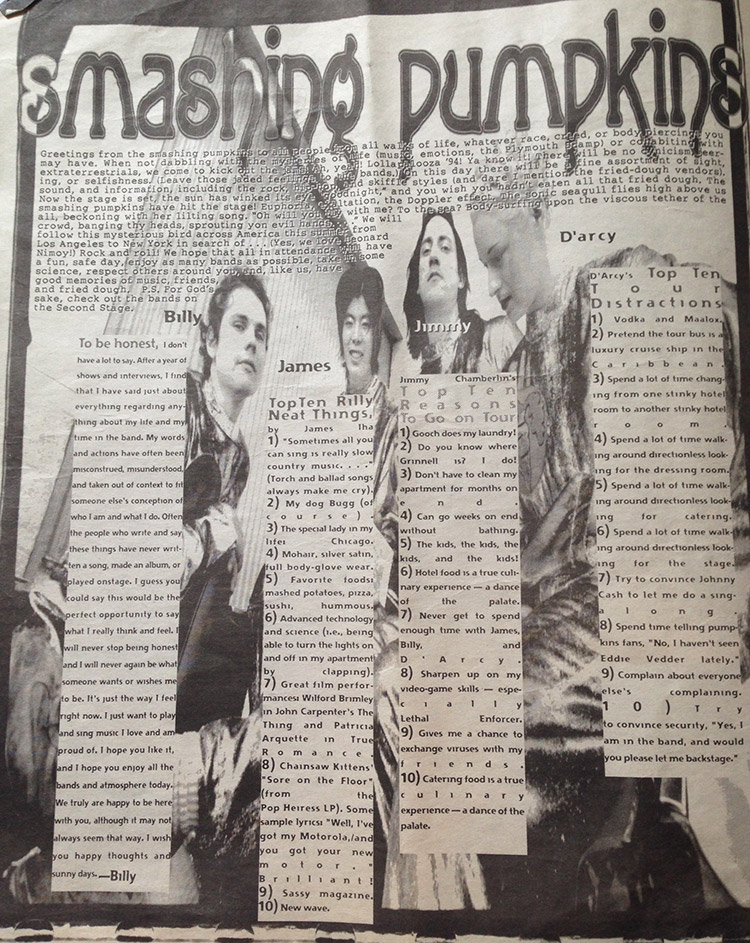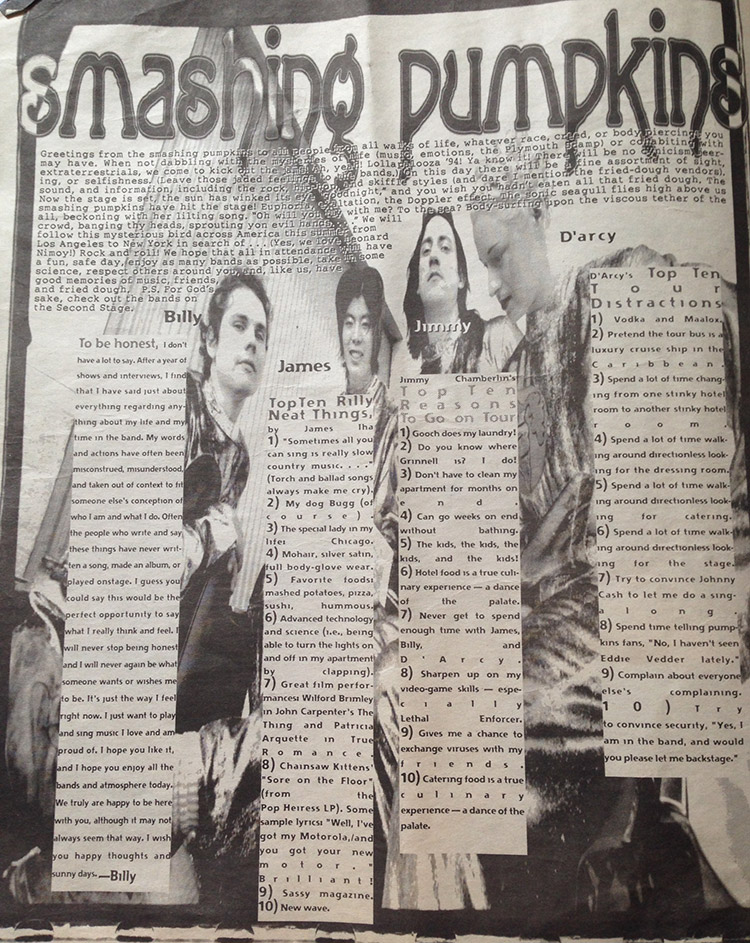 '90s highlight of the Beastie Boys' "Mosh Pit DON'TS and Dos":
"Girls have as much right to mosh as anyone else and just cuz she's slamming up against you doesn't mean she is in LOVE with you."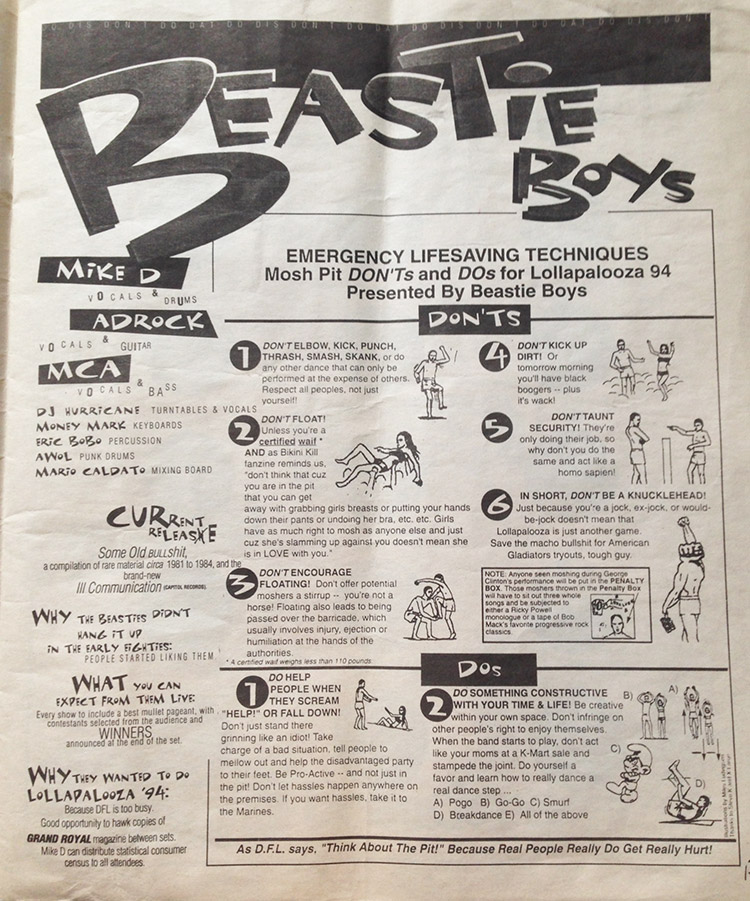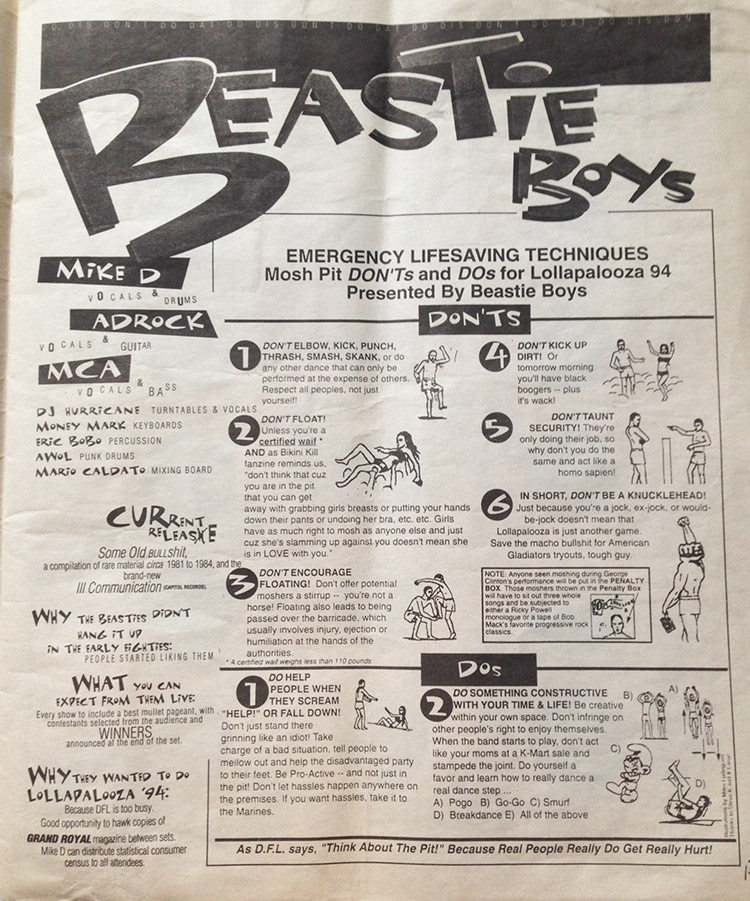 Second-stage bands
Like the '94 headliners, the second-stage acts were ridiculously top-notch. The Flaming Lips, The Verve, Luscious Jackson, and Rollerskate Skinny all showed up for the Milwaukee stop. (Other second-stage bands that summer included Guided By Voices, Stereolab, The Pharcyde, and Shonen Knife.) Also making a Milwaukee appearance were hometown weirdos The Frogs, who dazzled (and baffled) a sunburnt afternoon crowd with their freak-rock-and-giant-bat-wings shenanigans. (Sadly, founding Frogs member Dennis Flemion died in 2012 in a freak swimming mishap.)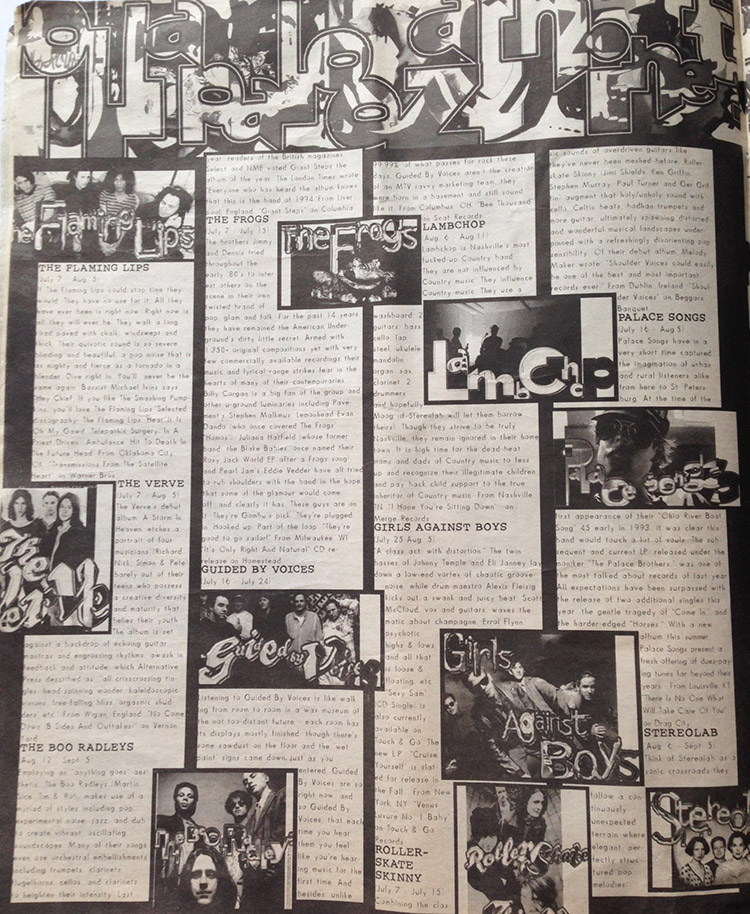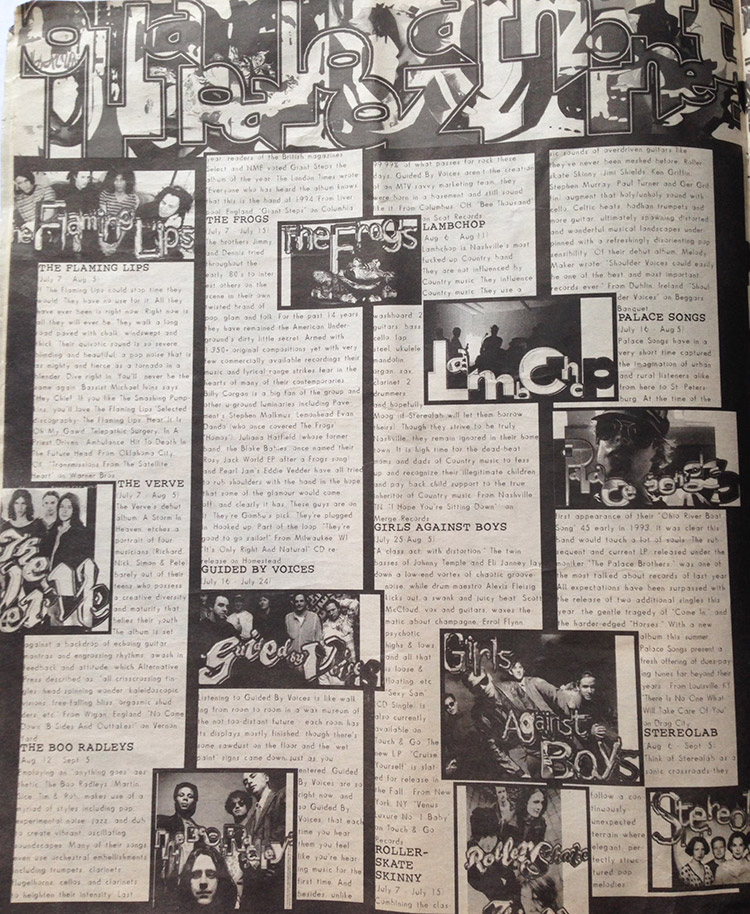 Electric Carnival
The Internet was still in its infancy in 1994, but that didn't stop Lollapalooza from putting on "phreaky cyber sideshow" called the Electric Carnival. "Prepare yourself to enter into a possible vision of the world to come," the program teases. "A world in which the machines that count our days are transformed into marvelous contraptions of creative delight."
In order to facilitate that transformation, the Electric Carnival breathlessly offers Lolla '94 attendees the chance to connect to the World Wide Web itself: "Step inside and check out the Internet, a sprawling anarchic spider web of computers connecting people with each other and sharing information. You can play games, hang out in virtual coffeehouses, and visit entire cybercities."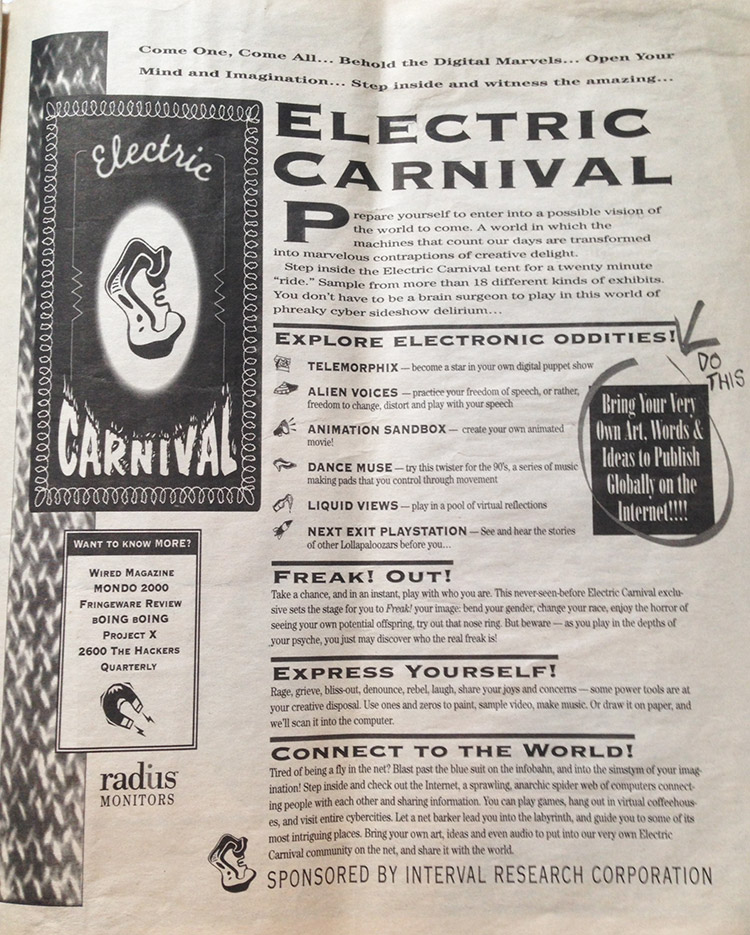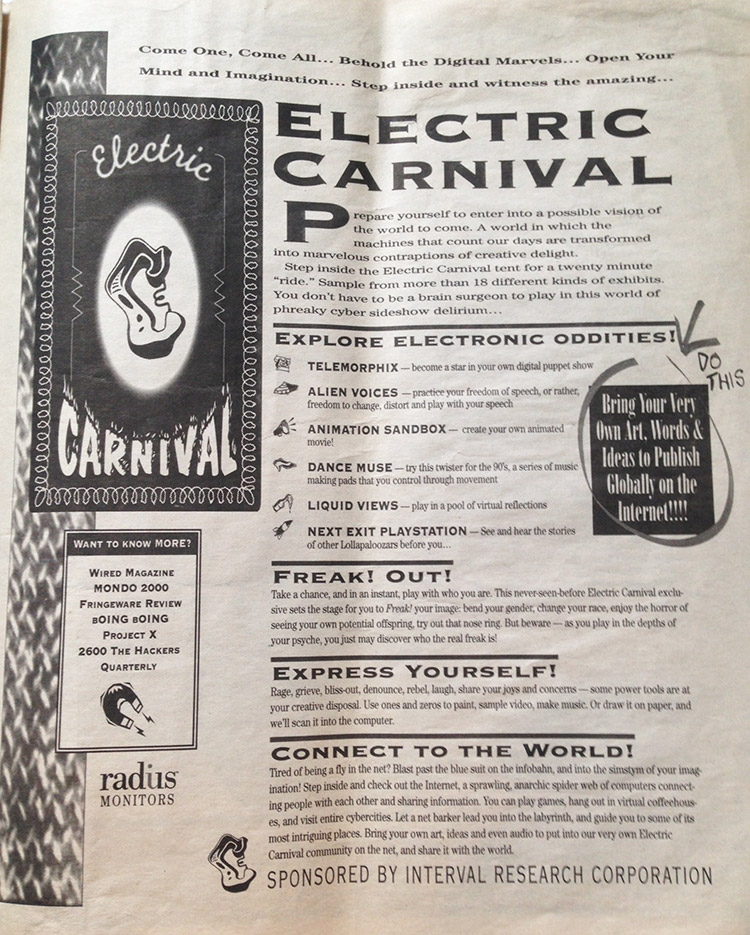 Milwaukee Miscellaneous