Eating and drinking all day at Summerfest can take a toll on your wallet, and walking around checking out the vendors really doesn't take that long. Plus, let's get real: it's the same stuff every year. Fortunately, Summerfest has a number of tiny stages on the east side of the grounds that have performers doing their own things. There's a nice, cool breeze, and a lot of seating, too, making the small stages a perfect escape from the hustle and bustle of Summerfest's main strip.
The Renegade Stage is a small, unlisted stage that boasts an eclectic lineup of musicians, varying in age, genre, skill level, and seriousness. Basically, it's like a box of chocolates. You never know what you're gonna get.
I spent a few hours at the stage to check out the variety of acts. I didn't know what I was getting myself into.
SUNDAY, JULY 2
5:53 p.m. – I arrive at the Renegade Stage after stuffing a pizza cone in my pie hole. The band currently performing is doing a rough cover of "Run To The Hills." There are quite a few people watching—so many, in fact, that the Summerfest back road is getting clogged up. The middle-aged men here are having the time of their lives, and a lot of them are wearing Iron Maiden shirts. This feels like karaoke more than anything, but regardless, people are really into it.
6 p.m. – "Thank you everybody! Good night!" yells the frontman. It's 6 p.m.
6:05 p.m. – Overheard during the set change: "Hey, did you hear the Metal Grill closed?" The changeover time provides a great opportunity for my favorite Summerfest downtime activity: people watching.
6:17 p.m. – Total Iron Maiden shirt count so far: 4.
6:22 p.m. – A second band takes the stage. "Are you ready for some kick-ass rock and roll? We are the Krispy Brothers from Racine!"
6:26 p.m. – The band dives headfirst into a cover of Mountain's "Mississippi Queen," a song I became familiar with as a child via the video game Rock Band. Why do I want to be a music writer? I don't really remember anymore. I stick out like a sore thumb in my dress and heels. Can everyone tell I only know the covers here?
6:30 p.m. – I spot a fan wearing a Krispy Brothers shirt. I had no idea the Racine music scene was so rich. A Kringle sounds really good right now.
6:32 p.m. – "We got any Ted Nugent fans out there?"
6:35 p.m. – "I got that Krispy Brothers fever!"
6:36 p.m. – I guess music is about making your dreams come true, or something. Even though this stage can feel a little ridiculous at times, I appreciate that it gives musicians a chance to perform at Summerfest, even if it's only in front of a small group of their friends.
6:40 p.m. – A group of 13-year-old boys walks by, sharing a vape pen. Is this what Pete Townshend meant when he wrote "The kids are alright"?
6:44 p.m. – That pizza cone didn't exactly fill me up. I take an ice cream break. I love clogging my arteries at the Big Gig!
6:53 p.m. – A guy with a broken wrist is now playing bass. There must have been a lineup change while I was away. A small child is headbanging. I'm glad they're starting them young.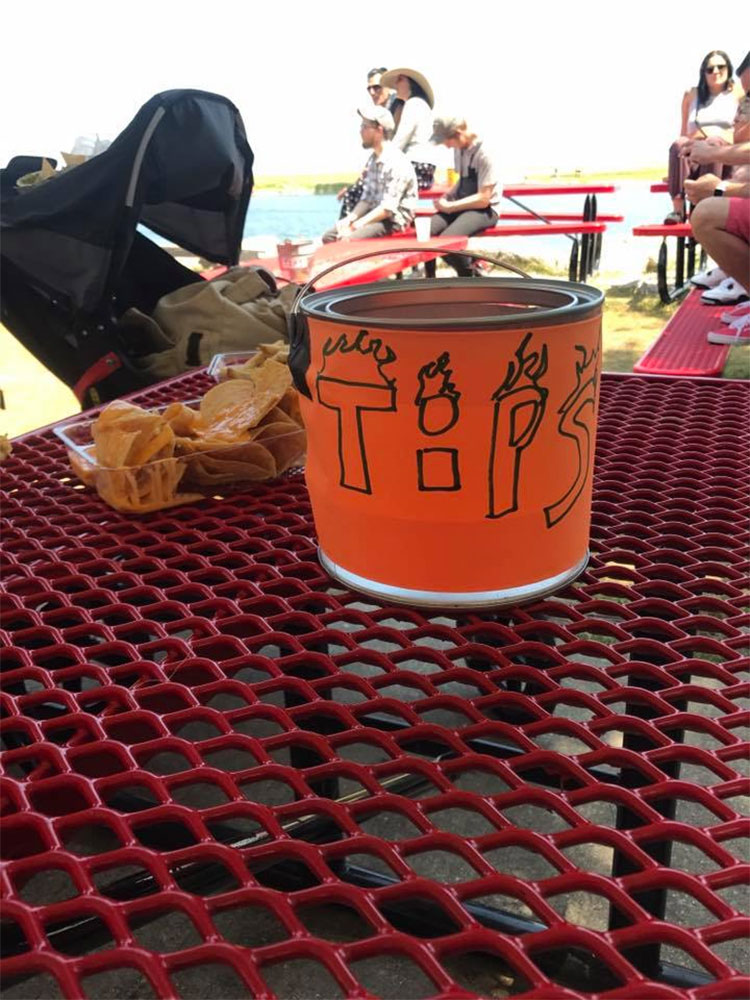 TUESDAY, JULY 4
1:30 p.m. – It's the Fourth of July and I'm back at the Renegade Stage, which seems fitting. Independence and whatever. Vedic Eden is grooving with six instruments, and everyone's having a good old time. The stage's vibes are completely different from the last time I was here.
1:49 p.m. – "ONE MORE! ONE MORE!" the crowd yells, demanding an encore from the reggae-rock fusion band. "Let's give it up for…uh…Eden…uh…" says an organizer.
2:02 p.m. – I take a stroll during the set change. Over at the David Gruber Sports Zone, the Milwaukee Bucks Dancers are doing the Harlem Shake. I can't believe that's still relevant. I spin the Gruber Wheel of Fortune and there are two choices: lip balm or the "prize of the day." I, along with the five people before me, win the lip balm. This must be rigged. I need a lawyer.
2:10 p.m. – I head north to check out the Ground Floor Stage. A small but enthused crowd is gathered in the street as Lena performs an acoustic cover of the Indigo Girls' "Closer To Fine." I really respect Summerfest's commitment to making sure that people are jamming every second of the day.
2:15 p.m. – I notice a tent of records next to the Renegade Stage. Apparently, they aren't for sale, but to attract visitors to the stage. Renegade Stage organizer Coventry Jones explains that the acts are picked through online submissions, hence the varied nature of the lineup.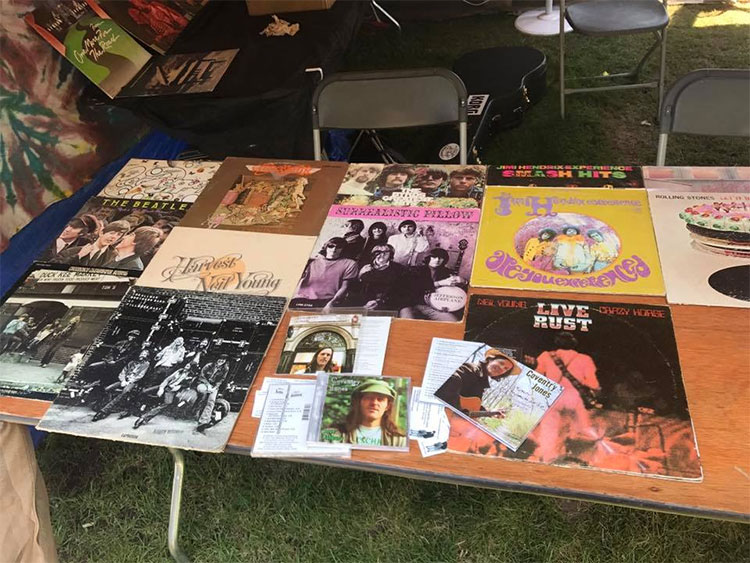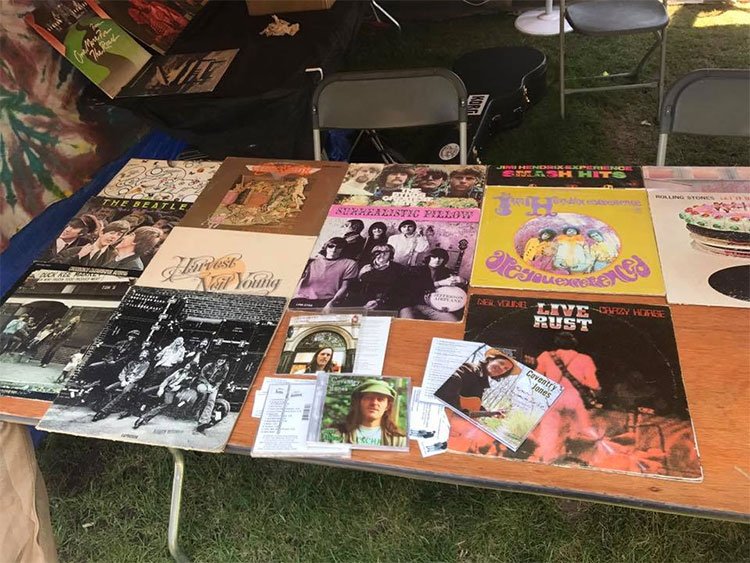 2:20 p.m. – I return to my seat to watch Cordell Winter, a young man very reminiscent of Brett Michaels circa his "Every Rose Has Its Thorn" era. He's up on stage alone with nothing but an electric acoustic guitar.
2:31 p.m. – "I might be one of the last people alive playing rock and roll music…music with a real spiritual depth and meaning," says Winter. Uhhhh, that may or may not be true, but he does have a pretty good voice and guitar chops.
2:46 p.m. – "Got any Led Zeppelin fans?" he asks. I sense a Led Zeppelin cover is coming up next.
2:47 p.m. – Yup. He starts playing a rendition of Zep's "Thank You." A woman who I can only assume is his mom swarms the stage with her phone camera in hand. You're doing amazing, sweetie.
3:06 p.m. – A few audience members are half-heartedly singing along to Winter's cover of "Knockin' On Heaven's Door."
3:27 p.m. – The aforementioned Jones takes the stage next with his acoustic guitar. "The girl I wrote this about doesn't know it's about her. Neither does her boyfriend. He'd kick my butt if he knew I was singing love songs about his girlfriend!"
4:02 p.m. – A small child dressed as David Bowie is up next. His Bowie ensemble is quite impressive, and his set spans many Bowie eras. As he begins belting out "Life On Mars," a lot of people start gathering in the street to check him out.
4:07 p.m. – He picks up an electric guitar and starts strumming away to "Space Oddity." His guitar is almost the same size as him. People begin whipping out their phone cameras to take videos of the little Bowie impersonator. My cold, dead heart has grown two sizes.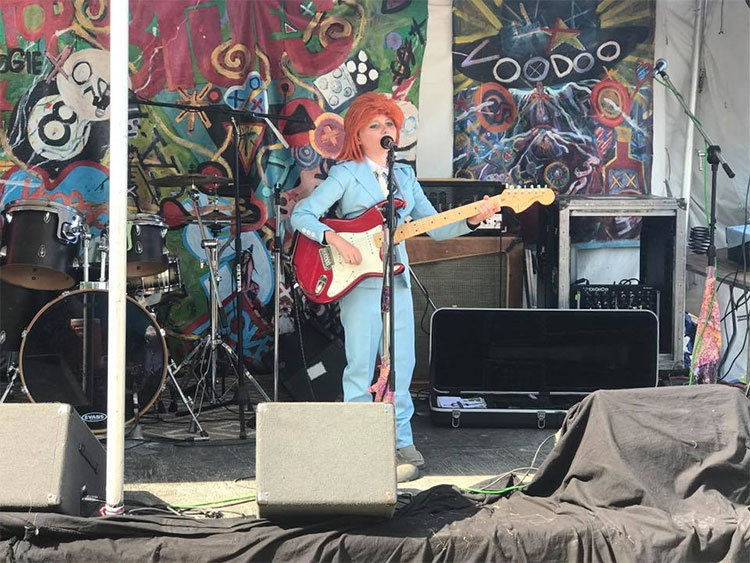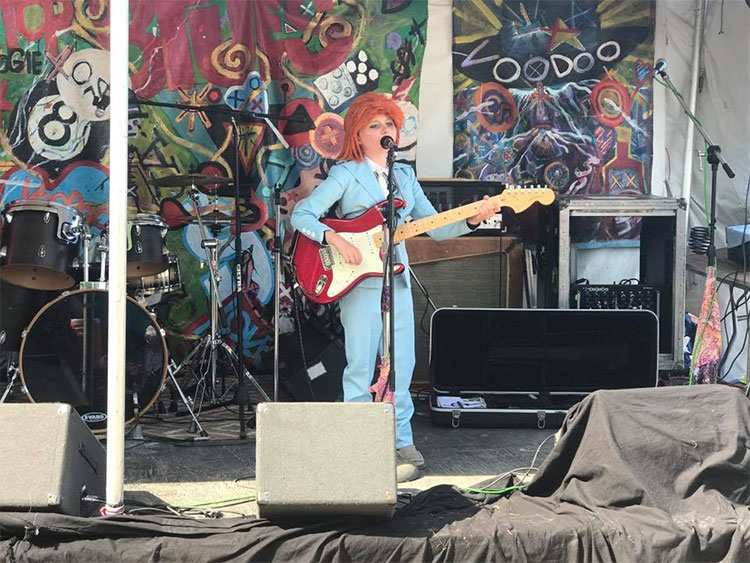 4:12 PM – A small girl wearing a Bowie shirt is here, her face covered in glitter. She's singing every word to every song. Remember what that guy said earlier about being the only person left who loves rock and roll? Hmmmm.
4:17 p.m. – Little Bowie's stage name is Mini Stardust (real name Valor Yost), and he explains to the audience how he got his start playing music. "For my third or fourth birthday, I went to see a Johnny Cash tribute band. [A viral video of me] was on CNN and Good Morning America. When I got to eight years old, I retired, but last year I found David Bowie. I started loving his music and playing his music."
4:26 p.m. – After a costume change, Mini Stardust begins playing songs by the metal band Ghost. I remember I can't play any instruments. I hate myself.