While countless people flock to Milwaukee's numerous clubs, theaters, arenas, concert-equipped coffee shops, and other performance spaces every year, only a select few are allowed to peer behind the scenes. Unless you're a comedian or musician about to take the stage, you're touring with an artist or you're employed by the venue, you probably haven't had the opportunity to see where performers spend time just before or immediately after a show in Milwaukee. Until now.
Every month, Milwaukee Record will let you "Inside Milwaukee's green rooms" with candid photos, thorough backgrounds, and personal anecdotes about the backstage confines of the city's venues. We'll kick the series off with the holy trinity of Milwaukee venues: Pabst Theater, Riverside Theater, and Turner Hall Ballroom. [All photos by Meg Strobel.]
Pabst Theater
Said to be a favorite of world-renowned talents like Dave Chappelle and Jim Gaffigan, Pabst Theater's green room is located below the stage. It boasts a row of tables in a secluded dining area, on-site laundry, leather furniture, a turntable and dozens of records, both classic and modern gaming systems, catering, and a personal Colectivo barista available at every show. Comedian Kathleen Madigan says she's a fan of the Ms. Pac-Man arcade machine and we're told Norm Macdonald once held the high score on the Pabst's Galaga console.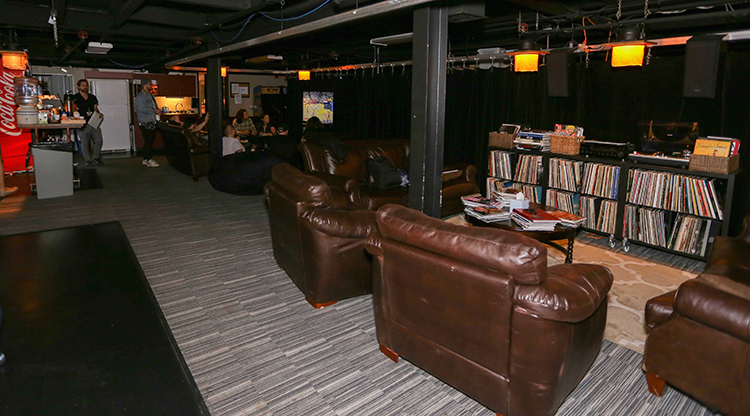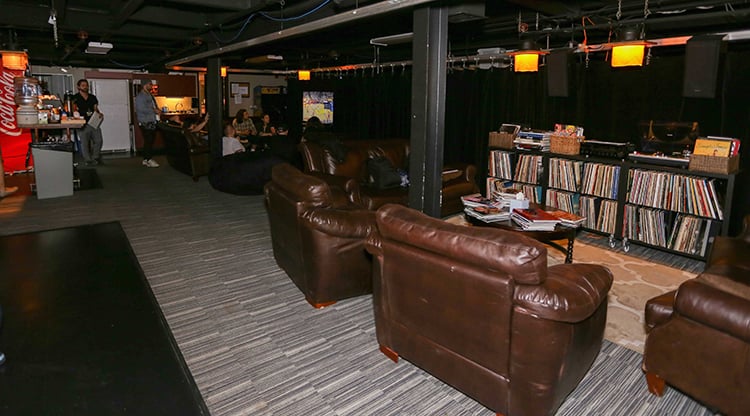 "I know Dave Chappelle always has a great experience here. A number of people on his crew repeatedly said this is the best green room in the country, possibly the world," Pabst Theater Group Assistant Hospitality Director Eric LeMieux says. "David Cross had an excellent time here. Jim Gaffigan always has an unbelievable time. Sharon Jones was playing Nintendo down here until like six in the morning one time. It's very comfortable here. The green room is under the stage and there's not a lot of distance to travel."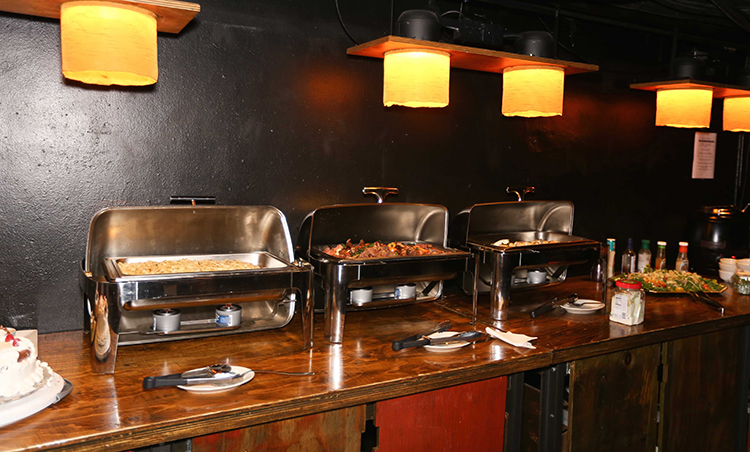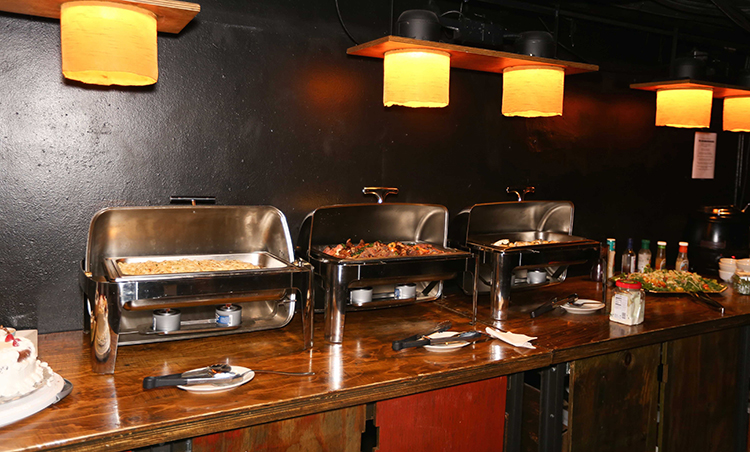 "We call and have a conversation with [a performer's] tour manager and say, 'What are you guys into? What are you hungry for? You're probably sick of [meal listed on your rider] by now,' Pabst Theater Group PR Director Andy Nelson says. "If at all possible, we try to make a Milwaukee take on an meal."
"[Dave] Chappelle and St. Vincent, one of the things they have in common is they both like to play Mike Tyson's Punch Out."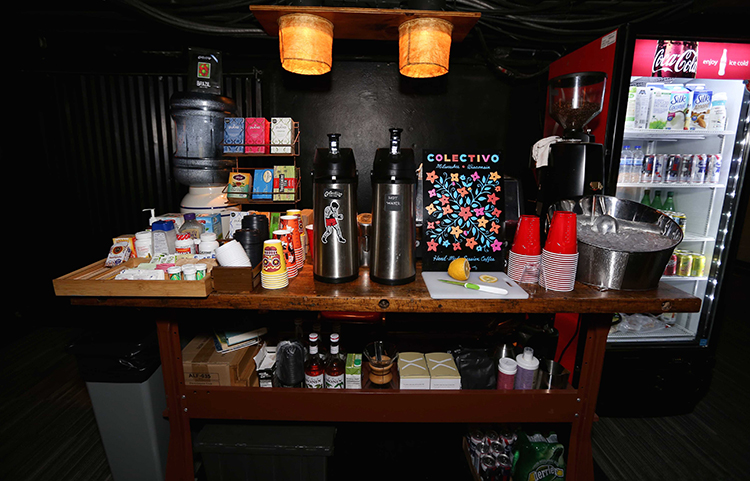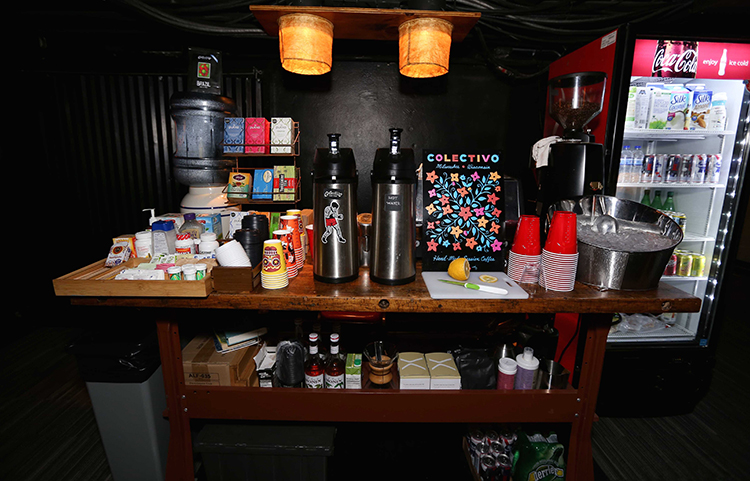 Riverside Theater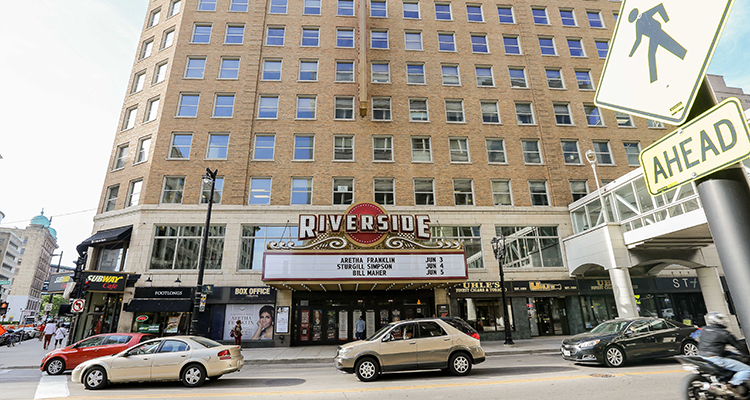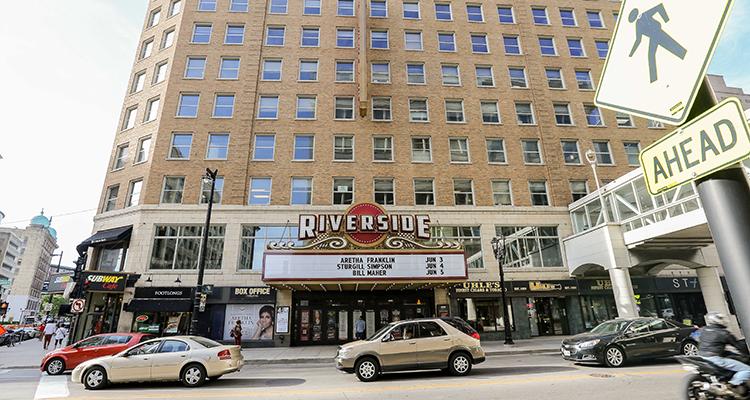 Riverside Theater is the largest Pabst Theater Group venue. As such, it also offers the most backstage space for performers. On the six floors between the stage on the ground level and the primary green room on the eighth floor, there's a number of private dressing rooms with amenities like showers, televisions, video game systems, and private bathrooms. Riverside's main green room was updated about two years ago. New flooring and fixtures were installed, and posters of past Riverside performers now hang around the room. The spacious dining area includes a turntable and dozens of records, televisions, classic arcade games, lavish furnishings, and a personal Colectivo barista on hand at an abbreviated coffee bar. There's a full-service kitchen were a chef, a sous chef, and pastry chef prepare meals for artists at all three Pabst-affiliate venues.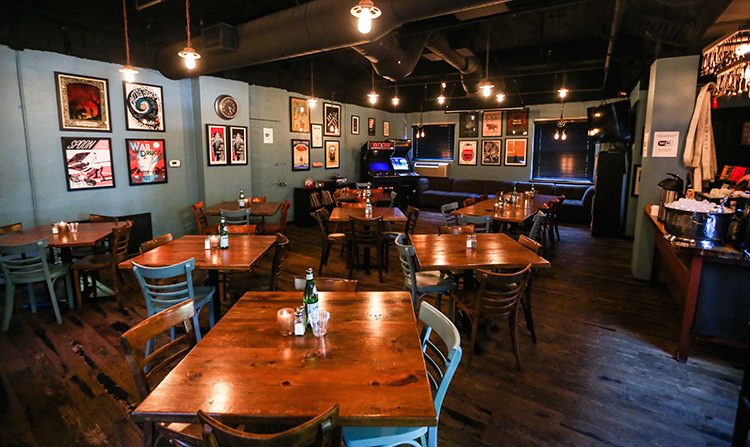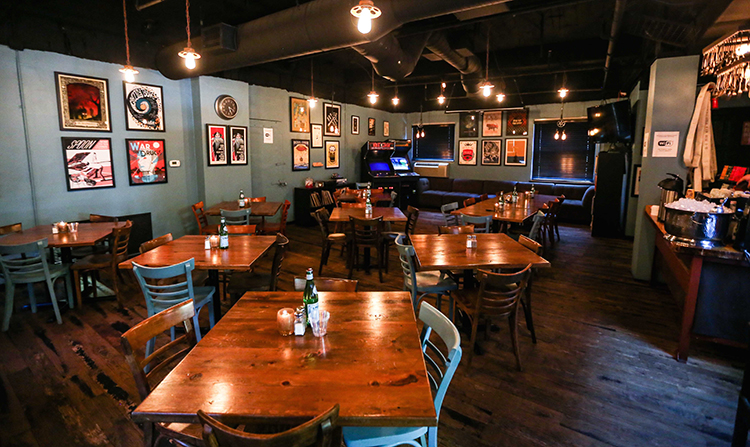 "This space, more than any of them, looked nothing like this. It was just all white walls everywhere and nothing else," Nelson says. "About two years ago, we installed a wood floor and fixtures to give it a more of a welcoming feel. This is wood reclaimed from a barn."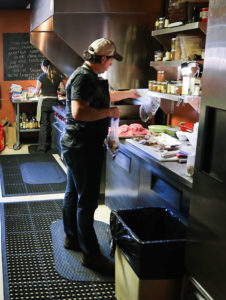 "One of my favorite memories here is when I was riding up the elevator with Jackson Browne and talking with him," former Pabst Theater Group Assistant Hospitality and Catering Manager Marcus Severin says. "He was so happy about everything up here, and he said 'This is the best catering and hospitality I've had in the United States. The only place I can think of that really tops you guys is Hamburg, Germany.' Catering in Europe is next level. Everywhere you go is really impressive, so hear that from a guy who's been on the road for 30 years was pretty special."
"When we did the GOP Town Hall, CNN made this their headquarters for their office," Severin says. "Usually, everybody is off scattered doing their thing, but because we had the cheese trays, meat trays, and the barista, this place was just packed. There were Secret Service guys coming through, camera guys, and people coming out of the woodwork. The production staff was joking that they were actually getting things done because they were staying here."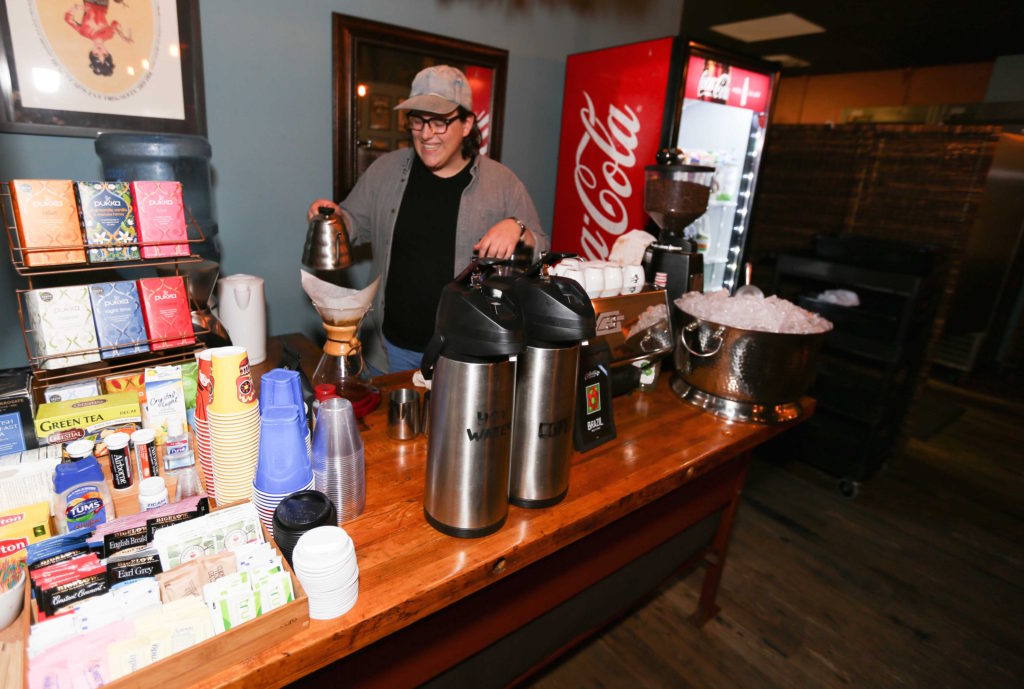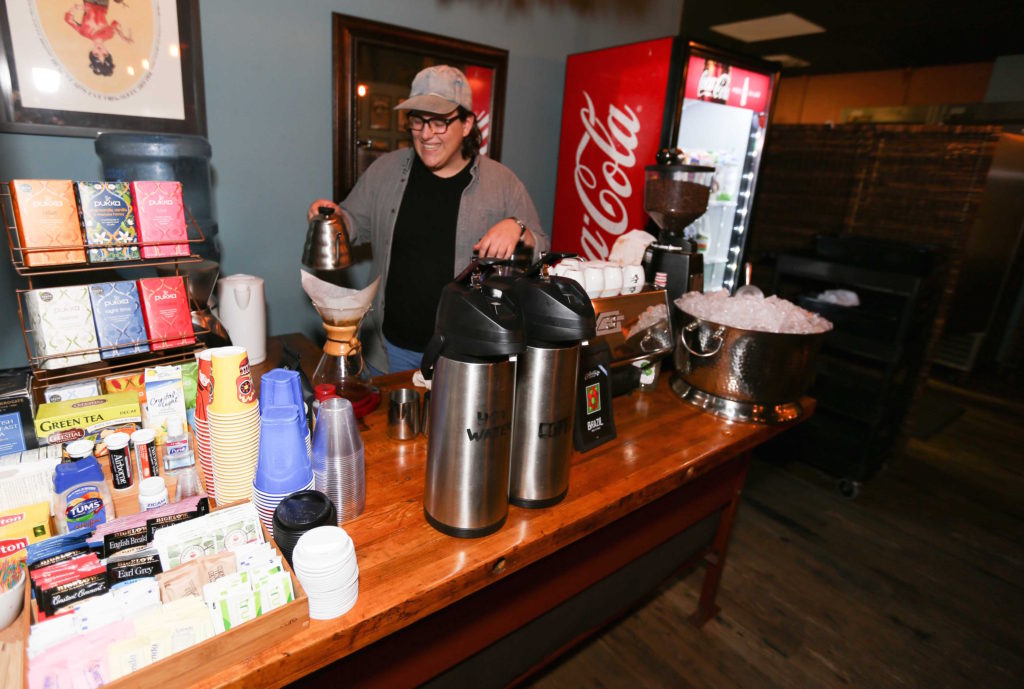 "We always say 'Don't even unpack the coffee box. It's going to be settled. We've got the coffee,' Severin says. "These touring artists are then like, 'Can we get that at the next show too? Let's bring that barista with us.'"
Turner Hall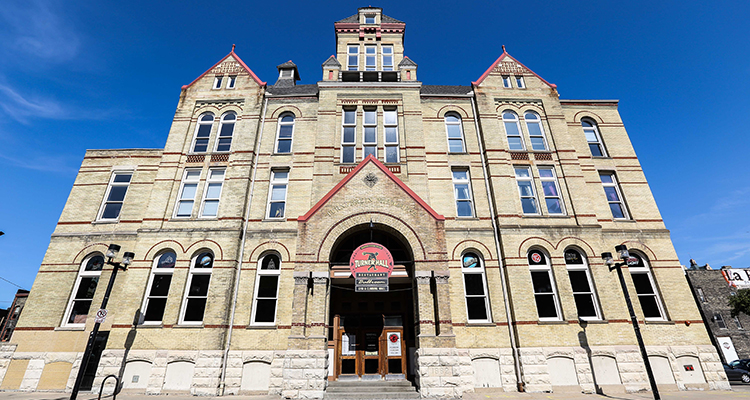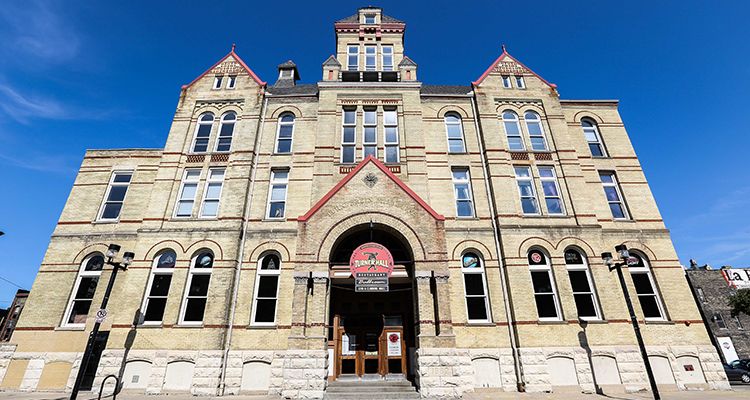 For many bands and comedians that come through Milwaukee on tour, Turner Hall is their introduction to the city. The green rooms (plural) in the 1882 edifice gives a great first impression with a lounge/dining area, a record player, and a personal Colectivo barista in the lower level. Up a flight of stairs, performers find furniture and creature comforts like an ironing board, a private bathroom (complete with a shower). With many Turner Hall acts on the cusp of breaking out, the ballroom manages to offer enough amenities to set it apart from similarly-sized spaces acts are performing at on the same tour, while still maintaining 19th century spirit.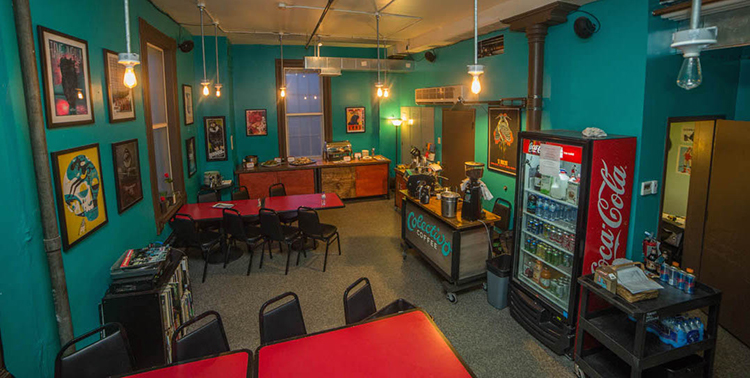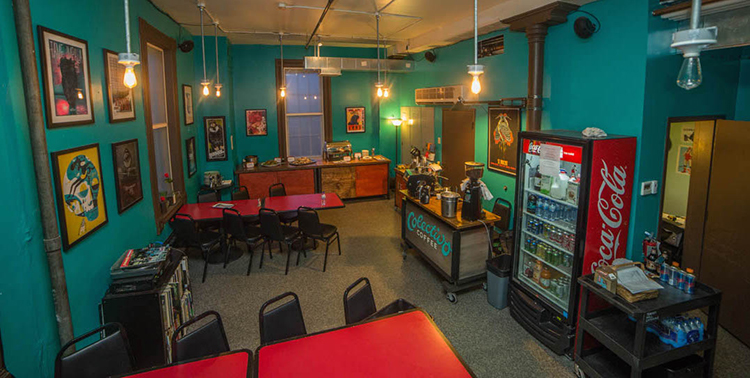 "If bands are playing Turner Hall, it usually means they're also playing smaller clubs elsewhere. So when musicians walk in, they're usually shocked to know they have a space of their own," Nelson says. "The catering area is separate from their backstage actual area."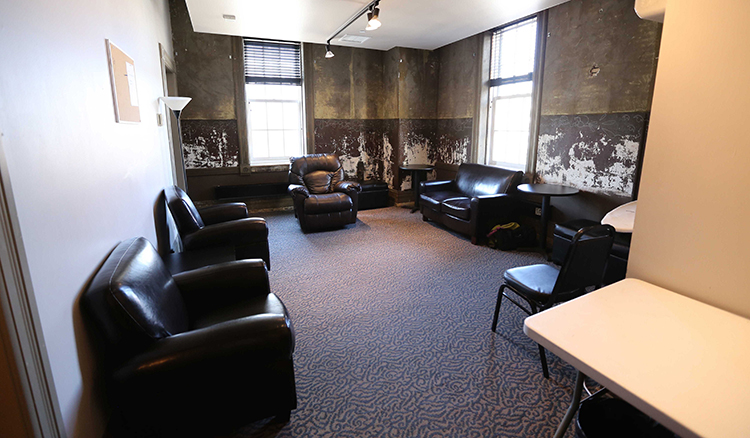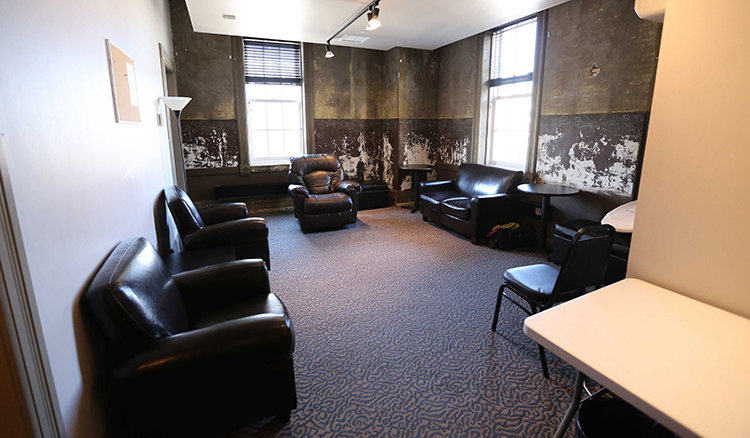 "A big difference here at Turner, between here, Pabst and Riverside, is that Turner shows its age," Nelson says. "It could be inspiring to the artist to be in this building from 1882, whereas your don't see that age in other venues."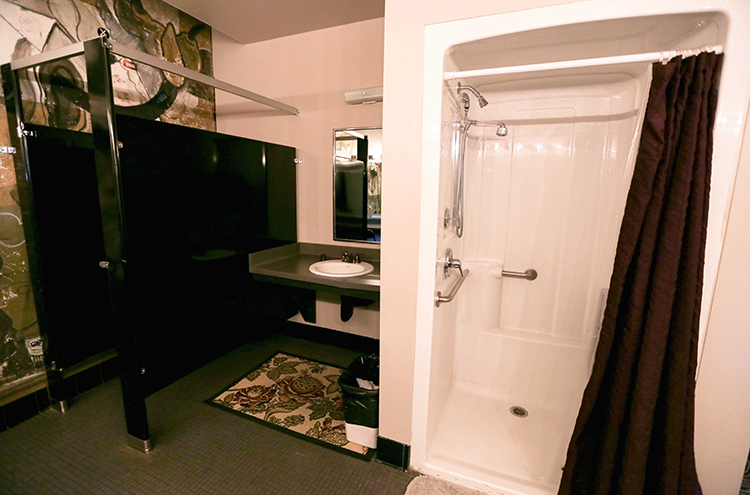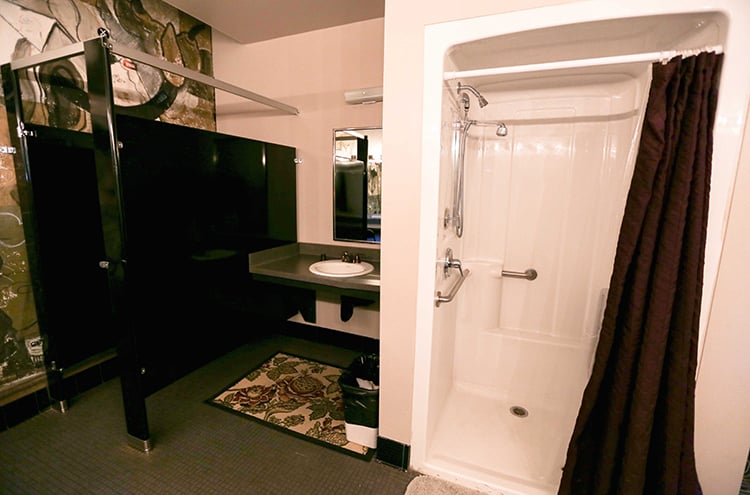 "Some performers have a tour bus, but most at Turner just have a van, so there's no shower," Nelson says. "The idea of having a place to shower is a huge deal, specifically for the bands that are the size to play a 300- to 1,000-capacity rooms."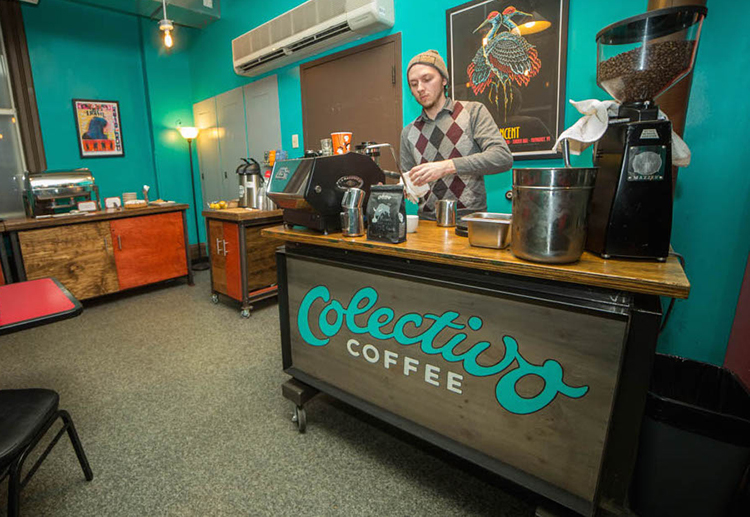 "Both of these rooms have evolved over the last 10 years," Nelson says. "Both of them were totally blank spaces that didn't have anything in them. We had to make the downstairs space fit to be a catering space, and work out a deal with Colectivo to bring them in. It's kind of evolved over time to make it a cool space."