Three weeks ago, Milwaukee's second-annual Hip Hop Week wrapped up, and the Marcus Center for the Performing Arts played an important part, hosting Ladies First: The Women Of Classic Hip Hop And R&B at its Peck Pavilion. Curated by B~Free, the event was a free-flowing, triumphant showcase of some of the city's best rappers and singers paying tribute to their '80s and '90s influences. Q The Sun's Hip Hop DNA: Volume I, held in Vogel Hall Friday night, served as a terrific companion event and a coda to the official festivities in August. Undergoing a forced reinvention as it is, if the Marcus Center chooses to embrace hip-hop culture as part of its new identity, it's a good look thus far.
"This type of music does not exist in this space, in this city, in Wisconsin," said Q (Kiran Vedula) during his intro monologue. "So make some noise for that." Vedula, always a lively presence onstage, promised to keep the history lessons to a minimum. Although he gave a very basic nuts-and-bolts breakdown of hip-hop music formation and structure, the performances that followed left it to the audience to draw on their own history with the roots and branches of the genre.
Vedula played the role of DJ/keyboardist/occasional narrator, part of a 10-piece ensemble of local stars and relative unknowns. Tasked with performing a variety of styles from tribal to jazz to gospel to disco and beyond, the band managed some incredibly deft transitions and felt mostly at home in whatever mode was demanded. At times the music pushed the limits of the venue's sound system but never distractingly so.
From the moment it began, the beat rarely stopped for the next hour-plus, as the band cycled through snippets and stretches of virtually innumerable songs. At any moment, a familiar sample from any era of popular music might've made its way into the mix for a few bars; clearly the arrangements were well-orchestrated but the flow felt loose and improvisational, all in service to a dizzying array of guest vocalists and dancers, including most of Vedula's New Age Narcissism bandmates.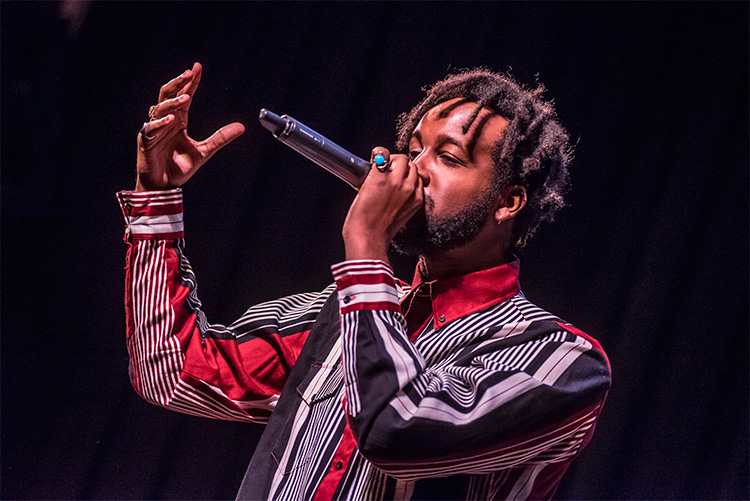 It was a diverse cast with no significant weak links, but it's safe to say the ladies dominated the men overall. There's no way to call attention to all the highlights packed into this set, but we might as well start with Shaddye, whose verses on top of Black Star's "K.O.S (Determination)" set the bar high for the rest of the night's MCs. The legacy of Nina Simone played a big role in the show; the trio of Kyndal J., Marcya Daneille, and B~Free performed an unforgettable take on Simone's "Four Women," and later, Lex Allen's chilling partial rendition of "Strange Fruit" morphed pointedly into Kanye West's "Blood On The Leaves." Shle Berry and Mudy traded memorable verses with Shaddye, and B~Free channeled James Brown and Kendrick Lamar as the groove of "The Payback" gradually segued into "King Kunta," followed by a few climactic choruses of "Alright" to cap the To Pimp A Butterfly two-fer.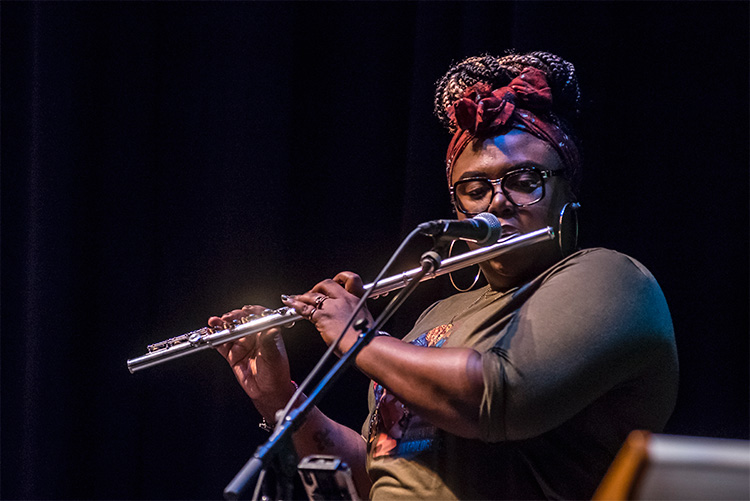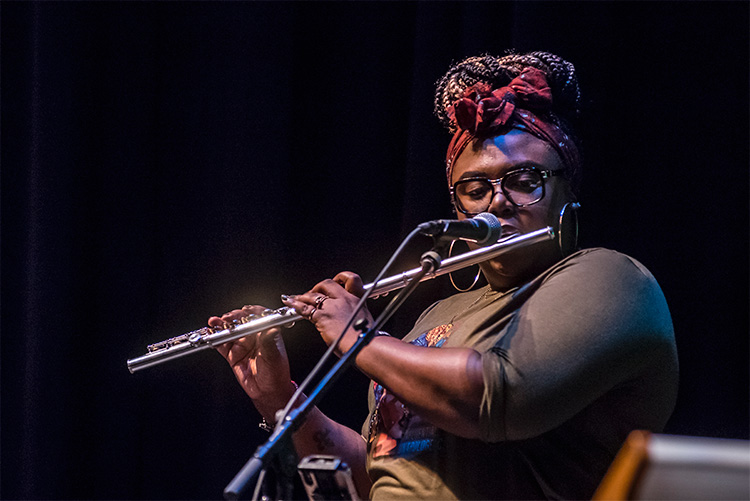 An unexpected setlist choice arrived when Siren sang Blondie's "Heart Of Glass," the band's contentious breakthrough single that brought sell-out accusations from the New York punk crowd back in 1979. But as any chronicle of that scene is quick to mention, underground music of all styles converged during that period, and it was the breaking down of such cultural barriers that became the very definition of hip-hop. There's no genre that came before (even country!) that hip-hop doesn't draw from.
Indian and African culture were of course well represented. The Aarabhi School Of Dance brought a dazzling Bollywood routine to the stage as well as some bol vocal technique, and the Panadanza Dance Company provided perhaps the most impressive visual displays of the evening. Showcasing a variety of contemporary, Latin, and African dance styles, the trio of Karlies Kelley, Angel Alexander, and Imani Jalil performed two starkly different routines that showcased their talents from sensual to celebratory movements.
Celebrated local choreographer Christopher Gilbert shone a light on modern hip-hop styles from his own contortionistic mélange to various shades of pop/lock and krump, featuring Vee Adams and Dos. And the night wouldn't have been complete without the b-boy stylings of Clan 19; as Vedula explained, breakdancing arose out of the very musical breaks that form the basis of hIp-hop as we know it.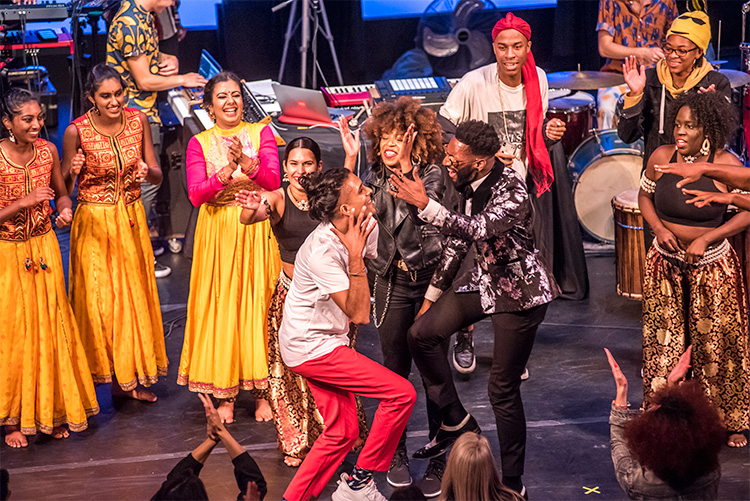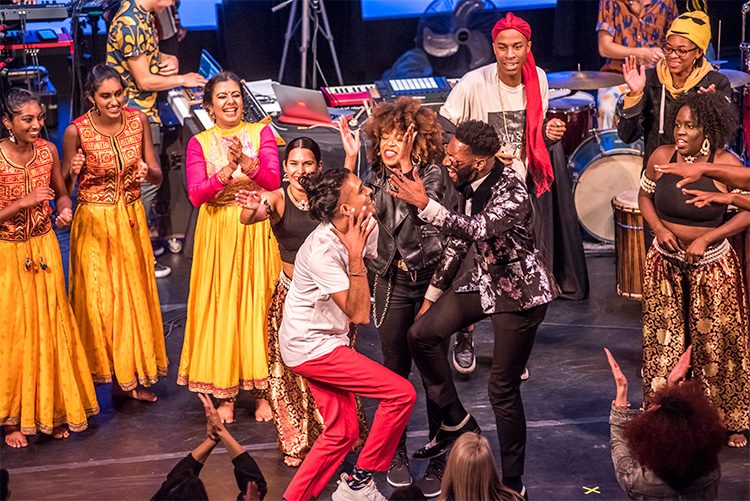 The austere theater wasn't exactly designed for dancing, but the packed crowd gradually came to life as people got more comfortable with moving and clapping in their seats. By the time "Atomic Dog" rolled around, the mood in the room was bursting, and everybody was on their feet. This event barely scratched the surface of hip-hop's history, but that just leaves endless ideas on the table for Volume II, if and when it appears. Meanwhile, hip-hop's present and future, at least in Milwaukee, seem as bright as ever.