With all due respect to the actual night-ending headliners who have earned top billing at their respective Summerfest stage this year, there's really nothing better than a quality afternoon "headliner" at the Big Gig. There's no need to camp out for hours to save a good spot on the bleachers. The post-show bus situation is far more favorable than the midnight melee on shuttle row. Sometimes you're able to get into the grounds for free. Food and beer lines aren't really an issue yet. And most importantly, there are some legitimately good artists performing.
In recent years, Summerfest has seemed to make a point of getting folks through the gates earlier by booking a winning blend of nostalgic heavy-hitters, up-and-comers, and lauded locals to play afternoon slots. It's legitimately awesome. Well, it's awesome if you're a 36-year-old entertainment writer, at least. The majority of these standout bookings occur in the 4 p.m. slot, a time in which Kurtis Blow, Everclear, GGOOLLDD, Big Daddy Kane, Willy Porter, Candlebox, and many more will perform before this year's Summerfest is through.
Eve 6 was also supposed to have one of those 4 p.m. slots, but a scheduling conflict—drummer Ben Hilzinger was also slated to play with Cannons at the Miller Lite Oasis Stage at that time—found the platinum-selling alternative rockers responsible for some of the most popular songs of the late '90s and early aughts taking the Generac Power Stage at 2 p.m. on Saturday. While we, like much of the Internet, have been enjoying singer/bassist Max Collins' recent Twitter activity that ably walks the line between being self-aware shitposting and an "art," we more so just unironically enjoy Eve 6's music and wanted to see them for free (everyone got in for no charge from 12-3 p.m.) on an overcast Saturday afternoon on Milwaukee's lakefront. Following an hour-long set that featured 14 songs and a few laughs, we're glad we showed up early to Summerfest.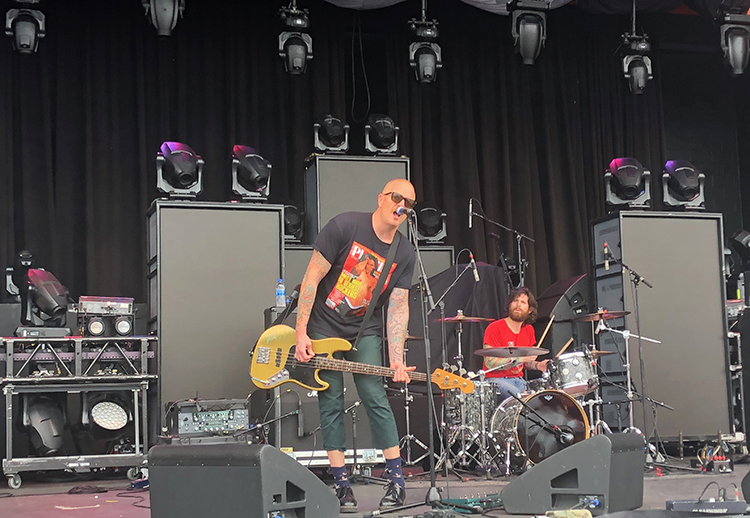 The trio—consisting of Collins, original guitarist Jon Siebels, and double-booked percussionist Ben Hilzinger—took the stage a few minutes after 2 p.m., and wasted no time before treating the then-modest crowd to old favorites with an energetic rendition of "How Much Longer" (upbeat Eve 6 album opener) and Horrorscope hit, "Promise." Following that one-two punch, Collins issued a warning to the audience. "We're going to fuck up a lot," he said. If they did fuck up, we didn't notice. Nor did anyone else seem to in the ever-growing collection of people making their way to the front of the stage.
The majority of the set featured songs from the band's first two major label releases, as well as a few cuts from 2003 mainstream departure, It's All In Your Head. Yes, they played "Open Road Song" and "Leech" from the Certified Platinum breakout debut. And you know they played beloved ballad "Here's To The Night" and fan favorite "Amphetamines" from their Gold-selling sophomore record. There were also a few surprises, including a great new post-punk leaning song from Eve 6's 2021 Grim Value EP. They also played a song called "Anytime," the band's contribution to the soundtrack of Out Cold, a Zach Galifianakis ski comedy that Collins disingenuously declared to be "one of the most important films of all time."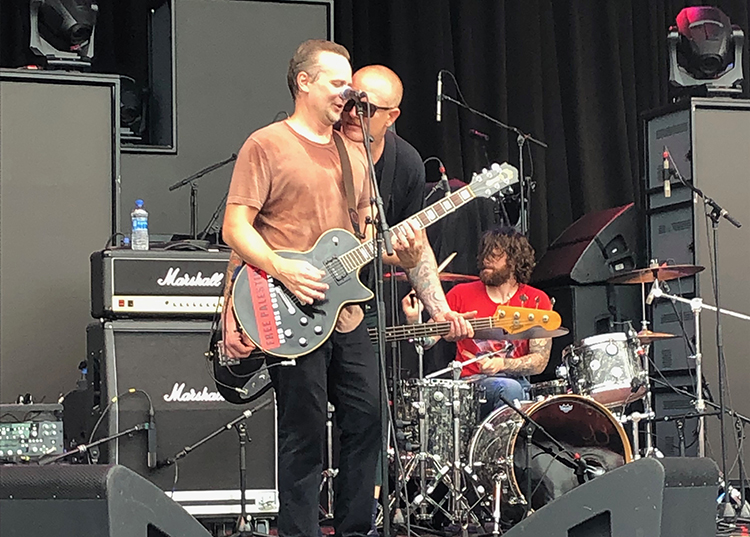 Between songs, Collins thankfully inserted his fair share of self-deprecating humor to keep the continually-growing afternoon audience engaged. He talked about the band's new Spirited Away-inspired shirt ("It only took us like 24 years to make a good shirt and it'll probably get us sued by parent company Disney.") and his concerns about being able to fill their designated set time. "Nobody wants to hear Eve 6 play 75 minutes. That's absurd," he deadpanned. "We might be a little bit under, but long enough for the check to clear." He and Siebels also reminisced about some of their previous Summerfest appearances, including seeing a member of Third Eye Blind allegedly screaming at an employee in front of them and the time Eve 6 opened for Bon Jovi and the P.A. system was off. The bar was low to that point, but Collins deemed Saturday's performance to be their best time at Summerfest yet. And personally speaking, it was the best time we had at Summerfest in our three days there so far this year.
While the singer peppered in some funny commentary between songs, the band seemed focused on  delivering a great performance. Collins roamed the stage, alternating between two mics and kissing his longtime bandmate on the cheek at one point. The trio's true-to-album instrumentation and the singer's incomparable sneer were all top-notch over the course of the 75-minute set (yep, we're pretty sure they made it to 75 minutes!). Before calling it a day, though, the seasoned rock outfit ended its set in style. "This song is called 'The Heart In A Blender Song,'" Collins said before the band concluded its standout 2 p.m. performance with the track that's actually called "Inside Out." Here's to the afternoon we saw Eve 6 with a few hundred early birds for free. And here's to the daytime "headliners" at Summerfest. Keep 'em coming!
Set List
How Much Longer
Promise
Open Road Song
Leech
Anytime
Think Twice
On The Roof Again
Here's To The Night
Amphetamines
At Least We're Dreaming
Black Nova
Tongue Tied
Superhero Girl
Inside Out (The "Heart In A Blender" Song)