Late May is a time of exodus on Milwaukee's upper East side. University-adjacent sidewalks are strewn with gently (and not so gently) used furniture, as parents and Hernia movers alike help new graduates move back home or to new residences. As countless youngsters were trying to undo a year of damage in the waning days of their lease in a futile attempt to recoup their entire security deposit, a new occupant was moving in a few blocks from the UWM campus. Last Tuesday, Wright's Burgers & Wings (3133 N. Oakland Ave., 414-961-9297) opened shop smack dab between a Jimmy John's and a Domino's Pizza and within dorm-drunk stumbling distance from a Noodles & Company and Qdoba. Taking over the space American Euros vacated last December, Wright's brings some local presence to a section of the city that thrives when school is in session, with the added bonus of not specializing in the same type of food as nearby Oakland Gyros. As students rolled up their posters—probably that one with the girls kissing—and said goodbye to the friends with whom they'd never forget spending nights they'd never remember, Milwaukee Record said hello to Wright's Burgers & Wings.
The space: We must admit that we'd never been to American Euros. (Again, Oakland Gyros is close by.) That said, we highly doubt much has changed. In fact, the burger business' eponymous owner, Damien Wright, co-owned American Euros. The cozy restaurant can seat about 20 patrons at metallic tables situated in front of the Oakland Avenue-facing window and, with customers expected to order at the counter, is built for relatively quick turnaround in an informal setting. Adding to the youth-oriented motif was Jimmy John's-esque signage nailed to the walls explaining what "Hangry" meant, as well as this clever bit of hip-hop humor on the soda dispenser.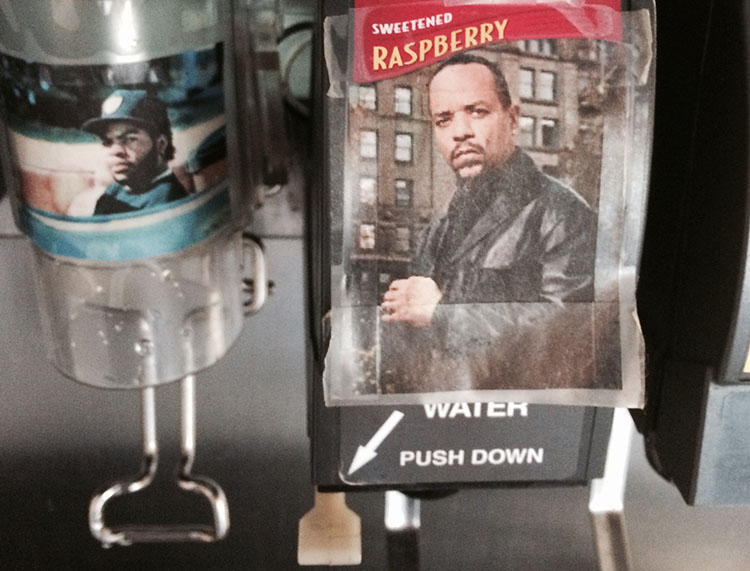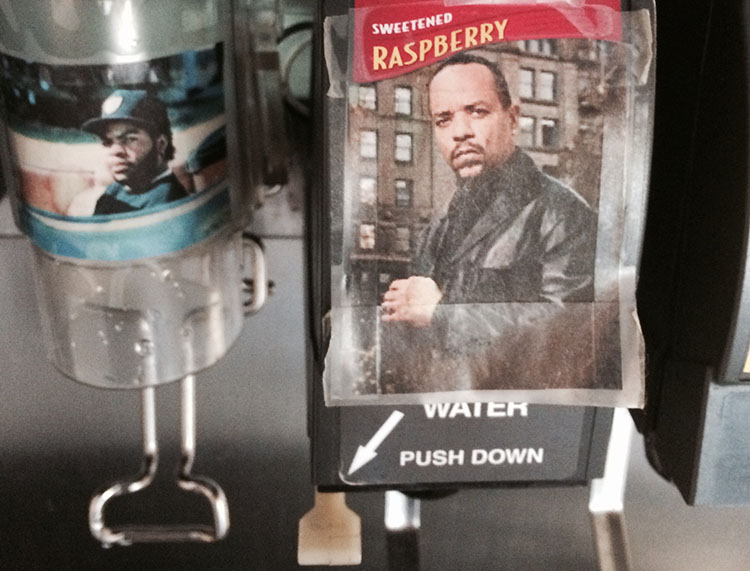 The service: We arrived directly between peak hours on a rainy, bleak Saturday. Upon our 3:30 p.m. arrival, the only other customer in the joint prepared his departure. After we glanced at the chalkboard menu beside the hole designated for ordering, we caught the attention of the one and only employee working. The young man donned a Bayside shirt and a backwards cap. Kids today, right?! Just kidding. He was professional, courteous, and already seemed to have a solid grasp on the five-day-old restaurant's menu as he described Wright's various wing sauce options.
Milwaukee Record's food: Wright's Burgers & Wings isn't just a cute name. Beyond Feta Cheese Sticks, something called Cheesy Bacon Bombs, onion rings, domestic beer, and the somewhat expected children's menu options like grilled cheese and PB & J sandwiches, the no-frills food purveyor simply offers just variations of burgers and wings. That's pretty much it. Of course, there are 10 house burgers that range from beef, chicken, veggie, and lamb-beef hybrid patties. There's also a build your own option, with a vast array of standard toppings along with more adventurous accoutrements like a fried egg, avocado, and celery slaw. There are also nine sauce selections for Wright's wings.
Though the Chicken Bacon Ranch Burger ($6) and the Mary Had A Little Lamb Burger ($13.75…yeah, fuck that) were calling our name, we eventually opted for the Milverine Burger ($6), based on its shameless use of a local personality's namesake to move meat. The menu billed it as a "Beef patty served on a toasted brioche bun—period." That's exactly what it was….a laughably small hunk of hand-pattied beef on bread. The bun dwarfed the beef to an extent that we're 95 percent sure we received the eighth-pound value burger accidentally instead. For some reason, this was called a "Specialty Burger." We quickly understood the rationale behind the name, since it was intensely pedestrian. Eventually we asked for some ketchup and mustard to liven it up a little. We hoped the four bone-in wings ($5.75) we ordered would redeem our burger blunder. The "green chile" sauce seemed interesting, but wound up being messy (even by wing standards) and not remotely worthy of the warning regarding spiciness. The wings had size on their side, but that's about it. They were stringy and internally inundated with grease. Once again, we regretted our choice, though the excess green sauce made for an adequate addition to our leftover bun once we finished the miniscule hunk of ground beef.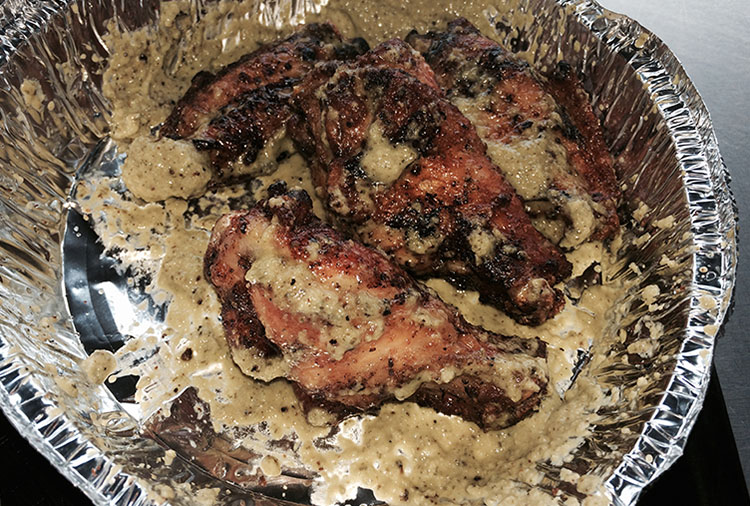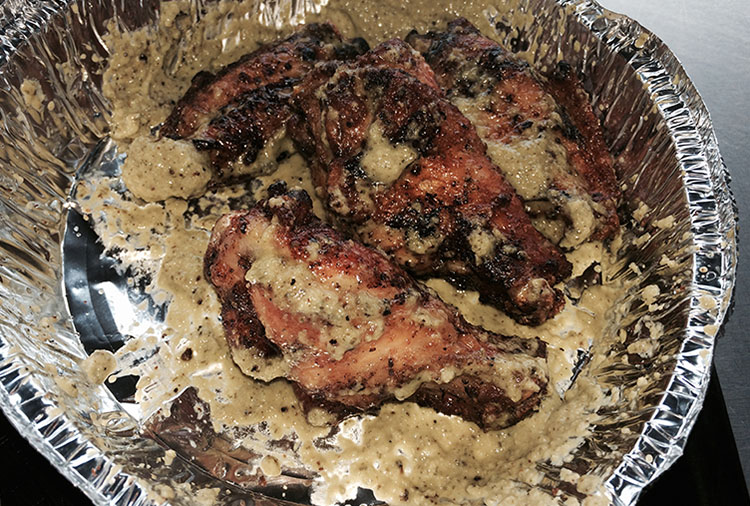 The verdict: We'll definitely give Wright's another shot. This is not because our inaugural trip was particularly enjoyable (it wasn't), but because we regret not trying a different burger and a better fit wing topping. With a simple, focused menu and a prime location, Wright's Burgers & Wings has oodles of potential. Hopefully they tap into that potential by the time the fall semester rolls around.