It's been a big year for Emmitt James. Since leaving Los Angeles and moving back to his hometown of Milwaukee in late 2022, the hip-hop/jazz musician marked the release of his Undeniably Ground-Breakingly Excellent album—one of our favorite 2023 records, by the way!—this spring with a release show at The Back Room @ Colectivo. Since then, James has performed at large-scale local happenings like Brady Street Festival, took his show on the road for some out-of-town appearances all around the Midwest, and has been working hard on his biggest and most ambitious live outing of his artistic career.
On Friday, August 25, the multi-faceted performer will preside over the Emmitt James 10 Year Big Band BBQ at Third Space Brewing. The event, which celebrates James surpassing the 10-year mark as an independent musician, will NOT be a typical concert. In addition to a massive 13-piece band offering expanded and re-imagined versions of his material at this free show, James will be bringing in barbecue from Daddy's Soul Food & Grille, and will be raising funds for Milwaukee Public Schools Foundation's "Classroom Support Fund" in the process. Heck, he's even crafted two flavors of his own signature BBQ sauce for the occasion. Prior to Friday's show, we asked James about the inspiration for this unconventional show, what people can expect to see, and why helping MPS is so important to him.
Milwaukee Record: Why is it important for you to acknowledge and celebrate your 10-year mark as an independent artist?
Emmitt James: I think it's just as important—if not more—that independent artists celebrate our milestones Five years, 10 years. It's all worth being celebrated.
MR: How did you go about assembling a 13-piece band? What instruments and other backing accompaniment will be present?
EJ: Before I moved back to Milwaukee, I had this idea of doing a big band show. I shared this idea with my friend Curtis Crump Jr. and he told me if I was serious, he would be down to be the Music Director and handle the arrangements. I also wanted to do something special to celebrate my 10-year mark in music since I didn't get a chance to celebrate the official 10-year mark last year.
When I thought about it some more, it made a lot of sense to combine the ideas. Traditionally, big bands are about 12 to 25 musicians. We figured it might be better to aim for the lower teens. With that being said, we landed on a 13-piece band consisting of drums, bass, keys, and guitar for the rhythm section, and three saxophones, two trumpets, and two trombones for the horn section, as well as two vocalists including myself.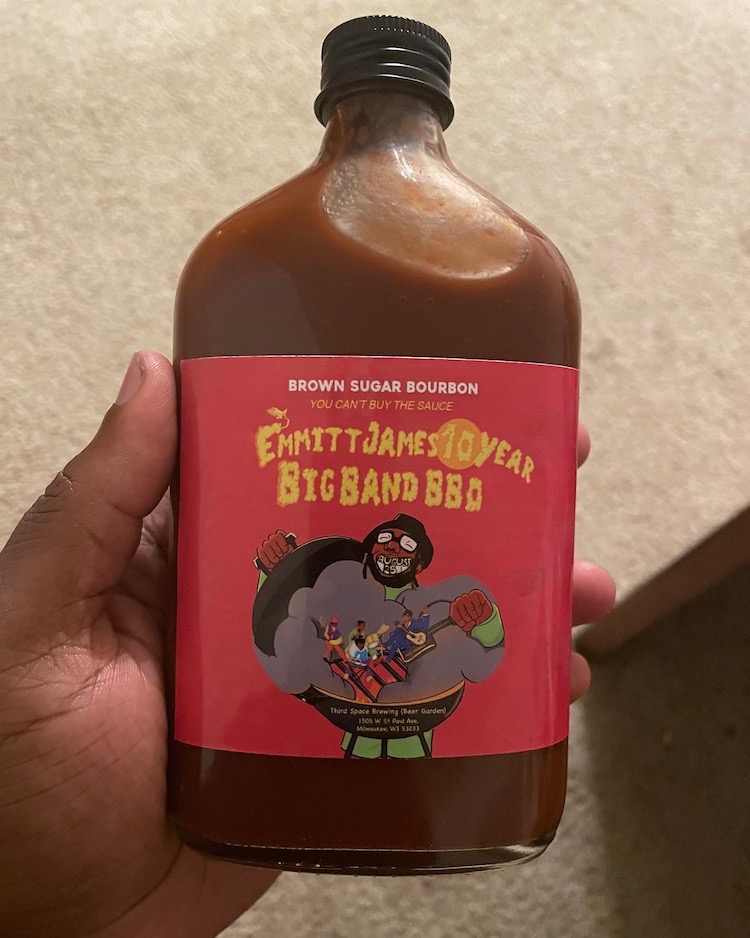 MR: Please tell us about the barbecue element. I know Daddy's Soul Food & Grille will be serving up food, and I see you've also made your own BBQ sauce to mark the occasion.
EJ: Barbecue is definitely one of my favorite foods and I wanted this event to feel like a larger family cookout with live entertainment. Originally, I wanted to hire one person to man the grill and be over the food. I think that would have helped give the cookout feel even more, but I also realized it may be better to have the food catered. Once that was decided, I knew I wanted to hire a black-owned business to cater. My friend Ammorelle's family owns Daddy's Soul Food & Grille, so that was a no-brainer.
As for the making of my own BBQ sauce, for those who know me, know I like to get really hands on with the merch. I've made my own chips and juice in the past, so BBQ sauce had to be done in tandem with this event. It's been fun figuring that out with my girlfriend Jamai. There will be two flavors folks will be able to choose from: Brown Sugar Bourbon and Honey Chipotle.
Both sauces will be available for purchase at the show Friday, August 25th at the merch table. A sample size also will be included in the VIP packages available for the show. Although this is free and open to the public, we have a limited number of VIP tickets available that come with a handful of perks—a sample of the BBQ sauce being one of them. The best part is, 30 percent of VIP ticket sales will be going to the MPS Foundation's "Classroom Support Fund." I am encouraging folks to support the fund this way or give directly to the fund.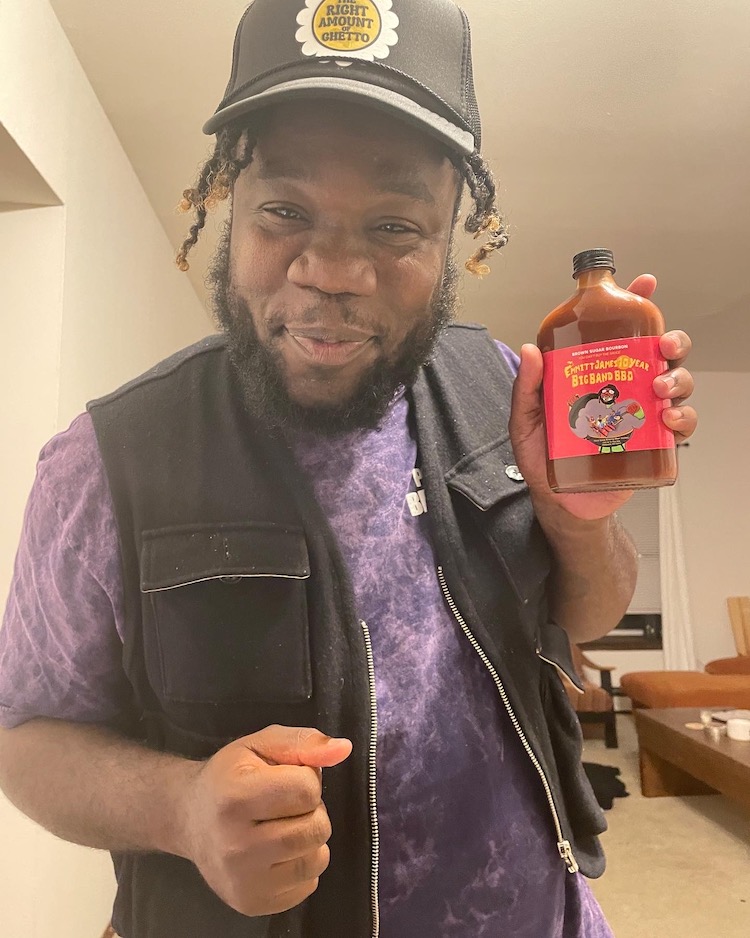 MR: Why is it important for you to raise awareness and funds for Milwaukee Public Schools? And what role has MPS played in your artistic exposure and development?
EJ: When I first was planning this show, it looked a little different. The BBQ and the 13-piece band was always a part of it but it initially was going to be a ticketed show. After re-imagining what this event could look like with the help of sponsors, it became bigger than me. I realized what affects MPS and having good high school teachers—shoutout to Mr. Murphy, Miss Breitbarth, and Mr. Corrao—had on me and my love for music. Also, I'd like to give a huge shoutout to Sarah Fierek for helping me with this element of the show. She helped me see this connection and was very pivotal in the sponsorship process.
I'd also like to thank Tiffany Tardy and the rest of the team at the MPS Foundation for seeing the benefit in this partnership leading to more sponsors like Third Space Brewing, UW-Stevens Point, Radio Milwaukee, Joy Engine, Hi Five Studios, and more!
As far as the role MPS had on me as an artist, I learned how to record myself in high school using Mixcraft because my teachers saw my interests in producing and making music. They saw a need and morphed our practice rooms into pseudo music studios. That's something I'll never forget. I know there's a lot of opinions out there about MPS but the truth is our teachers and students could use more support. That's why I'm choosing to partner with the MPS Foundation in efforts to support the "Classroom Support Fund"—formerly known as No Empty Backpacks. The fund will help assist 25 MPS schools that could really use the help.
MR: You're returning to your familiar stomping grounds of Third Space Brewing for this event. Beyond your fondness for the space and its staff, why did you feel the brewery is an ideal setting for such an ambitious and monumental performance?
EJ: I have a pretty good relationship with Third Space Brewing—shoutout to Kara—that began from playing a Sofar Sounds MKE show in February 2022. From there, they booked me to play their summer concert series later that year and now here we are with the most ambitious and expensive show I've ever curated with the help of some really cool sponsors. I'm glad we get to make it happen here. It's an outdoor space, which coincides with the cookout feel and they have a stage that can accommodate a 13-piece band. It just made sense.
MR: What else can people expect to see, hear, and experience on August 25?
EJ: I want August 25 to feel like a mini carnival. There will be vendors, games, food, ice cream, brews, and live music. I'm even thinking about pulling out the old Bop It for a "Bop It Contest." You'll just have to show up and find out!