Welcome to Milwaukee Record's Weird Al Week, sponsored by Lakefront Brewery! Want daily Al-related articles culminating in a recap of Al's May 24 show at the Marcus Performing Arts Center? You're in the right place! Oh, and because this is our third Weird Al Week, we're calling it Weird Al Week (In 3-D)! You know, like the album!
I have a dear friend I call "Jazz Master Jake." He is a gentleman that knows just about every name in the jazz genre. We met during my time as program director at my old college radio station WWSP 90FM in Stevens Point. I love him, but sometimes when discussing music with him my eyes slowly drift cross-eyed as I am unable to keep up with references. Perhaps he's aware of this issue, because he recently gifted me a novelty Chia Pet molded into the face of classic 1980s "Weird Al" Yankovic. The gift was for no particular reason, so I was inspired to justify it by taking daily photos of the growth progress while jotting down some notes in a sad attempt to get this puff piece published by Milwaukee Record.
DAY 1
The anticipation to open the box was palpable. After a life of falling short of mechanical expectations (I never quite graduated from holding a flashlight for my dad while he fixed something), I finally had a hands-on project I could confidently manage on my own. Yes, my agricultural destiny lied before me in the shape of one of my all-time favorite musicians. After intricately following the directions, the race for Chia growth had begun.
DAY 2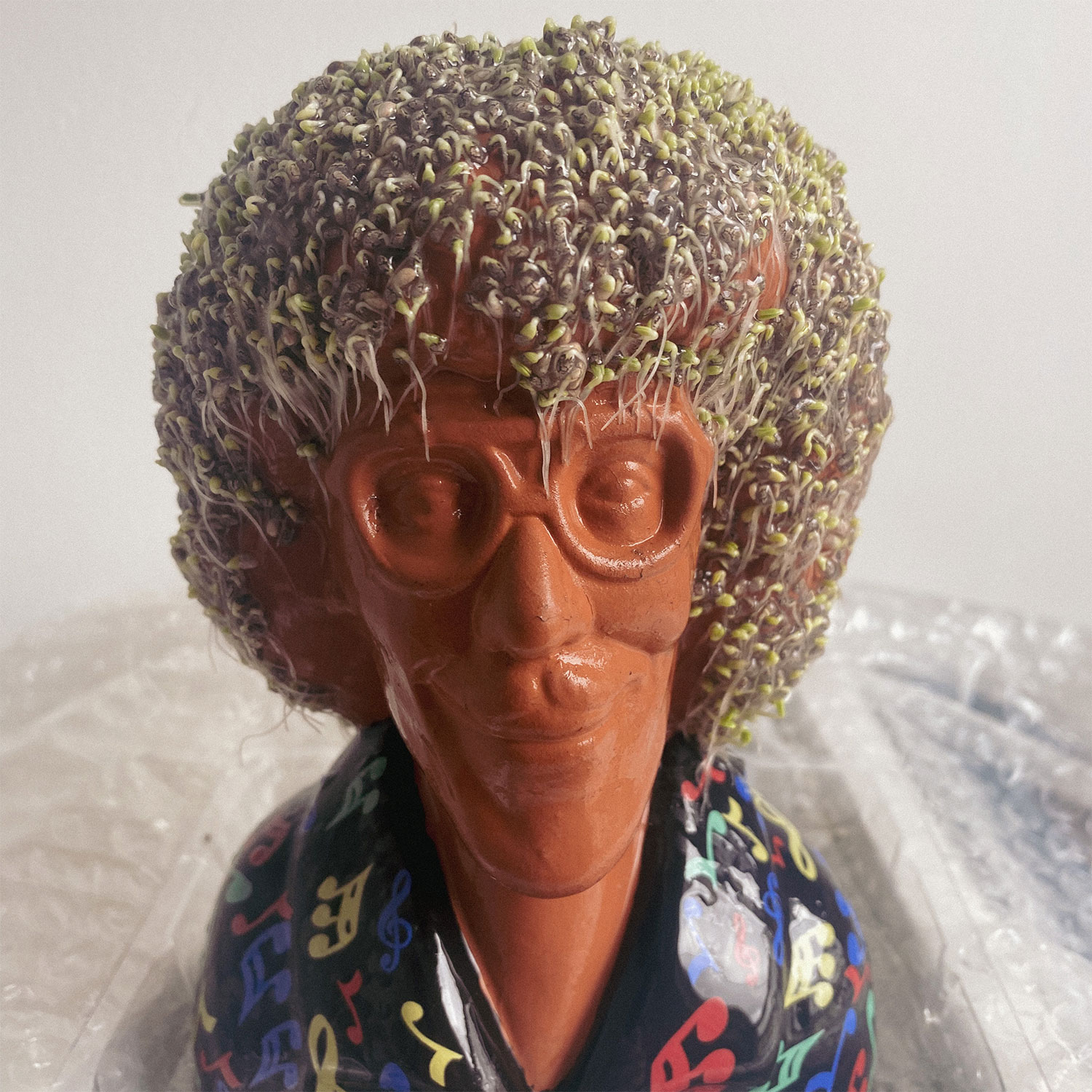 Upon watering my crop my mind fell down a spiral of nostalgia. I couldn't help recall my earliest memories of growing up and encountering the music of Weird Al for the very first time…
I grew up in a small Wisconsin town in Marathon County called Ringle. If you haven't heard of it, it's because you blew past it on Highway 29. It's home to one post office, a church, two bars, and the county garbage dump. Despite the occasional garbage fumes, it was a beautiful country neighborhood to grow up in. It was the type of neighborhood where my parents seemingly were friends with everyone on our street, especially the Gerber family. To date, they still live next door to my parents and I consider them as close as family. They were a family of three children, with John Gerber being the oldest.
Gerber is four years my junior, but growing up he was the closest thing to a hero for me in Ringle. He emulated the comedy stylings of a young Chris Farley, and when our families were carpooling for soccer tournaments, "Weird Al" Yankovic was always in the cassette deck. The first album I ever recall hearing was 1993's Alapalooza, with "Jurassic Park" and "The Night Santa Went Crazy" being the chosen favorites.
I have a crystal clear memory of our elementary school talent show, and after countless recorder medleys and one poor rendition of the Pokémon theme song, Gerber was given the stage. I recall him in a robe carrying what must have been one of his sister's Cabbage Patch Kid dolls. The doll had a paper plate pasted to its face, and on that plate was a picture of Jedi Master Yoda. Gerber lip synced Yankovic's "Yoda" for the entire school. Having been previously bored with a jump rope routine, the students, teachers, and even the lunch ladies erupted into applause. This event took place 25 years ago, but I still have the Gerbers to thank for introducing me to the hilariously mythical "Weird Al" Yankovic.
I believe the integral thing that drew me and my community to Weird Al was his use of the accordion. Having grown up in a mostly Polish and Italian family, polka music was a regular sound at gatherings. In fact, my Polish grandfather Barney King and his identical twin brother Bernie King played and mastered a similar instrument called the concertina. We spent many Sunday afternoons at various county bar fundraisers and church picnics listening to their polka band. I'm proud to say that both "Concertina Twins" have been inducted into the Concertina Hall of Fame!
DAY 3-5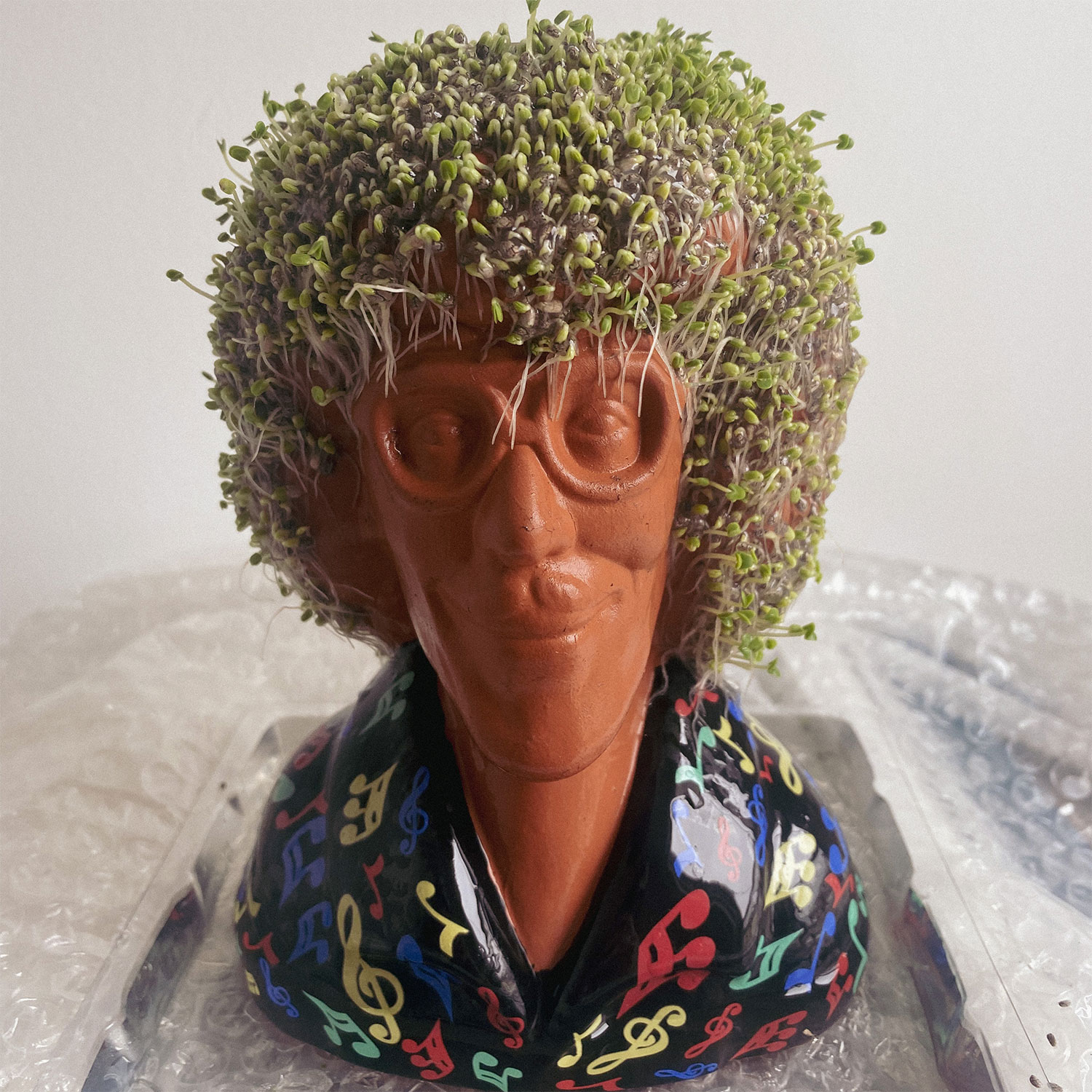 There wasn't much growth development during this time period. I had begun to question my agricultural prowess with this project, but finally, on Day 5, the Chia seeds began to sprout. Sprout, just like I did back in 1997 when I was dubbed "old enough" to attend my first ever concert: "Weird Al" Yankovic's "Bad Hair Day Tour" stop at the Marathon County Fair. My family attended the show with the Gerber family, and I can still smell the stale root beer and fryer grease. Surprisingly enough, the set list from that show still exists on the internet. It includes a time-sensitive (in pop-culture standards) spoof of the theme song from Friends reimagined as the theme song from Home Improvement, "I'll Repair For You." The only way that show could have been more '90s was if it took place in the parking lot of a Ponderosa Steakhouse.
DAY 6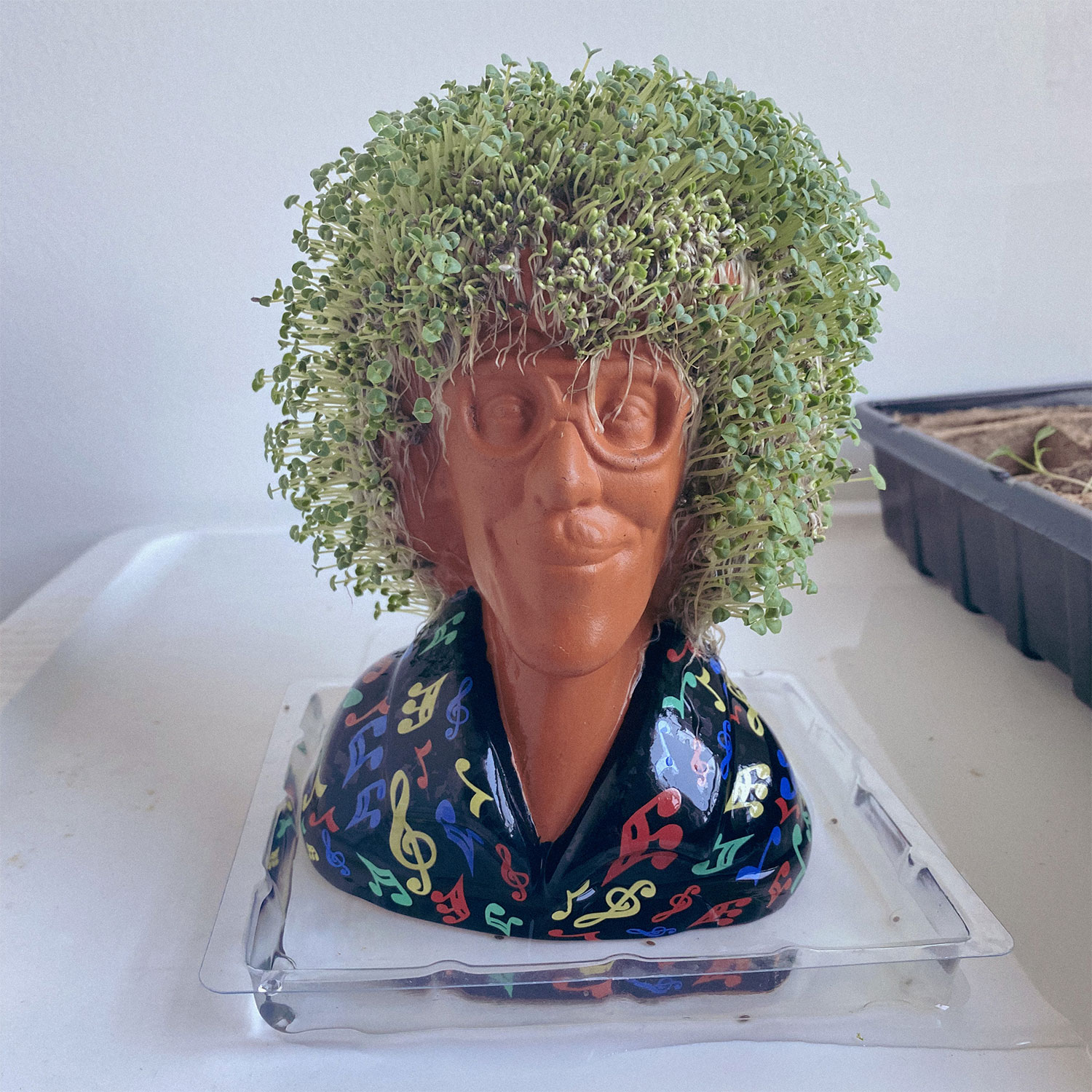 Lo and behold, Chia seed germination is in full swing! Just like this Chia Pet, technology has evolved since the '90s. That said, I find myself conflicted with the state of technology today. Selfishly, I love that I can access just about the entirety of recorded sound from the black mirror in my pocket. But with that said, I do find myself regularly longing for simpler times with fewer choices. One could only demand sounds that they owned, which in this memory are the only four cassette tapes housed in my mother's 1986 Dodge Caravan. The entirety of this vehicle's musical library consisted of the following: ABBA's Gold: Greatest Hits, the motion picture soundtrack to Titanic, and Weird Al's Off The Deep End and Running With Scissors. Between hits like ABBA's "Money, Money, Money" and Yankovic's "Polka Your Eyes Out," running errands in the 1990s was a true test of one valiant mother.
After taking a deep dive on eBay, I was able to find all four cassette tapes; if I find the time to make a trip down to Florida to purchase a used '86 Dodge Caravan, I can experience a full immersion of nostalgia for the low-low price of $885.37. It's a goal both my family and counselor have labeled "concerning."
DAY 7-10
Over the next few days, the Chia seeds exploded at a rate that I can only compare to puberty, an experience that I know all too well. Pubescence hit me hard and fast—like, "I had to start shaving my face at age 12" fast. Along with that came the typical teenage attitude of giving up on all the cool things I had liked from prior years. I had no idea who I was, and it was apparent from my back-to-school shopping. I had a GAP, American Eagle, and Hot Topic phase, and frankly, I didn't have time nor patience for "Weird Al" Yankovic anymore. Those years were about getting involved with as much as I could. Perhaps I could play trumpet in band class (I was kicked out of band class), maybe it was sports (my track and field coach could only describe my shot-put ability as "flaccid"), or, finally, finding a job at our local movie theater. It was a place where I finally found like-minded people that cared more about pop culture then they did about being cool in school. I worked there until I was 17 years old. That was the same year Weird Al returned to the Marathon County Fair in 2007.
Perhaps out of boredom, a group of pals from my youth decided to attend. We started the show kicking back on the lawn seats with hopes of meeting girls. When our flirtations with our female counterparts went unanswered, we decided to work our way up to the front row and just give ourselves fully back into our childhood love of Weird Al. He did what he does best: costume changes, polka medleys, and interview clips. By the time the show ended we were sweaty and thrilled. The spark was back, and I tossed that snotty teenage opinion of Yankovic right in the trash. I would be a fan for life.
DAY 11-12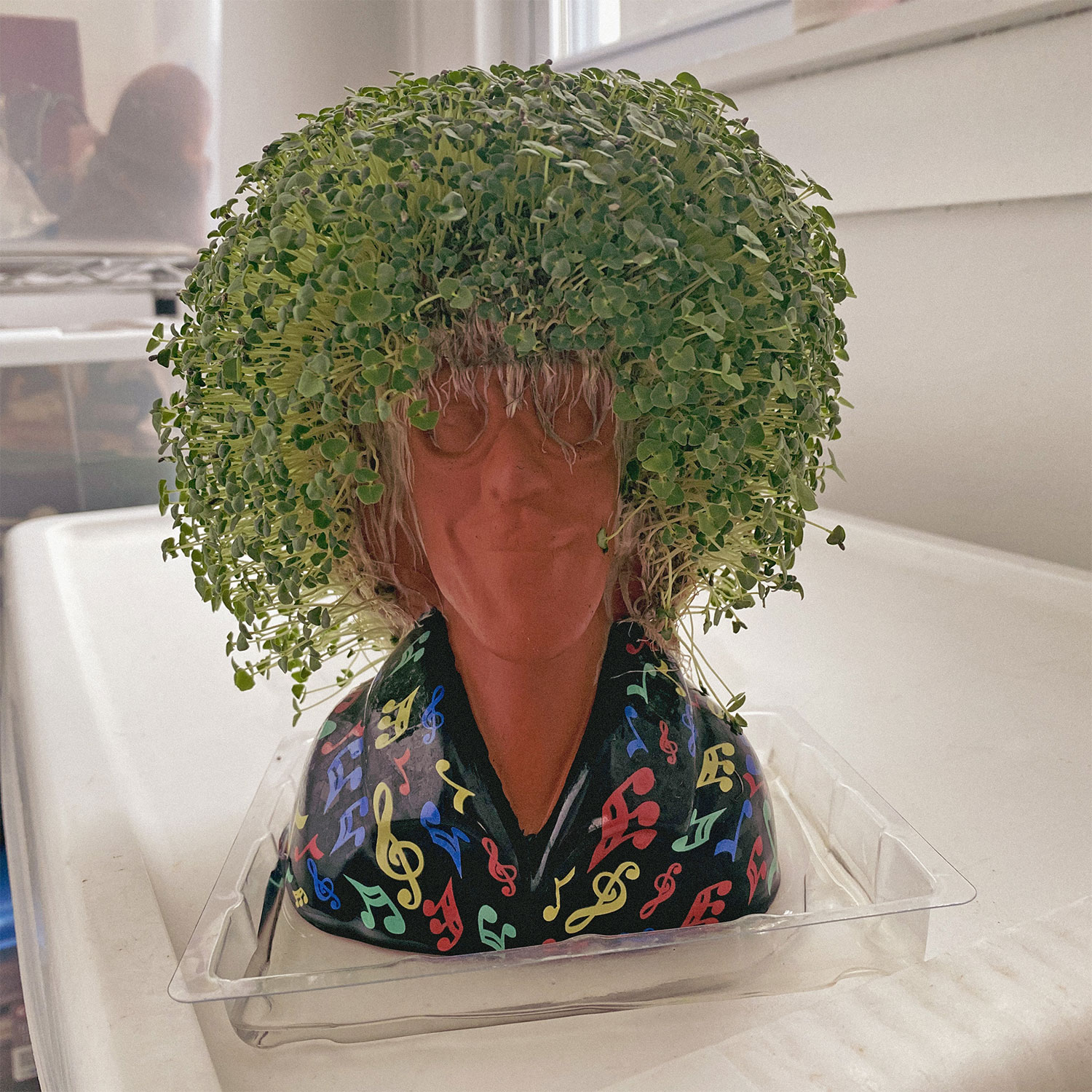 One last note about that concert in 2007. I had a friend volunteering backstage at the craft services table, and his only statement about meeting Weird Al was how he found his vegan diet a bit "pretentious." It's a diet that I mostly subscribe to these days as my wife has been committed to being plant-based for almost a decade now. She used Weird Al as a celebrity example on how I should avoid daily meat intake. Not terribly relevant to my overall love of Yankovic, but it worked.
DAY 13-14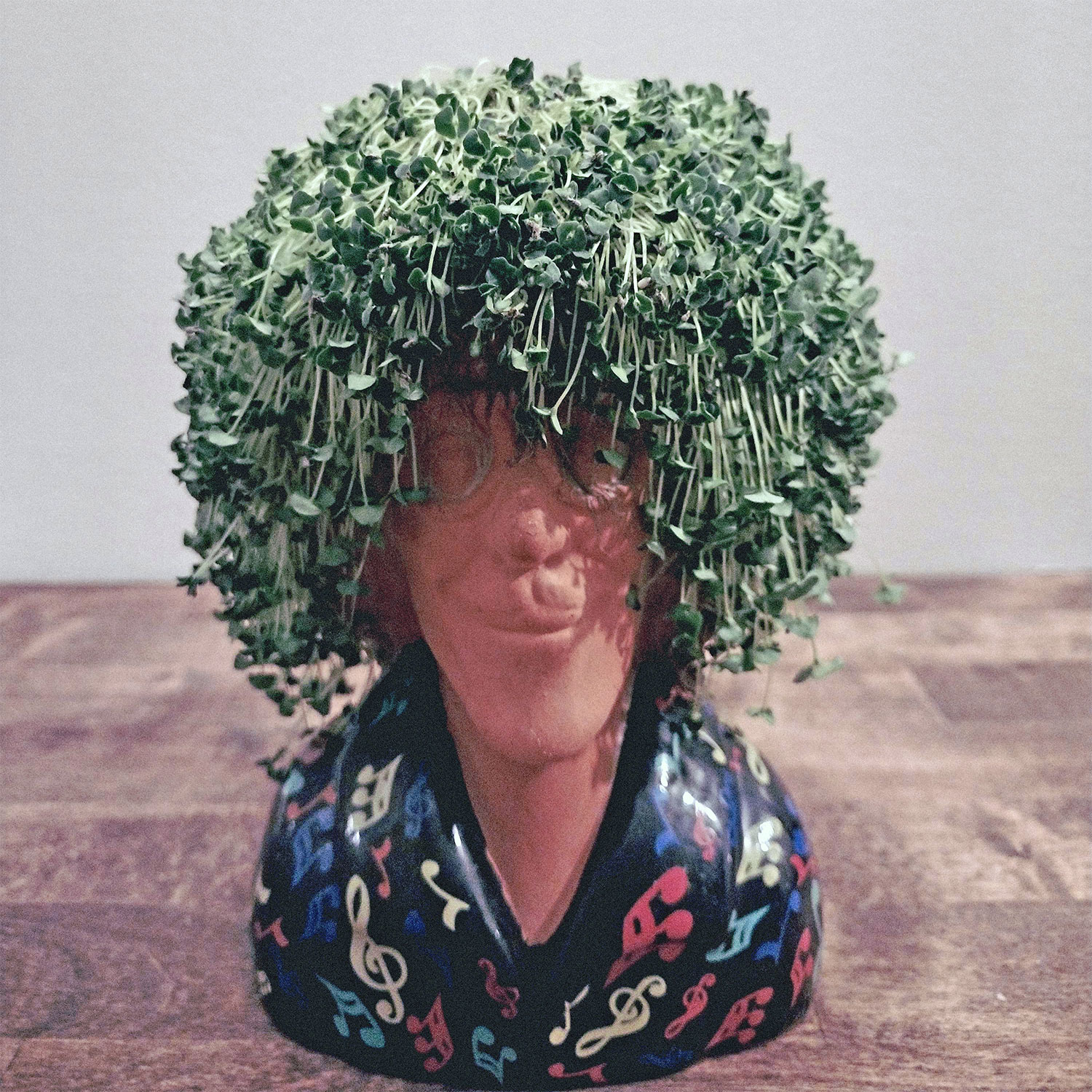 I have seen Weird Al two more times since 2007, and I'm excited to see him again at his upcoming show at the Marcus Performing Arts Center. These days I seem to have my life together. I am married, I have settled into a home in Cudahy (also home to a garbage dump, a church, and many dive bars; the more things change the more they stay the same), and I'm a tenured employee at a brewery in town. When I'm not working, I'm finding myself at the movies, attending shows, listening to music, or still making the trip up north to volunteer at my old college radio station WWSP 90FM.
This past April, 90FM hosted their annual trivia contest fundraiser. At 54 straight hours with roughly 400 teams and an estimated 12,000 people participating, it has been designated the World's Largest Trivia Contest. It's a wildly difficult contest that really is more about community building than actually winning. Jeopardy's own Ken Jennings has participated in the contest and has confirmed its difficulty. Read about it HERE, but I digress.
As alumni of the radio station, my friend Kyle Piecynski and I are asked to return each year for a few hours to play hype tunes and help set the right mood for the weekend. For the past eight years, we always sign off our show with the 11-minute Weird Al epic "Albuquerque." It's a song so profoundly absurd, I shrivel with joy at the idea of someone hearing it for the very first time on the radio.
That turned out to be true this year as I got a phone call after the show from my four-year-old nephew Porter. The call simply consisted of him yelling "I hate sauerkraut!" into the phone. Unlike the Chia Pet I ultimately neglected to water, my love for "Weird Al" Yankovic will continue, as I now get to share it with the younger generation in my family tree.
Exclusive articles, podcasts, and more. Support Milwaukee Record on Patreon.
---
RELATED ARTICLES
• 13 pictures from our sold-out 'UHF' screening and Twinkie Wiener Sandwich afterparty
• Weird Al Week (In 3-D) begins with a chat with Weird Al drummer Jon "Bermuda" Schwartz
• "Weird Al" Yankovic is coming to Marcus Performing Arts Center on May 24