The vinyl resurgence is no secret. However, as audiophiles returned to the forgotten format in droves, most leapfrogged over another musical medium that stood squarely between wax and mp3s on the recorded music evolutionary diagram. While many have overlooked the much-maligned cassette format since CDs came into fashion, some chose to pause and stick with the trusty old tape. Others have since rewound their preference and returned to the cassette. This weekend, this small-but-growing guild of people will have a reason to celebrate.
Saturday marks the second annual Cassette Store Day. Sure, the young holiday is no doubt hoping to inherit some of the good will of its older, more proven and successful Record Store Day counterpart. Yet the international undertaking has quickly ballooned from a few dozen stores and approximately 50 artists—including offerings from the likes of At The Drive-In, Animal, and The Flaming Lips—participating in its inaugural iteration to include hundreds of bands in nearly as many shops issuing tapes in honor of the festivities.
Though Milwaukee's officially recognized involvement in this year's Cassette Store Day is minimal, the city's year-round relationship with the tape is healthy, and only growing stronger by the day.
The U.S. arm of this year's Cassette Store Day proceedings is led by California-based Burger Records, which put out the first release by Jaill (then called Jail) on tape, in addition to close to 250 other cassettes. Jaill front man and founding member Vinnie Kircher has continued to put out each of his band's releases on what he calls a "wonderful medium."
"Tapes have warmth—so much more than a squashed mp3. They're durable. Find them under the seat and toss 'em in," Kircher says. "Besides looking cool, and sounding great, I dig tapes because it's the antithesis of today's ADD listener. Punch any name into a streaming service, listen for a minute, get bored, and move on. There's no skipping tracks on tape."
While the most recognizable cassette label, Burger isn't the only one issuing new releases in the format. Madison-based Mine All Mine Records has issued approximately a dozen tapes in its catalog since the label's 2006 outset, including a tape component to releases by Milwaukee bands like The Fatty Acids, Animals In Human Attire, and Myles Coyne & The Rusty Nickel Band. While he's quick to acknowledge such often-cited criticisms with tapes (frequency range limitation, degradation, and difficulties with dubbing among them), Mine All Mine owner John Praw still lands on the side in support of the underappreciated medium.
"Beyond the shameless novelty, there's also the archivist in me that wants to preserve things like this. Tapes are an important part of music history, and nostalgia is as good a reason as any to keep it alive," Praw says. "It's a low-cost way to give listeners a little piece of visual art to go along with the tunes."
Mine All Mine is not actively participating in Cassette Store Day this year, but Praw's band, ambient Madison-Milwaukee project Nude Human, is releasing a tape on Oshkosh-based Antistack Records in accordance with the understated holiday. Another Wisconsin act getting in on the action this weekend is West Bend (and soon-to-be Arizona) folk duo Blessed Feathers, who is putting out a limited run of its great 2013 effort Order of The Arrow in tape form as a duel release by Swan City Sounds and Hope For The Tape Deck.
While he'd just recently heard of the dedicated day for tapes, Blessed Feathers member Donivan Berube is glad to finally have the opportunity give cassette enthusiasts the option of having his album in the durable plastic format.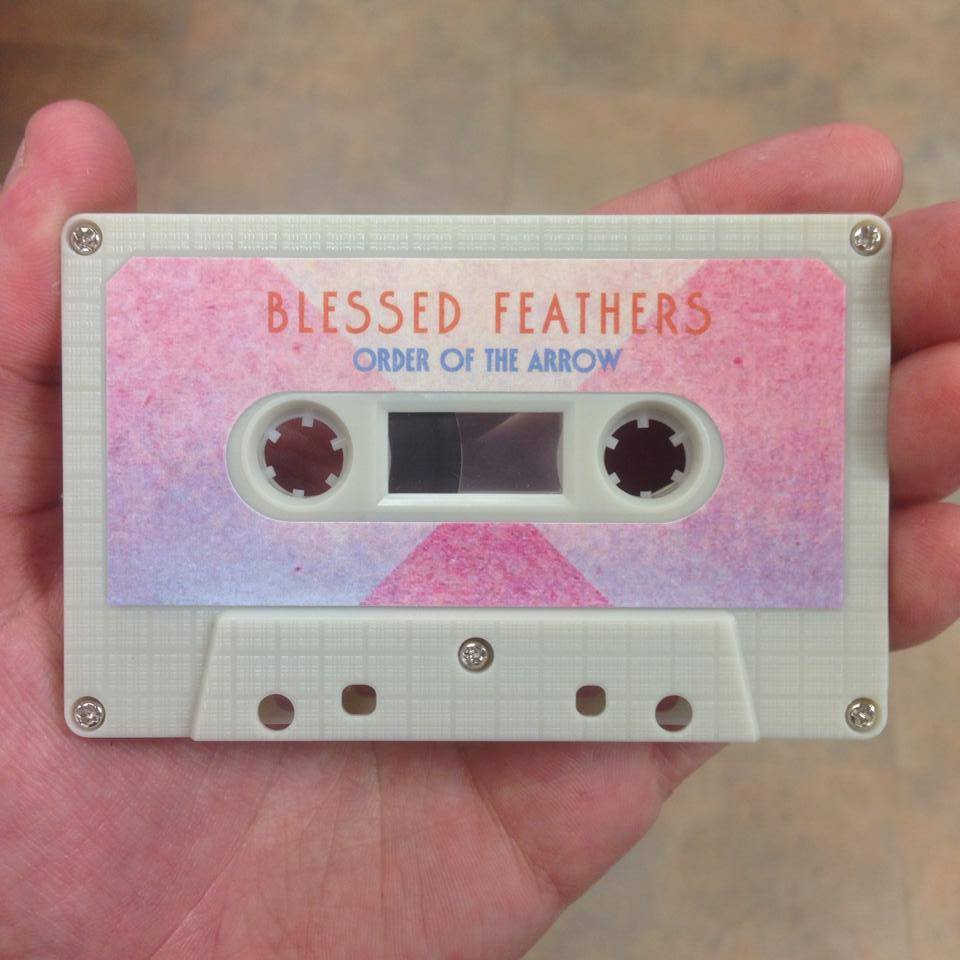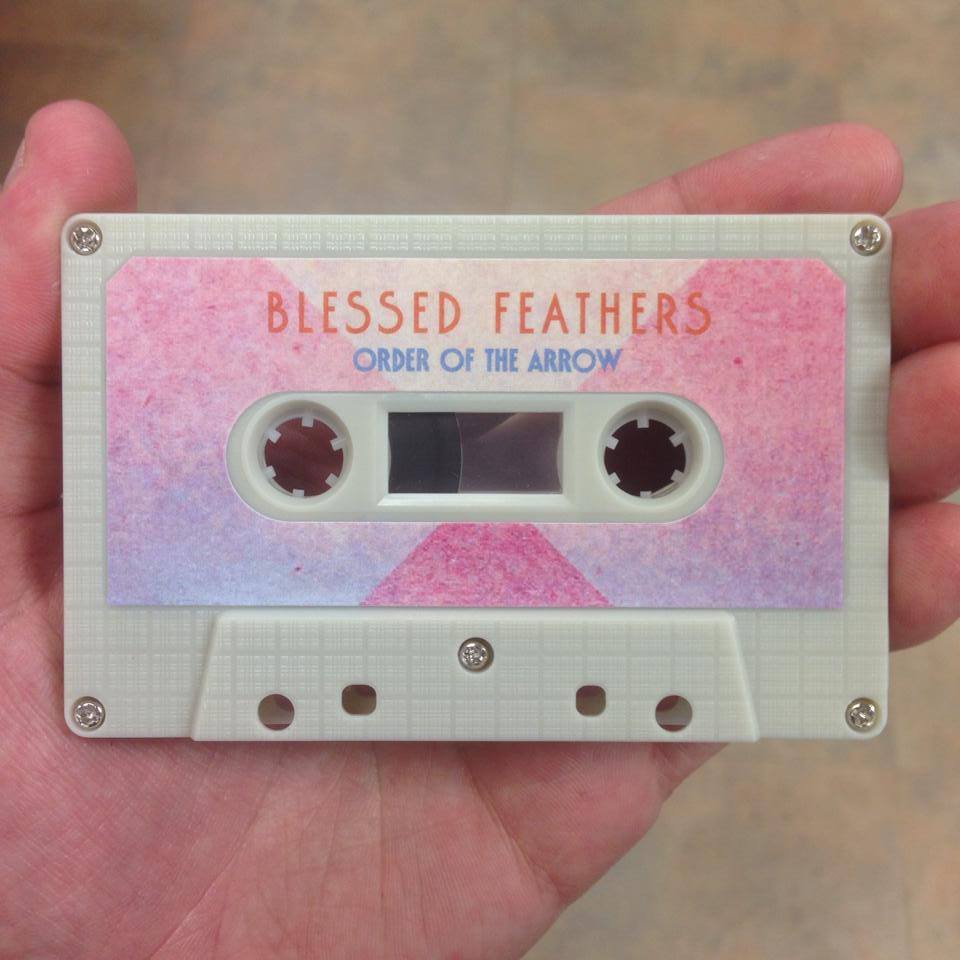 "There isn't one format that's more important than another," Berube says. "If silly '80s kids want to clip their mom's Sony Walkman to their fanny pack and walk around town all day they're welcome to, just the same as the rest of us can spend all afternoon troubleshooting iTunes or fucking around with the pitch correction on our Uncle Steve's turntable."
Other acts who will also be giving fans a tape option Saturday include Foxygen, yuk., Karen O, They Might Be Giants, Rural Alberta Advantage, Circle Jerks, The Gaslight Anthem, Best Coast, 7 Seconds, and dozens more. Aside from established nationally known acts playing off listener nostalgia for novelty's sake, though, is the affordable medium's ability to present an option at a price point that's usually half that of the CD version, and a quarter the cost of the vinyl counterpart. For unsigned touring acts, tape sales can be an invaluable asset in helping a band be able to eat or afford gas to get to the next town. Just ask Myles Coyne, who has tape versions for every release in his continually growing catalog.
"They're really cheap. On Temple tours I've seen where people can't afford the vinyl, but they buy the $5 tape," Coyne says. He intends to release cassettes by local bands in his Breadking Collective's new record label component as early as October. Though he's yet to put out a tape with his label, he already has competition in the Milwaukee cassette label world.
Eric Krueger, a graphic designer at a downtown firm by day, says he "came to cassettes from a weird place." After, like many, completely writing off the medium as an outdated audio format, he was led in a few years ago after some of his favorite musicians offered cassette-only releases. He bought back in—literally. He amassed a respectable collection of releases, bought a combined five tape decks, and even decided to take his renewed interest in cassettes to start Geology Records.
Since officially launching the tape-only label in March, Krueger's Geology Records has six releases to its name. Four of those are from Madison- or Milwaukee-based artists, including Heavy Hand and Disguised As Birds. Of the remaining two, one is a Canadian electronic musician and the other is an Indonesian ambient artist.
His editions are no more than 50 or 100 in quantity, but some of those have found their way throughout the country, as far away as various parts of Europe, and to the Asian nations of Japan, and Indonesia. While his releases are finding their way around the world, the new label as yet to break the bank.
"At the end of the day, I don't really make a profit, but I am able to break even, while giving some [cassettes] to the artists," Krueger says. "The point isn't to make money anyway. It's fun. I'm not going to be paying my mortgage off with this or anything like that."
Krueger is astounded by the "dirt cheap" prices involved with releasing cassettes. He passes the savings on with a constant $5 price (or three tapes for $12) on his products. Beyond the financial details, he attests cassettes have the ability to sound as good as vinyl or CDs if recorded on to high quality tape.
"It's just like anything: 180 gram vinyl sounds way better than the thin slab of vinyl used cheaply by a plant that doesn't care," Krueger says. "It's the same with cassettes. There are different grades of tape and, if you think about it, probably the best sound you can get from audio is reel-to-reel tape. It's tape. It's the same thing as cassette tape, it's just bigger, thicker, and nicer, but it's the same technology."
Perhaps Cassette Store Day is just the latest event hatched in effort to get people to visit brick and mortar record for their music needs an exceedingly digital music industry. Despite its standing as a widely-panned, inconvenient, and all-around outdated audio format, its cheap production cost, inherent novelty, and lingering utility for acts who are playing some 25 years since its initial flirtation with extinction, it's safe to say the cassette tape is here to stay. Yes, tapes indisputably have a place in modern music…but fuck off if you're even thinking about starting an 8-Track Store Day.