"You gotta be careful about nostalgia," said Justin Vernon, three songs into a show celebrating the 10th anniversary of his band Bon Iver's seminal debut album, For Emma, Forever Ago. "There's…a lot of problems with it, sometimes." A very sold-out crowd at the BMO Harris Bradley Center didn't seem at all concerned. In the decade since the Jagjaguwar release of For Emma, Vernon has successfully distanced himself from being pigeonholed as the auto-tuned woodsman, and he's brought a host of friends and collaborators to the edge of the spotlight while slinking quietly out from under it. From his strictly non-commercial curation of the Eaux Claires music festival to his multiple non-Bon Iver bands, Vernon has humbly bolstered the prestige of Wisconsin's entire music culture without much basking in his own Cinderella story. He could've parlayed this anniversary into a lucrative tour. Instead, it was a single show in Milwaukee. On paper, it had the looks of a pure nostalgia trip; in actuality, not so much.
Hours prior to this bit of banter, Milwaukee's own Field Report had come onstage promptly at 8 p.m., and proceeded to play songs from the group's forthcoming third album, Summertime Songs, due March 23 on Verve. Now, nostalgia would've dictated that frontman Chris Porterfield dig up an old fan-favorite like "Fergus Falls" to see how it would sound, reverberating off the Bradley Center rafters with a few thousand backing vocalists.
There were plenty of enticing, easy routes to applause available to Porterfield: DeYarmond Edison reunion! Conrad Plymouth interlude! Hell, he didn't even play "Home (Leave The Lights On)." Instead, he treated the crowd to a preview of the new album, the only nod to the past being a guest spot by Bon Iver's Andrew Fitzpatrick. Porterfield did have one ace up his sleeve, though: a triumphant Mark Waldoch cameo for the band's last tune, "Summertime." Even attendees who had no idea who Waldoch was howled in appreciation and rose to their feet as the band wrapped up its set.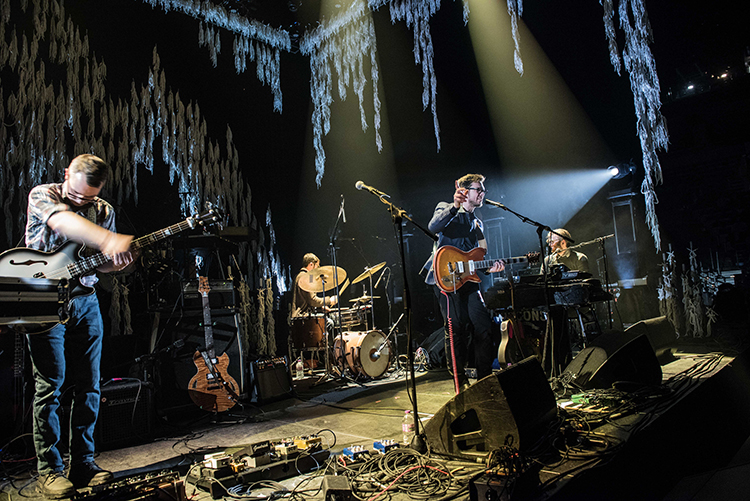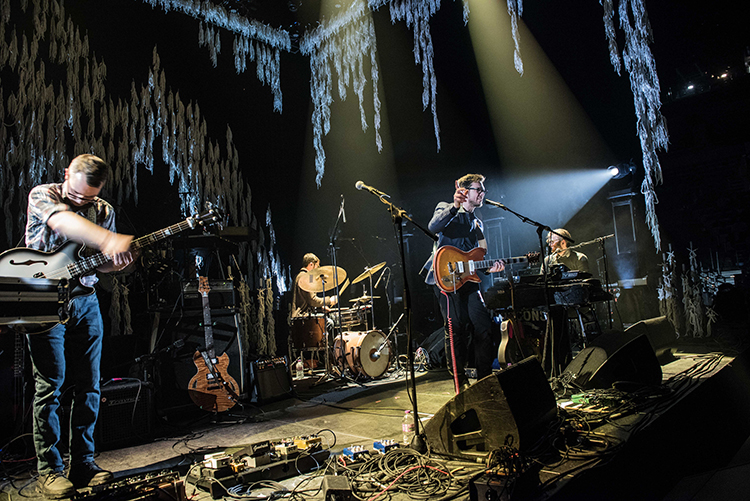 In 2008, Bon Iver's first Milwaukee show took place at Mad Planet. Vernon's support acts were Conrad Plymouth (the group that eventually became Field Report) and Collections Of Colonies Of Bees, who also took the Bradley Center stage Saturday night. When Bees first formed some 20 years ago, they were a much quieter, more folk-oriented band, a far cry from the musical force they've morphed into over the years. Members Chris Rosenau, Dan Spack and Thomas Wincek have all worked with Vernon in Volcano Choir, but there was no nod to that collaboration at this show.
Instead, Bees also treated the crowd to all new material. Their new album is due in June, and for anyone who happened to catch the band's set at Eaux Claires last June, Saturday's set was a fascinating glimpse into the group's creative process, as some of the nebulous ideas from last summer have evolved into powerful songs. The traditionally instrumental band now boasts Marielle Allschwang on vocals, and when she and Spack sang together it was impossible not to be reminded of their prior collaborations in Group Of The Altos. The only thread connecting this band's current sound to its origins is the sheer joy exuded by Rosenau; his distinctive guitar arpeggios and beaming stage presence will always define the Bees no matter what else may change.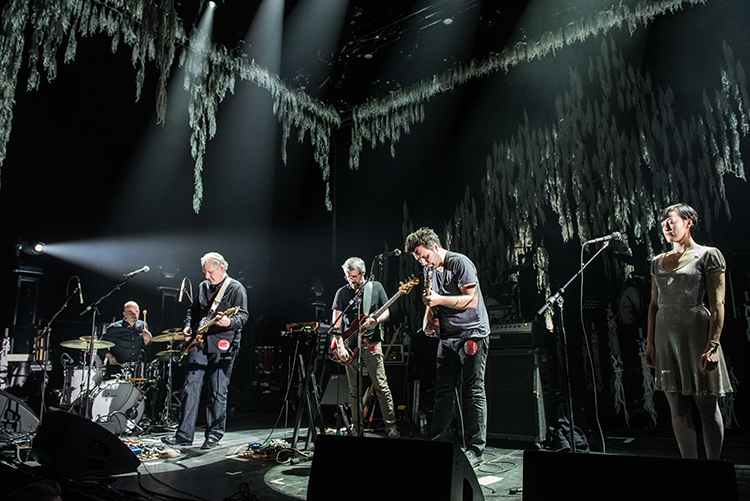 Many questions hung in the air prior to Bon Iver's set: Would the band just play For Emma straight through? Would there be guests? Would Kanye West drop by? Would Vernon sit alone on a stool, center-stage, bathed in spotlights, and sing "Skinny Love" as the climax of the show? Nah, too easy. "Skinny Love" was the fourth song of the set, performed as a trio with just original members Sean Carey and Mike Noyce. If Vernon's breakthrough song has lost any of its meaning for him, you wouldn't have known it. He tore into his shiny guitar like it was a cheap hunk of wood strung with chicken wire, and just like that, the ice was broken.
A revolving cast of past and present Bon Iver members took the stage throughout the 75-minute set, for the most part creating a decidedly un-folksy din that brought these old songs brilliantly back to life. The absence of any newer material at all (and "Holocene" being the lone representative from the band's 2011 Grammy-winning self-titled album) was a bit surprising. Surely most fans would've welcomed whatever Vernon played, but the increasingly eclectic Bon Iver aesthetic certainly bled into the old material. One major highlight of the show was an unreleased gem from the For Emma era that sounded like it could've become a fan favorite—or perhaps it still could, as it's presumably gone viral on YouTube by now.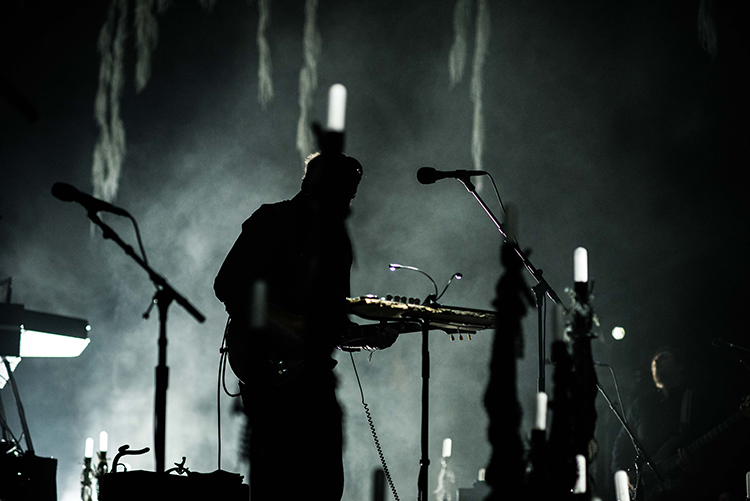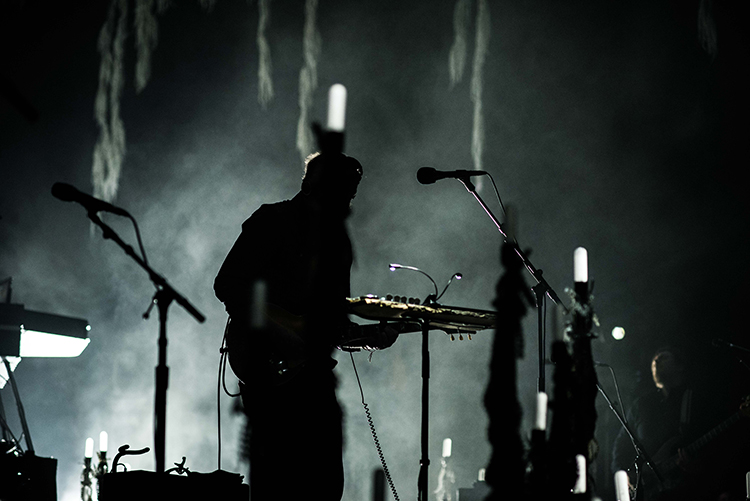 There were a couple of covers as well: Noyce took lead vocals on a rendition of Graham Nash's "Simple Man," and the encore ended as it sometimes did at early Bon Iver shows, with former tourmate Sarah Siskind's "Lovin's For Fools," featuring Siskind herself dueting with Vernon. The most poignant moments of the show, though, were exactly where you'd expect: Vernon's stark solo rendition of "Woods," the cacophonous singalong of "What might've been lost" during "The Wolves (Act I and II)," which ended the set, and the heartfelt shout-out to Milwaukee for the "Holocene" encore. Vernon hasn't always had nice words for the Brew City, but all traces of bitterness seemed to have been replaced with gratitude on this night.
When Vernon sang the words "forever ago" ("For Emma"), the weight of 10 years echoed through the concrete shed that's been standing for three times as long. "This is awesome!" a fan yelled out during a pause in the music. "Yeah dude," Vernon replied. "They're tearing this fucker down." It was only fitting that he managed to squeeze in this magical night of Wisconsin-made music as the story of the Bradley Center draws to a close.

[All photos by Ojeda Photography]