Depending on which news sources you follow, Milwaukee is going through either a "renaissance" or a "reinvention." Or maybe it's a "reboot" or a "reimagining," like that crappy Tim Burton version of Planet Of The Apes. However you want to define it, it's safe to say that Milwaukee is currently building a lot of new and wonderful things.
• Okay, see if you kan follow along: There used to be a restaurant called Kindred on KK, which was located on the first floor of a small boutique hotel in Bay View called the Kinn Guesthouse, 2535 S. Kinnickinnic Ave. Kindred on KK closed in 2019, but the Kinn Guesthouse remained. (These days, the former Kindred space is home to a new restaurant, Sorella.) In January 2020 (pre-pandemic, natch), Kinn Guesthouse owner Charles Bailey unveiled plans to build a second boutique hotel called Kinn MKE Guesthouse. The new Kinn MKE Guesthouse would feature four floors and 32 rooms, would be located downtown at 600 N. Broadway, and would be completed by summer 2020. But then the pandemic struck, everything went to hell, and plans for the Kinn MKE Guesthouse—not to be confused with the Kinn Guesthouse in Bay View—were put on hold.
All of this is to say that plans for the downtown Kinn MKE Guesthouse are back on, baby. According to the Milwaukee Journal Sentinel:
A contractor started removing asbestos this month from the historic four-story office building, according to city Department of Neighborhood Services records.

Also, Bailey this month applied for several building permits, including one that allows adding a fifth floor.

He plans to have Kinn MKE Guesthouse open by December—and hopes to include a New Year's Eve party among its first events.
The hotel will boast "a first-floor restaurant, a shared guest kitchen and conference/dining room on each of its floors, and a rooftop deck that also serves as an events venue." And oh yeah, original plans called for a 62-room hotel with five additional floors, but the city's Historic Preservation Commission was not into that. [Milwaukee Journal Sentinel]
• Komatsu Mining is currently building "what city and company officials call the largest urban manufacturing campus in the country" in Milwaukee's increasingly busy Harbor District. And get this—they want to build a railroad spur that would service the campus. Neat!
According to Urban Milwaukee:
The spur would parallel the existing street crossing for the seldom-used Union Pacific line and, south of the street, split into two tracks that go directly into Komatsu's new 430,000-square-foot factory. Each truck would be capable of storing four rail cars according to an operating plan.

The manufacturing conglomerate would pay all costs associated with a new street-crossing signal. A westward plant expansion could also trigger the construction of a second spur.
And if you forgot what Komatsu's $285 million campus will eventually look like, behold! [Urban Milwaukee]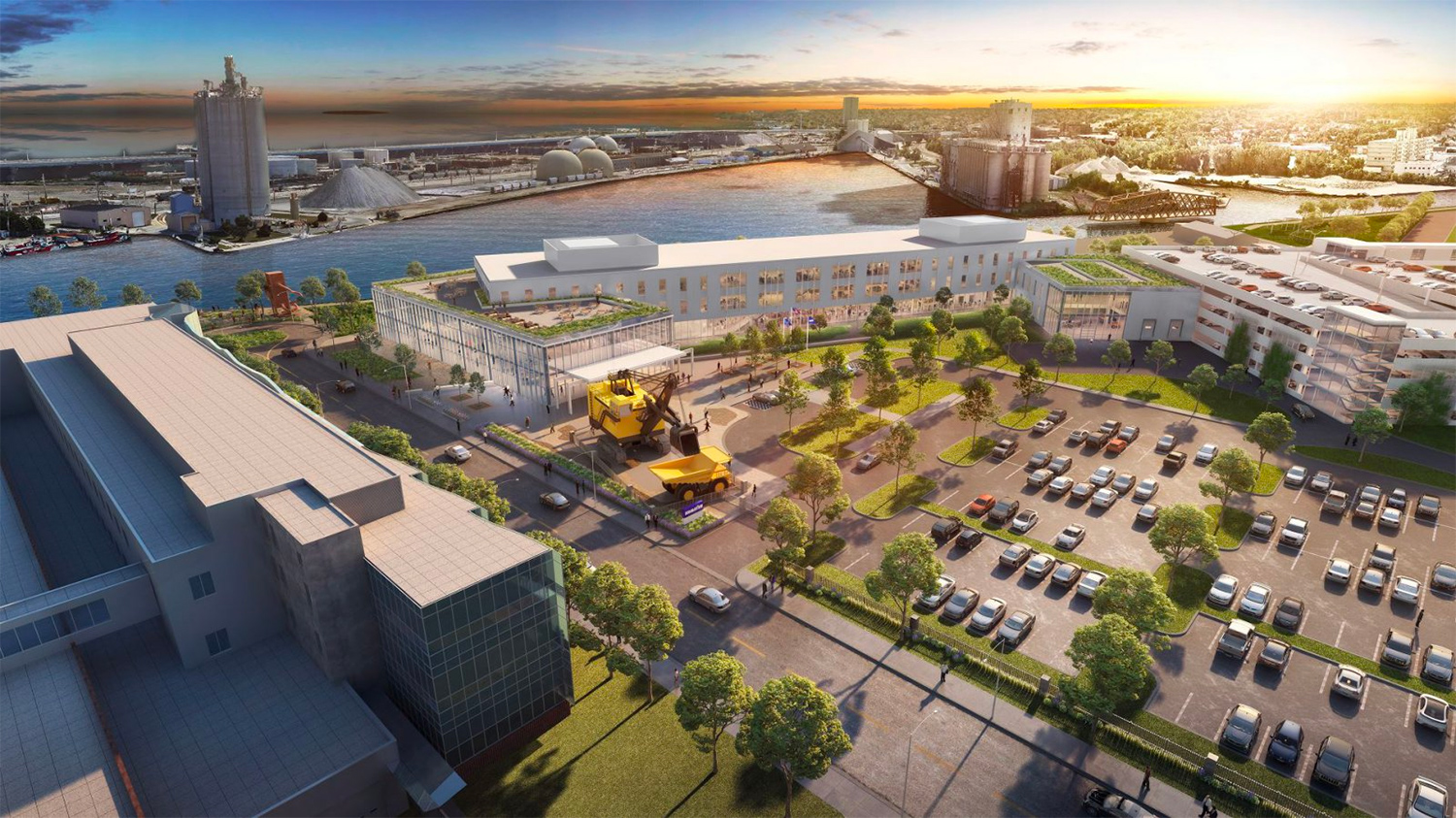 • They're gonna take some of that empty second-floor office space in the historic Downer Avenue Commercial District—you know, on the side of the block with Pizza Man and the Downer Theatre and Boswell Book Company—and turn it into 13 housing units. Still no word on the former Chancery Restaurant space, which, honest to god, has BEEN EMPTY FOR 14 YEARS. [Milwaukee Journal Sentinel]
• Long-simmering plans to build a 200,000-square-foot state office building on a semi-vacant site at W. Wisconsin Avenue and N. 27th Street have started to heat up. "The bipartisan State of Wisconsin Building Commission unanimously approved the purchase of the development site," says the Milwaukee Journal Sentinel, "and the preparation of that site for future construction." The big project will also "help promote nearby private developments, including the conversion of a historic former school into a hotel." [Milwaukee Journal Sentinel]
• Twenty-two new apartment units—with the possibility of 50 more—are coming to the 46-unit Plankinton Lofts complex. And yes, the Plankinton Lofts are located above what used to be the Grand Avenue mall. R.I.P. [Urban Milwaukee]
• An "urban farm and food technology incubator" could be coming to a building owned by Good City Brewing in the city's Century City Business Park. Permit applications from New York-based Planet to Plate describe "an urban farm that would grow greens and other produce indoors at Century City for area restaurants or other food businesses." [Milwaukee Business Journal]
• Milwaukee Bucks guard Pat Connaughton—via his Three Leaf Development LLC—wants to build a four-story, 42-unit apartment building at 2418, 2420, and 2428 E. Capitol Drive in Shorewood. Twenty percent of the units would be reserved for low-income residents. (Longtime "New And Wonderful Things "readers will remember Connaughton from his previous plans to develop an apartment building in Brewers Hill and displace some small businesses in the process.) [Milwaukee Journal Sentinel]
• A four-story building at N. 6th St. and W. Vine St. could soon be home to 38 new apartments—8 of them market-rate, and 30 of them reserved for low-income residents. [Milwaukee Business Journal]
• Even more apartments—these possibly coming to the 10-story, largely vacant Sentinel Building in downtown Milwaukee, 225 E. Mason St. [BizTimes]
• Construction has begun on an 18-unit, two-story apartment building called BV+, and Urban Milwaukee has the pictures to prove it. [Urban Milwaukee]
• And what did we learn this week? Well, they're always building something. Isn't that right, old song from my old band?
Exclusive articles, podcasts, and more. Support Milwaukee Record on Patreon.
---
RELATED ARTICLES
• Full "New And Wonderful Things" (formerly called "New Shit") archives