Unpopular opinion…wait, unpopular fact: candy corn is good. No matter what Lewis Black and more than half the western world might say about it, candy corn is one of the best parts of fall. One of the other great aspects of autumn is the release of new seasonal beers. Up until this point, candy corn and fall beer existed in separate corners of the seasonal tradition. However, a local brewery recently found a way to incorporate the polarizing fall treat into a new beer that tastes exactly as good (or bad) as you imagine.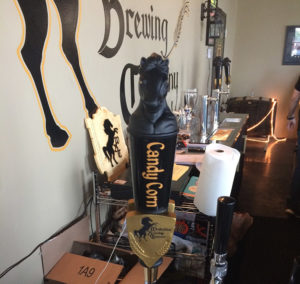 Over the weekend, Westallion Brewing Company made news with the release of its Candy Corn Cream Ale. The young West Allis-based brewery concocted a recipe that blends malts and sugars you'd expect from a traditional cream ale with a house-made candy corn flavoring to make a scary good beer that's perfectly suited for Halloween.
Sunday afternoon, curiosity brought us to Westallion to try the new beer. After a customer assured us it was much better than it sounded, we purchased a pint of Candy Corn Cream Ale for $5. The 5.5 percent ABV beer has a light orange hue and a strong candy corn scent. Despite its unmistakably smell, the beer's sweetness is actually pretty subtle. In fact, it's slightly bitter, and we found it to be an all-around balanced and tasty beer.
Stephen Colbert may not be a fan, but if you're in the minority of folks who like candy corn and craft beer, it's absolutely worth taking a fall drive to get some Candy Corn Cream Ale. If candy corn isn't your thing, maybe Westallion's Peanut Butter Porter is more your speed.