On a list of businesses likely to open in the vacant basement space below Beans & Barley, "mini-golf tavern" would land somewhere between "artisanal Lunchables bar" and "High Dive East." And yet a mini-golf tavern is indeed set to open at 1905 E. North Ave.—an address once home to Shooter's, Esoteria, Mantra Lounge, Decibel/DeepBar, and The Library Club. Dubbed Nine Below, the underground putt-putt course/full-service bar will certainly not be hurting for originality.
"There isn't a model we're following for this. We literally just made this up in our garage," says David Poytinger, who is opening Nine Below with his wife Marla.
Befitting a concept cooked up in a garage, Nine Below is an amalgam of unlikely parts and ideas, and much more than what it appears to be on paper. The Poytingers refer to their business as "maker's golf." Instead of tapping their way through a static course, patrons will be invited to create their own unique greens using a host of removable hazards, turf pieces, edge pieces, and, most importantly, obstacles. Think of it like a real-life SimGolf, or, as David puts it, "adult golf Minecraft."
"You can pick and decide to put in any type of obstacle," he says. "Everything from beer sign paraphernalia to cutouts of celebrities to giant clown heads."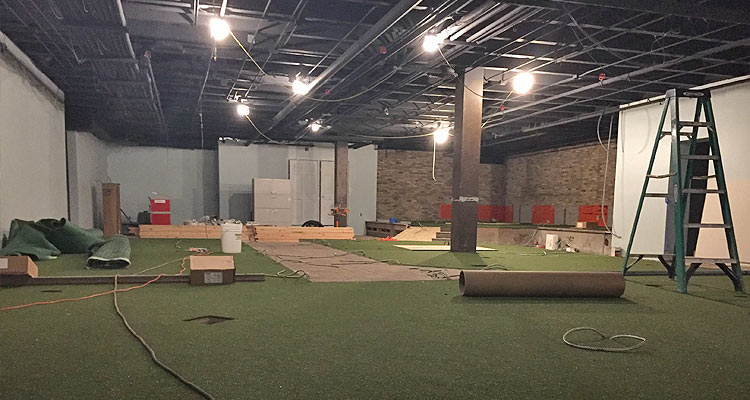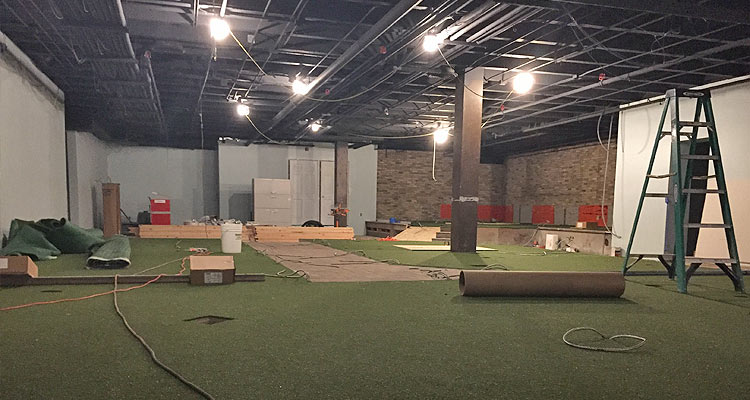 After teams of two to six people have created their own customized greens (each green will also have its own bar), all teams will play through an entire nine-hole course. If there aren't nine full teams playing at one time, Nine Below will have custom greens pre-set and ready to go.
"The idea here is that every single time you come and you make a reservation, the course changes," David says. "It's different people, they're using different obstacles, and they've got different ideas."
In addition to two nine-hole courses, Nine Below will feature a full bar (salvaged from The Library Club) and a clubhouse/lounge area decked out with tables, patio umbrellas, and lights. Despite the space's underground location, the Poytingers are aiming for a natural environment.
"What we're going for is an outdoor feel," David says. "We're going to put patio umbrellas in the clubhouse. We're going to hang sunshades from the ceiling to kind of create this illusion that you're outside."
"Like a beer garden kind of vibe," Marla adds.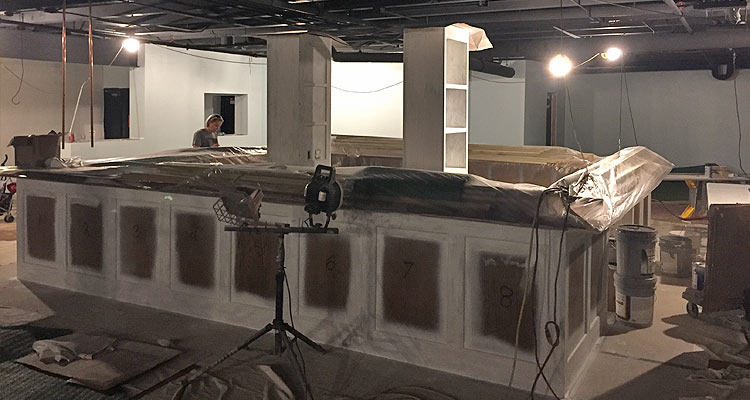 The Poytingers currently own Splash Studio, which, like Nine Below, pairs two unlikely concepts (in the case of Splash, painting and drinking). But their latest venture will feature one more unlikely component: an East Side location. Amidst talk of the East Side's "demise," the couple hopes to infuse the neighborhood with new faces and plenty of foot traffic.
"At Splash we've done private events with pretty much every single major company and smaller company you can imagine in the city of Milwaukee," David says. "We're hoping those relationships will help us bring that clientele to the East Side. From what we've seen, the corporate clientele is typically going to the Third Ward. We're really hoping that with this place and with the way we're setting it up with private events, we can bring a lot of that corporate clientele here. That's a win-win."
"We're also going to be closed by midnight, which is really unusual," Marla says. "But we're partnering with some of the area bars, so after your round you can go get a drink at BBC or something like that. We can share the customers and grow the pie, instead of trying to fight over people."
Nine Below opens to the public Wednesday, September 21. A grand opening—featuring various North Ave. bars participating in a North Ave. Putt-Putt Challenge—is set for Saturday, October 1.