We need to support local restaurants and small businesses in these difficult and trying times. You know it, we know it, former Wisconsin governor Scott Walker knows it. Don't believe us on the last part? Behold this priceless tweet from Saturday, in which Walker beams about a night out at downtown pizza joint San Giorgio Pizzeria Napoletana: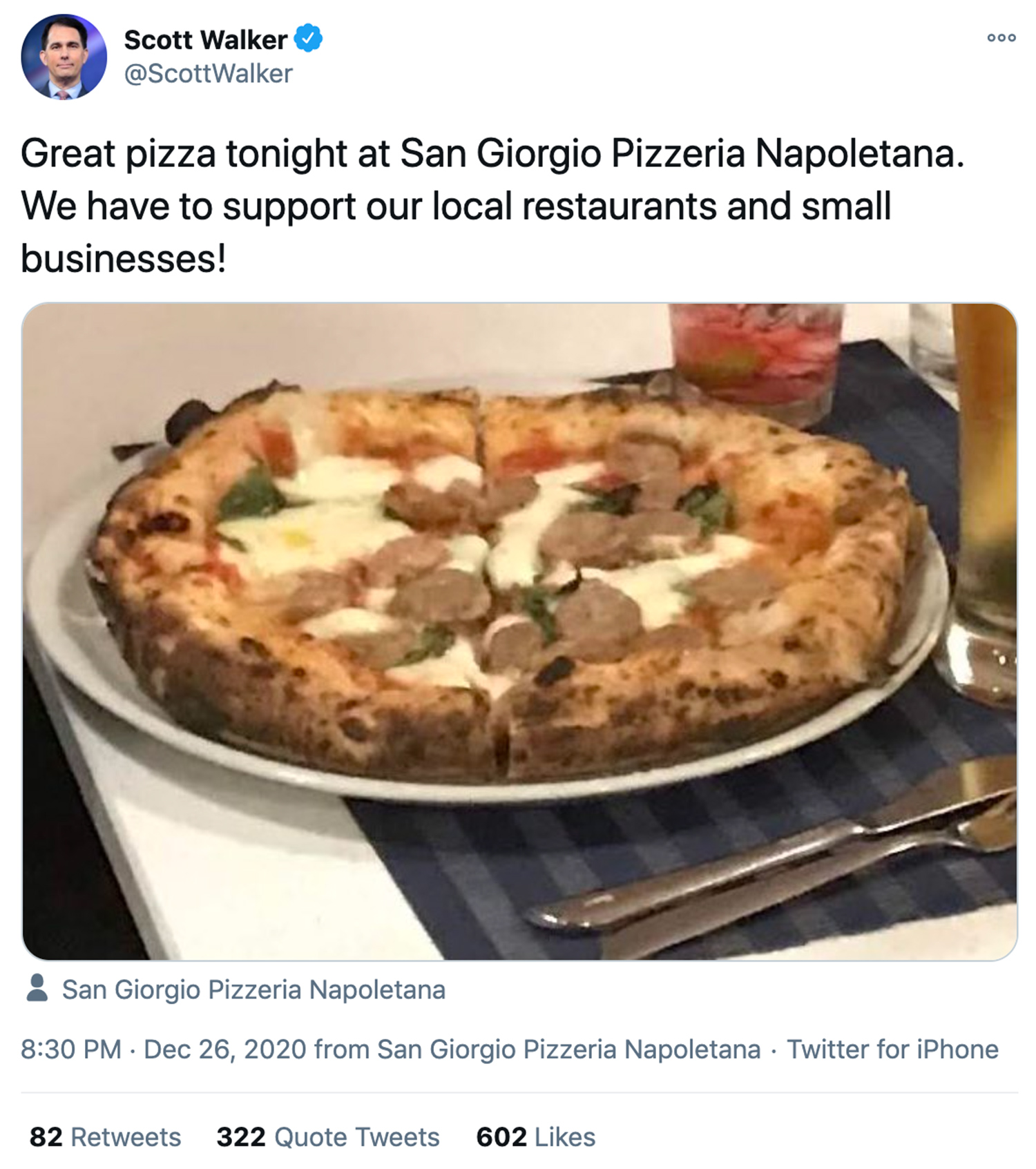 Gee, a blurry photo of a pizza that Scott Walker absolutely ordered, ate, and enjoyed on December 26, 2020 sure did get a lot of action on Twitter, didn't it? That's because it's a cropped photo from a Walker family San Giorgio outing…in 2019. Yes, Scott Walker cropped a year-old photo of a pizza, claimed he had scarfed said pizza inside San Giorgio in the year 2020, and then called on us all to support local restaurants and small businesses. God bless the internet sleuths who cracked this case.
Here's the 2019 photo: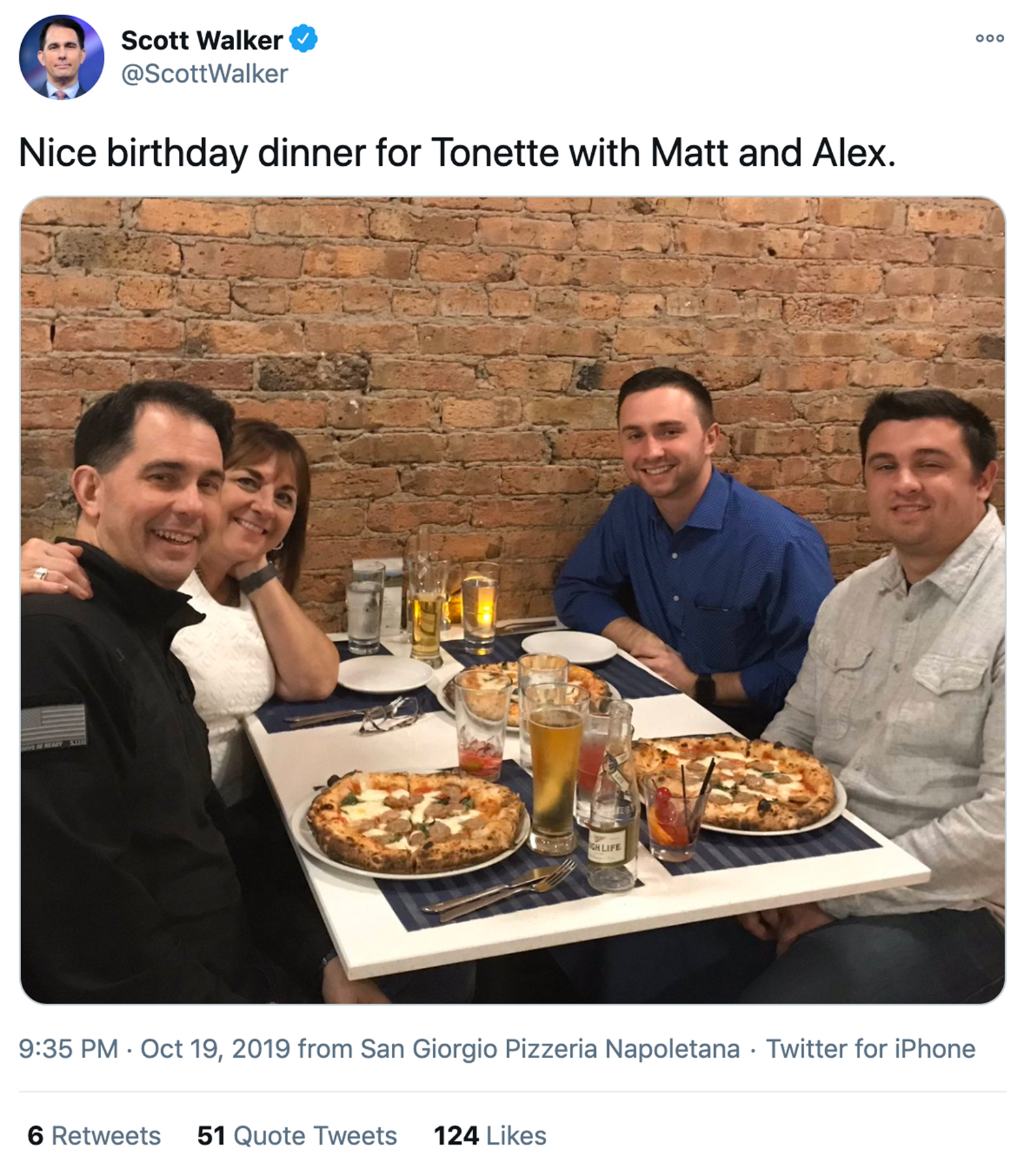 And here's the "2020" photo again. ENHANCE!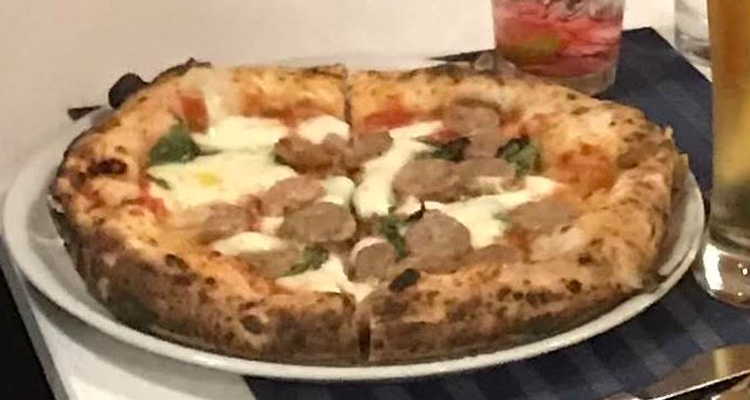 Yyyyep, that's the same pizza. Incredible. Let's check those replies and retweets, shall we?
An investigation: is this a year old photo of a pizza?

After minutes of research, I conclude… It is.

Where my peabody? pic.twitter.com/3IUN9UwfJB

— Zach D Roberts (@zdroberts) December 27, 2020
Funny enough: it was. pic.twitter.com/oUUxozfrwJ

— This is crazy (@GraciousMachine) December 27, 2020
https://t.co/1yofECvYH8
He's been feasting on the same pie for over a year.

— kevin rudolf giuliani (@LegalMinefield) December 27, 2020
This is a picture of a pizza you had in 2019. pic.twitter.com/ZfW8iOoNiX

— Erik Halvorsen (@erikhalvorsen18) December 27, 2020
Just straight up lying. About a pizza.

Walker can't even tell the truth about a pizza.https://t.co/1sae0gEn4m

— Alex Merz (@Merz) December 27, 2020
What is it with this dude and pizza?
Is there anything to add? Not really. Did Scott Walker really go out for San Giorgio pizza Saturday night? Who's to say? Maybe he simply forgot to snap a pic of his 2020 pie. Sure. We'll go with that. Support your local restaurants and small businesses!
Oh, and before the comments devolve into partisan bickering (too late?), let's celebrate the things we have in common:
Our family watched #WonderWoman last night. The first few minutes were great. @GalGadot & Chris Pine have a decent chemistry.

But the rest of the movie was a snoozer. Could have been so much better. pic.twitter.com/JpR0l4waeO

— Scott Walker (@ScottWalker) December 26, 2020
Exclusive articles, podcasts, and more. Support Milwaukee Record on Patreon.
---
RELATED ARTICLES
• New Scott Walker ad is a timely spoof of 1970s kid show 'The Electric Company'
• Scott Walker's annual "Welcome to deer season" videos, ranked
• Here's the shocking, inevitable connection between Gov. Scott Walker and Dustin Diamond
• Listen to the entire 16-track "Unintimidated: Wisconsin Musicians Against Scott Walker" comp
• Latest "Unintimidated" song enters the mind of Scott Walker, is awesome
• First video from anti-Scott Walker "Unintimidated" project skewers Facebook activism
• Wisconsin punk bands take on Scott Walker with 'Unintimidated' project
• We went to Scott Walker's presidential announcement and this is what we saw
• And lo, it came to pass that Scott Baio tweeted his support for Scott Walker
• Scott Walker will use his experience battling Wisconsin protesters to battle ISIS