Some places come and go, while some places become icons. Mandatory Milwaukee is all about the latter. Join us as we revisit beloved and well-worn local staples with fresh eyes, and explore how they might figure in the city's future.
Food trends come and go, but there's nothing that can take the place of house-made soups, sandwiches, and breakfast delicacies that are served in a welcoming environment. As another autumn gives way to winter, Milwaukee has already wished a temporary farewell to its beloved patios months ago in favor of the warm and cozy confines of area eating establishments. In Walker's Point, you'd be hard-pressed to find a comfier cafe with better food than The National (839 W. National Ave., 414-431-6551).
For more than a decade, the restaurant has managed to endure changing tastes and sustain a few ownership alterations in order to survive—no, in order to thrive—with the simple business model that seems to consist of offering customers amazing food and strong coffee in a relaxing space. It's a simple approach, but one that's proven successful since The National opened in 2008, and one patrons are sure to take advantage of more and more as the temperatures continue to dip and the world outside its welcoming walls becomes colder and harsher.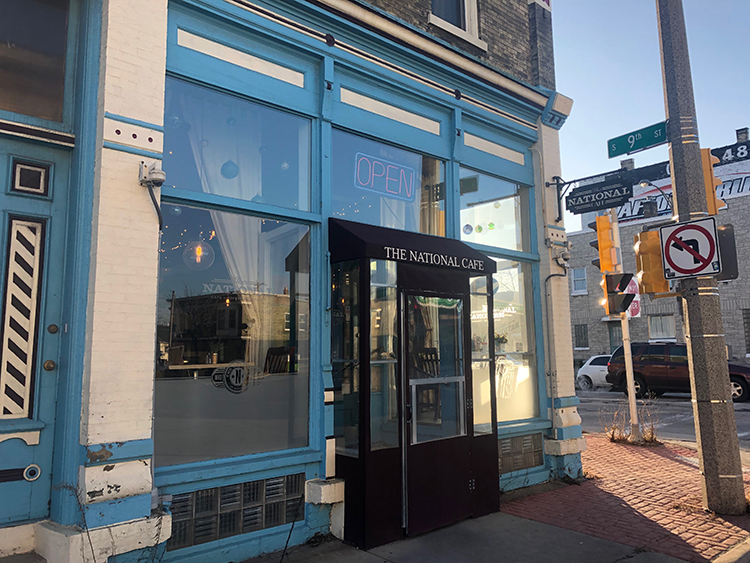 Given its timeless approach and appearance, The National has the look of a place that could have been around for generations. Even more amazing than the restaurant's relative youth is the consistency and quality it's managed to uphold amid fairly frequent changes in ownership. In 2011, Nell Benton bought the three-year-old establishment from Michael Diedrick for $100. Earlier this year, the former owner and chef decided to step away from the business and sell The National to longtime manager (and "her righthand woman since day one") Angela Wierzbinski and her business partner Amy Plennes.
Since taking over April 1, Wierzbinski—who has been a manager since the Diedrick era—and Plennes have made a few subtle changes to the way things are done at The National. The food menu has been pared down a bit, allowing the staff to hone in on the dishes that make the restaurant special. In the process, the new owners also decided to get a liquor license that now allows them to serve beer, a few cocktail options, and some signature bloody marys in addition to its vast arsenal of coffee and espresso drinks.
Though the beverage updates are welcomed improvements, the food menu has, thankfully, not been messed with too much since Benton's departure. Classic breakfast and lunch fare like the Ultimate Breakfast Sandwich, French toast, paninis, salads, and sandwiches like the BLTA (a BLT with avocado) exist in harmony with comparatively more modern creations like the vegan chorizo sloppy joe, a Keto plate, polenta cakes, Nell's Tonkotsu Ramen, and the outstanding Vietnamese Baguette. With roughly 10 tables and capacity for maybe 30 in the restaurant, The National's breadth of offerings is actually quite impressive.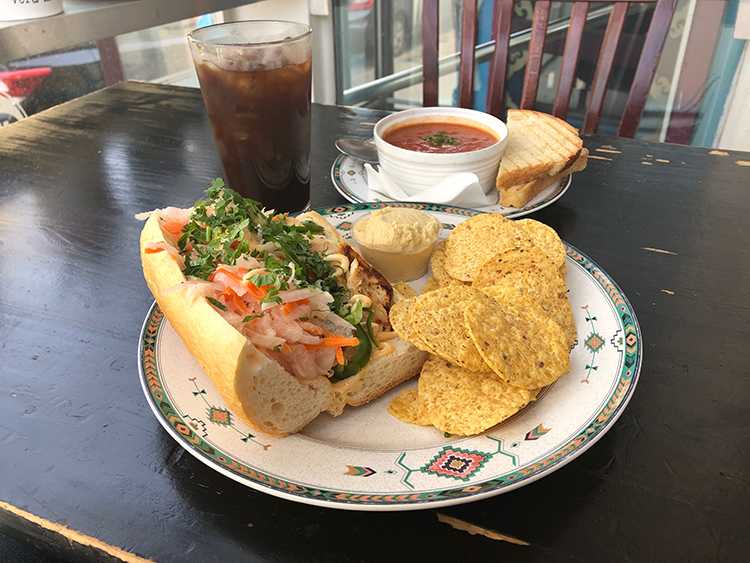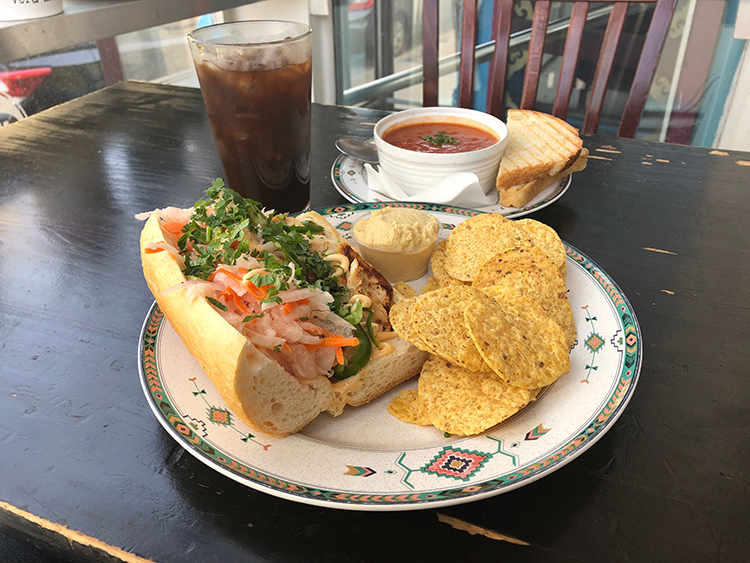 The Vietnamese Baguette is a standby that we've enjoyed a few times now, both in its traditional rendition with tender pieces of grilled sesame seasoned chicken and the vegetarian take that subs tofu in for the poultry. Your protein preference is accompanied by a heaping confluence of fresh cilantro and jalapeno slices, homemade jicama, and a zesty mayo that's all crammed into a soft piece locally baked bread. We alternated between bites of baguette and tortilla chips, sips of potent-but-smooth cold brew, and spoonfuls of that day's house soup (tomato basil).
The National prides itself on making its own creations in house when possible, and they make sure to highlight their partnership with an abundance of in-state businesses they rely upon to source their ingredients. Just some of the Wisconsin-based operations handwritten on a chalkboard affixed to a wall in the restaurant include the likes of Rishi Tea, Rocket Baby Bakery, Yuppie Hill Eggs, Anodyne Coffee, Clock Shadow Creamery, Pritzlaff Meats, Vern's Dairy, and East Side Ovens. The list goes on.
Given its relatively small space, limited hours (closed by 3 p.m. daily), and simple scope, The National could probably get by with a handful of menu options and the fact they serve coffee on one of Milwaukee's most traveled streets. However, the cafe has stood out for over a decade by having something warm, soothing, simple, and local for all tastes and preferences—and making it with a great deal of care and at an exceptional quality. It isn't just a satisfying spot in winter, mind you. It's a place for all seasons. With any luck, The National will continue to be a cafe and restaurant Milwaukee can enjoy year-round for many, many years to come.