Some places come and go, while some places become icons. Mandatory Milwaukee is all about the latter. Join us as we revisit beloved and well-worn local staples with fresh eyes, and explore how they might figure in the city's future.
"Hi, dear!"
Those are the first words you'll likely hear when stepping inside Real Chili. Like the greeting—courtesy of the always-happy-to-see-you staff—the downtown Milwaukee staple is friendly, warm, and unabashedly old fashioned. It's the kind of place where the most popular item isn't listed by name on the menu. It's the kind of place that has been around so long that to contemplate a Milwaukee without it is to contemplate a place that isn't Milwaukee. For more than 80 years, Real Chili has remained Milwaukee's great comfort food.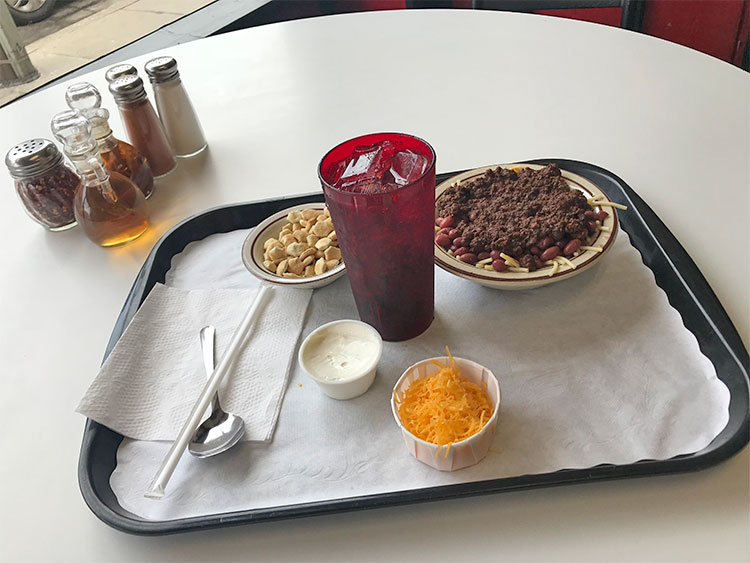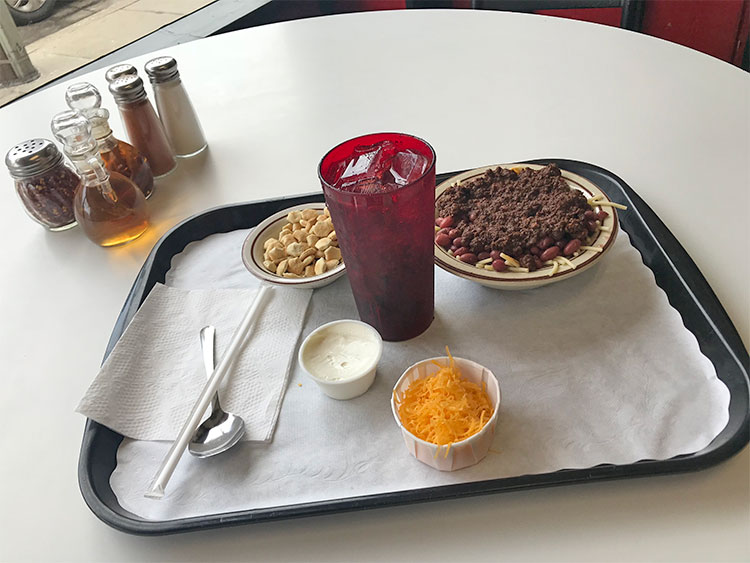 The first Real Chili opened in town in 1931. Founder Francis Honesh brought the still-kicking Real Chili recipe from Chili John's in Green Bay (established in 1910, still in business), and set up shop in the basement of the Jesuit rectory on the campus of Marquette University. Many decades and a few moves later (including one move due to a fire), the chili house that Honesh built boasts two longtime locations on opposite ends of the same downtown street: 1625 W. Wells St., near Marquette; and 419 E. Wells St., near Cathedral Square Park.
Walk into the Cathedral Square location are you're instantly awash in a black-and-white-checkered-floor-and-red-barstools vibe that wouldn't feel out of place in an "I love the '50s" diner. Two long communal tables and a few scattered tables and booths round out the no-frills décor. Then there's that "Hi, dear" from the staff. Far from kitsch, Real Chili is uncomplicated and sincere.
But it's the walls loaded with old photographs and clippings that give Real Chili its, well, real character. Hey! There's Jerry Seinfeld stopping by for a bowl! There's Ted Perry! There's a Real Chili bumper sticker in Antarctica! In Paris! In London! On the summit of Mount Washington! Long before Flat Stanley was circling the globe, Milwaukeeans were spreading the gospel of Real Chili.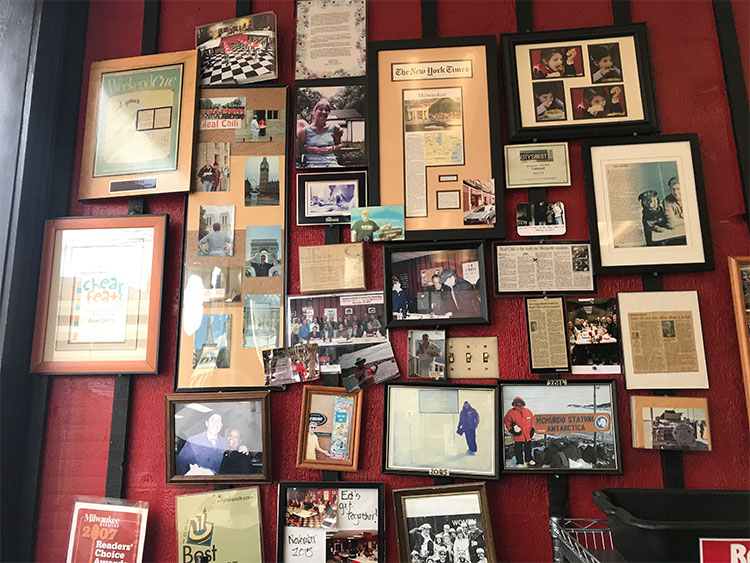 Closer to home, it's clear that Real Chili is a downtown favorite. Pictures of annual company get-togethers abound (hi, Ed!), as do faded photos of smiling (and sometimes slightly inebriated) patrons who drop in at bar close. The only thing more dedicated than Real Chili diners, it seems, are Real Chili employees—various magazine and newspaper clippings highlight employees with three or four decades under their belts.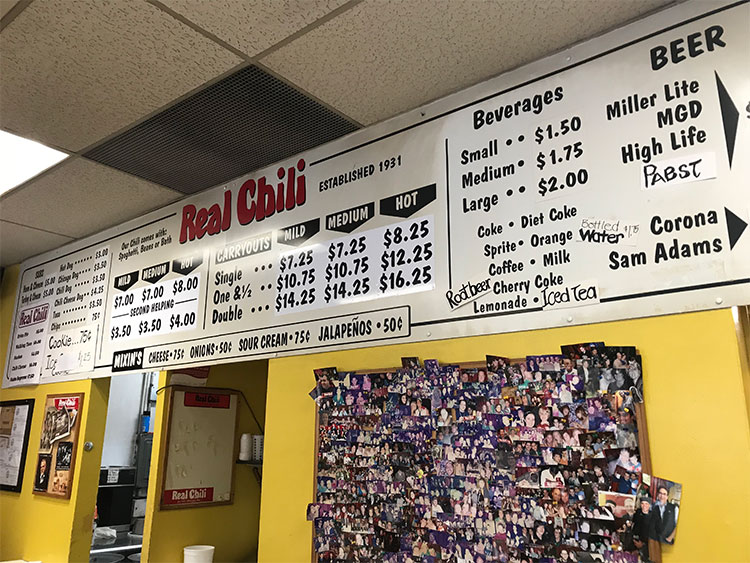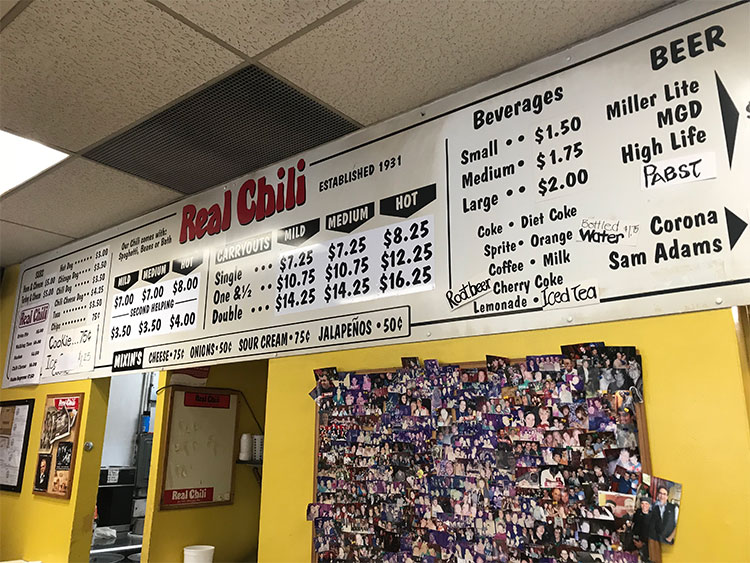 And then, of course, there's the chili. Available in three levels of heat, and with spaghetti, beans, or spaghetti and beans, it's another direct and un-fussy pleasure. (No, it's not the kind of chili you'd find in the southwest, but a "Cincinnati-style" chili more predominant in the midwest.) Order up a bowl of medium-spicy with spaghetti and beans and you've just ordered the unlisted "Marquette"—Real Chili's most sought-after combination, and named by a former server. It arrives hot and ready to go. Cheese and sour cream arrive in paper cups (for an extra $.75 each). A small mountain of oyster crackers arrives in a bowl. A soda rounds out the order. Take your tray, take a seat, and dig in.
In an age of increasingly niche and specialized restaurants, there's absolutely nothing trendy about Real Chili. No small plates, no farm-to-table shareables; just chili, dammit, and that's it. (Okay, there are a few more items on the menu, like subs and hot dogs, but the place isn't called "Real Hot Dogs.") There's also nothing particularly healthy about the mid-day and late-night food Real Chili serves up. Again, it's just chili. But, in an ever-evolving and oft-frustrating world, that's the way it should be. Real Chili is unchanged. Real Chili is delicious. Real Chili is Milwaukee. It's that simple.