Some places come and go, while some places become icons. Mandatory Milwaukee is all about the latter. Join us as we revisit beloved and well-worn local staples with fresh eyes, and explore how they might figure in the city's future. This week: County Clare Irish Inn & Pub!
Throw a stone in any mid-size city and you're bound to hit an Irish pub. Hell, even the pub in It's Always Sunny In Philadelphia is an Irish pub. But what makes an Irish pub a real Irish pub? And do questions of "authenticity" really matter? Milwaukee staple County Clare Irish Inn & Pub (1234 N. Astor St., 414-272-5273) may not boast a history that stretches back hundreds of years (it opened in 1996), but its unique business model, its excellent food, and its stellar service—plus plenty of live music—make it one of the absolute best Irish joints in the city.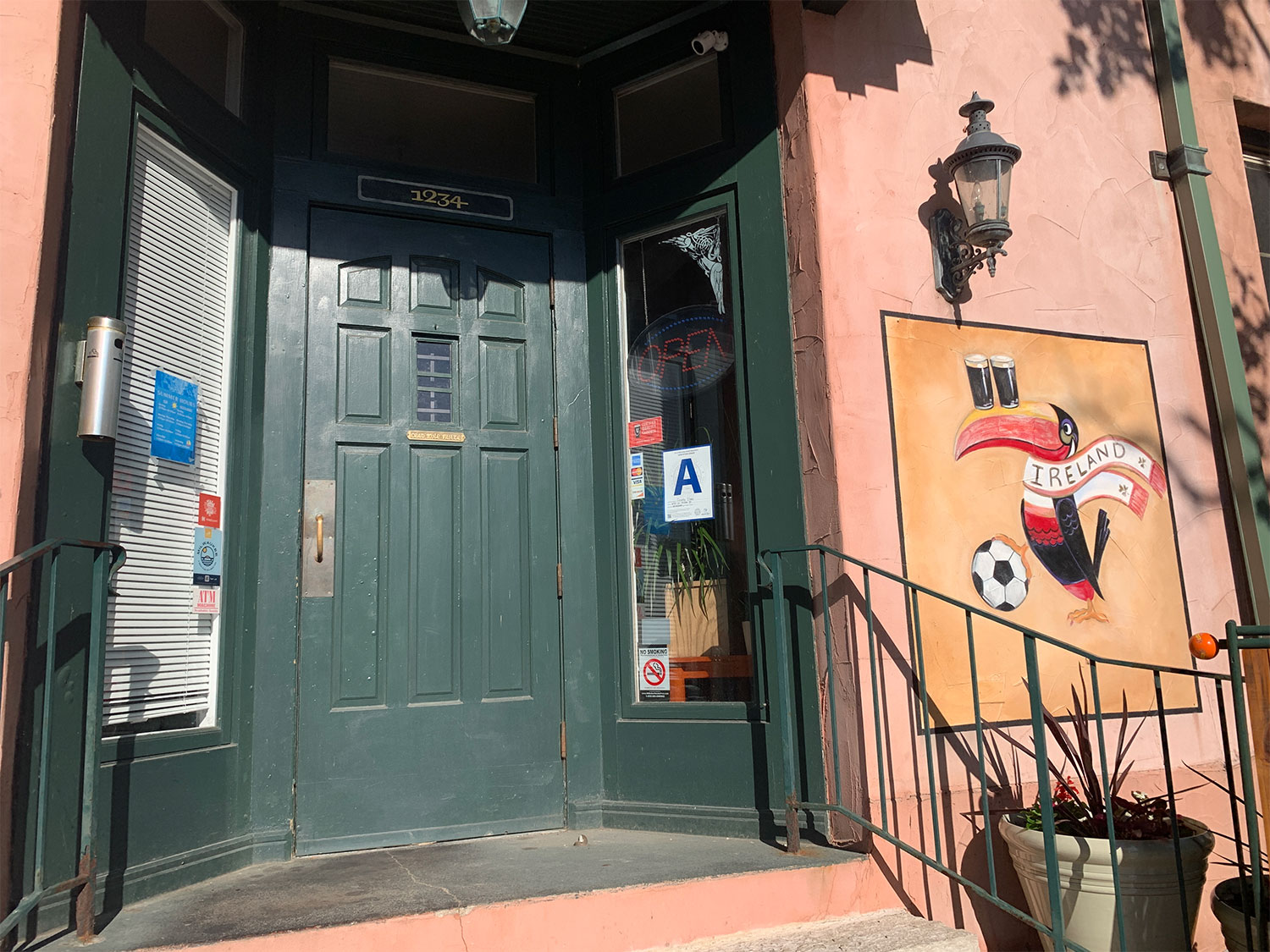 As its full name suggests, County Clare isn't just an Irish pub. Instead, it's a combination pub, restaurant, and 29-room inn. The green-hued pub and restaurant space—a.k.a. the "Public House"—is decorated with numerous Irish sayings ("Céad Míle Fáilte," i.e. "a hundred thousand welcomes") and the occasional Irish scolding ("Profanity makes ignorance audible"). A so-called "Saint's Snug" features plush seats and a Waterford wood burning stove. The overall space radiates a charming and welcoming vibe for both East Town neighbors and nightcap-seeking inn denizens.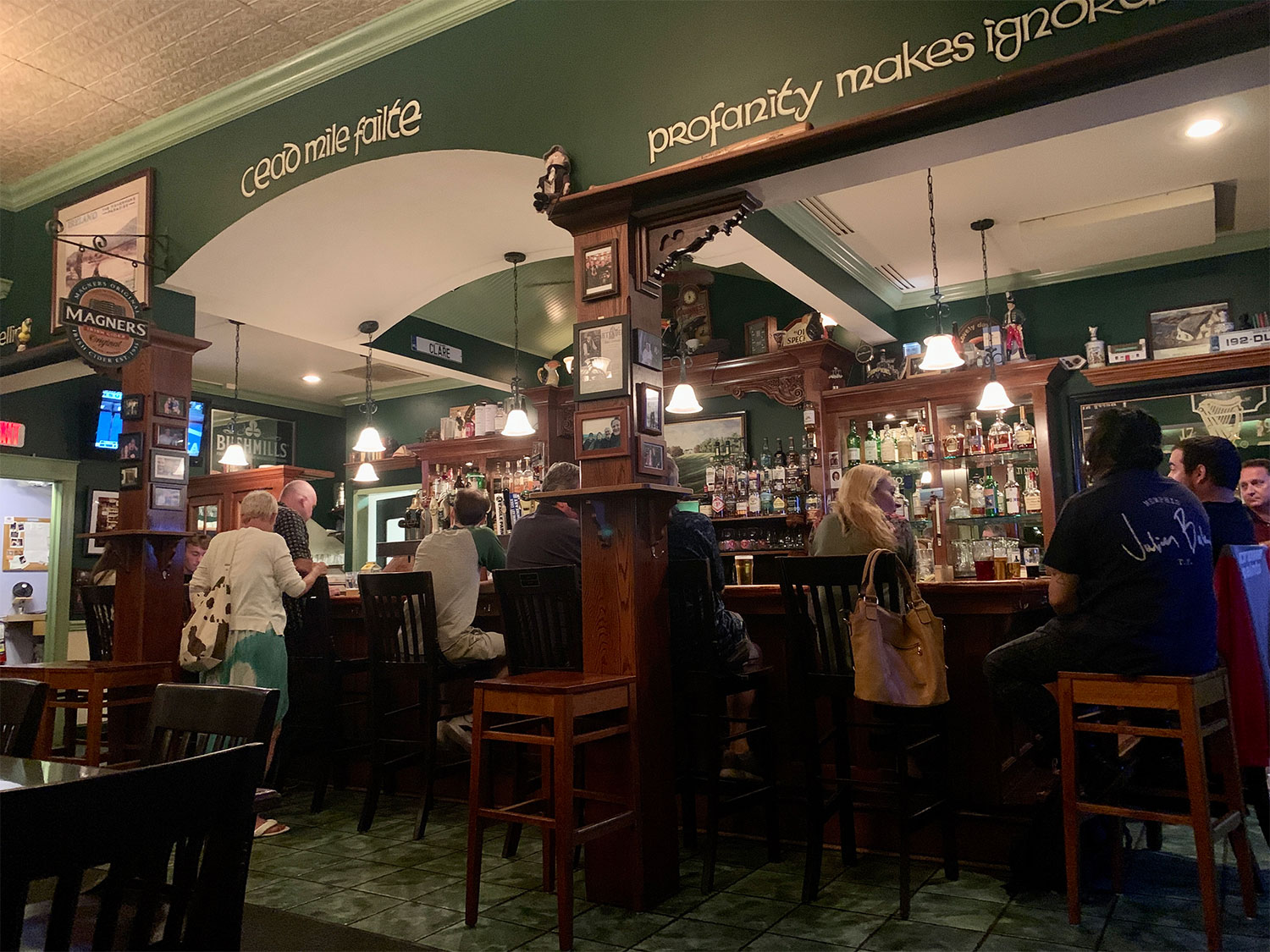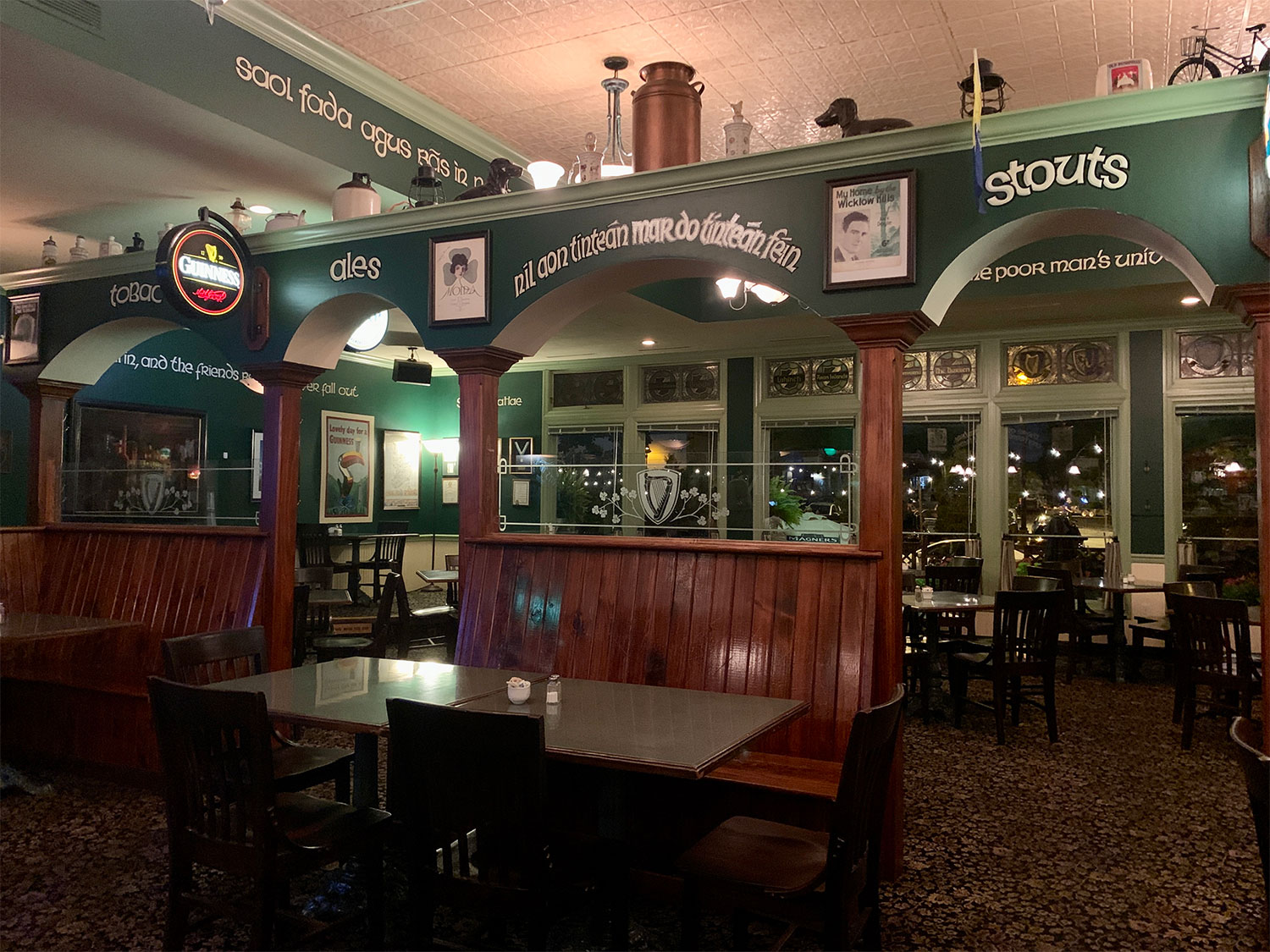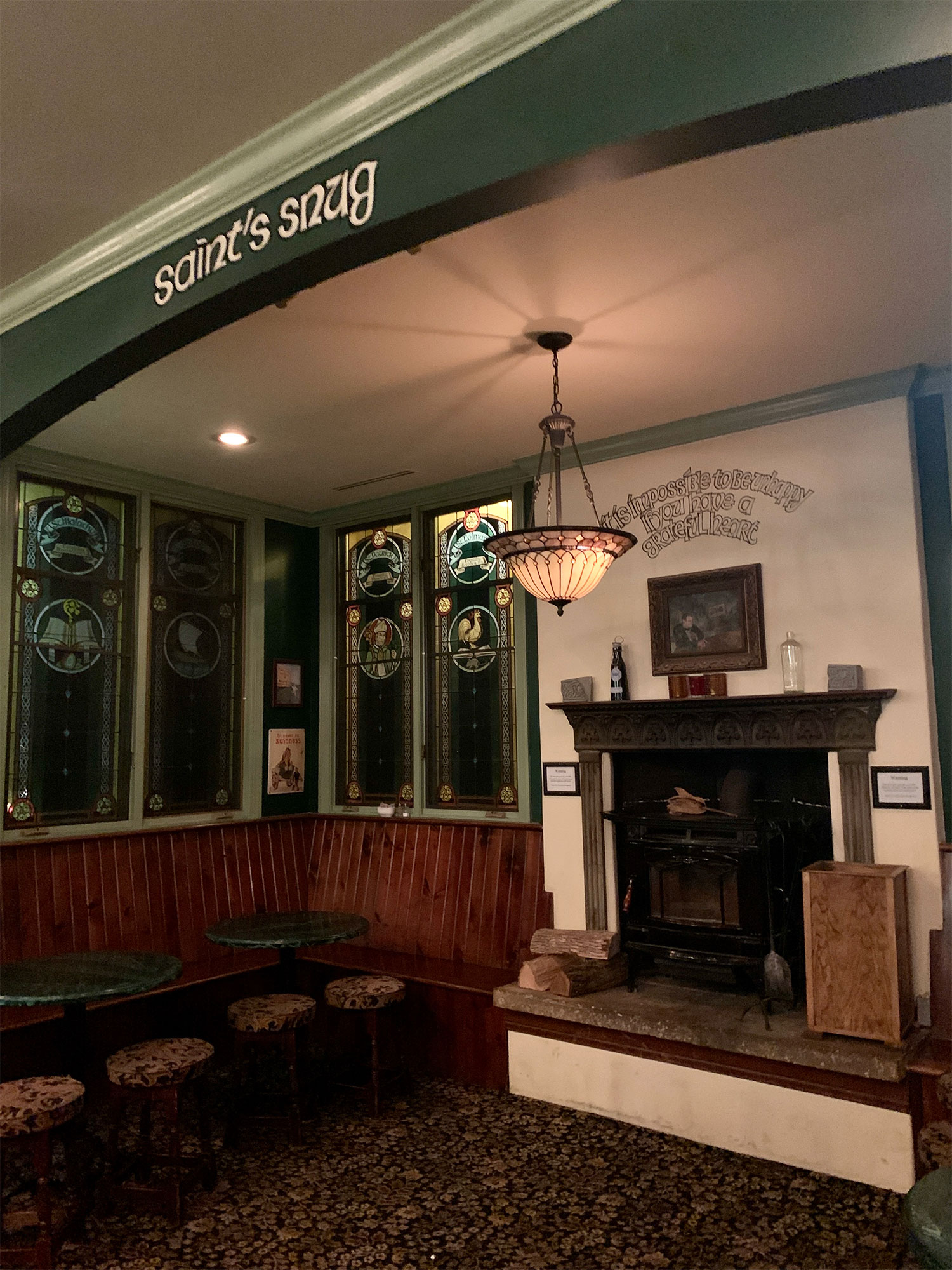 As for the actual bar, it's stocked with everything you'd hope for in an Irish pub—and not just Guinness. "What kind of Irish whiskey do you have?" a patron sitting next to us during a recent visit asked the bartender. "Just about all of them," the bartender replied.

Folks making the pilgrimage to County Clare for a meal are also in for a treat—morning, noon, or night. The dining room is bright and spacious during the day, filled with stained glass and even more Irish sayings. A brunch menu is highlighted by a Full Irish Breakfast complete with eggs, bangers, pudding, bacon, and more. The County Clare Bloody Mary doesn't go full ridiculous (see: Sobelman's), but it does feature a pickled potato. For dinner, diners can order items like the Reuben and Corned Beef Sandwich; Irish Smoked Salmon and Corned Beef And Cabbage; and, of course, the Shepherd's (lamb) and Cottage (beef) Pie. The pies may look small, but they're both dense, wickedly delicious food bombs.
Oh, and don't forget about the Friday fish fry!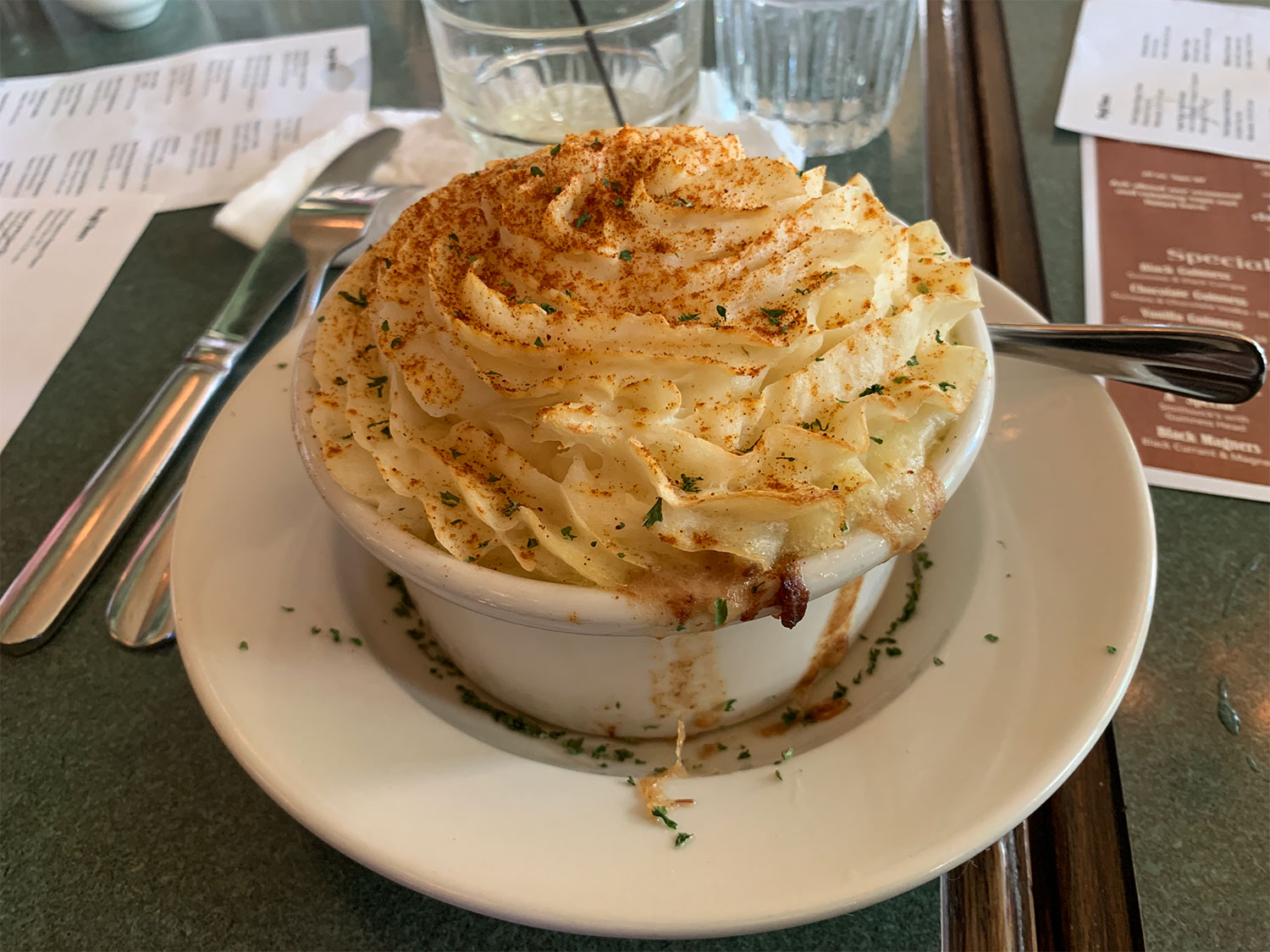 The inn, meanwhile, features a combination of standard and "snug" rooms, plus four suites. "It's cozy, like an Irish cottage!" a visitor from Rhode Island remarked when we asked him about his accommodations on a recent visit. We're guessing he had a "snug" room.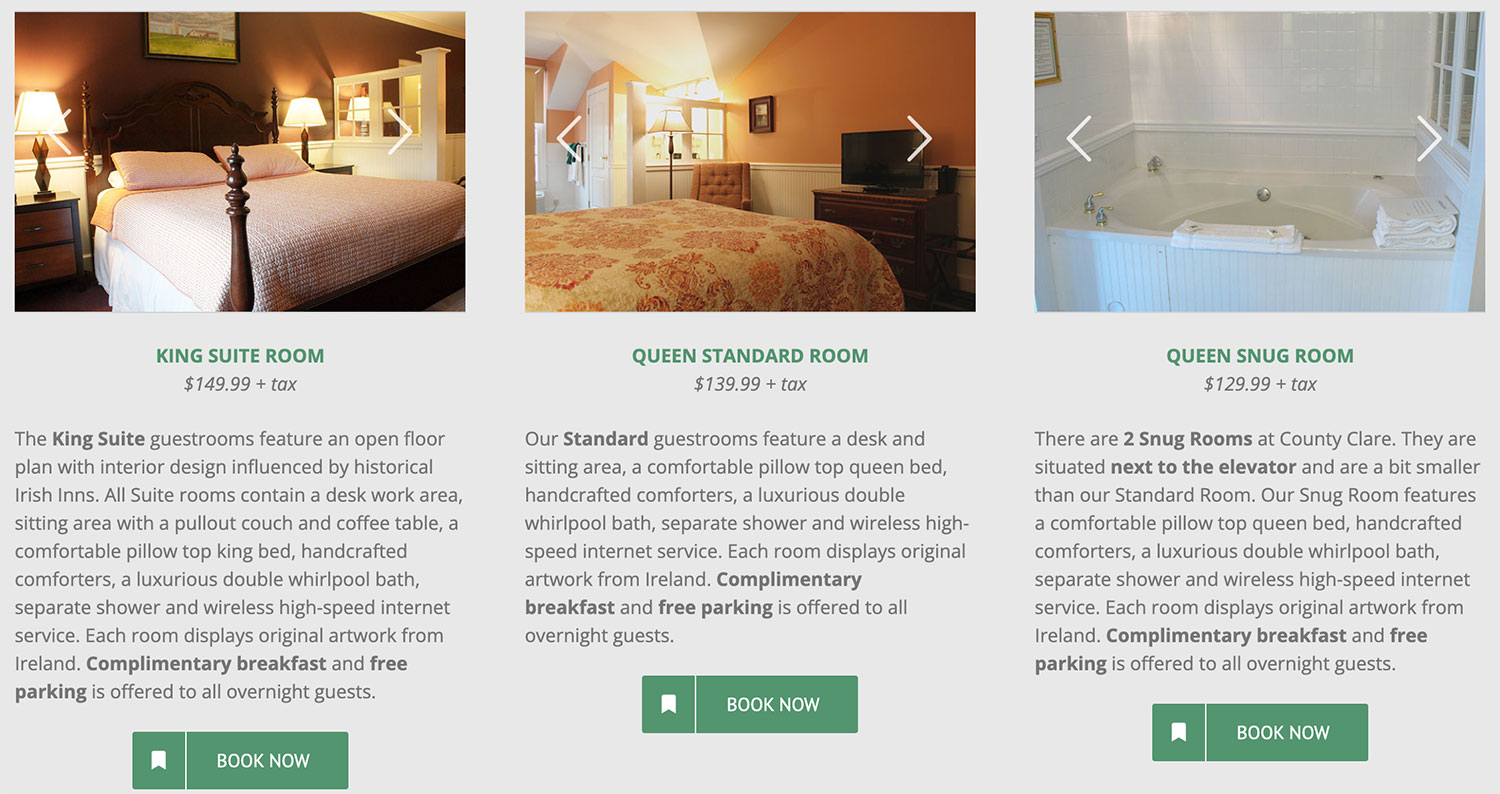 County Clare is owned by Rip O'Dwanny. Via his Harp & Eagle company, O'Dwanny operates four more Irish restaurant-pubs in Wisconsin, and offers various package tours to the homeland. "We're not in the bar business," he told the Milwaukee Business Journal in 2021. "We're not in the restaurant business. We're not in the hotel business. We're in the hospitality business, the entertainment business, and the service business. We're there to serve you and it's an art form in my opinion."
"Níl aon tinteán mar do thinteán féin" reads one of the signs in the bar. It translates to "There's no fireside like your own." Whether visiting from inside Milwaukee or from parts unknown, County Clare's "art form" approach to service makes its fireside feel like your own.
Plus, there's this saying on the wall of a conference room, which is perfect:

Exclusive articles, podcasts, and more. Support Milwaukee Record on Patreon.
---
RELATED ARTICLES
• 195 consecutive Friday fish frys and counting: County Clare