Shorewood is open for business. Not even 10 years ago, Milwaukee's well-to-do neighbor to the north mostly kept to itself. The majority of the 1.5-square mile lakeside suburb consisted of prim, sprawling homes for its 13,000 aging citizens, with a few national chains sprinkled in to limit trips to Milwaukee proper. Besides the venerable Benji's Deli, local dining and nightlife pretty much started at Oakcrest Tavern and ended with Village Pub, and offered little-to-nothing in regard to (non-Legion Hall) happenings in between. At some point, though, something changed.
Three Lions Pub, Nana Asian Fusion, and Big Bay Brewing started the transformation from stuffy suburb to a young family oasis of sorts. Camp Bar gave the adjacent Oakcrest a run for its money and, along with the other newcomers, ushered in a swift end to Village Pub's previously-unchallenged monopoly. The pub has since been replaced by Cloud Red. Nearby, Nino's Southern Sides brings tremendous soul food to the neighborhood. A gigantic parking structure was erected beside a hulking new multi-level Metro Market. New apartment complexes have been built in every vacant crevice of Oakland Ave., with more on the way.
Along the way, Shorewood cemented its status as a neighborhood on the rise with one of metro Milwaukee's most telling indicators of identity, economic promise, and potential: A Colectivo. Not only has the lauded local roaster—which, full disclosure, sponsors a Milwaukee Record video series—taken root in a village that bears little resemblance to its appearance a decade ago; affiliated parties are now featuring the bustling burb as a proving ground for its foray into the burger business. On January 18, The Ruckus (4144 N. Oakland Ave., 414-810-9559) came to Shorewood and brought with it the simple promise of "Burgers. Ice Cream. Churros." Can that holy, homey trinity continue to push this late-blooming locale's development, or will Ruckus get lost in the commotion of Shorewood's ongoing transition?
The space: Built atop the grave of a Verizon Store, the Ruckus Burger exterior has the whimsical appearance of a drive-in from generations past, paired with the angular architecture and primary colors of a chic modern edifice. That said, it—even with its pork pie hat-clad penguin mascot looming outside—doesn't look out of place directly next to Benji's, and it presents nowhere near the imposition the incoming pizzeria and fitness center both situated directly across the street will.
Inside, the main entrance gives way to the counter. To the right, a long and thin corridor has widow-lining seats that face vibrant Oakland Ave. on one side, with a few benches and communal tables on the other. There's a large booth in the back and overflow patio seating outside. The window-lined dining room is sun-soaked by day, and left to be lighted by semi-swanky metallic fixtures suspended from the ceiling at night (once dinner hours start, that is). The only real decorative accoutrements are functional, as colorful signage displays a wall-mounted menu that details The Ruckus' menagerie of straightforward Western comfort food staples. Beside the menu, posters tout the purveyors responsible for the ingredients of those menu items: Pritzlaff Meat, Meadowvale Dairy, Usinger's Sausages, Berghofff Root Beer, Sir Kensington condiments, and of course Colectivo coffee and beer are among them.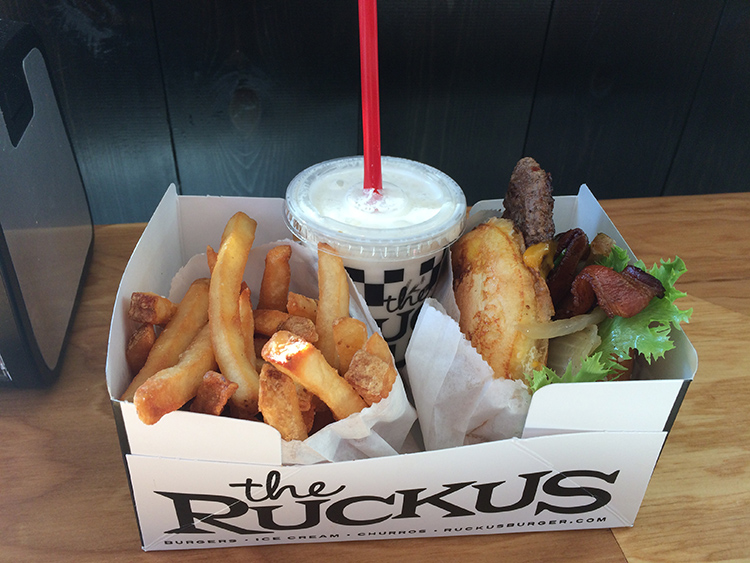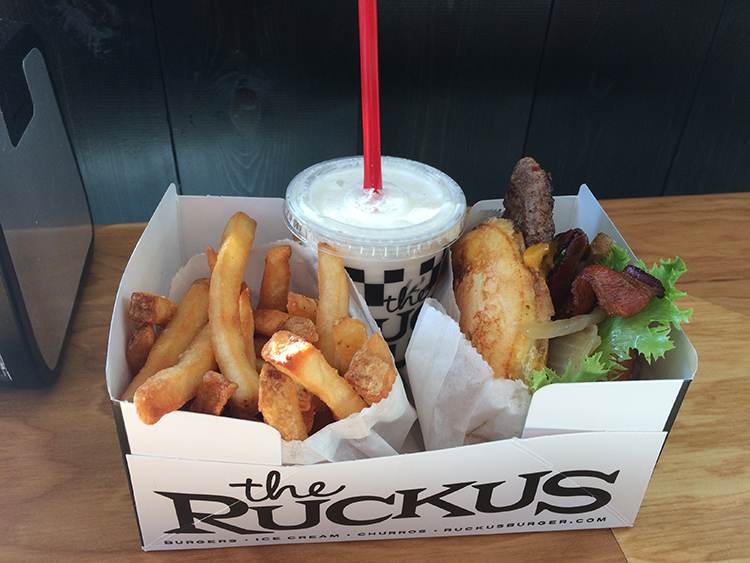 Milwaukee Record's food: Following a few minutes spent examining that menu, we strolled up to the counter and placed an order we felt would reflect the breadth of Ruckus' bounty. The Classic ($5.75) had all the usual burger suspects of a quarter-pound beef patty, cheddar cheese, pickles, tomato, lettuce, grilled onion, tomatoes, mustard and ketchup. Ours came out with bacon, too—a happy accident we weren't about to correct. While our choice of order—which eschewed the various chorizo-incorporating options and didn't utilize any of the 10 additional toppings or sauces—couldn't be called adventurous by any means, the lightly-seasoned triangular hunk of beef was bolstered in spades by the fresh vegetables, the elevated slice of Midwest-made cheddar cheese and crisp New Berlin-bred bacon. Strangely, the juicy and flavorful pickles and the sweet sesame bun from Troubadour Bakery (another Colectivo-connected entity) were standouts. The Classic was deceivingly high-quality for something we ordered at a counter that was then assigned a number to aid in its retrieval.
The fries ($3) were wide-cut spuds that had a golden outer crispiness, but gave way to soft, starchy innards. With a fair dusting of sea salt, they were good on their own. We washed down the savory stalwarts with a Peanut Butter Milk Froth ($1.50), which was pretty much just Sassy Cow milk with malted peanut butter powder. If we could turn back time, we would've opted for a One Tun Pale Ale or a Riverwest Stein.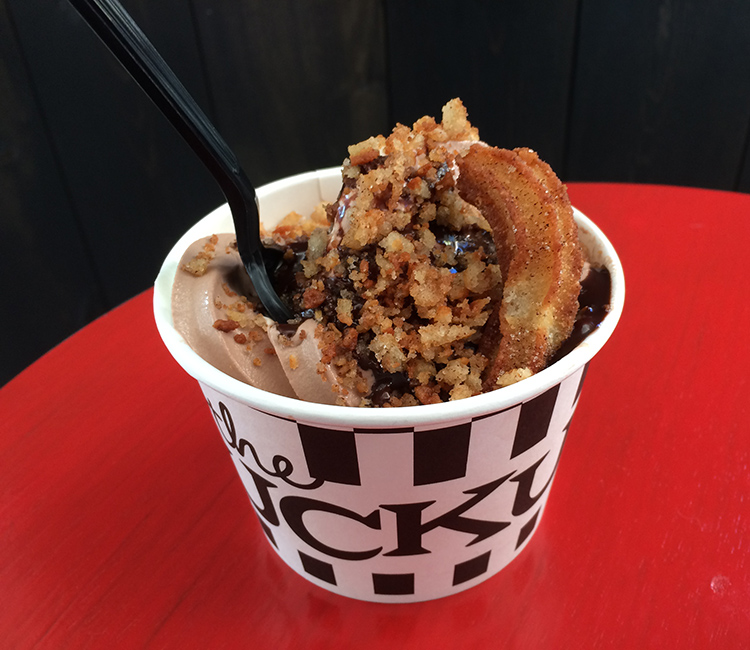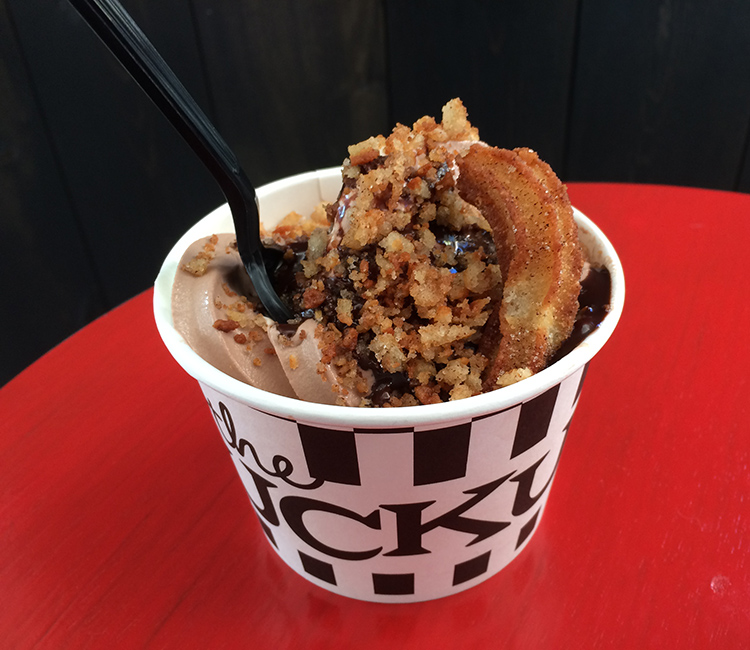 Both nonplussed by our the milk froth and intent on seeing how the "Ice Cream. Churros." portion of the log line held up, we returned to the counter to indulge in a so-called "Saturdae" ($5) that was an ever-so-slight sidestep from the traditional sundae. The subtle difference came with the inclusion of a fluffy and cinnamon-dredged churro piece shoved into ice cream. While it had the appearance of soft serve, the Meadowvale ice cream was concrete-thick and had a rich, buttery sweetness to match. With the addition of more churro (in crumble form) and spiced fudge topping, it was a decadent take on a childhood favorite.
The verdict: It's hard to mess up burgers, fries, and ice cream. Still, The Ruckus has managed to keep the simple spirit of time-tested American mainstays in tact, while simultaneously differentiating itself from, say, the nearby Culver's with understated improvements in the ingredients. Shorewood is no longer hurting for places to eat, but the village—namely, its exponentially-growing population of children and young families who need a place to go—is better off with Ruckus in its border.