Not too long ago, Shorewood was a much different place, with the tiny village flanking Milwaukee's northern border boasting as many grocery stores as it did bars. A culinary scene that started with Benji's Deli and ended with a small, octogenarian's fistful of safe and exceedingly basic restaurants that found No. 1 Chinese the default most exotic dining option has rapidly expanded. A recent influx of youths—and their unprecedented desire for Shorewood to have, you know, stuff in it—has infused a dash of energy into the lukewarm Sanka of longtime Shorewoodians, and the uptight 'burb has quickly become…arguably kind of cool. Amid the cafes, an English pub, sushi joint, northwoods-themed bar, new ReThreads, gyms, parking complex, and a great beach, Nino's Southern Sides (4475 N. Oakland Ave., 414-964-3663) came to the ever-improving area three weeks ago. Milwaukee Record paid an early visit to Nino's to see whether the neighborhood best known for its old souls has room for soul food.
The space: While we'd never been to the Al Calderone Club before (making us feel partially responsible for it closing within two years of opening), we can't imagine much changed between the prior and current Oakland Avenue occupants. Like Al Calderone Club, Nino's is primarily built for takeout. It's not the only option, though, as we plopped down on one of the six stools beside an elevated window-side counter top. In the approximately 12-foot space between that counter and the one where orders are placed and paid for, a pair of small tables help push dine-in capacity to the low double-digits. Decoration is sparse, with interior colors kept to basic white, red, and gray. A fairly large flatscreen TV was mounted to the southern wall, a likely measure to help customers pass the time while they waited for takeout orders. We sat as far away from Wolf Blitzer's repetitive CNN reports regarding The Interview being shelved as we waited for our food.
The service: As we entered the restaurant, a middle-aged, distinctly Shorewoodian father in formal attire was audibly complaining about how long his food was taking to his elementary school-aged daughter. That wasn't exactly the stamp of approval we were seeking. Still, we weren't going to drive all the way to Shorewood and leave empty handed. After glancing at the wall-affixed menu for a few moments (as the man's whining persisted behind us), we approached the counter. A young woman was eager to help us, and was especially pleasant given the placement between the comically disgruntled customer and the (apparently) lagging cooks. Aware of the potential of a long wait, we noted the time of our order. We were happy to receive our food within 10 minutes of ordering. Unfortunately, the young business ran out of a side we chose, but offered to compensate making us select another item by giving us a complimentary soda from the arsenal of eight Sprecher sodas on tap. No complaints from us.
Milwaukee Record's food: Nino's doesn't boast the most extensive menu out there. Really, the daily menu has just three regular main entree options: fried or smothered chicken, fried or smothered pork chops, or fried catfish fillets. Meat lasagna is also available on Wednesdays, and the weekend brings about specialty fare like meat loaf, pork chitterlings, spaghetti, and BBQ pig's feet. Of course there's an abundance of (fittingly) southern sides to accent any meal that range from usual suspects like macaroni and cheese, coleslaw, and mashed potatoes to more exotic options for the general suburban diner such as stewed okra, collard greens, and black eyed peas. We also noticed a register-adjacent cooler with slices of pie, cobbler, and brownies.
While we weren't exactly hankering for BBQ pig's feet, we also weren't going to squander our dining dollar on something standard like fried chicken or spaghetti. Ultimately, we decided on a two-piece catfish dinner with a side of black eyed peas and macaroni & cheese ($11.99). Catfish is an acquired taste, and we'd been let down in the past (including at the nearby Shorewood Legion Hall), so we had our apprehensions, but these particular fillets were outstanding. The massive chunks were coated in a coarse coating of yellow cornmeal, batter reminiscent of chicken breading, and blackening spices to give the fish a smokey flavor to offset the muddy, abrasive taste for which these bottom-dwellers can sometimes be known. It was crunchy on the outside, but moist and flaky within. The macaroni was especially rich and cheesy, but also produced a small puddle of grease at the bottom of its Styrofoam reservoir. Conversely, the black eyed peas were also very tasty—a gentle hint of smokey flavor combined with the spice of peppers—but had become a tad dry and starchy during its hours-long occupation in a warming container. Eventually we just mixed the two sides together to produce one super side with the perfect texture and viscosity. We were glad the corn muffin was a free add-on because it—in all its bone dry, hard, borderline sour glory—was the only component of the meal we didn't devour in a frenzy.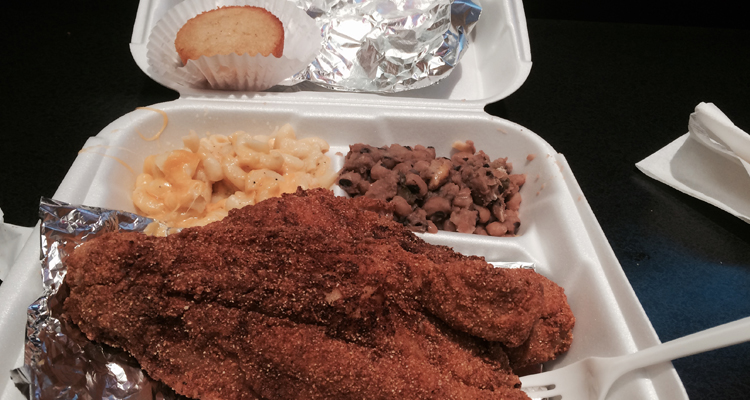 The verdict: We have no idea how classic Southern cuisine will go over in Shorewood, but we'll certainly make the trip back. Hold the corn muffin next time.