This year has been an unprecedented one for restaurants. Amid the COVID-19 crisis, food purveyors have been forced to make drastic changes to their practices, overhaul their business model, retrain what's left of their staff, and think of both creative and necessary ways to stay afloat until better days return…whenever that may be—all while getting very little (if any) assistance from the government. It's an unthinkably tough time to own a restaurant, and it's undoubtedly an even more difficult time to open a restaurant.
Even though times are tough, that abundance of difficulty still hasn't stopped some bold entrepreneurs from taking the leap of faith to open new businesses during a pandemic and an economic crisis. Late last month, Sticky Rice (1000 E. Locust Ave., 414-226-6483) became on of Milwaukee's newest restaurants to open. With a carryout model, low prices, and a focus on Thai and Lao favorites, it's quite possible the young Riverwest business figured out the formula for longevity in this strange new world. Of course, that will only be the case if their food was any good. In order to see for ourselves, Milwaukee Record called in an order, masked up, and paid an early visit to Sticky Rice.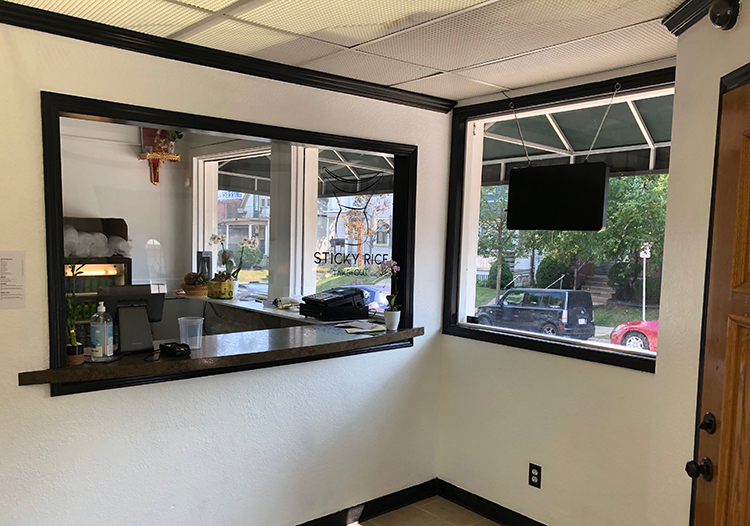 The space: Up until this point, this corner property had a checkered past and its previous tenants have experienced oodles of unfortunate luck. The building's ground floor was most recently home to Thai Lotus, with Tuk's Thai Kitchen briefly setting up shop there before that. Prior to its Thai turn, the building was home to a host of short-lived pizza purveyors like Milano Pizza, Luna Pizza, 4 To 4 Pizza And Wings, JAX Pizza, and Antonio's Pizza. In spite of the space's patchy history, Sticky Rice's owners have given the small space some nice touches to make the cozy lobby where orders are picked up seem as inviting as a carryout joint can be.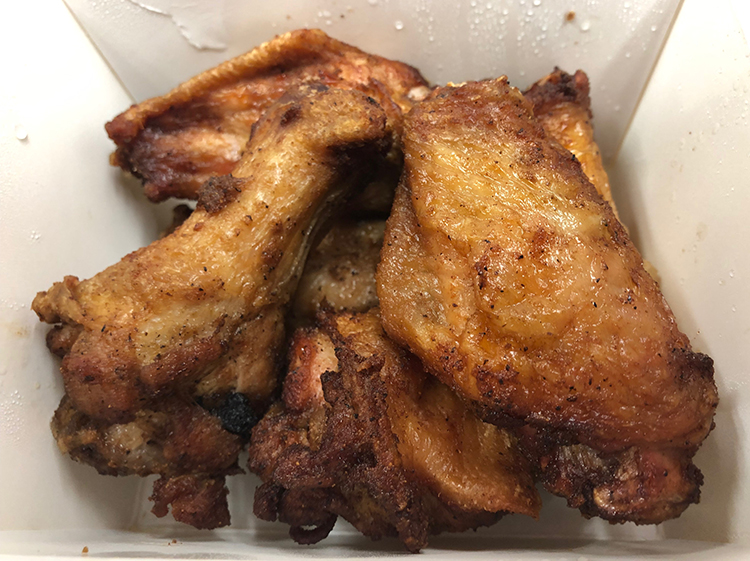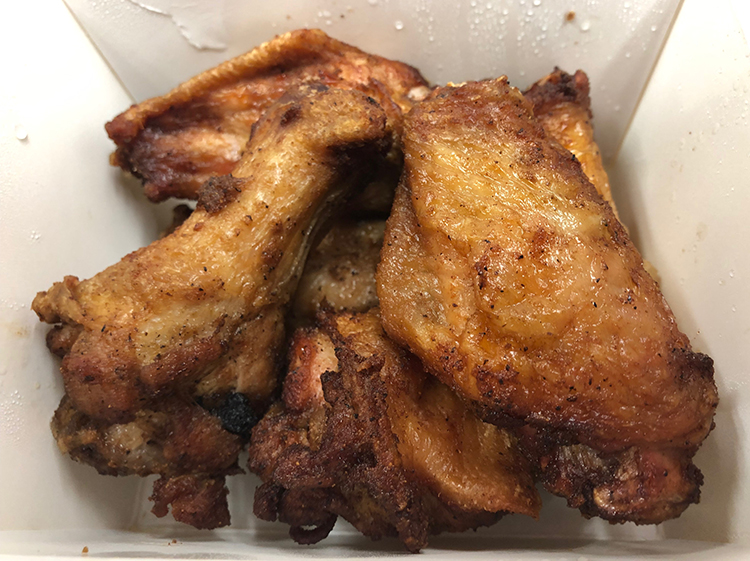 Milwaukee Record's food: As noted above, Sticky Rice specializes in Thai and Lao specialties. Much like its physical location, its menu is fairly small. However, the assortment of appetizers, soups, curries, noodle-focused entrees, and (as the name would suggest) rice dishes is a sort of greatest hits list of the cuisine from those two countries. About 20 minutes after placing our order over the phone last week, we were able to pick up our food. Remarkably, everything remained hot and fresh during our crosstown drive.
Once home, we started with the item we thought would be the most impacted by cooling off. The chicken wings ($7.50) included a total of six lightly seasoned and fried drumettes and flats. While lacking any noticeable spiciness, they were crispy on the outside, moist and tender inside, and definitely worth tacking onto your order. Each item we ordered came with a sweet and sour sauce container, which came in handy and helped us add a tangy and semi-spicy accent to the wings.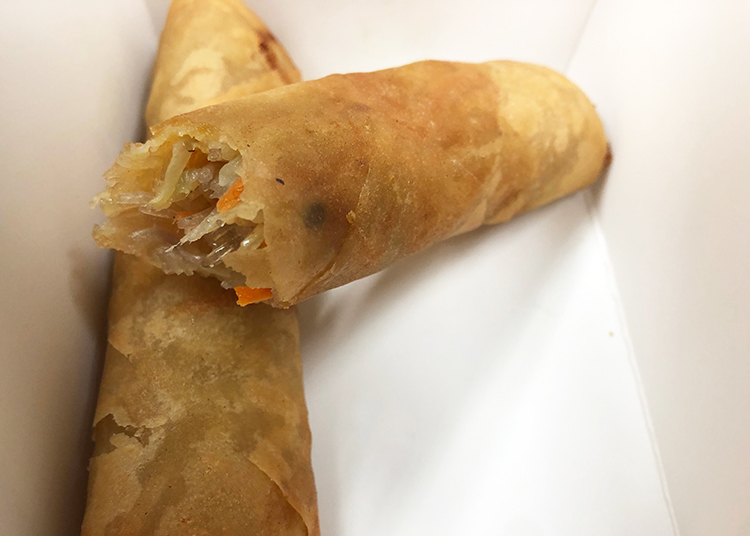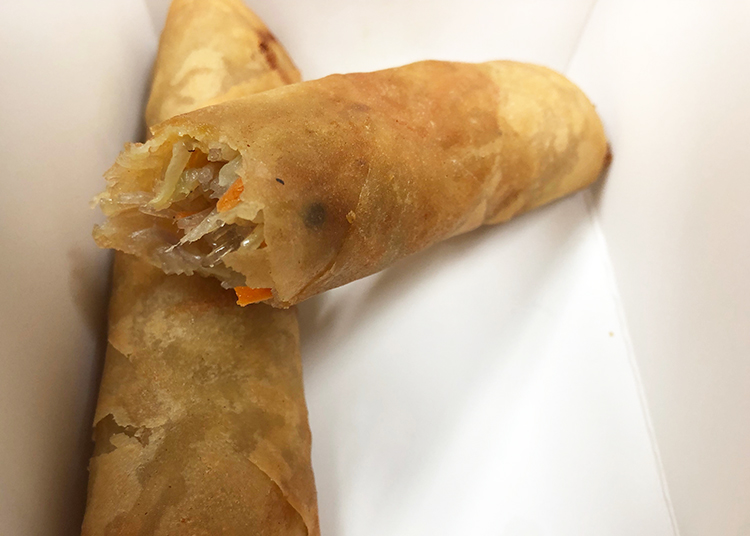 After enjoying a few chicken wings, we moved onto another enticing appetizer. The veggie egg rolls ($3.50 for two) feature a pair of fried wonton wrappers that are liberally stuffed with vegetables and noodles. Between their respectable size and above-average execution, we were glad we added these to our order at the last moment. Beyond these more commonplace starters, Sticky Rice also offers Lao Beef Jerky, Lao Sausages, Thai Firecracker Shrimp, Crispy Squid, and Tod Mun Pla (Thai Fish Cakes) as appetizers.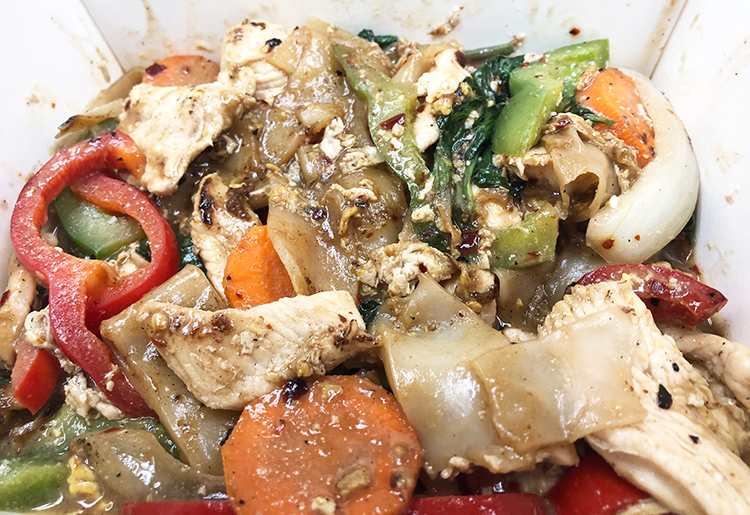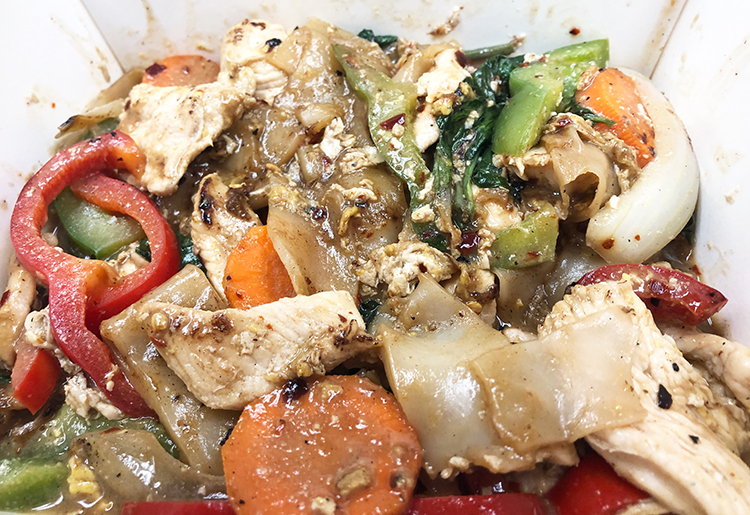 While we were tempted to see how the restaurant's eponymous sticky rice would pair with some red curry and we briefly also considered clearing our sinuses with an order of Larb, we ultimately landed on Pad Kee Mao with chicken ($9.50) for our main course. The so-called "drunken noodles" was sloppy and oily in all the right ways. They were joined by an abundant arsenal of fresh and crunchy carrots, red and green pepper, white onion, and basil, as well as huge chunks of tender white meat chicken. The amalgam was piled high in the to-go container and was pretty much drowning in a delicious deluge of sauce. We were pleased to find our "Hot" heat level request (the third hottest of the four spice options) lived up to its distinction, causing us to break a sweat by meal's end. It's also worth noting that if chicken isn't your thing, Sticky Rice also offers veggie versions of everything, as well as protein options like beef, shrimp, tofu, and squid.
The verdict: There probably hasn't been a worse time to open a restaurant in the last 100 years. Still, with fast turnaround, reasonable prices, and a selection of tasty Thai and Lao options available for carryout, Sticky Rice seems to have the tools to make it work. There hasn't been much to rave about at 1000 E. Locust Ave., but this new takeout spot might have what it takes to break the curse.