If you tweak the old expression "May you live in interesting times" to "May you live in interesting pizza times" (and why wouldn't you want to do this?), Milwaukee surely fits the bill. The last few years have seen enough quality 'za spinning into town to keep any visiting pizza-themed Velvet Underground bands busy for days: Pizza Man has reclaimed its East Side throne; Riverwest Pizza has begun serving up the thin-crust goods across the river; Strada Pizza has displaced Mr. Webo's in Bay View; the North Avenue Ian's Pizza has remodeled and become very, very North Avenue-y. Hell, there's even a Rosati's opening in the old Replay/Twisted Fork/Oriental Pharmacy space. In short, Milwaukee is seriously putting it on the pizza.
Enter Sal's Pizza (2974 N. Oakland Ave., 414-967-8040), the latest name in the city's great pizza boom. Owner Sal Bekim hails from Brooklyn and promises to bring "true New York pizza" to an area better known for bar-time brawls at Oakland Gyros and early morning hangovers at George Webb. (It should be noted that the East Side Sal's Pizza is unaffiliated with the Sal's Pizza at 2040 W. Wisconsin Ave.) But is it good enough to attract non-UWM customers? And can it possible give its across-the-street pizza neighbor, Lisa's, a run for its money? Milwaukee Record stopped in during opening week to find out.
The space: Sal's has taken up residence in the former of home of the West Allis Cheese & Sausage Shoppe, and before that, Bella's Fat Cat. Save for a street-level sign, not much has changed with the exterior. The same goes for the interior: the only major additions are a large flatscreen TV and a built-out countertop featuring the many available by-the-slice pies. This is a no-fuss, no-muss college-neighborhood kind of joint, and the sparse décor is strictly dorm-room: The Godfather, The Sopranos, and Pulp Fiction posters line the walls, along with shout-outs to Bekim's former Brooklyn home. The back of the kitchen sports that one poster of Dean Martin, Sammy Davis Jr., and Frank Sinatra laughing. Silversun Pickups and The Postal Service dominate the music selection.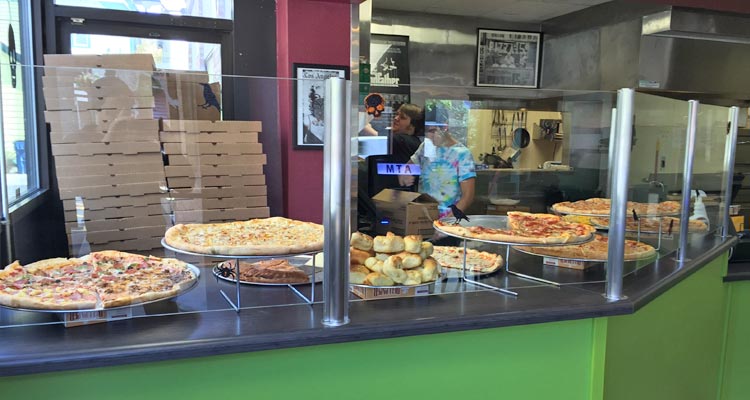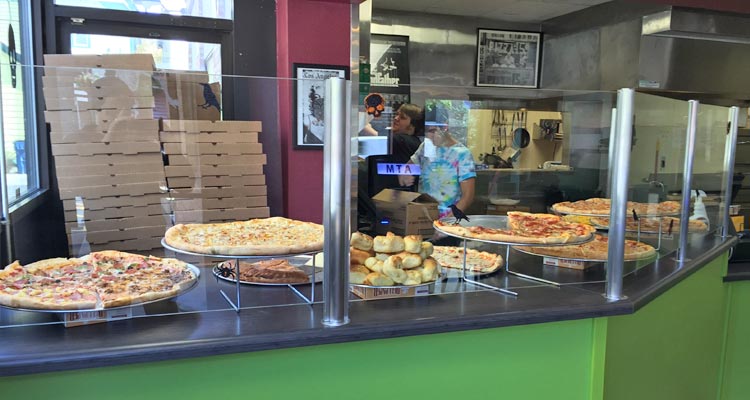 It's certainly nothing too exciting, but hints of what might have been (or what might still be) are tucked away in a back alcove; seven skate decks sporting old Santa Cruz and Alien Workshop stickers hang on the wall in a flying V pattern. They're a sight for sore eyes in a space dominated by barren freshman chic.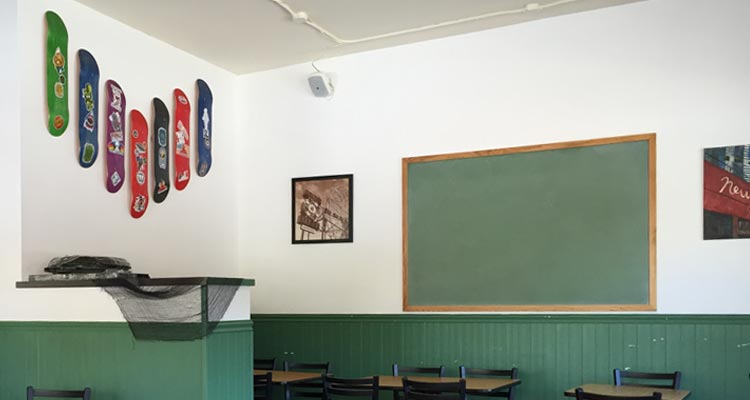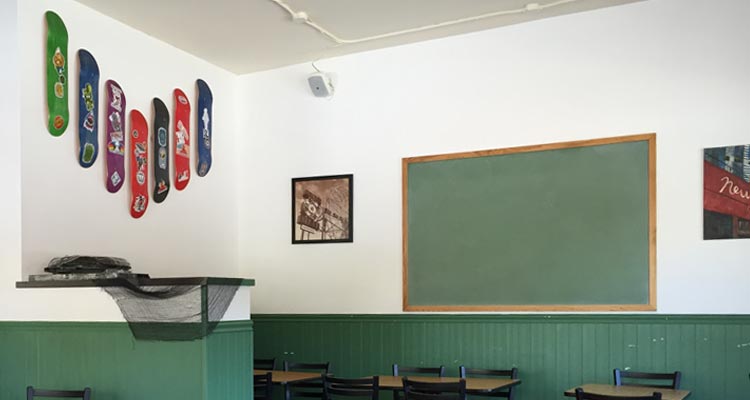 The service: A couple of college dudes take your order. Minutes later, they give you your order. What more do you want?
Milwaukee Record's food: Sal's offers pizza both whole and by the slice: a slice of cheese will set you back $2, a specialty slice $3.50, a stuffed slice $5; specialty pies hover in the $20 range. Those specialty choices include everything from standards like BBQ Chicken, Philly Cheese Steak, and Margherita, to themed creations like the Packer (sausage, mushroom, ham, mozzarella), the Brew City (bratwurst, red onion, mozzarella, cheddar), and the Goodfella (sausage, yellow onion, mushroom, black olive, mozzarella). Strombolis, calzones, sandwiches, garlic knots, mozzarella sticks, and wings round out the menu. Free delivery, dine-in, or take-out are all available.
Inspired by the décor, we decided to keep our friends close and our pizza closer by dropping in on a busy weekday afternoon and ordering a Godfather slice. Sausage, ham, bacon, pepperoni, and mozzarella topped our selection, which was served on a paper plate with a free garlic knot and a small cup of (cold) marinara sauce. (Per our shameful addiction, we also ordered a Mountain Dew.) The garlic knot was fluffy, buttery, and, of course, extremely garlic-y. The cold marinara sauce was a bummer, but the knot itself was terrific.
As for the pizza..hey, it was a slice of pizza, and a damn good one at that. The crispy, snappy, and (again) garlic-y medium-thick crust hit a sweet spot that few places in town seem to achieve, let alone attempt. It didn't leave us stuffed and gross like some commercial pizza chains, but it didn't leave us wanting more like some local-ish chains, either. (We love you, but we're looking at you, Ian's.) Ditto for the all-important grease test: not too greasy, not too dry. Just right.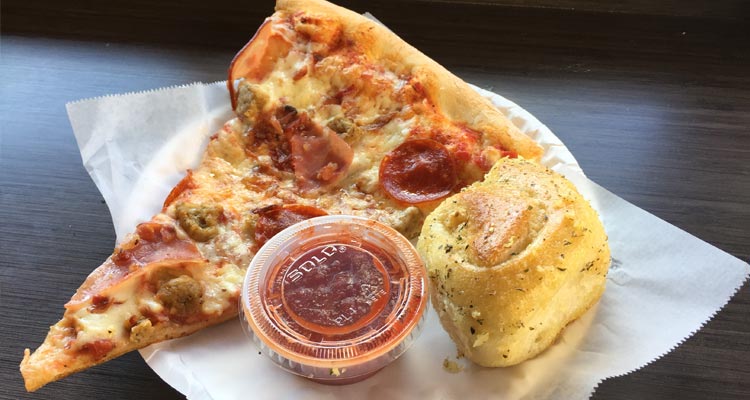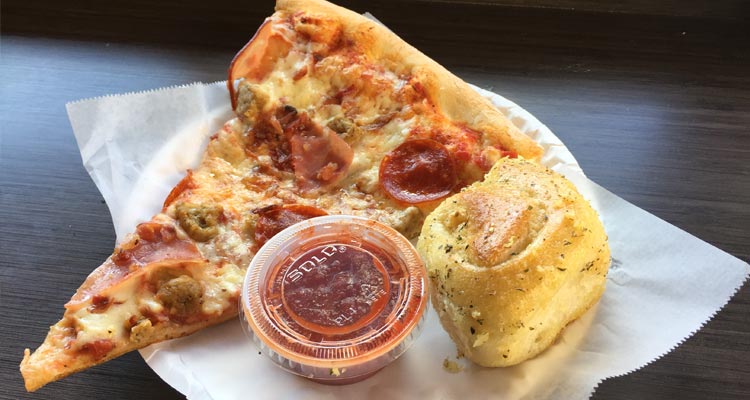 The verdict: Barring an (unlikely) interior redecoration, Sal's Pizza will remain, first and foremost, a college-neighborhood pizza joint. And that's okay—it does what it does extremely well, and goodness knows the UWM area needs some decent (and cheap) dining options. It may not be worth a special trip, but if you're in the neighborhood post-exam or pre-bar, bemoaning the no-longer-in-existence Cloud 9 barbershop (That place closed last summer? Damn!), Sal's will do anything but break your heart.