Caleb Westphal hasn't missed a Friday fish fry since 2013. Follow along with his never-ending adventures here.
Can you get a satisfying fish fry in a restaurant located inside of a mostly vacant strip mall? That was the question I wanted an answer to when I set out for Meyer's Restaurant and Bar (4260 S. 76th St., Greenfield, 414-321-4400) this past Friday. One of only four establishments at Greenfield's once-bustling Spring Mall, which opened in 1967, Meyer's has been located at the mall since 2004. Previously, it was located at 6015 W. Forest Home Ave. going back to 1986, and was at the corner of 27th Street and National Avenue prior to that. It was in the Meyer family until late 2017, when Larry Meyer sold it to the Purpora family, who also own Papa Luigi's Pizza in Cudahy.
Inside, Meyer's looks and feels like the type of place you'd go to for a Mother's Day or Easter Sunday brunch. There is a large dining area, a bar area with an adjacent smaller dining area, and a banquet hall for even more dining. People were eating in all these spaces when I put my name in and was given a restaurant pager. After first standing at the end of a long line of chairs where people were sitting while waiting for their tables to be ready, I realized I didn't have an Old Fashioned in my hand. I headed to the bar.
"Can I see your ID?" The bartender studied it for an extra long amount of time, as if I wasn't going to pass the test. What was she looking for? Now, I look a lot different than I do on my ID, but I'll be 33 next week, and I can't remember the last time I was carded at a bar. She gave it back and started making my drink. She paused. "Can I see your ID again?" This time she brought it over to the other bartender and they started discussing it. What was going on? I'm not so presumptuous as to think that she recognized my name, but could that have been it? She gave me my ID back, apologized, and then said she got my birth year, 1986, confused with 1989, and then got 1989 confused with 1998, the year in which you need to be born to drink legally. "We've had stings recently," she said as she handed me the Old Fashioned.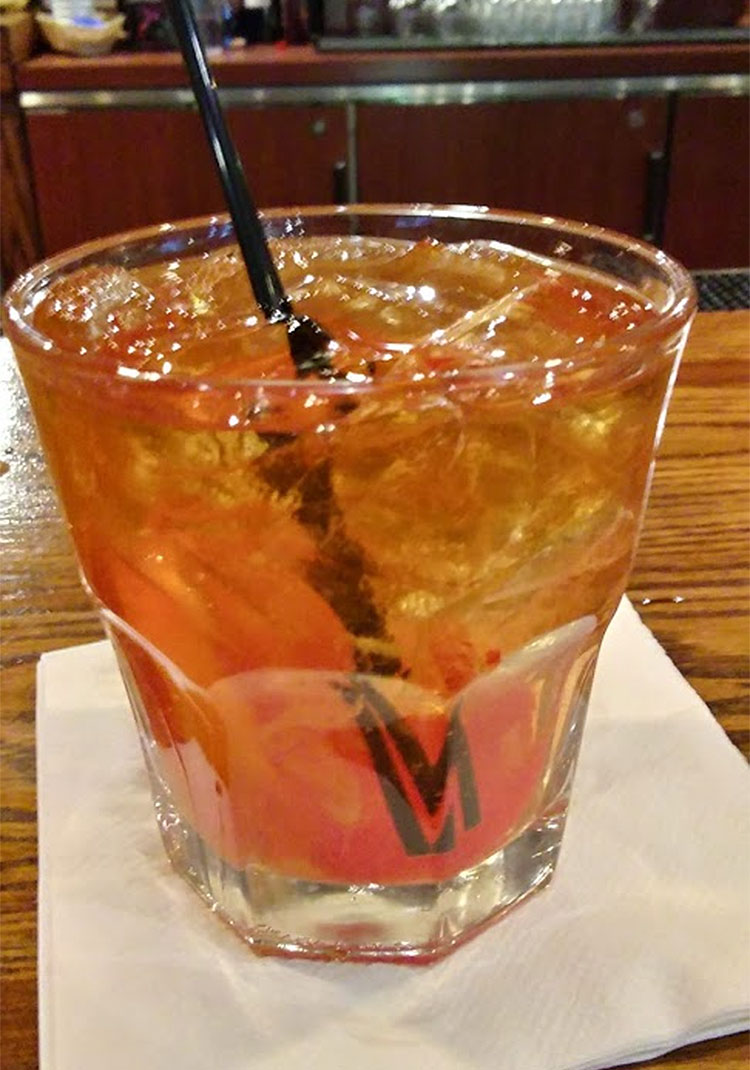 Lightly muddled and poured with a generous amount of brandy, the drink was a bit flat as the bar was having an issue getting their soda to carbonate properly. It didn't affect my drink much—although some others were having a bigger issue with it—and overall it was a commendable Old Fashioned. At 6:20 p.m. my pager went off, 40 minutes after I had arrived.
"Can I see your ID?" my server asked, after I ordered a beer. "They've been going around," she added. "That's what they told me at the bar," I responded, and we both laughed. After being carded for the second time, I was ready to switch to the food menu. At least you don't need an ID to get a fish fry. There are numerous fish options at Meyer's. The fried cod ($11.50), baked cod ($11.50), fried and baked cod combo ($11.50), and chicken and cod combo ($13) each come with the soup of the day or clam chowder; rye bread; family style servings of potato salad, coleslaw, and marinated vegetables; and a choice of baked potato, mashed potatoes, parsley boiled potatoes, french fries, or potato pancakes. The rest of the Friday specials come with rye bread and soup or salad; most also come with a potato choice. The specials include blackened cod tacos ($14), shrimp basket ($9), cajun catfish skillet ($12), breaded perch ($13), white roughy Rockefeller ($13), Door County walleye ($12), panko crusted lake perch ($16), char grilled tilapia ($12), fried bluegill ($13), stuffed shrimp ($13), lobster tail ($14), and stuffed sole ($14). As has become the norm, I went with the fried cod, pancakes, and chowder.
First I was brought the chowder, and three small pieces of dense, dark rye bread with eleven butter packets. The chowder had an extra creamy consistency; a solid amount of clam, potatoes, and carrots; and a dash of fresh parsley on the top. There wasn't much going on with the flavor—at least not enough to make it stand out in any way.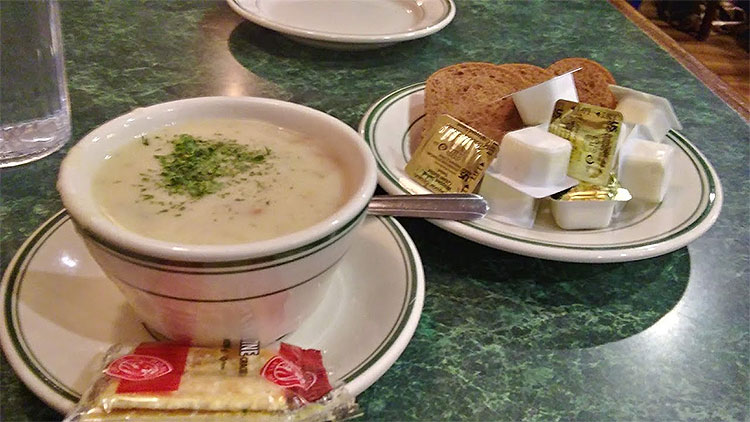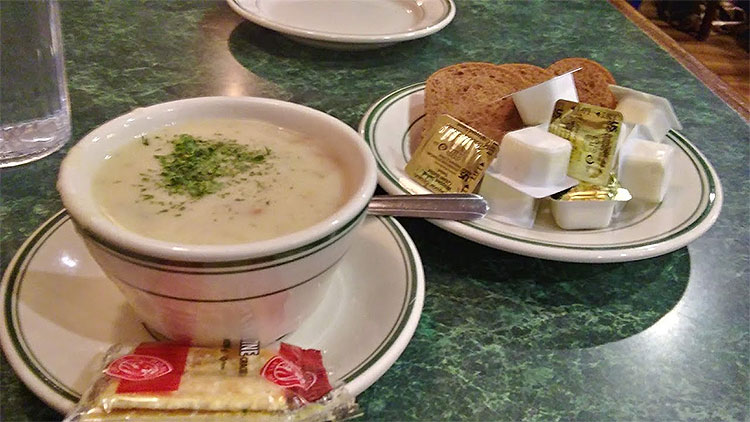 Next came the fish and pancakes, and then the side salads.The marinated vegetables made up a three bean salad, consisting of green, yellow, and kidney beans, with a carrot to boot. The potato salad was straightforward and to the point. Although there appeared to be a lot of herbs in the coleslaw, it was surprisingly mellow.
Soft, but browned on their exterior, the potato pancakes weren't flashy, and had no flavor or seasoning that defined them beyond the potato itself. They weren't onion pancakes or garlic pancakes—they were proud potato pancakes. The quality of the fish was average to a bit above average. The three pieces were close to uniform in shape, and were covered with a thin, light breading that had just enough flavor to get me interested. They were accompanied by a simple mayo and relish-based tartar, which despite its humbleness, added a lot to the fish.
Overall, the fish fry was better than I had expected to find in a mostly vacant strip mall, which reminded me that I shouldn't judge a fish fry by its location, and that I shouldn't think of some locations as being inherently less appealing than others in the first place. Does Meyer's have an exceptional fish fry? No. Do they have a satisfying one? Yes. And that's what I had set out to find.
Takeaways: Great deal—two extra salads and clam chowder are included with the meal; humble tartar and fish that may not be long remembered, but are worth your time; true-to-their-name potato pancakes; I was given 11 butter packets to go with three small pieces of rye bread; bring your I.D. because you might get carded a few times; who says you can't get a satisfying fish fry in an old mall?