Every franchise starts somewhere. Before McDonald's took over the world in the ruthless hands of Ray Kroc, it was a small burger outfit operated by Maurice and Richard McDonald in San Bernadino, California. The first Starbucks location is now a certified Seattle tourist destination. Even ubiquitous Milwaukee area kingpins like Colectivo, Cousins Subs, and Culver's have strong and winding roots that can all ultimately be traced back to one flagship store. It's virtually impossible to predict which restaurant, roaster, or otherwise will one day be adopted into regional, national, or even international consciousness. However, some business seem ready to answer the demands of the hungry masses, should those cries ever come.
In a Menomonee Falls strip mall just off the highway, Grate Modern Mac & Cheese (N92W16125 Falls Parkway, Suite 104, Menomonee Falls; 262-953-2540) already seems prepared to answer the call from consumers, despite opening its first location (and only to date) on August 29. That latest brand under the vast umbrella of the Roaring Fork Restaurant Group—which owns every Qdoba in Wisconsin—aspires to put its "own twist on the ultimate comfort food" with unique takes on macaroni and cheese, using quality ingredients from Wisconsin businesses. With a proven business model and a specific theme that's tethered to an American favorite, Grate seems destined to grow. Well, assuming the food is any good.
The space: The Roaring Fork influence is immediately felt upon entering the glistening corner eatery that shares a plaza with a Firehouse Subs, Supercuts, T-Mobile, and a nail spa. That strip mall itself is situated in a parking lot of an interstate-adjacent Ross Dress For Less and near a Costco. Like Qdoba, the spacious, open concept restaurant is rife with stylish tables, booths, and stools. Also akin to its big brother, Grate relies on counter service. After ordering at one of the two registers, a large assembly line of employees—again, like Qdoba—puts together orders in skillets, which are then shoved into a wood fire oven to be baked to perfection. It's far from fancy (even though a Lenny Kravtiz playing over the speakers suggested otherwise!), but a warm and casual interior, as well as its heavy cuisine that's conducive for dining in, encourage people to stay and eat.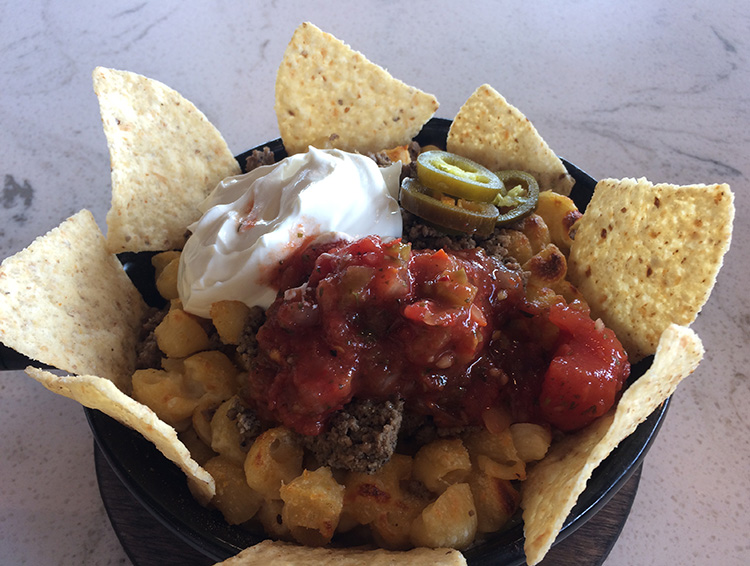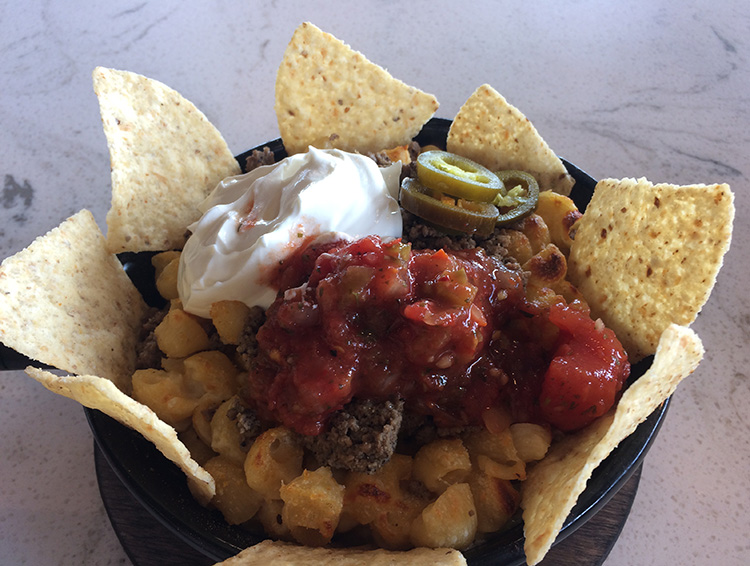 Milwaukee Record's food: Grate isn't misleading customers. Outside of two salads, some beverages, and a pair of desserts, mac and cheese is the rule of the land. While it's unlikely that an entire family or group of friends would all simultaneously have a hankering for some mac, there's a wide breadth of elaborate toppings to help differentiate it from typical mac and cheese. Outside of the classic mac, Grate has 10 offerings that range from Buffalo Chicken to Bacon Cheeseburger to Pizza to BBQ, and even a bratwurst-infused Wisconsin mac. Most small options are $7.50, and large orders run $9.50. Yeah, that seems a tad steep for noodles, but the portion size actually seems to align with the price quite well.
We learned this by way of our large order of Nacho mac ($9.50). Within 10 minutes, a brimming skillet of carbs was delivered to our table. The oh-so-vaguely southwest-inspired dish was reminiscent of stadium nachos, except with noodles in place of most of the tortilla chips. The crispy top layer of noodles was capped with a huge dollop of sour cream, some pickled jalapeno medallions, a heap of mild salsa (incorrectly dubbed "pico de gallo"), and chunks of beef. Unfortunately, the beef seemed to be a re-purposed burger patty from the Bacon Cheeseburger, instead of being seasoned to represent taco meat. The cold sour cream and salsa seemed to work against the piping hot macaroni along with the gooey mozzarella and cheddar. Also, the lack of nacho cheese was a notable absence from the dish bearing its name. While it was a more down-the-middle representation than we were expecting, it didn't stop us from mowing through the majority of the homey, rich mess of mushy noodles and fix-ins.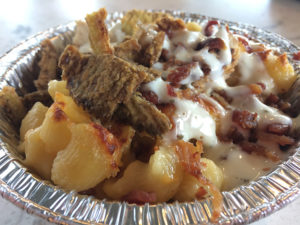 Though our appetite was more than satisfied by that point, we picked some bites from our small to-go order of Chicken Bacon Jalapeno Ranch ($7.50). We found this to be much better than the Nacho, as the gentle spice of breaded jalapeno pieces mixed with the savory hunks of Patrick Cudahy bacon and ranch dressing, and the cheesy goodness of Sturgeon Bay-sourced cheese. Frankly, the cheese coverage was a little lacking and the creaminess left something to be desired, but our second dish was an improvement. At the very least, it illustrated the versatility in store for us if we ever returned.
The verdict: Only time will tell if Grate will catch on in Menomonee Falls and spur local expansion. The pieces are in place, and in time, the food may catch up. As we wait to see whether Grate expectations will be fully realized, it's good to know there's a fast, affordable, and inviting place in the suburbs to get a different version of a trusted comfort food before heading to Costco.