The East Side stretch of North Avenue is currently going through ch-ch-ch-ch-changes. Most of those changes have been smart: a remodeled and expanded Ian's Pizza is terrific, the new East Library (and AT&T store) is a gem, and the former empty lot that provided Pizza Man a North Avenue home once upon a time is now a snazzy mixed-use apartment/retail space. Still, other pockets of development have been less successful. Back in late 2010, the vacant Downer Garage building transformed into an Open Pantry and East Side Classic Slice. Sadly, the less-than-visible location proved too much for even the mighty Classic Slice, and the location closed in 2012. (The Open Pantry is now a 7-Eleven.)
Fast-forward four years, as authentic Chinese restaurant Asian Fusion (1609-C E North Avenue, 414-273-6688) attempts to make a mark on a tricky locale that counts RC's and a McDonald's as its across-the-street neighbors. We dropped by a day after the grand opening to find out if the new East Side development is destined to stay or go.
The space: Asian Fusion overcomes the limitations of its "tucked-away" location by occupying not only the former Classic Slice space, but also the much-larger adjacent space that used to be a cell phone store. (It was a cell phone store, right? Yeah, probably a cell phone store.) Bright red signage and awnings scream out to the street and passersby, ensuring that the restaurant stands out amongst the surrounding 7-Eleven din.
Inside, Asian Fusion is something of a revelation. The front entrance leads to a bright and modern lounge area, complete with stools and free Wi-Fi, that is meant to serve as a hangout for patrons looking to nurse one of the restaurant's many house-made teas. The restaurant proper occupies the former Classic Slice space and has been completely transformed: booths line the north wall, booth/tables occupy the south, and a few tables dot the middle of the classy, tastefully redone dining area. Two flatscreen TVs hang on the east and west walls; during our visit, one featured a high-end commercial for the new Asian Fusion location running on a loop.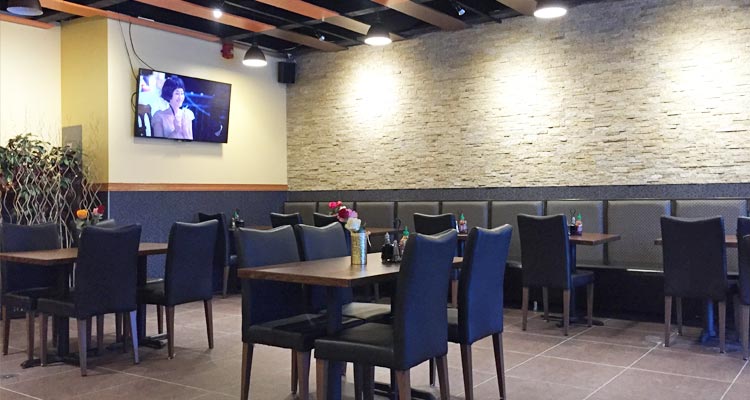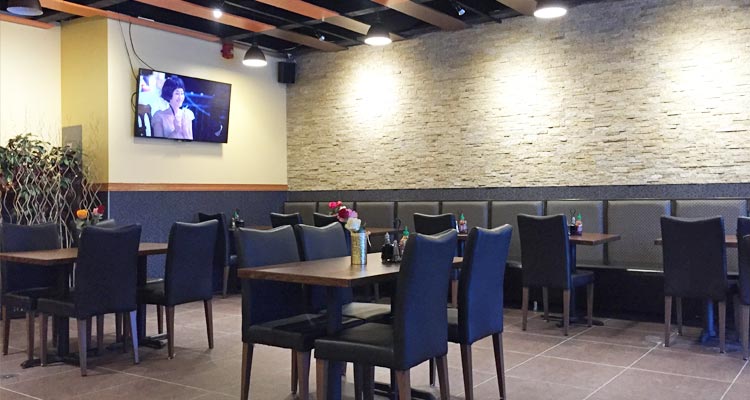 The service: Quick, cheery, helpful. Upon ordering a Hunan-style pork stir-fry entrée, our server warned us that it was a bit on the spicy side. No problem, we said. Turns out it was really spicy—not "ruin your day" spicy, but spicy enough to necessitate us asking for a glass of water after a few bites. To her credit, our server held back on an "I told you so" smile.
Milwaukee Record's food/drink: Tea is Asian Fusion's drink of choice, and there's plenty of it; options include everything from flavored ice tea to bubble milk tea (all $4.55). Having never tried bubble milk tea before, we passed on the papaya, honeydew, and watermelon blends and ordered an original. The drink itself was tasty and unassuming, not unlike a light chocolate milk, but the real stars were the tapioca balls. Chewy, gummy, and a bit surprising when they shot up our straw, they reminded us of those little globules that floated around in those old Orbitz sodas, except good.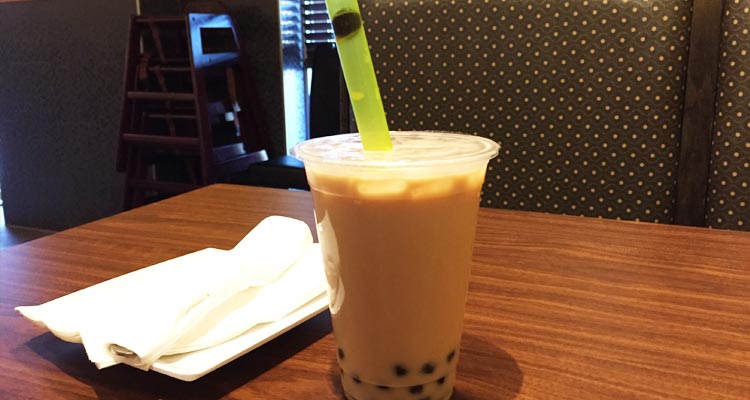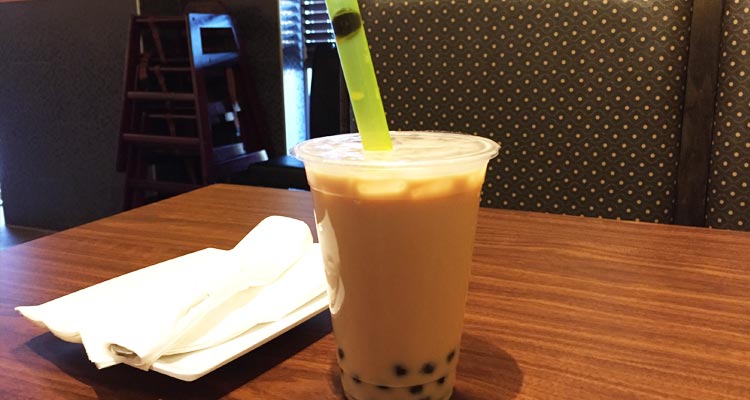 Asian Fusion serves plenty of Americanized Chinese dishes—egg rolls ($2.95) sweet and sour chicken, General Tso's chicken (both $12.95), etc.—but when it came to our appetizer we opted for something more off the beaten path. Enter the grilled squid ($6.95). Sprinkled with spices and served on two skewers—one with meaty chunks and the other with the legs—it was tender, aromatic, and strangely delicious. The legs, especially, were excellent—if a little disquieting to look at. Other appetizer options include Korean potstickers ($6.95), scallion pancakes ($6.95), mala beef and tendon ($9.95), and plenty of veggie dishes.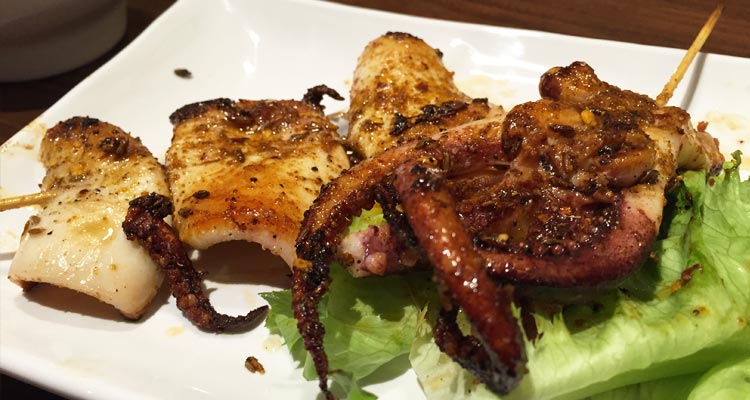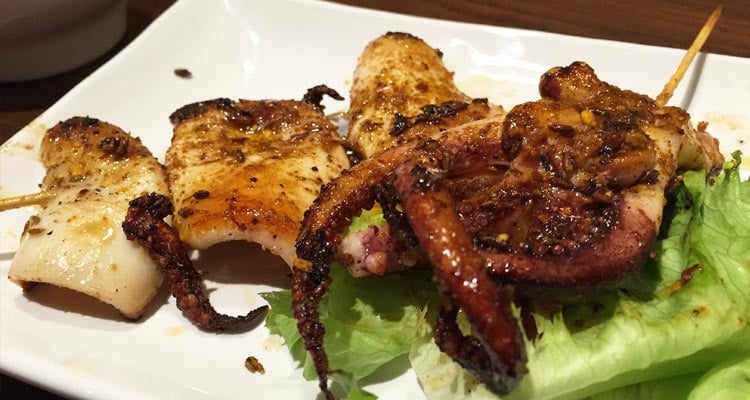 For our entrée, we considered the cumin lamb ($14.95) and the mala crawfish ($15.95) before settling on a relatively safe choice, the Hunan-style pork stir-fry. As mentioned before, it was hot (and even more so when reheated hours later). The heat was worth it, though: thin, tender strips of pork were intermingled with fresh, crispy vegetables and more than a few chili peppers. Our bubble milk tea helped keep our mouth to a medium roar, though the many noodle soups on the menu ($9.95-$12.95) would have also done the trick.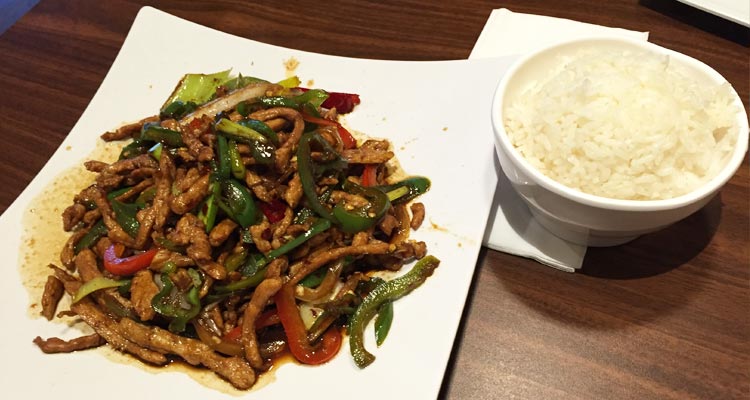 The verdict: Did we mention Asian Fusion is really, really good? The new restaurant is a spicy breath of fresh air in an area not exactly known for fine dining. But fine dining it is, as well as a welcome addition to the neighborhood. Don't sleep on this one, East Side.