Summer is the best. Join Milwaukee Record and Lakefront Brewery August 2-9 as we search the city and beyond for the Spirit Of Summer.
While we acknowledge it's available elsewhere, it's safe to say Milwaukee is the frozen custard capital of the known universe on account of both the quantity and the quality of places in and around our fair city that serve up the creamy treat.
The high-caliber custard actually extends elsewhere in the state, as mom and pop stands scattered throughout Wisconsin further bolster the region's reputation, and Prairie du Sac-born Culver's helps to bring awareness of this iconic Midwest dessert to customers all over the country. Heck, Wisconsin has so many great frozen custard options at our fingertips, two beloved places about 100 miles apart actually have the exact same name.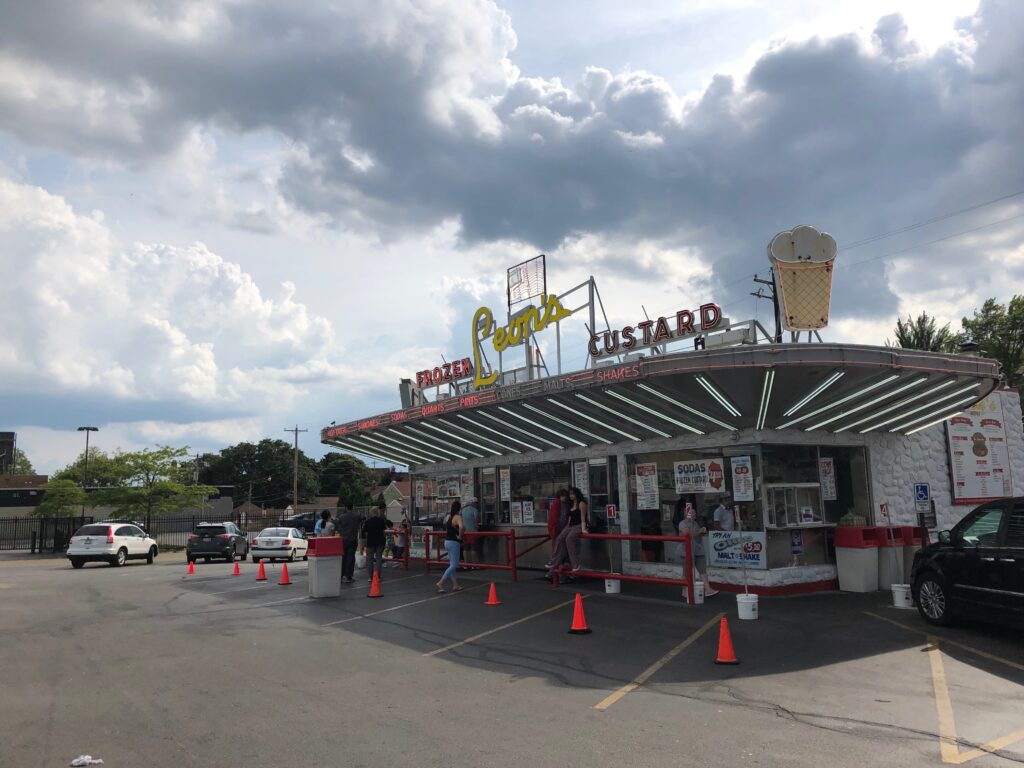 Of course anybody living in Milwaukee is probably well aware of Leon's Frozen Custard. Open and thriving since 1942, that Leon's—located at 3131 S. 27th St.—is nothing short of a Milwaukee icon and is in the holy trinity of Cream City custard purveyors. What local readers with limited Oshkosh awareness might not know is there's another Leon's Frozen Custard about 84 minutes north on Highway 41 that's been around almost as long that's also a certified legend in its own right.
This Leon's Frozen Custard—121 W. Murdock Ave., Oshkosh—opened in 1947. For a few decades, the same family actually owned both locations. Namesake Leon Schneider started the Milwaukee one, then helped his mother Anna open the Oshkosh iteration of the booming business five years later. Leon's brother John "Jack" Schneider took over when Anna died in 1960 and owned it until early 1989. Along the way, Jack allegedly purchased a Leon's sign (the same signage the store still uses to this day) from his brother for $150.
Not long after Jack sold to new owners in '89, there were lawsuits, questionable practices, and an eventual falling out between Leon's son (and now-Milwaukee store owner) Ron Schneider and new Oshkosh ownership, forever severing the similarly-named custard stands. Though they still have the same name and both claim to make the "best frozen custard," they've been wholly unaffiliated with one another for more than 30 years at this point. You can read more about the shared history and drama between both Leon's locations here.
Since they're no longer associated in any way (and because we were passing through Oshkosh on Monday), we figured we'd take a little time comparing Leon's Frozen Custard in Milwaukee and Leon's Frozen Custard in Oshkosh. Yep, it's a good old fashioned custard comparison!
History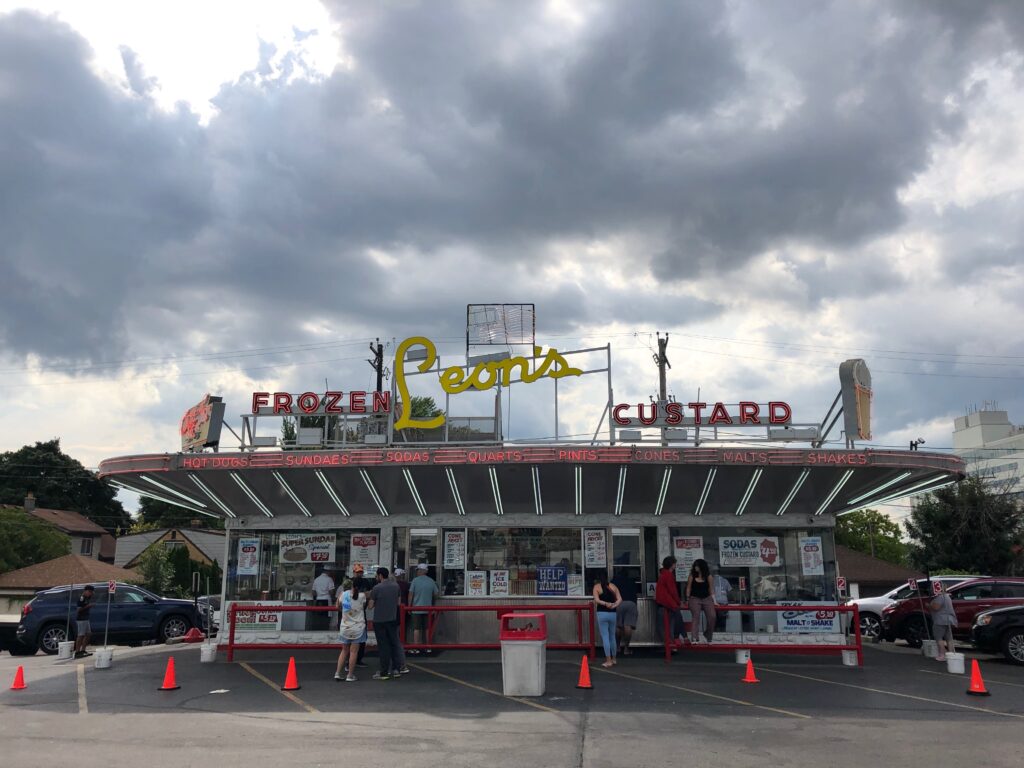 As we mentioned, the Milwaukee Leon's has been around since 1942. It's open year-round.
As we mentioned, the Oshkosh Leon's has been around since 1947. It's closes seasonally (not open from late fall through late winter).
ADVANTAGE: Milwaukee Leon's.
Frozen Custard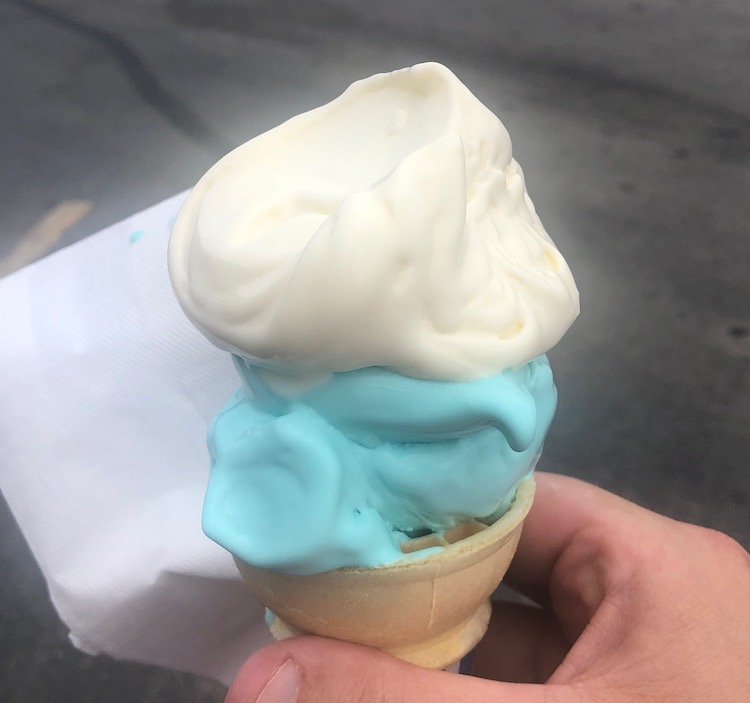 We went with two flavors of the day during this week's trip to Leon's in Milwaukee: Blue Moon and the ever-present vanilla in a cone. The cone was under $4 and tasty. The only drawback was it instantly started to melt when it was handed to me.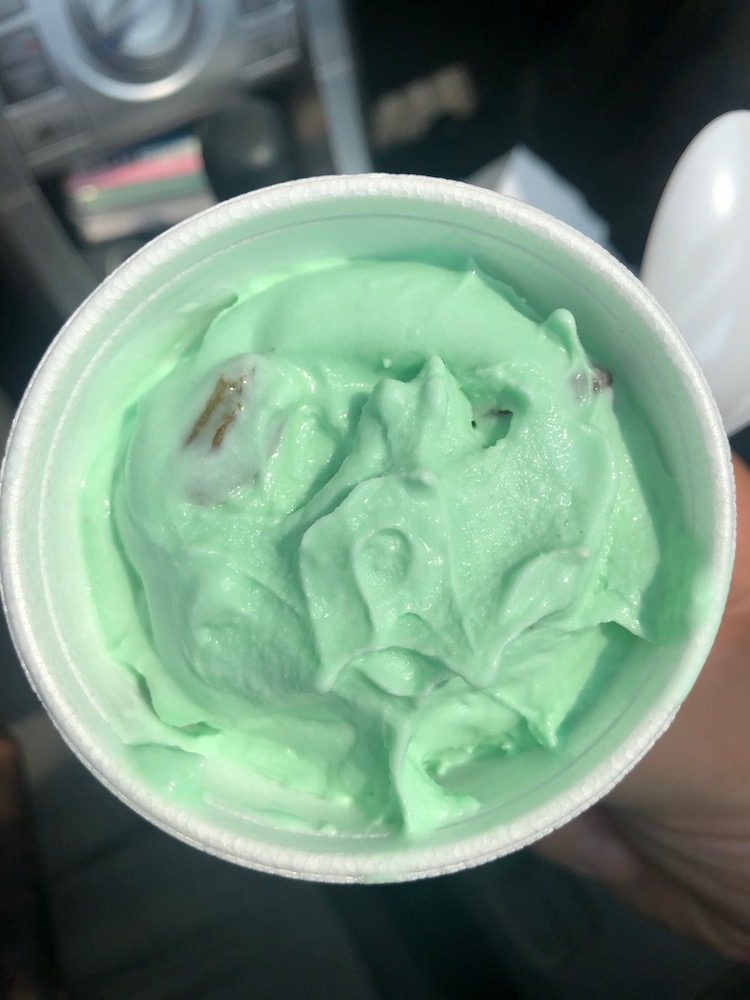 The flavor of the day at Oshkosh's Leon during Monday's visit was Pistachio Nut. It's not everyone's cup of tea (or custard?), but we liked it. It came in under $4 as well. And yeah, we got it in a cup because we had to drive the Milwaukee right away. Get over it.
ADVANTAGE: Tie. Both use the same equipment and similar custard-making methods that have endured for generations.
Sign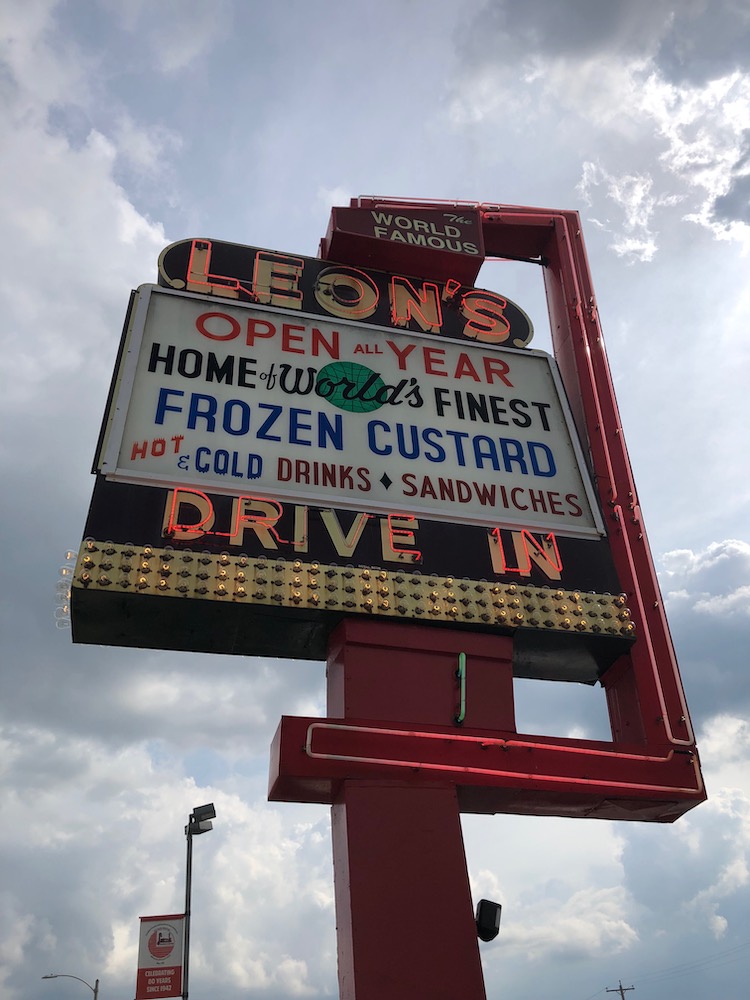 Leon's in Milwaukee.
Leon's in Oshkosh.
ADVANTAGE: Leon's in Milwaukee.
Joe Pera Connection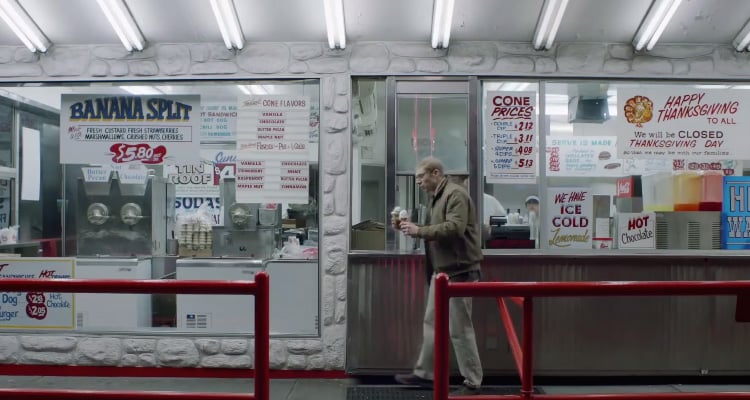 Leon's in Milwaukee was featured on an episode of Joe Pera Talks With You. The Leon's in Oshkosh was not.
ADVANTAGE: Leon's in Milwaukee.
Service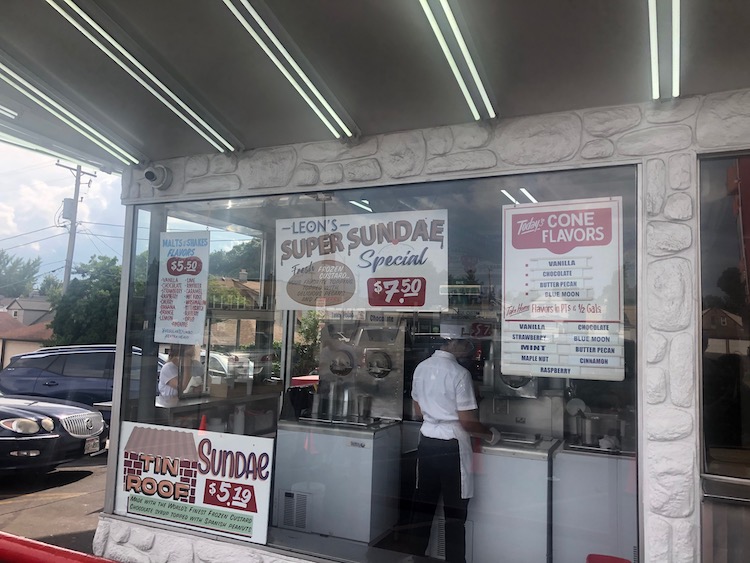 Leon's in Milwaukee has counter service from a few different windows. The line moved very fast and we got our custard the same time we were handed our change. Very prompt!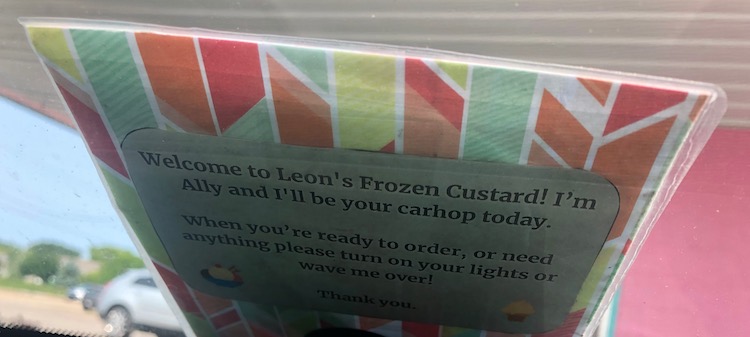 Leon's in Oshkosh has carhops who come to your window to take your order and bring items to you. It's a charming old school touch, and our carhop Ally was extremely nice and delivered our custard super fast as well.
ADVANTAGE: Leon's in Oshkosh. How often do you see a carhop anymore?!
Seating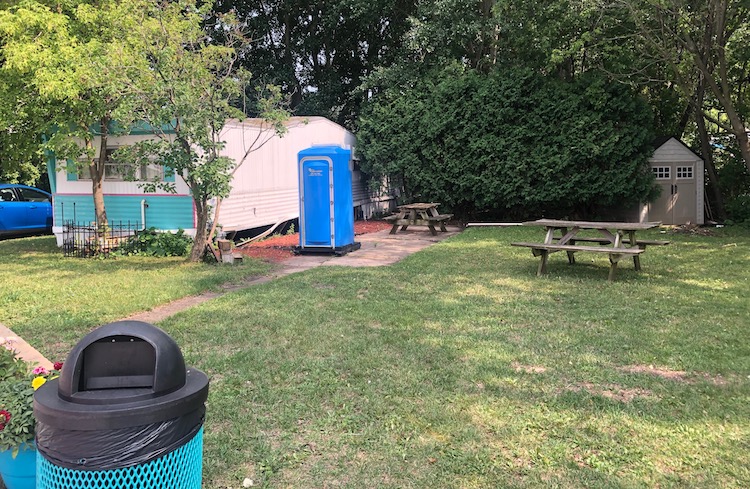 Leon's in Milwaukee has no seating, so people either have to eat in their vehicles or stand somewhere in the parking lot. Meanwhile, Leon's in Oshkosh has picnic tables along one side of the building and in their backyard. There's even a Port-o-John out back.
ADVANTAGE: Leon's in Oshkosh.
Menu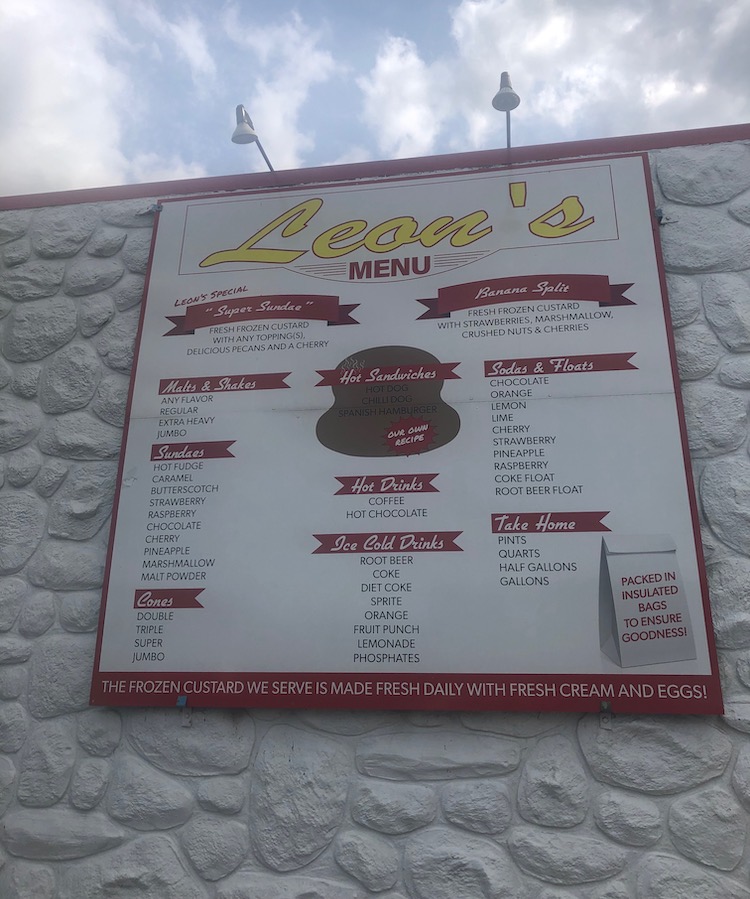 Leon's in Milwaukee has a smaller menu, but it's all killer and no filler. Other than frozen custard, its specialty is its homemade Spanish Hamburger, which is just a different way of saying Sloppy Joe.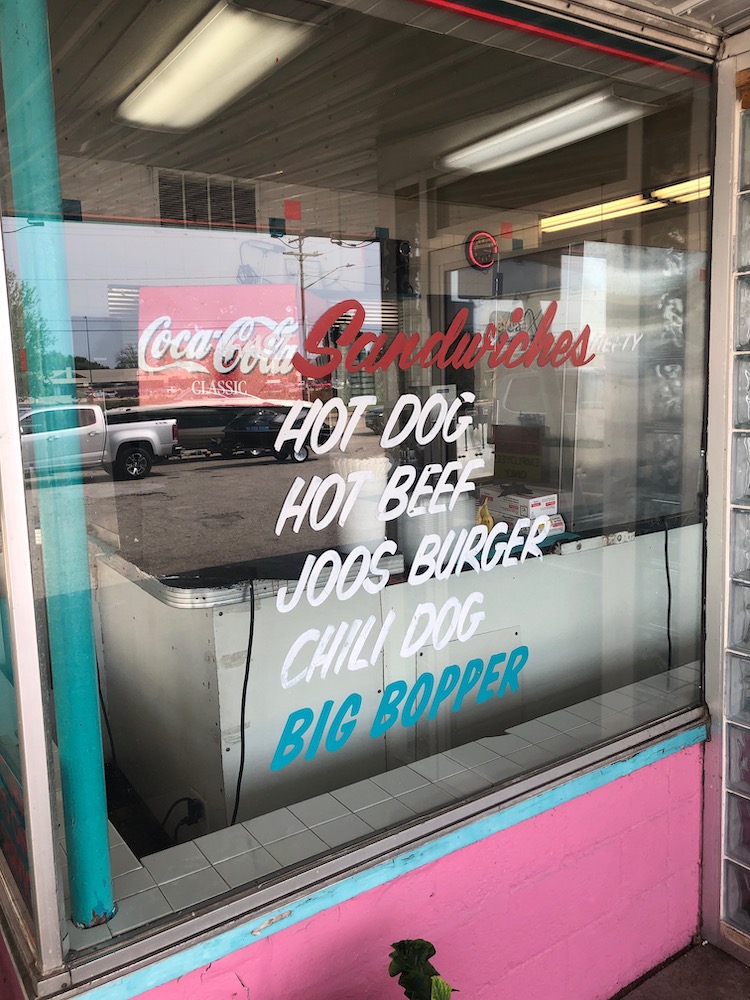 The Leon's in Oshkosh has a larger menu, including burgers. Other than frozen custard, its specialty is its homemade "Joos Burger," which is just a different name for a Sloppy Joe.
Advantage: Can't fairly determine, since we didn't make a dent in either menu. Sorry!
Overall
At the end of the day, we have to give the edge to Leon's. It was around first, it's still in the family of the original namesake, it's helped to put (and keep) the Custard Crown squarely on Milwaukee's head for more than 80 years. Without that first Leon's, it's safe to assume there would be no Oshkosh Leon's. All that being said, this was actually a pretty close comparison. So next time you're up in Oshkosh with a hankering for some classic frozen custard like the kind you get from Leon's Frozen Custard, you could do a lot worse than the other Leon's Frozen Custard.