It's an unprecedented and incredibly difficult time for restaurants right now. It's especially tough for restaurants in Wisconsin, where COVID-19 numbers are currently off the charts. Wanting to highlight local establishments who are keeping food quality high while also keeping its customers and employees as safe as possible, we're going to focus on restaurants that have completely shifted to carryout and/or delivery service in a series we're calling "Carryout Chronicles."
Healthy or not, to ethically exist in a pandemic feels a lot of what it's like to wait out an illness. You're stuck inside indefinitely and encouraged to take pleasure in the comforts of home. Eventually, the eyes glaze over and, despite living in the golden age of streamable content, you've simply binged as much as your brain can handle and the static madness of existing begins to coat your sensibilities like a sleeping bag of bored despair. Pawing at the window with nowhere to go feels desperate, and winter drawing near only amplifies how abyssal this all has been. Stated more plainly, this is and has been a hard time. But a signal is pinging out from Cudahy, bringing with it something at once familiar and groundbreaking: the plant-based magic that is Twisted Plants. It's there, and it's waiting to take a sledgehammer to your boredom and soothe what ails you. Oh, and yeah, there are weed puns!
Policies And Procedures
The policies are about as simple as they come. Twisted Plants (4905 S. Packard Ave., 414-800-4005 or 414- 439-4325) is exclusively curbside only. There is no patio and no dine-in service. Additionally, it feels fair to mention that there really isn't anywhere in the immediate area to sit down and eat at all—unless nearby X-Ray Arcade, which allows customers to eat Twisted Plants on their patio, is open—so you're left with but a few dining options. You can make like us on our first visit, unshackle yourself from self-respect, and manically devour it in your car. Weather permitting, you can follow our steps on visits two, three, and four and eat at nearby Pulaski Park. Or just take it home, like we did on our fifth stop at Twisted Plants. You can call your order in or place it online, the latter of which I recommend given that your information is saved and you get a text to your phone when it's ready for pickup.
Carryout Quality
Generosity should come into play when gauging the massive adjustment restaurants have had to undergo when COVID-19 struck. The austere plastic containers, waxy cardboard boxes, and Styrofoam clamshells don't make hospitable settings for elaborate plating. Time and containment cause anything fresh and green to wilt and anything starchy to either dry out or go soggy. Well, save some of that generosity for a place that needs it. Defying all of the factors that often diminish carryout quality, Twisted Plants truly stays excellent and warm, even after a 35-minute car ride. PLUS you can scrub any container-guilt from your mind because Twisted Plants packs their takeaway up in biodegradable containers!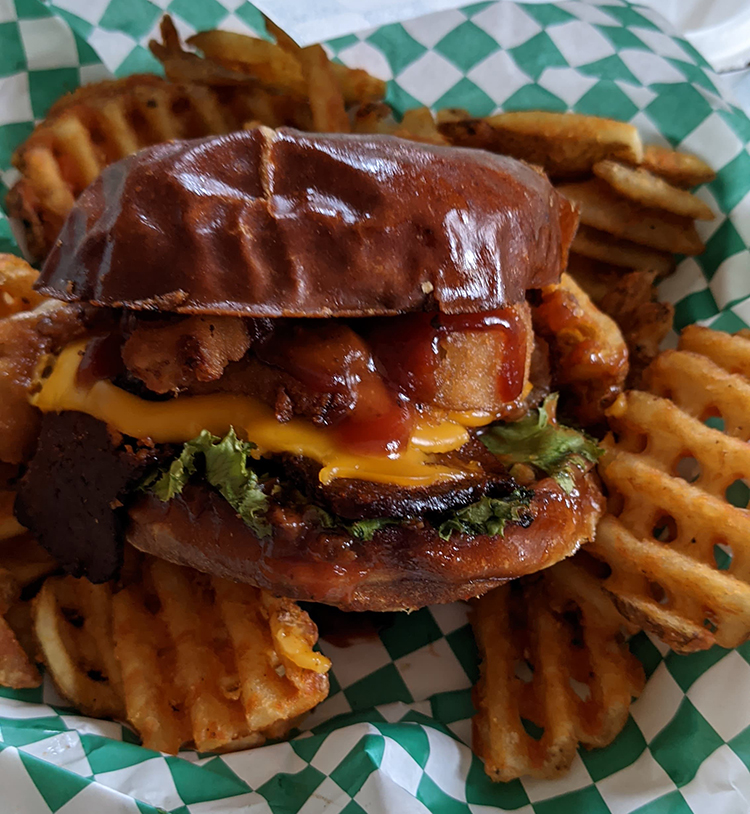 Anyways, given our respective distance from the restaurant, our order was strategic: two sandwiches with fries, and that's it. Prefacing this by stating that everything is 100 percent plant based, so we're not going to put "vegan" before every ingredient that normally isn't. We had the Still Smokin ($13.50), which is composed of grilled onions and mushroom with provolone on a single plant-based patty.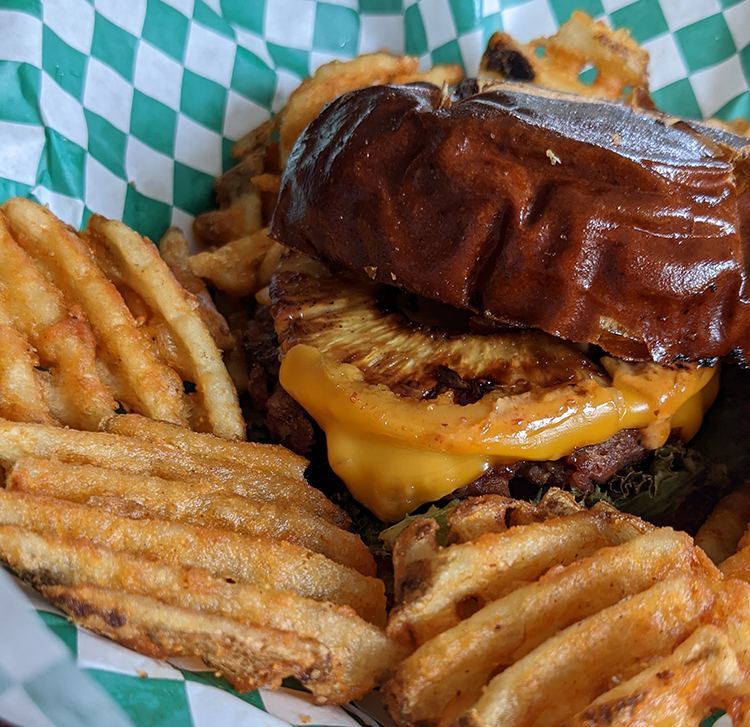 Next up was the Pineapple Express ($12.50). Grilled onions, lettuce, a house sweet sauce, chipotle mayo, American "cheese," and yes, a nice thick ring of grilled pineapple on top of a burger. Pineapple may have a controversial relationship with pizza, but that tired bromide needs to be put to bed when it comes to burgers because, holy shit was this thing delicious. Both burgers come with an abundance of waffle fries.
Don't want to go the burger route? Twisted Plants also has brilliant takes on a fried chicken sandwich, the Chicago dog, and the bodega classic…the chopped cheese. Not in a sandwich mood at all? The mozzarella sticks are delicious, the chik'n nuggets are on point and, the true pièce de résistance of appetizers, the cauliflower bites, which are effectively Twisted Plants hot wings. If there is a categorically bad bite at Twisted Plants, we have yet to stumble upon it.
Other Info
There's not a ton else to say here except to say with insistence that Twisted Plants isn't a novelty or a place to sample some equivocated version of traditionally animal-product laden junk food. It's affirmatively thoughtful and delicious food made with love. Try it and thank us later.