It's an unprecedented and incredibly difficult time for restaurants right now. Wanting to highlight local establishments who are keeping food quality high while also keeping its customers and employees as safe as possible during the ongoing COVID-19 crisis, we're going to focus on restaurants that have completely shifted to carryout and/or delivery service in a series we're calling "Carryout Chronicles."
Last week, while on our way to pick up some lunch from Ono Kine Grindz for an installment of this very series, we drove past another Wauwatosa business that had also made the full transition to carryout-only service during the pandemic. Upon seeing a small line of customers waiting their turn at a window outside Rocket Baby Bakery (6822 W. North Ave., 414-502-7323), we had baked goods, deli delights, caffeinated beverages, and a socially distant/limited-contact return to 'Tosa on the brain. When work-related matters took us to nearby Washington Heights this week, we continued on to 68th and North to grab a bite.
Policies And Procedures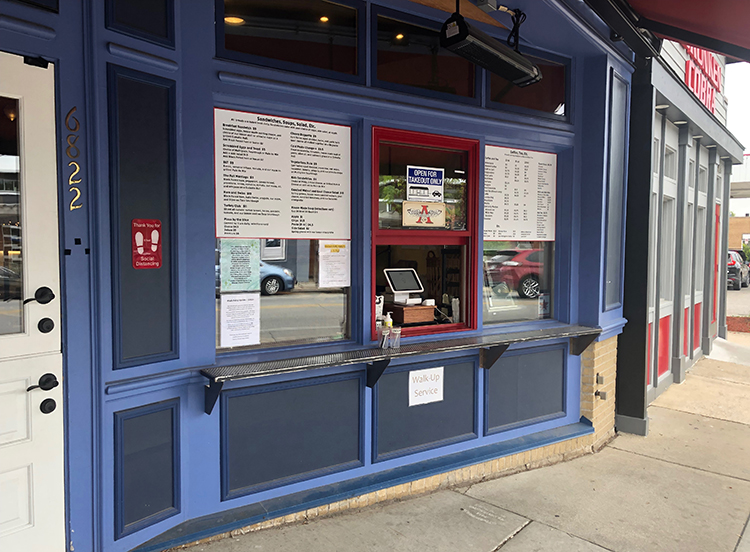 Rocket Baby's interior is currently closed to the public. Instead of venturing inside, customers can place orders on-site. They can also pick up orders they placed either online or over the phone at the Bakery Window. Before we headed to Washington Heights, we ordered online and were given an estimated pickup time 45 minutes after the time our payment went through. Once we got to Rocket Baby, we an employee gave our name at the window and were given our order within a few moments. The only thing that wasn't ready when we got there was our latte, which the barista made fresh for us when we arrived.
Though indoor dining isn't available and servers aren't working at this point in time, people are invited to enjoy the items they pick up at a public park space directly next door to Rocket Baby. We've always eaten at home or at Milwaukee Record headquarters for this series, but—noticing the weather was nice, seeing the abundance of open space at our disposal, and being more than two weeks beyond our last shot—we decided we'd snap some pics and take a few bites on a nearby bench before making our way back to work to eat the rest.
Carryout Quality
We picked up our order at 11:20 a.m., which put us squarely between a late breakfast and an early lunch hour. Figuring it would be better for the review and, more so, because we wanted the best of both worlds, we ordered a traditional breakfast item and something that's better-suited for lunchtime fare. Our multi-meal merger started with a Danish ($4). The sizable breakfast pastry had chunks of fresh mango set atop a sweet, rich, and almost custard-like cream cheese filling that was strewn liberally across a piece of pillow-y baked dough. The Danish had a light dusting of powdered sugar, some coconut flakes, and lime zest. You know how we said we took a few bites of everything before bringing the rest to the office? Well, we actually devoured the whole damn Danish right there and washed it down with sips of a tasty vanilla latte ($5).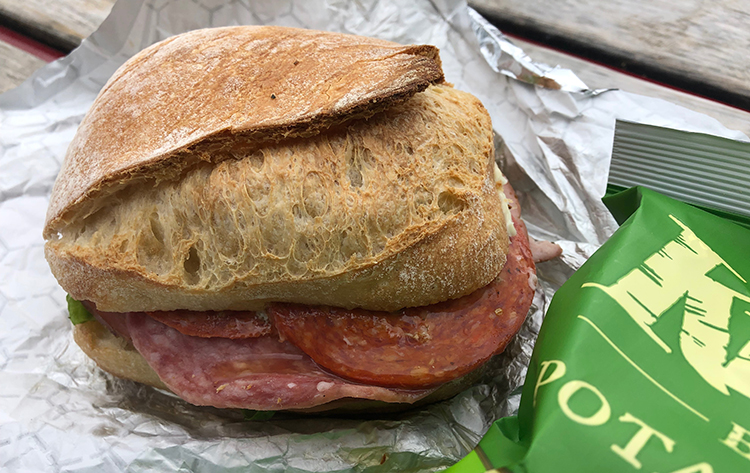 We continued to the lunch menu by indulging in a meaty specialty sandwich. Rocket Baby's menu aptly describes The Full Montagu ($11) as being a sandwich consisting of "Black Forest ham, pepperoni, Genoa salami, provolone, onion, romaine, tomato, our mayo, oil, and oregano on a Ciabatta roll." Sticking with the item's Italian theme, we made the best 50-cent upgrade in recent memory and had some Giardiniera added to the sandwich as well. Each sandwich also comes with a choice of chips, apple slices, or a side salad. We went with a bag of jalapeno Kettle chips, which proved to be a nice complement to the sandwich.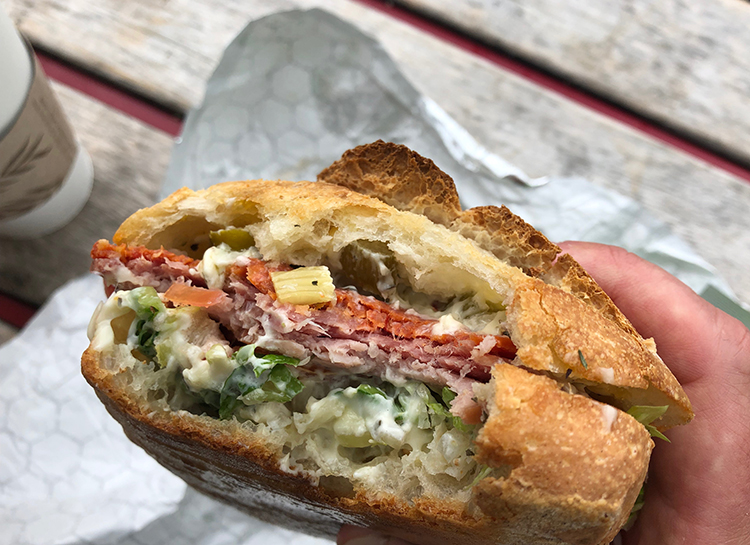 Back to the sandwich though: This baby was generously stuffed with quality meats, cheese, and veggies. The fresh-baked Ciabatta roll was slathered with a winning mix of wonderful house mayonnaise, oil, and a more-than-respectable amount of game-changing Giardiniera that all worked in concert with one another to deliver an altogether delicious sandwich. It's worth mentioning that the dense deli sandwich was also served cold, so it and its temperature held up nicely during transport.
Other Info
Rocket Baby's hours for its Bakery Window are 8 a.m to 2 p.m. daily. Online orders start at 7 a.m. each day, however. In addition to the pick-up and on-site ordering options, Rocket Baby also offers delivery to customers within a four-mile radius of the bakery. You can learn about delivery policies and/or place delivery orders HERE. And if the pick up window isn't something you feel comfortable with, the business also offers curbside pick up by calling 414-502-7323 upon arrival. Beyond breakfast pastries and sandwiches, Rocket Baby Bakery also specializes in homemade bread, desserts, soups, and even pizza by the slice.