It's an unprecedented and incredibly difficult time for restaurants right now. It's especially tough for restaurants in Wisconsin, where COVID-19 numbers are currently off the charts. Wanting to highlight local establishments who are keeping food quality high while also keeping its customers and employees as safe as possible, we're going to focus on restaurants that have completely shifted to carryout and/or delivery service in a series we're calling "Carryout Chronicles."
Last week, Iron Grate BBQ Co. celebrated its fifth anniversary. Originally opened in a Howell Street space the new restaurant shared with Hawthorne Coffee Roasters (who remains in there to this day), Iron Grate and its owner/chef Aaron Patin quickly turned oodles of positive press, a sterling word of mouth reputation, and its innovate "Milwaukee Rib" into a motivation to relocate to a property of their own. In the summer of 2017, Patin and his trusty smoker named Edna moved a few doors north of Hawthorne, opening in its current digs at 4125 S. Howell Ave., which offered diners an opportunity to get carefully crafted barbecued and smoked delicacies and southern sides with a distinctly Milwaukee twist to enjoy in a carryout capacity, and to eat on-site in the restaurant's attached dining room or its patio.
Last March, Iron Grate—like all other restaurants in the city—closed for in-person dining as the COVID-19 crisis made its presence known in Milwaukee. Though local legislation and occupancy policies have changed in the months since the original shutdown, the now-well-established BBQ joint has decided to keep its door closed. In fact, when Mayor Barrett abruptly gave bars and restaurants the go-ahead to open for on-site/indoor dining in early June, Patin went as far to tell us Iron Grate is "still planning on never opening indoor dining room again."
The restaurant has since sold off much of its dining room plates, shakers, glasses, and other indoor service accessories, suggesting a commitment to carryout for the long haul. Wanting to celebrate five years of Iron Grate, support a business that's going the extra mile to keep its customers safe, and (most importantly) get some brisket and greens in our life, we placed an order this week.
Policies And Procedures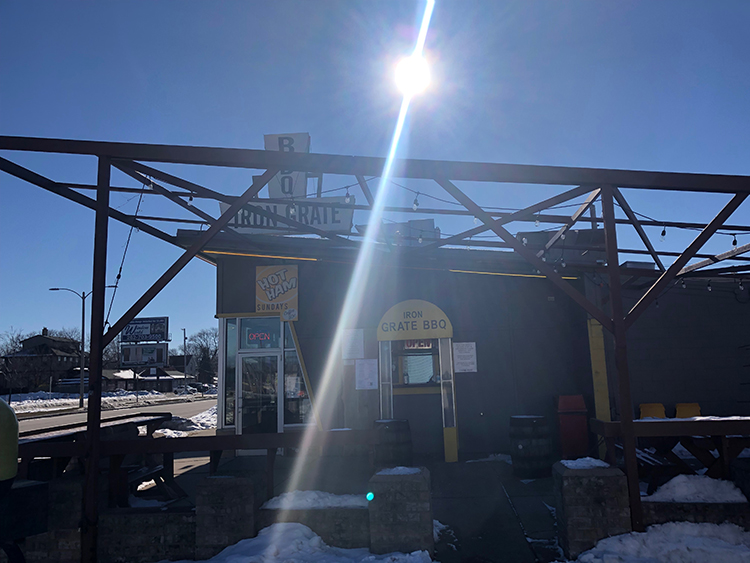 Iron Grate is open from noon to 8 p.m. every Wednesday through Saturday and 8 a.m. to 8 p.m. on Sundays. Orders can be placed over the phone (414-455-1776) or made online. With an undeniable hankering to have Iron Grate for lunch, we opted for the online method and we were actually able to submit an order before the restaurant opened at noon. After ordering at 11:15 a.m., were were texted an automated message telling us our food would be ready to pick up at the restaurant's carryout window right at noon. We received another message at 11:56 saying our food was ready. Having just arrived at the property around that same time, we managed to get our food before Iron Grate was technically even open. It was easy as can be, but if you're looking to make the process somehow even easier on you, Iron Grate also offers delivery…though we can't speak to its delivery radius or fees.
Carryout Quality
Following an approximately 10-minute drive home, we took our items out of the huge paper sack we were handed and were pleased to find that all our food was still hot. That food consisted of two single-serving sides—Smothered Greens ($3) and Smoked Tomato Mac & Cheese ($3)—that were both winners. We especially enjoyed the Smothered Greens, which were steamed collard greens and tender pieces of pork drenched in savory broth. After much deliberation between getting corn bread, a hot link, and an order of greens, we were extremely happy with our decision. The mac was no slouch either, though, as the container came with rich and cheesy noodles and a generous scattering of tomato pieces.
As tempting as one of Iron Grate's "Meat & 3" combos with things like Milwaukee ribs, pulled pork, links, chicken, pork belly burnt ends, and more was to us, we wanted to keep the order light—relatively speaking, at least—for this solo lunch endeavor. Plus, we wanted to try an item that had been added since our last Iron Grate excursion in, like, 2018 (sorry!). Thus, we went with a Hard Roll Sandwich ($8) with brisket at our chosen meat. Barbecue chicken, ham, and pulled pork sandwiches are also available. We also decided to add pickles to the sandwich for an additional 50 cents.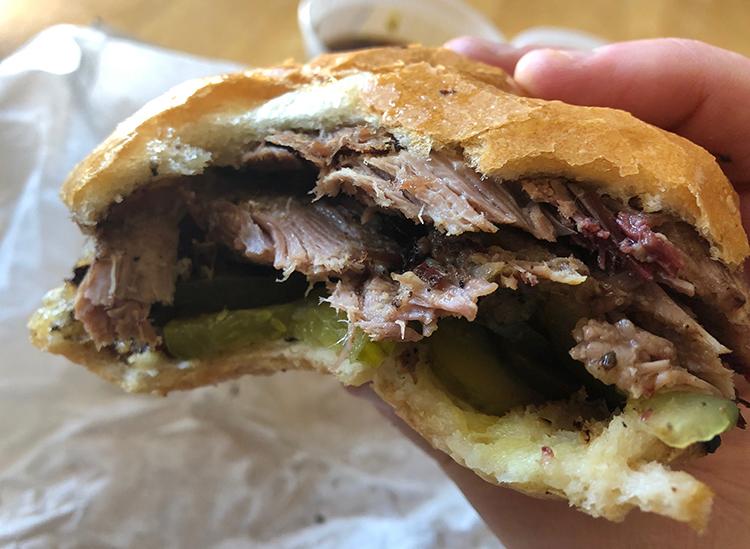 Even after sitting in a bag for some 15-plus minutes, the methodically smoked brisket remained juicy and flavorful. The sweet and abundant pickle medallions and the sizable Canfora Bakery hard roll only added to our enjoyment of this delicious lunchtime specialty. Each sandwich also comes with a container of sauce (akin to a Carolina-style sauce in our opinion, though we're admittedly far from experts on BBQ styles) that seemed to have a strong presence of apple cider vinegar. The sauce was good, but overtook bites of brisket at times. Honestly, we were much happier dipping the sandwich in the broth from our Smothered Greens.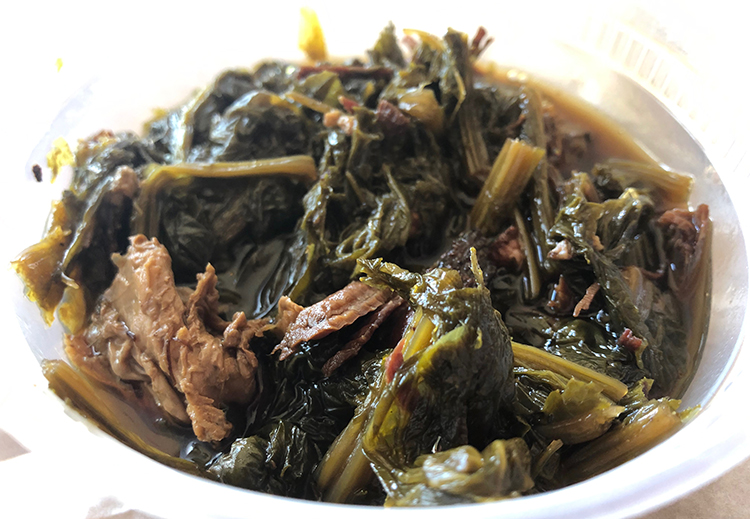 Speaking of, take a closer look at those Smothered Greens. We have nothing more to add about them. They're just amazing and we wanted to show them off one more time.
Other Info
Iron Grate opens up early on Sundays to sell hot ham and rolls. There are also "Pantry" items available, including beef summer sausage, pork snack sticks, jugs of BBQ sauces, jars of sweet dill pickles, and shakers of Iron Grate's in-house dry rubs. You can also get 32-ounce containers of both N/A beverages (homemade sweet tea, lemonade, hibiscus punch, and the like) and sweet premixed cocktails to-go.
Since first coming onto the scene in early 2016, Iron Grate has been a South Side dining staple and a place that's helped to both broaden and bolster Brew City's BBQ identity. So as we congratulate Iron Grate on five great (and grate?) years, we encourage you to place in order during this incredibly difficult time so the restaurant can keep on smoking for years to come.