It's an unprecedented and incredibly difficult time for restaurants right now. Wanting to highlight local establishments who are keeping food quality high while also keeping its customers and employees as safe as possible during the ongoing COVID-19 crisis, we're going to focus on restaurants that have completely shifted to carryout and/or delivery service in a series we're calling "Carryout Chronicles."
Okay, so this is totally hypothetical, but let's say a late-winter Saturday in Milwaukee is unseasonably warm. Like, warm enough to break your months-long streak of weekend solitude in order to get a drink outside a neighborhood watering hole. Say you run into some folks you haven't seen in months and one drink turns into, um, more than one drink as you remember what it's like to socialize (a.k.a. shout across a patch of sidewalk about movies you've watched and how poorly you'd do on the survival show Alone). Then say you wake up the next morning with a hangover and a hankering for a burger, decadent tater tots, cold brew, and a little bit of hair from the dog that bit you.
Well, if you can identify with any part of that—once again, totally hypothetical—scenario, Company Brewing (735 E. Center St., 414-930-0909) has you covered. In fact, you don't have to be nursing a hangover to find something scrumptious and perfectly suited to your tastes at this Riverwest brewpub. Since the pandemic came, Company Brewing has transformed from a brewery that's also a restaurant and venue into a takeout mainstay, something of a corner store, a delivery hub, and a place to pick up beer and coffee. We've utilized the newly-installed front window for impromptu beer purchases a few times in recent months, but with a very specific craving (FINE, we're the person from the last paragraph!) we made our way to Center Street last weekend for a much-needed Sunday pick-me-up.
Policies And Procedures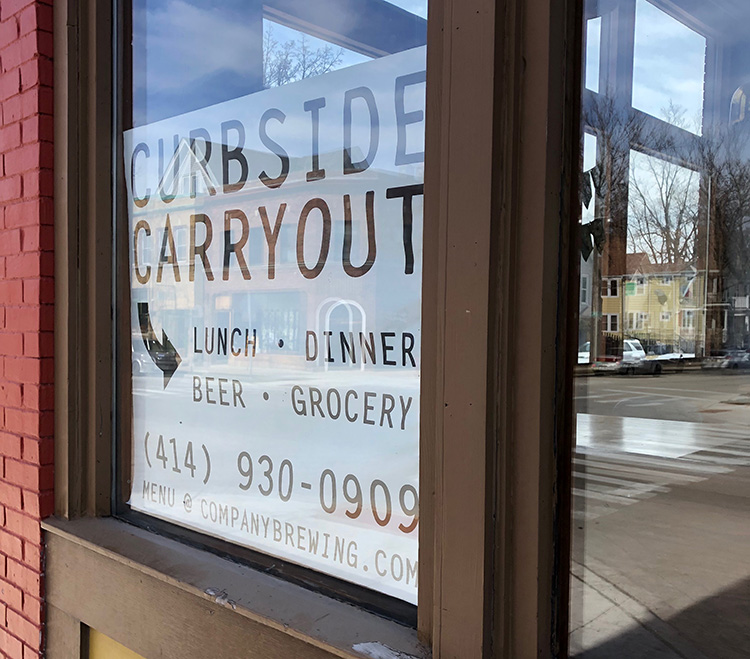 With such a wide range of offerings, there's actually a few methods for utilizing Company Brewing's services. If you're wanting to order a full-fledged meal, you can go to Company's website or call them to select from their modest-yet-delectable selection of sandwiches and sides for either carryout or (if you're in the radius) delivery.
If you're on the go, you can get fast fare like coffee, a Commuter breakfast sandwich, bagels, and tea from their pickup window every morning (except Mondays because they're not open that day) without any notice. You can also grab beer to-go at that same window any time Company is open. And if you don't live near the brewery itself, their beer is available at a wide variety of area liquor retailers, such as Discount Liquor, Ray's Wine & Spirits, Bert's in Bay View, Outpost Natural Foods, and a wide variety of other spots.
Carryout Quality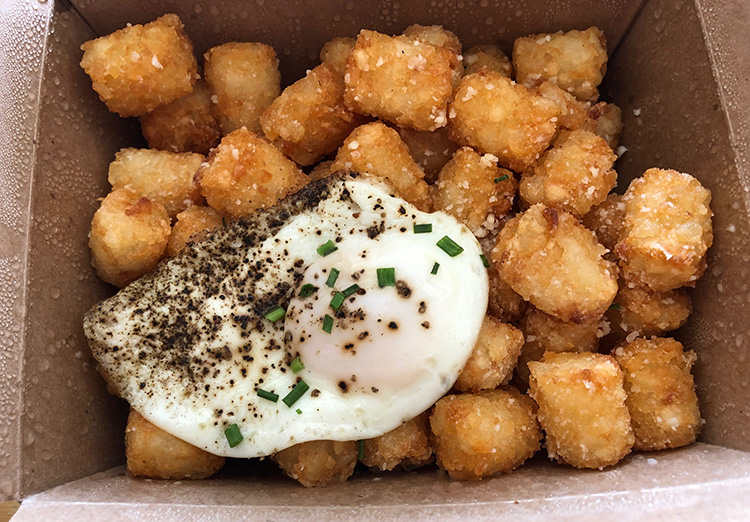 Though an aforementioned Commuter Sandwich in all its bodega breakfast sando glory and a chicken sandwich both seemed appealing, we had our mind set on tots and a burger last weekend. So that's exactly what we got. The Breakfast Tots ($6) were essentially a huge container filled with crispy garlic confit-tossed tater tots with Parmesan cheese, chives, and a satisfyingly strange fried egg topping. When combined with some of the accompanying ketchup packets, the breakfast tots were just what we were seeking. Plus, with such generous portions, we had enough to enjoy again later on in the day.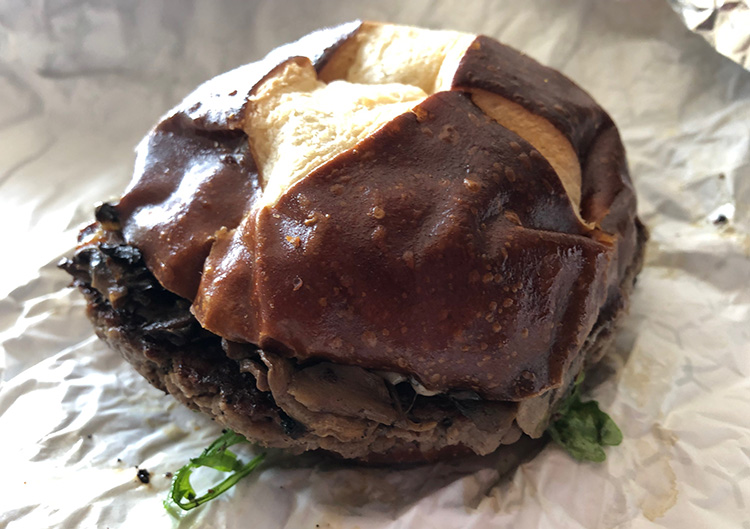 We alternated between handfuls of tots and bites of Company's specialty Impossible Burger ($11.50). The vegan burger featured an meatless Impossible patty, roasted mushrooms, sauteed onion, arugula lettuce, and a truffle aioli pressed betwixt a soft pretzel bun. Tender, tasty, and overflowing with umami, the burger and its downright incredible bun were just what the doctor ordered. If you're feeling like the real deal, there's also a Butter Burger with a six-ounce beef patty and all the traditional burger fix-ins for $8.75 and a rotating "Burger Of The Week" special for $10.
Between bites of burger and tots, we sipped some Company/Wonderstate Cold Brew Coffee ($3.50 for a pint). Company also offers an assortment of other Wonderstate coffees (including pounds of beans), as well as tea varieties, kombucha, seltzer and juices, wine, canned cocktails, cider, bottles of booze, and "grocery" goods like eggs, milk, onions, sugar, and even firewood.
Other Info
We've mentioned it before, but Company Brewing is a brewery above all else. It's in the name, after all! And at a point in time when the multi-use Riverwest mainstay cannot book concerts or safely host customers for in-person service, the brewing component is what's helping to keep the business afloat. Perhaps we're biased, having a seasonal beer we release in collaboration with Company and whatnot, but we're huge fans of their beer and we buy it often.
In fact, we actually bought a four-pack of the newly-rebranded Milwaukee-Style Lager before the weekend, so once we were sufficiently revived by the brunch we acquired from the brewery, we kept the theme going with a cold tallboy to bring us even closer to normalcy. Those of you reading this from outside the reasonable carryout radius of Company Brewing should keep in mind that you can still support this neighborhood bar, restaurant, and brewery by picking up a four- or six-pack from a metro Milwaukee grocery store or liquor retailer. In all, there are a lot of ways to simultaneously support this Riverwest gem and treat yourself in the process.