A version of this article originally appeared on our Patreon. Want to support Milwaukee Record and get exclusive articles and podcasts? Click HERE. Thanks!
Howdy, Patreon pals! And welcome to the nebulous holiday season! It's nothing but snow, family, snow, and blissful consumption from now until 2023. It's not exactly my favorite time of year, but it sure beats the following four-month stretch when there's nothing going on and it's cold and miserable and the only thing standing between you and self-immolation is a weekend trip to an indoor water park near the Dells. I'd recommend Three Bears Resort.
Anyway, let's talk Wisconsin snacks.
Back in October, the Milwaukee Record Gallant to my Milwaukee Record Goofus, Tyler Maas, expertly ranked the "things currently found in Gardetto's 'Original Recipe' snack mix." You know, things like the Pretzel Stick and the Squiggly Breadstick. This article is not about those kinds of snacks. (Spoiler: the Rye Chip was number one.)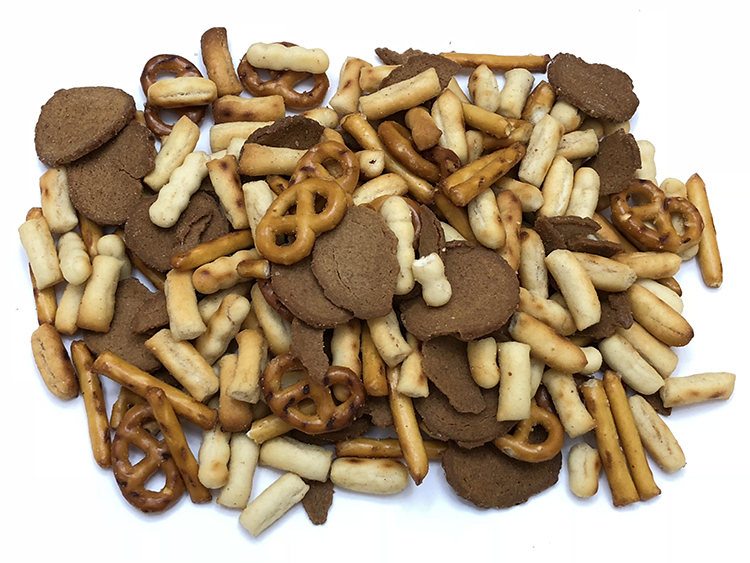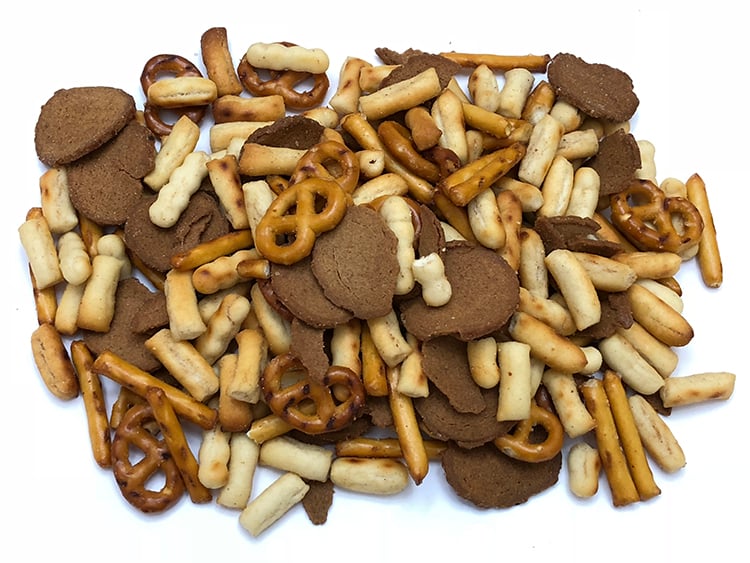 No, this article is about the kinds of snacks one tends to find on a typical Wisconsin kitchen table throughout the holiday season. Or, to be more specific, the kinds of snacks my mom typically puts out throughout the holiday season. Just LOOK at this glorious spread from Halloween 2022: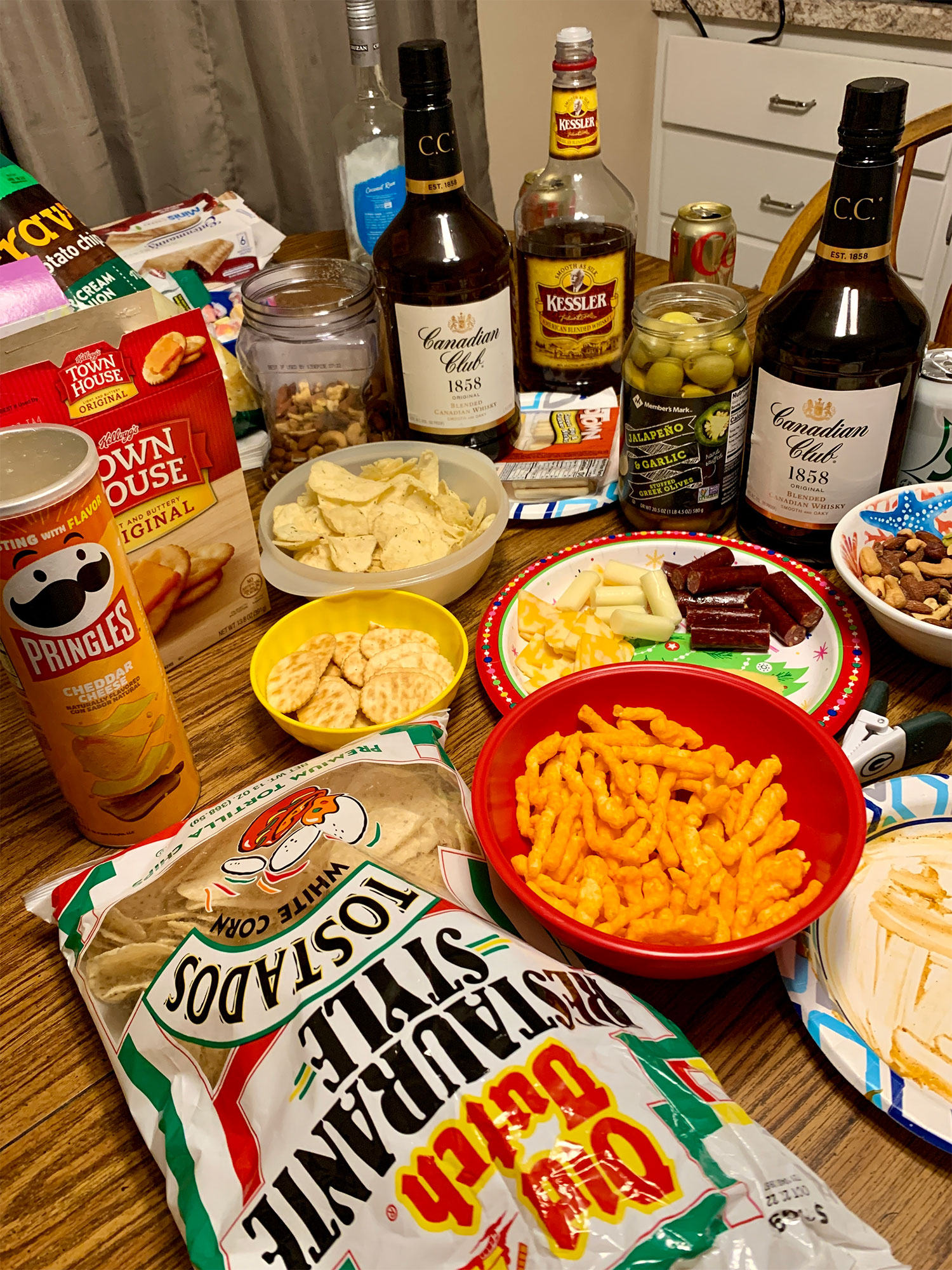 And this one from Thanksgiving 2022: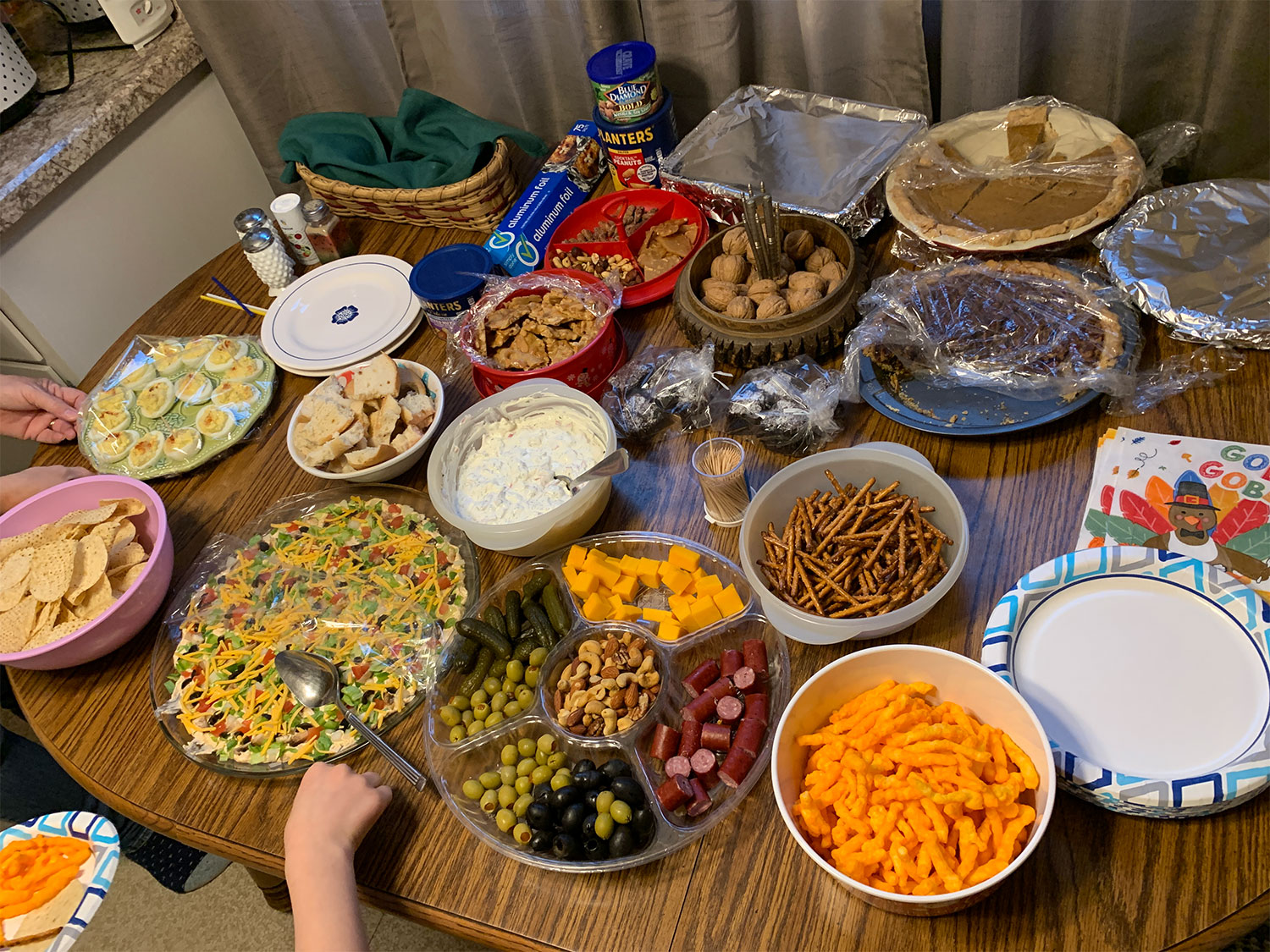 And this one from Thanksgiving 2021: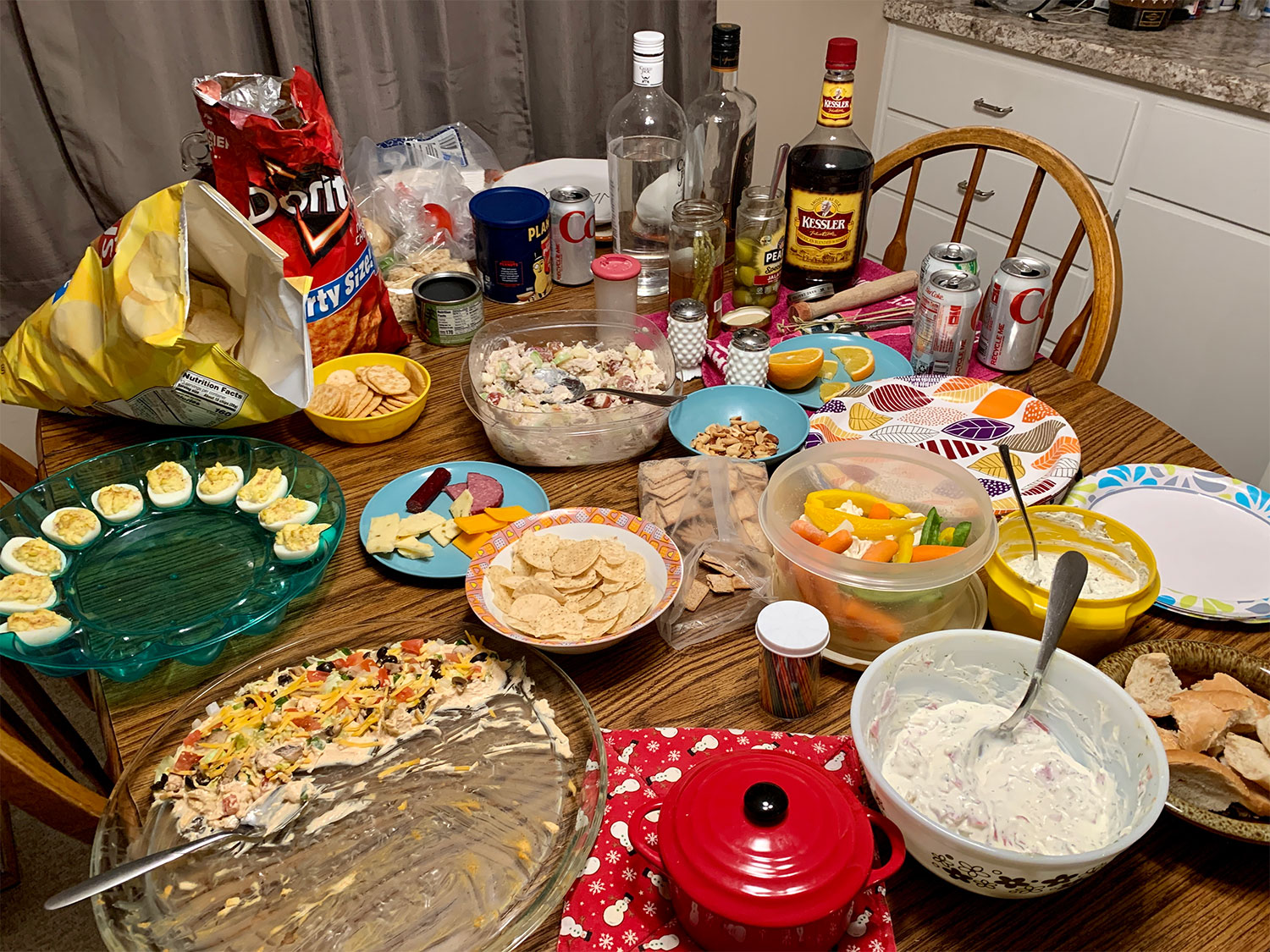 Before we go any further, how about a shout-out to moms? They're the best. If you're lucky enough to have a mom to call, call her. Today! Also, it's both hilarious and a little unnerving how quickly my mom can throw together a snack table. They typically go from 0 to 90 in the time it takes me to walk through the door and take off my jacket.
So let's dig into the specifics of a typical Wisconsin Snack Table, shall we? I won't be ranking the individual snacks, because we all know each and every one is a 10/10. Except the olives. Nope!
HOT STICKS, STRING CHEESE, CHEESE
This deadly triple-threat is a MUST on any and all Wisconsin Snack Tables. Whether your hot sticks are store-bought or from a deer you or someone you know "harvested" the previous fall, you NEED a plate of these things. The hot sticks should be cut into two-inch mini-sticks; ditto the string cheese. In snack-plate-friendly mini-stick form, the string cheese isn't meant to be peeled, it's meant to be chomped down in one or two bites. And don't forget the squares of regular cheese! (Cheddar or Colby-Jack is fine, though sometimes my mom gets "fancy" and springs for Gouda.) Which brings us to…
CRACKERS
You're gonna need proper staging platforms for those cheese squares, so bring on the "light and buttery" Kellogg's Town House crackers! Or, hell, forget about the cheese altogether: Have you ever sat down and hoovered up an entire sleeve of crackers in one sitting? I have, and I'm willing to bet you have, too. THEY'RE SO GOOD. As with other Wisconsin Snack Table items, there's no need to get fancy—any generic buttery cracker you can find at your local Piggly Wiggly will do. (I think the Ritz crackers in the back are those "two tiny crackers sandwiching a tiny glob of cheese" things, which my kid loves but which I avoid because each one contains 8,000 pounds of salt.)
CHIPS, CHIPS, CHIPS
If we count the Pringles, I'm counting 8,000 different types of chips on these snack tables. That seems low. In addition to the Pringles, the Doritos, the Old Dutch tortilla chips, and the sour cream and onion potato chips, any Wisconsin Snack Table worth its weight in Formica should include a bag of standard-issue Fritos. Are Fritos chips? Sure, let's say they are. Not that I'm throwing my mom under the bus: Fritos definitely make their way to the dining room table when everyone sits down and plays Canasta.
CHEETOS
I love Cheetos because they're a purebred snack: not a meat, not a cheese, not a chip, just a straight-up SNACK. In both crunchy (preferred) and puffy form (still good), these blaze-orange corn treats were created for one purpose and one purpose only: to be poured into a bowl on a Wisconsin Snack Table and scarfed down by young and old alike. Don't like the ubiquitous cheese dust that instantly and forever sticks to your fingers? No one said Cheetos were for the faint of heart.
TACO DIP
Two words: taco dip. That's it. That's the blurb.
MIXED NUTS
A half-eaten jar of mixed nuts isn't mandatory on a Wisconsin Snack Table, but it's a welcome addition if you can swing it. Fun Fact: In my hometown of Mayville, there's currently a cover band called Mixed Nuts, and they're great. There also used to be a KISS tribute band (Creatures Of The Night) and a family band with long hair (Rapunzel). My band (Holy Mary Motor Club) played my hometown only once. We packed a place called the Backstreet Cafe (since converted into apartments), and the bar ran out of booze in about an hour. Which brings us to…
KESSLER
I've saved the best for last: THE BOOZE. Now, a proper Wisconsin Snack Table can't contain just ANY booze. Yes, it can and should have some rum and bourbon or whatever, but it absolutely MUST—and I mean MUST—have some Kessler Whiskey. Why? I don't know, but when I posted the Halloween 2022 picture to Instagram, every single person in my feed was like, "Hahaha! Kessler and hot sticks! That's totally Wisconsin!" I'm not a huge Kessler fan (don't get near me with that Canadian Club stuff), but I'll drink it if it's out, and I recognize its status as a Wisconsin Snack Table icon. Respect.
BONUS ITEMS
Here are some additional items you'll likely encounter this holiday season:
COCKTAIL WEENIES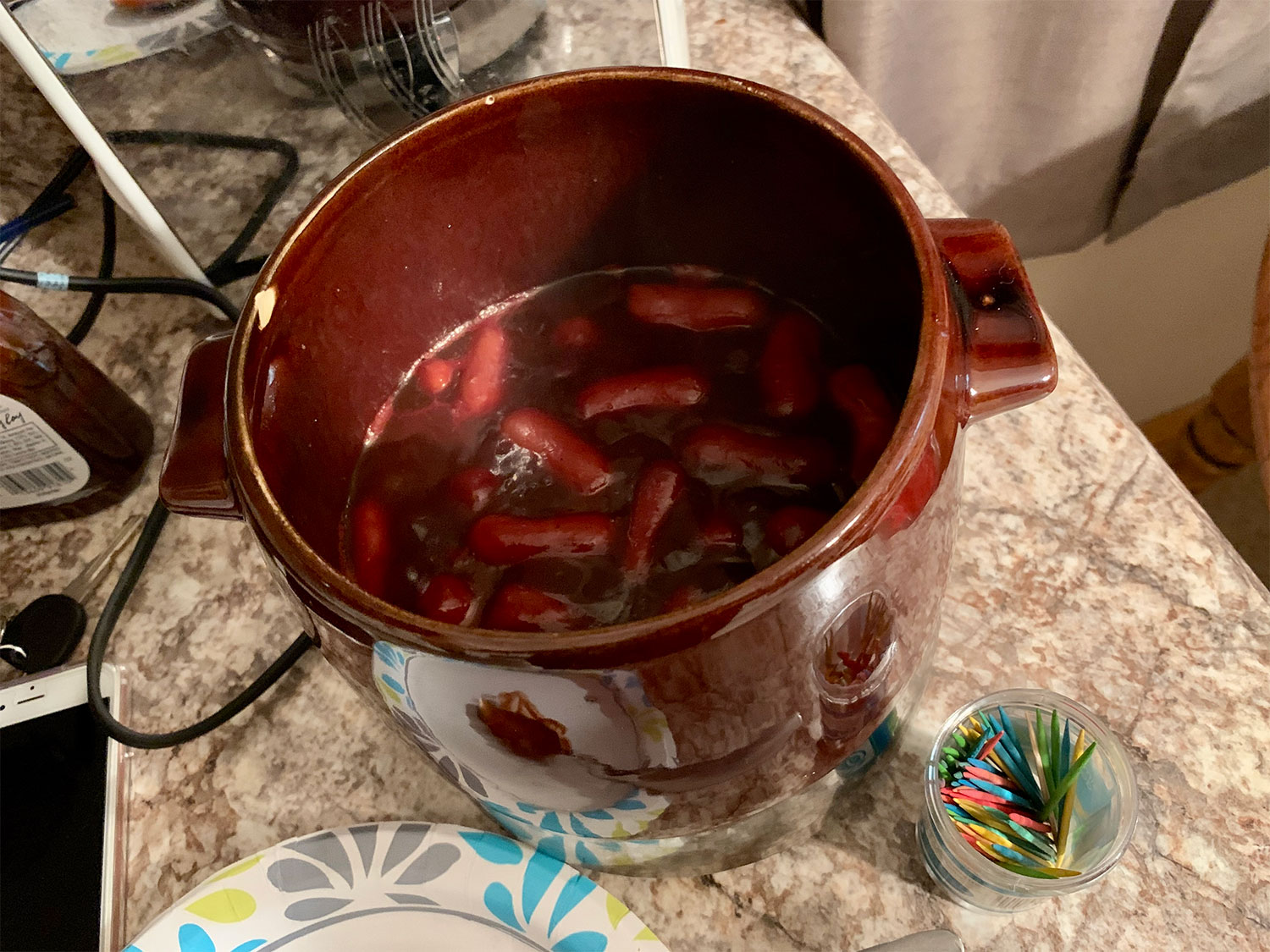 Typically found on a nearby kitchen counter, kept piping hot in a small-ish ceramic crockpot. Accompanied by a pile of napkins and a little container of toothpicks. Impossible to eat just one. SO GOOD.
VENISON SUMMER SAUSAGE

Same deal as the hot sticks. The last deer I shot was back in 2017, and I'm pretty sure my parents still have frozen hunks of sausage from that deer in their basement freezer.
DEVILED EGGS, VEGGIES AND DIP, RAW BEEF SANDWICHES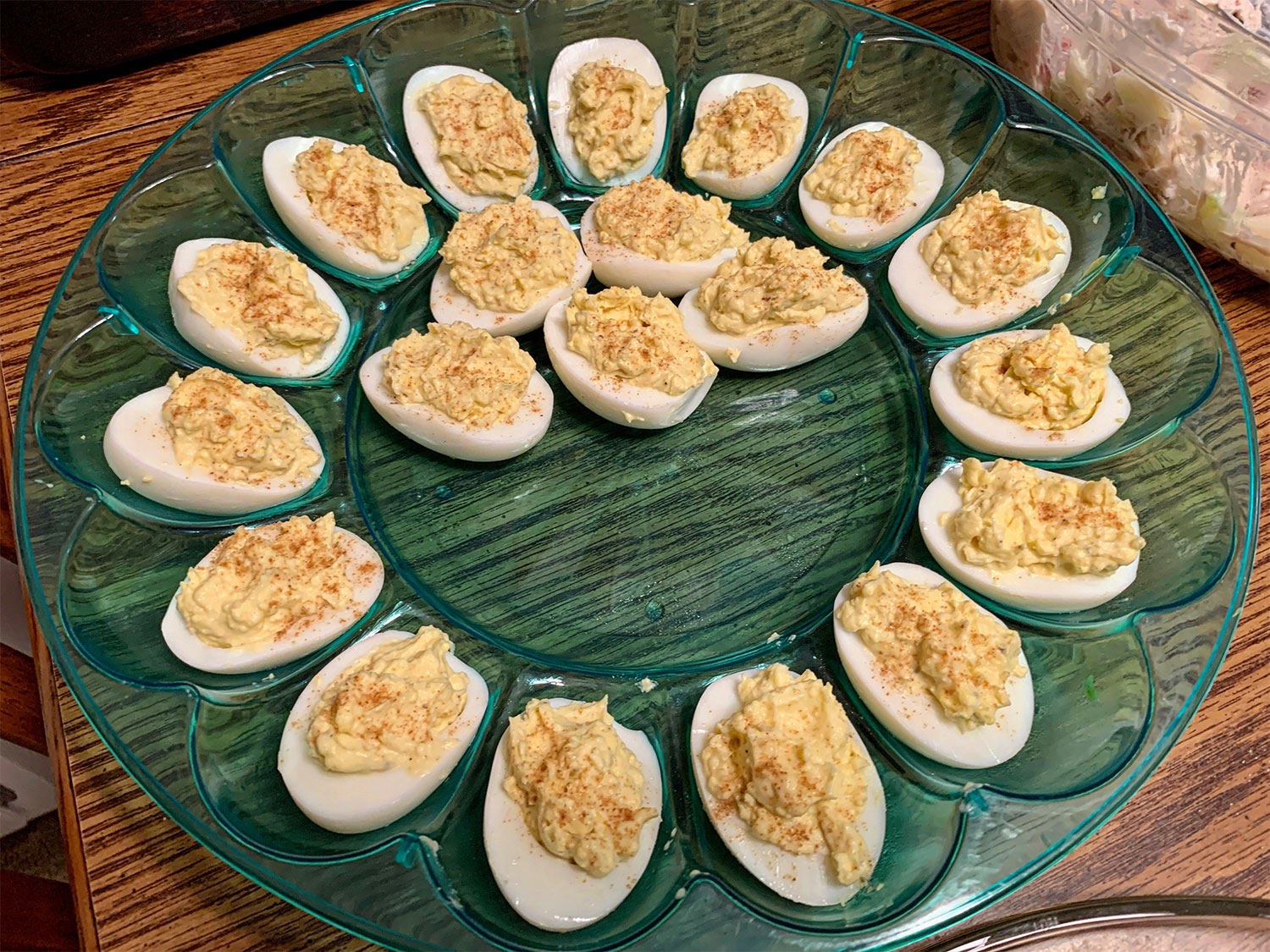 It wouldn't be a Wisconsin Snack Table without 'em.
Finally, here's a 2019 video in which I sit behind another classic Wisconsin Snack Table (props to my mom, again) and eat one of the most contentious "snacks" out there: RAW BEEF.

Happy holidays, Patreon pals! Did someone in the YouTube comments say I looked like a "Weezer band member"? You bet they did!
Exclusive articles, podcasts, and more. Support Milwaukee Record on Patreon.
---
RELATED ARTICLES
• Merry Christmas, Milwaukee! Let's eat some raw beef sandwiches!
• Things currently found in Gardetto's "Original Recipe" snack mix, ranked