UPDATE (7/15/20): Ale Asylum Riverhouse is indeed closed for good. A message to Milwaukee Record reads:
We have unfortunately decided to close our doors for good. Navigating operating safely in this climate and in a neighborhood that relies so much on large events has caused us to make this difficult decision. Thank you for your support over the years.
Ale Asylum Riverhouse (1110 N. Old World Third St.) opened in late 2014, in the old Molly Cool's Seafood space. It was great! Now, in mid-2020, it's selling all of its stuff. Like, everything. Not great!
"This restaurant/bar is loaded with equipment and everything must go," proclaims a Craigslist notice for an in-progress online auction. "Tables, chairs, glasses, plates, fryers, refrigeration, flatware, carrying trays, stainless steel inserts and so much more." Meanwhile, over at the actual auction site, time is currently being extended for big-ticket items like freezers, ovens, and, damn, even the flatscreens. (The auction technically ended at 10:30 a.m. today.)
The restaurant appears to have been closed ever since the COVID-19 crisis began in earnest in March.
We've reached out to Ale Asylum Riverhouse but haven't gotten a response. A phone call leads to a non-working number.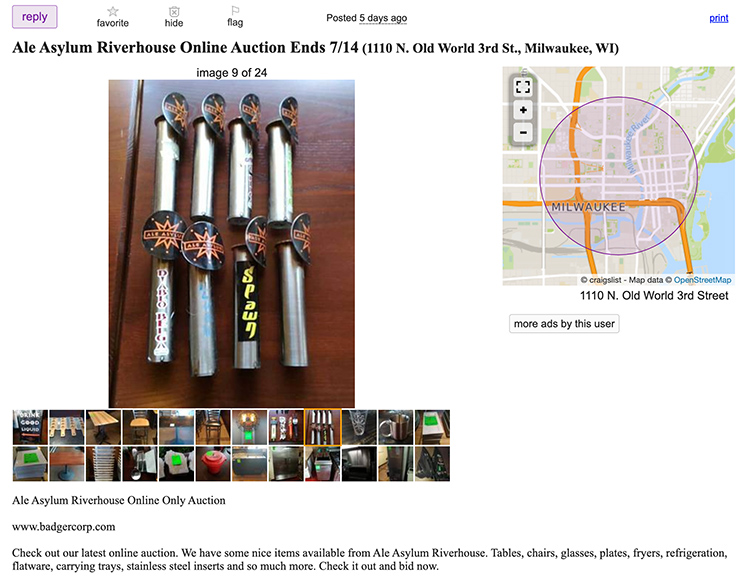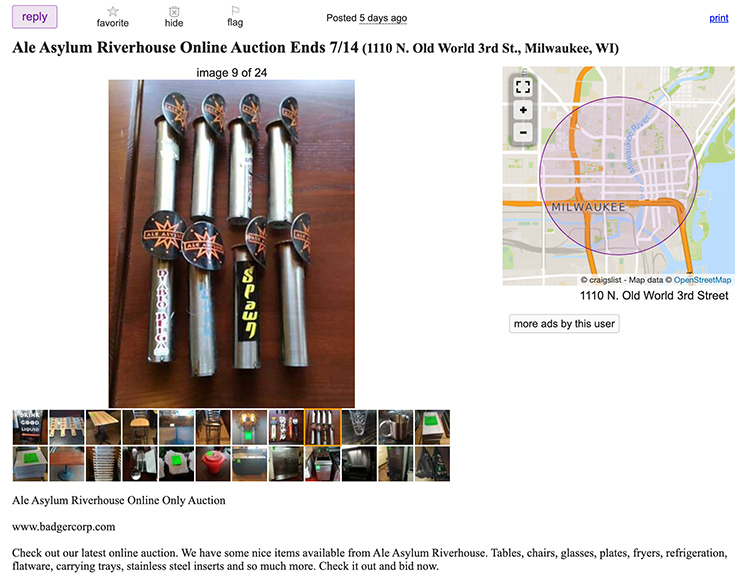 Exclusive articles, podcasts, and more. Support Milwaukee Record on Patreon.
---
RELATED ARTICLES