Between beloved and well-established local staples and a steady wave of new bars and restaurants popping up in and around Milwaukee almost every week, worthwhile dining and drinking gems can occasionally get lost in the shuffle. With Tucked Away, Milwaukee Record sifts through the hype in hopes of unearthing some of these gems.
Driving down Farwell Avenue is a practice in patience for anyone with a short attention span. Turning right and heading south down the busy one way street from North Avenue starts off provocatively enough. On one side you have the charming old-world style tavern Von Trier's; on the other, the legendary and always enchanting Oriental Theatre. Anything resembling "provocative" ends there. The rest of the southbound drive is an amalgamation of weird apartment buildings, gross chains, or nasty restaurants that use neon lights to distract you from the reality of how shitty the food inside is. Even the pearls of Farwell (Comet Cafe, EE-Sane, and Jow Nai, for example) are nestled inside unassuming properties that aren't relying on their exteriors to draw in customers. Hell, even chef Justin Carlisle's James Beard-nominated masterpiece Ardent exists in almost complete anonymity, literally without a sign to signal it's even there. It should stand to reason that by the time you get to Blue Star Cafe (1619 N Farwell Ave., 414-274-9744), you've already stopped paying attention. Big mistake.
To be fair, if you aren't looking specifically for Blue Star Cafe, you would never find it. The strip mall the Somali cafe occupies almost begs to be overlooked. Located under a red brick and beige apartment building and sharing the space with an H&R Block and TANNING (an ingeniously named tanning salon), Blue Star's blue and white rope lights and "Open" sign don't exactly beg the attention of random passersby. Making Blue Star all the more secretive (albeit unintentionally) is the fact that the part of Farwell the restaurant lands on doesn't get a whole lot of foot traffic, making those who could potentially be enticed by the delicious smells emanating from inside the kitchen few and far between. Those who are lucky enough to catch wind of Blue Star and actually make the trek to its doors are in for something special.
The space: The aesthetic of Blue Star Cafe offers up a pretty good suggestion as to why this place has remained relatively hidden. Tantamount to a wide hallway that's been filled with a counter and a few obligatory tables and chairs, Blue Star may alienate anyone expecting a "special" meal or romantic night out. There are some paintings on the wall and an oddly placed TV sitting in the corridor behind the dining room, but nothing serves as anything especially attractive or wooing from the diner's perspective. That said, nothing about the space is irritating or repulsive, either. Blue Star offers up a perfectly acceptable, if not utilitarian, place for you to either dine-in or (as we would recommend) take out.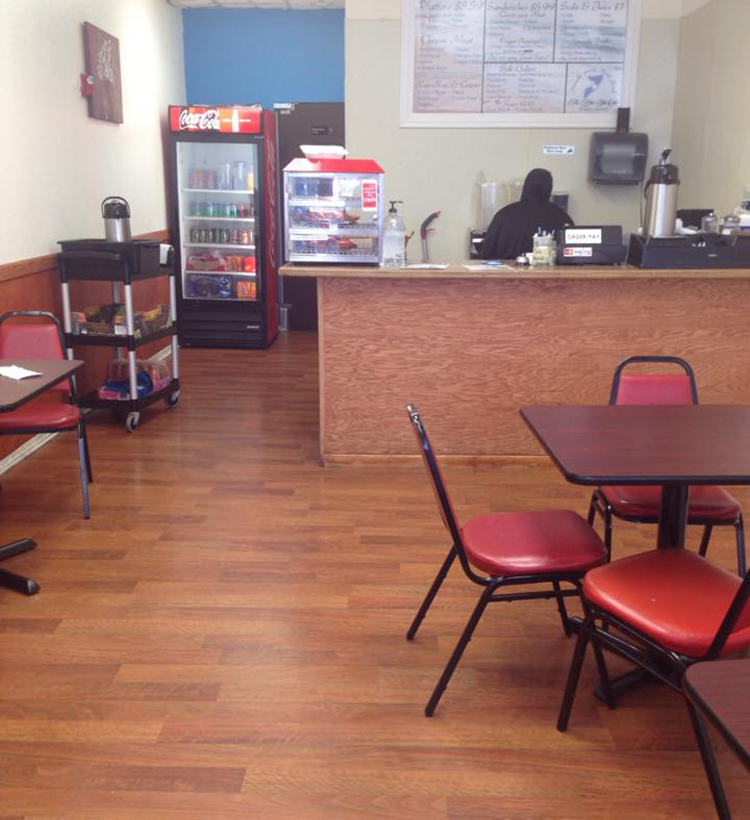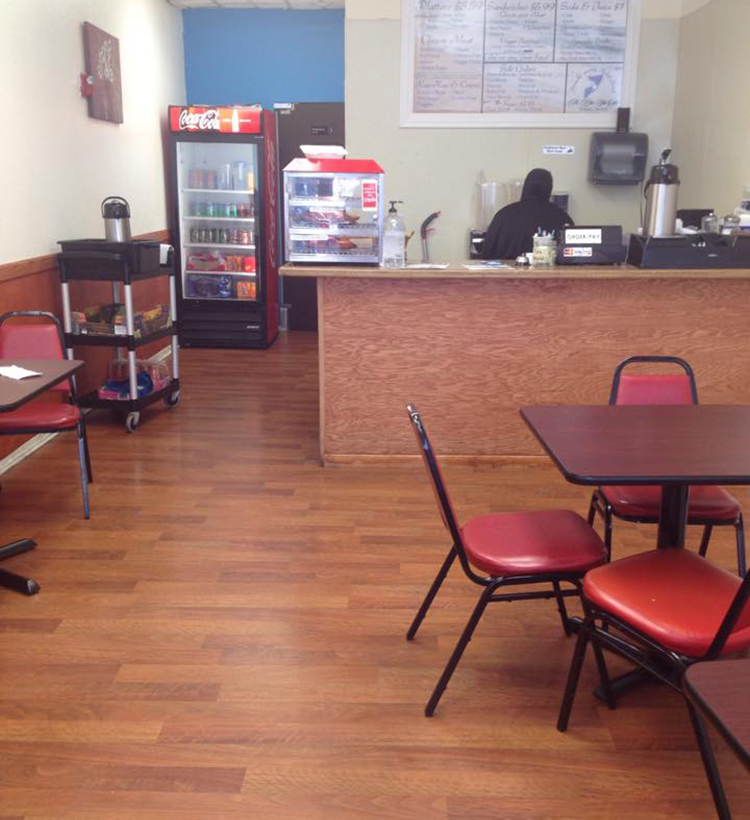 The service: From start to finish our service was conducted entirely by a sweet little old lady who seemed happy and excited to be serving us her food. To clarify: this woman took our order and payment, and also prepared and packaged the food. We caught the vibe that this is a small family operation with maybe four or five employees tops. That hunch was fortified by the amount of pride we could taste in the food.
The food: Starkly contrasting the cafe's uninspired interior, Blue Star's food shines with bold and bright flavors—and with "are-you-kidding-me" cheap prices, it's basically impossible to fail with your order. Just over $20 got us a mammoth tender beef sandwich (marinated beef with lettuce, tomatoes, and cucumbers crammed in to a crispy foot long ciabatta), the famous chicken platter (seriously like five pounds of rice, chicken, and golden raisins), a cup of murak qudar soup (extremely tender pieces of goat meat in an earthy stock), and a cup of fresh-made watermelon juice—easily enough food for four rational people. It should also be noted that the meat was all halal.
The lunch wasn't completely without its setbacks. While the sandwich and chicken platter were incredible in both taste and price, the soup and juice left a little to be desired. First, the soup was literally broth and meat. The stock had a linear earthy water note and some of the goat meat had more gristle than preferred in a soup. The juice was delicious and worth the purchase, but the nature of a fresh squeezed watermelon can be a little dicey. There was that signature dirt taste that watermelon occasionally produces, and the last third of the cup was an undrinkable pulp. Who knows, though: perhaps revisiting the soup in the unforgiving glacial death of Wisconsin's winter, or on a balmy sweat-drenched day in July might cause us to overlook these marginal flaws.
Another consideration: Blue Star is not vegetarian friendly. There are a few snacky items that can be purchased if you're in the mood for something very light, but no substantial entrees on hand if you don't eat meat. Also, this isn't a date spot. It's barely even a sit-down restaurant. Go for lunch or when you're in the mood for a lazy, affordable dinner.
The verdict: Should Blue Star Cafe remain a hidden gem of Milwaukee? Our selfish side wants to say yes, but only as a means of avoiding the massive line of people that would be knocking the doors down if they knew about it. No, Blue Star should not remain hidden. Yes, you should immediately reconfigure your lunch plans to make the obscure restaurant's delicious and affordable Somali cuisine an immutable staple in your diet.