Nearly every caffeine junkie in the Milwaukee area has sipped a latte at a Colectivo, imbibed a dark roast at Stone Creek Coffee, and drank a Starbucks Frappuccino that could put them in a sugar coma.
But Milwaukee has no shortage of small, independently owned establishments where you can get your coffee fix, have a soup or sandwich, enjoy a scrumptious piece of pastry, and even get some work or studying done. Here are seven of them:
1. Amaranth Bakery and Cafe (3329 W. Lisbon Ave., Milwaukee)
Amaranth, which takes its name from a South American plant, is located in the city's Walnut Hill neighborhood. Owners and husband and wife David Boucher and Stephanie Shipley bake artisan breads and pastries, such as rye bread, custard and fruit tarts, and cardamom rolls.
On a recent visit to the cafe, menu items included New England fish chowder, ham, cheese and greens quiche, a roasted eggplant and pesto sandwich, and tabbouleh salad. Boucher says menu items change daily, and customers can view them on their Facebook page.
Amaranth occupies a former tavern built in 1906, says Boucher. Stained-glass art hangs in the windows, while old-fashioned light fixtures, an embossed tin ceiling, and posters and biographies of Milwaukeeans making a difference in their communities successfully blend the old with the new. A display with a sign that reads "Made by Women Survivors" features hand-made soaps, candles, and lotions for sale.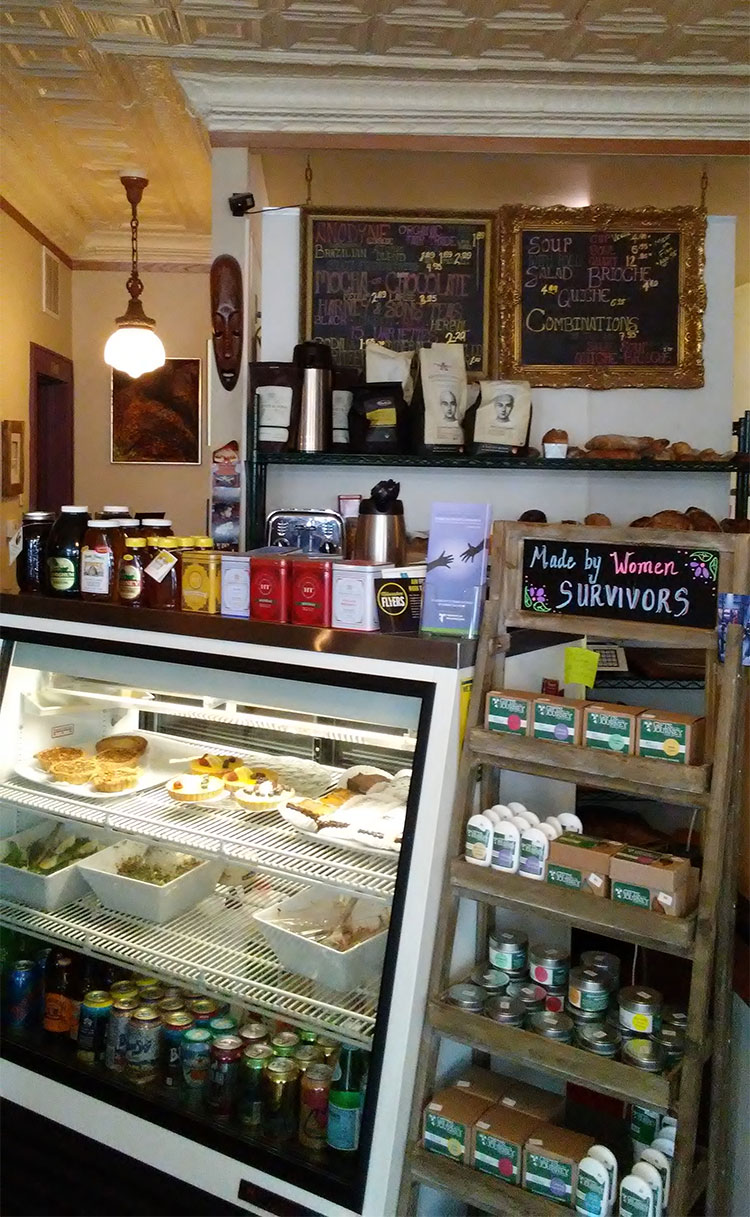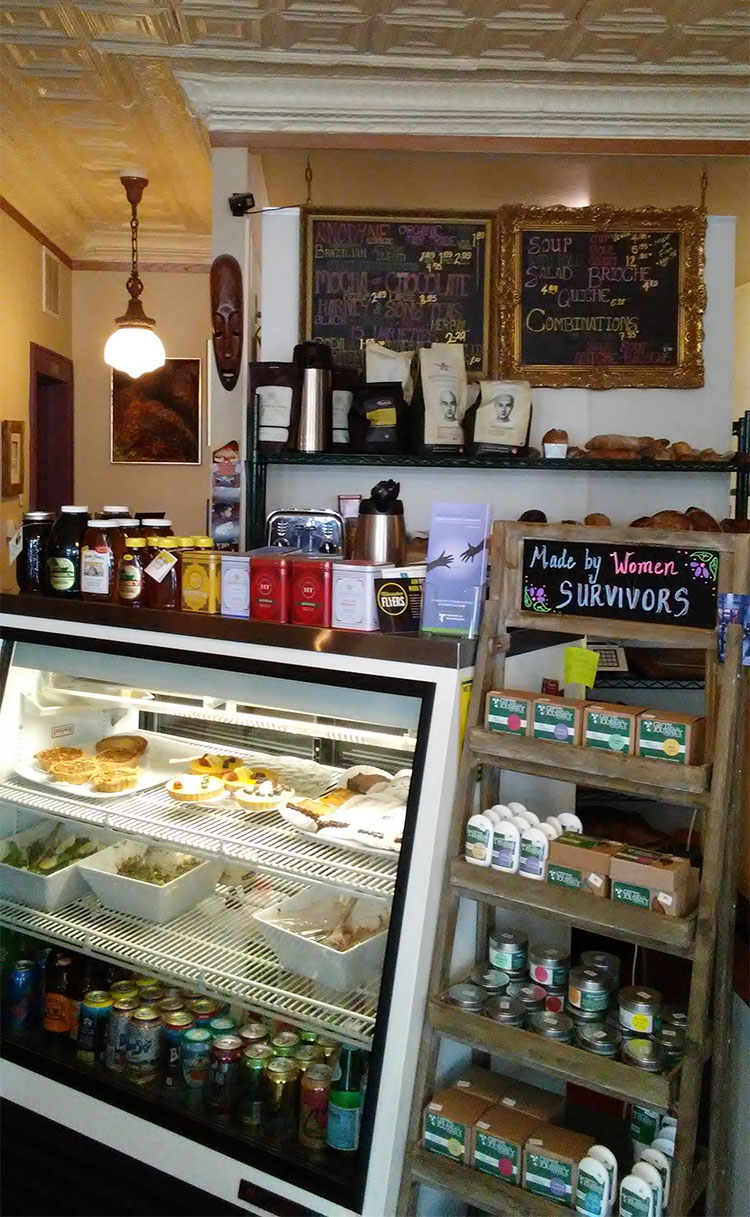 2. Sprocket Café (3385 S. Kinnickinnic Ave., Bay View)
Sprocket Café, adjacent to Rusty Sprocket Antiques, is aptly named, displaying a vintage bike in the window and metal signs on the walls. Retro mugs lining the countertop, and granny-square afghans draped across the couches are all for sale.
Sprocket serves up Anodyne coffee and a variety of seasonal drinks—currently, hot apple cider and a peppermint mocha. Some baristas, such as John Sepulveda, are certified through Anodyne Coffee and Stone Creek Coffee, which helps them share their love and knowledge of the bean with customers.
Menu items include bagel sandwiches such as the "Trike," chicken chipotle with cheese, and daily soups. Readers will appreciate the bookshelf stocked with free books and back issues of magazines, kind of like a Little Free Library. After your coffee break, head to the antique shop next door and browse through beer, hot rod, gardening, and other memorabilia of yesteryear.
3. Avenue Coffeehouse (911 Milwaukee Ave., South Milwaukee)
Every community should have at least one independent coffee shop. Bay View is lucky to have at least five—not to mention several Starbucks, a Colectivo, and Stone Creek. Other cities, such as Cudahy, are woefully lacking a proper caffeine junction, despite residents' pleas. South Milwaukee, however, is fortunate to have the Avenue Coffeehouse.
Sara Lewkowski and her boyfriend Aaron Ruiz opened Avenue, formerly City Sippers, in September 2016. Business is good, says Lewkowski, a former City Sippers barista. "More people are finding out about us every day. Everyone likes having a local coffee shop," she says.
According to Lewkowski, popular drinks include butter coffee, a drink blended with coconut oil, grass-fed butter and coffee that has health benefits such as increased mental clarity, and the Peanut Butter Cup mocha (peanut butter blended with white chocolate syrup). Colectivo's Troubadour Bakery provides Avenue with baked goods such as pumpkin cranberry muffins and zucchini bread. Cute kitty figurines, comfortable secondhand furniture, and personal touches such as a Bill Murray picture on the wall help give the café a homey atmosphere.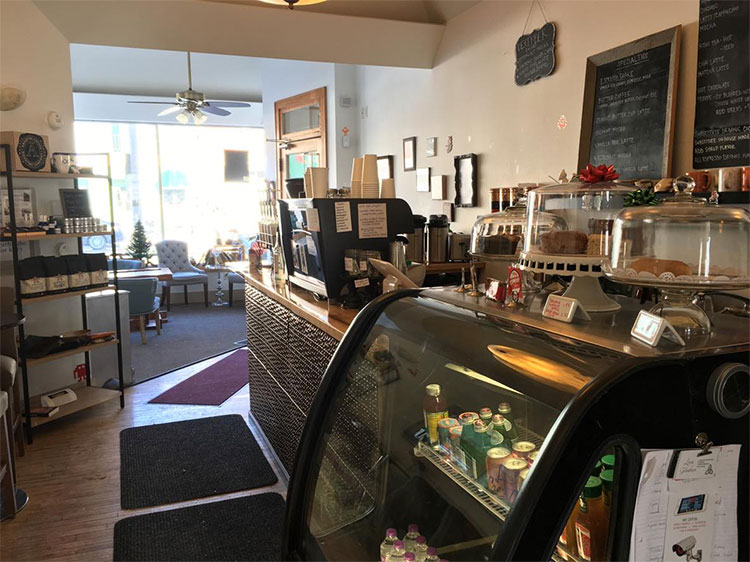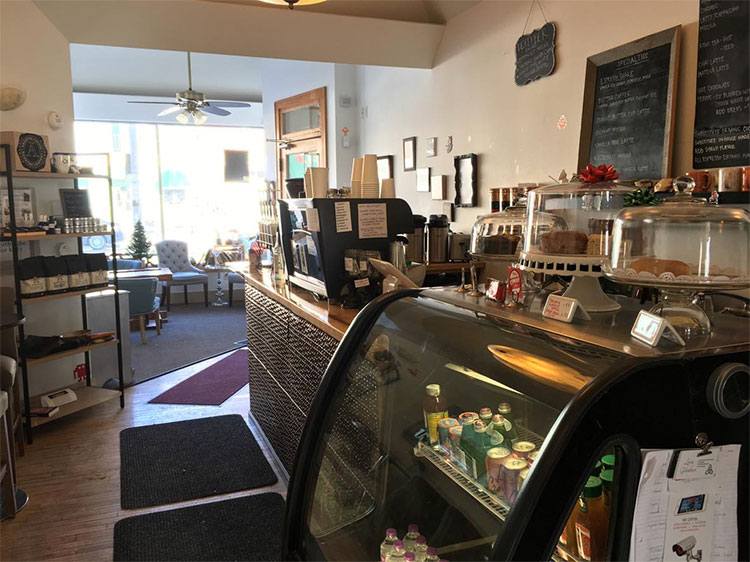 4. City.Net Jazz Café (306 E. Wisconsin Ave., Downtown)
Jazz music playing in the background used to be a staple of coffee shops, like clove cigarettes and open mic poetry. Nowadays, it seems you're more likely to hear Depeche Mode or David Bowie rather than Miles Davis, depending on the barista's musical taste.
Paying homage to his roots, City.Net Jazz Café owner Sam Belton, a jazz percussionist and former Milwaukee Public Schools music teacher, honors the genre's greats such as Herbie Hancock and John Coltrane by not only piping their music through the loudspeakers, but also by displaying framed pictures and posters on the café's walls. Enjoy some Billie Holiday with your cappuccino, or check out a live jazz night.
According to the café's website, Belton roasts and blends his own coffee, Abyssinia Coffee, with his own coffee beans. Customers can have a pound of coffee roasted for them while enjoying a panini sandwich—each named after a member of the Belton family.
Folks who have the pleasure of serving jury duty can help pass the time and stay energized by grabbing a coffee and sandwich from City.Net's other location—the first floor of the Milwaukee County Courthouse.
5. La Finca Coffeehouse (3558 E. Sivyer Ave., St. Francis)
Owned by sisters Janeth and Lizeth Zorrilla, La Finca incorporates aspects of the sisters' native Mexican culture in their coffee drinks, desserts, and sandwiches, such as the Mexican Mocha, Horchata Lattes, and flan. Coffee beans are imported from Oaxaca State and then roasted locally at Anodyne Coffee.
After considering several other small business ideas, the Zorrilla sisters opened La Finca in October 2017. Janeth says the St. Francis community has been very supportive so far, and that their café gives people in the community a place to connect over a cup of coffee. "I think that's one of the most motivating aspects to opening a coffee shop," she says.
Wooden parrots, hand-carved figurines, and photography by local artists decorate La Finca's walls. The café sells artisan and clothing items such as blouses, crocheted shawls, and hand-painted ceramic mugs. Ambient and folk music, along with a view of Lake Michigan, contribute to the tranquil environment.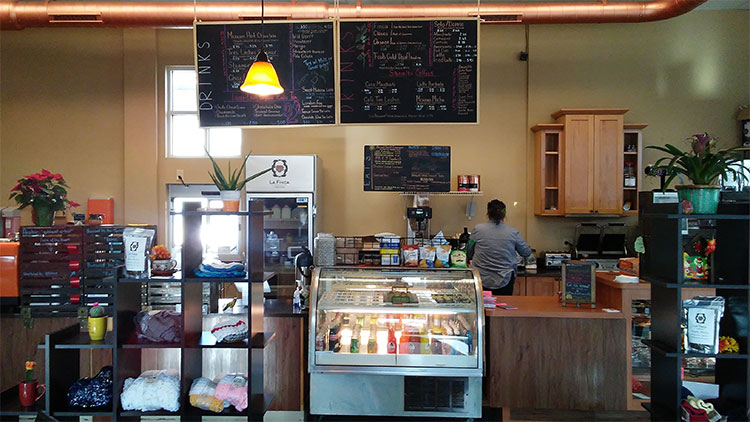 6. Roast Coffee Company (2132 E. Locust St., East Side)
Roast takes its coffee and ties to Milwaukee seriously, as evidenced by their website. Just blocks away from the UWM campus, the upscale café features artisan seasonal and signature espresso drinks, such as the Winter Spiced Latte (a latte flavored with Indian spices, vanilla, and honey), and the Black Label Mocha (made with Ghirardelli chocolate syrup and aniseed).
The cafe serves bakery items, as well as breakfast and lunch. Try a sandwich named after a local band such as GGOOLLDD (an egg, bacon and veggie bagel sandwich) or Testa Rosa (a grilled cheese and tomato sandwich with a cup of soup on the side).
7. La Tarte (6742 W. Wells St., Wauwatosa)
When a Colectivo Coffee opened across the street from La Tarte in 2013, many Wauwatosa residents feared the demise of the cozy French-style cafe. But, thanks to a thriving catering business, wholesale bakery accounts, and loyal customers, La Tarte has been a neighborhood staple since 1995.
"We get people coming in holding their Colectivo cups," says owner Liz LeFevre.
Seasonal drinks, such as maple spice and eggnog lattes, and muffins are hot sellers, according to LeFevre. Much of the bakery, including muffins and lots of butter cookies, are made in-house for local businesses such as Sendik's and Valentine Coffee Roasters. As an added bonus, customers can breathe in the heavenly baking scents while they leaf through a newspaper or book.