Milwaukee is blessed with more than a dozen public libraries that provide residents of our fair city with literature, music, movies, youth programming, guest speakers, and a wealth of other resources. While Milwaukee Public Libraries offers literally millions of books and media items, the recent rise of the Little Free Library has provided Milwaukee and its surrounding suburbs with dozens—if not hundreds—of miniature libraries on street corners, in yards, and in front of businesses to further promote literacy with a simple mantra: "Take A Book. Return A Book."
Little Free Library's intentions and those of the program's participants are great, but the same can't always be said for the books themselves. With a rotating catalog and an inventory wholly dependent on the generosity of others, it could be tough to find something to your liking. In an effort to help one's perpetual search for a good book, we've taken steps to narrow down which neighborhood has the best Little Free Libraries.
To do this, we selected the first two free libraries we saw in four major Milwaukee neighborhoods—Bay View, the East Side, Riverwest, and Walker's Point—and took the average Good Reads rating of 10 books pulled at random from each station (or, if under 10, all the books in that library). It's far from being a perfect evaluation, and we know lots of neighborhoods were left out, but it's at least a sampling of some titles and what level of quality you may be able to find at your nearest Little Free Library.
Bay View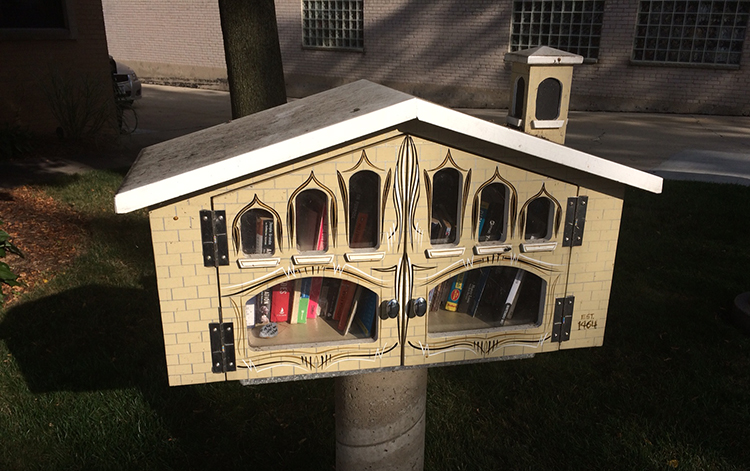 Bay View has no shortage of LFLs. This one stands in front of the fire station on Kinnickinnic Avenue and it had a good mix of books for children, young adults, and grownups. When we stopped by, the highest rated items in the hand-constructed container were Getting Traction: The Subaru Story And Entrepreneurial Mindset and David Bentoff's City Of Thieves, but there was also a guide for those brave souls who dare to brave Disneyland & Southern California With Kids.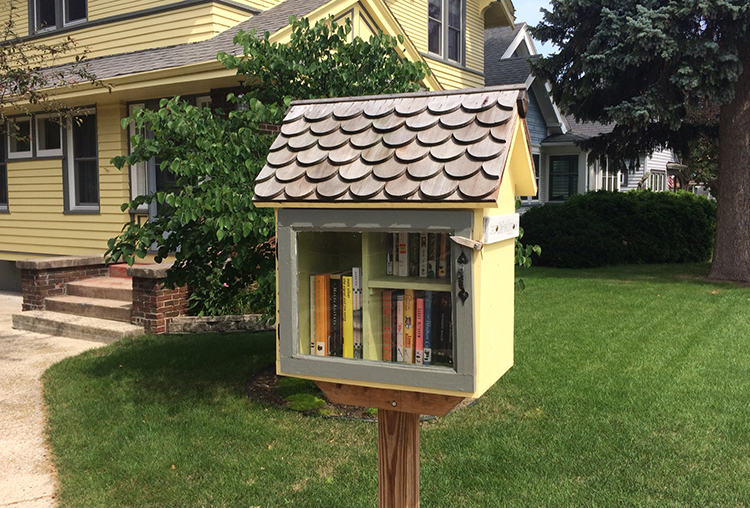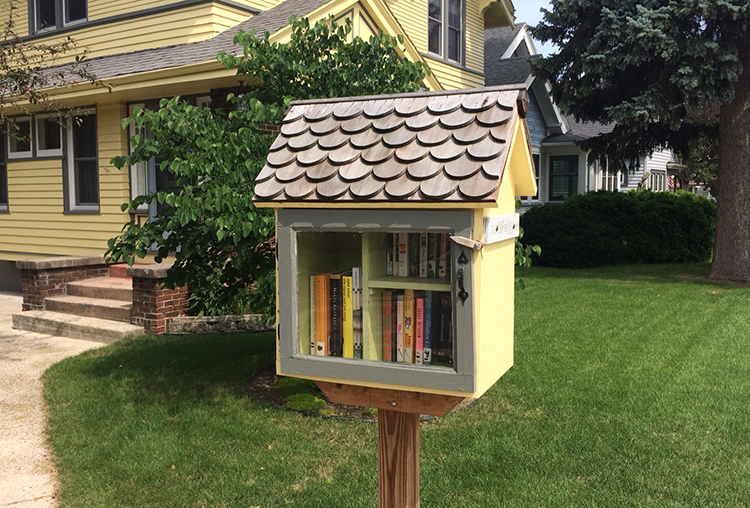 Closer to the lake in a nice home just off Oklahoma Avenue, Bay View bookworms will find a library that's painted and shingled to resemble the domicile it stands before. Here, James McEachin's The Heroin Factor was the top-rated book, followed by James Webb's Fields Of Fire, with Nate Silver's The Signal And The Noise and something called Corsets & Codpieces thrown in for good measure. All told, it was a pretty nice selection for a pretty nice library in the yard of a very nice house.
Total Bay View rating (out of 5): 4.01
East Side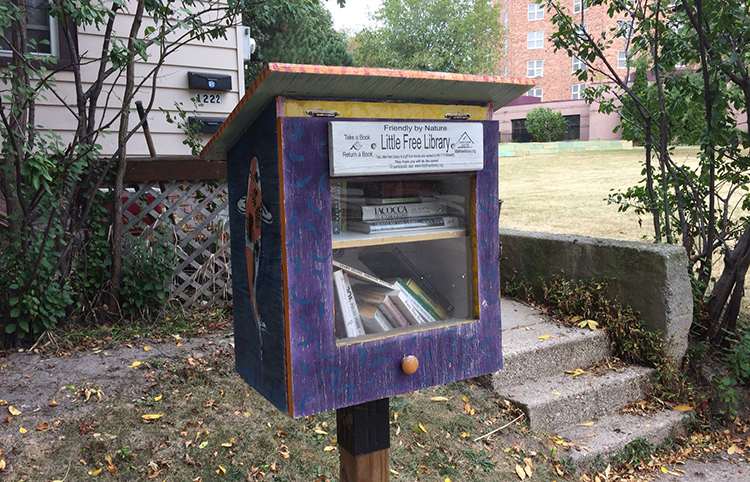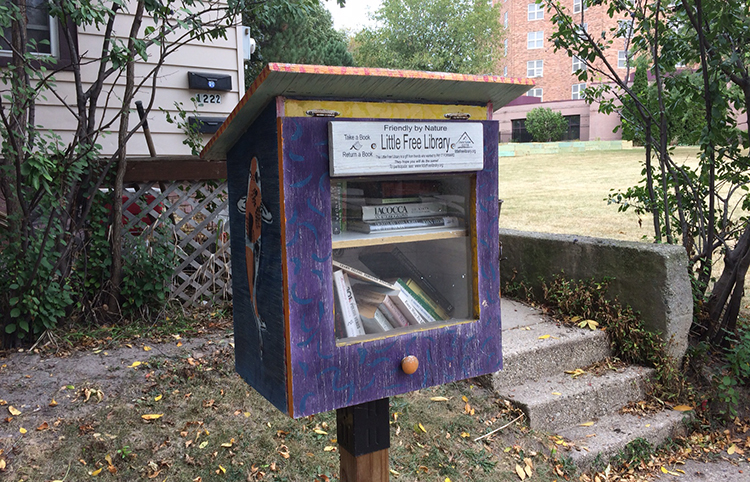 This was the first and only Brady Street-adjacent one we found (on Kane Place, if memory serves). This koi-emblazoned box had just a few titles that topped a rating of four, led by Leon Uris' Exodus and Emma And The Outlaw by Linda Lael Miller. If artistic merit isn't your thing, we noticed Lee Iacocca's autobiography and a book of 301 Polish Verbs as well. There was also a Johnny Carson biography in the mix. Weird, wild stuff!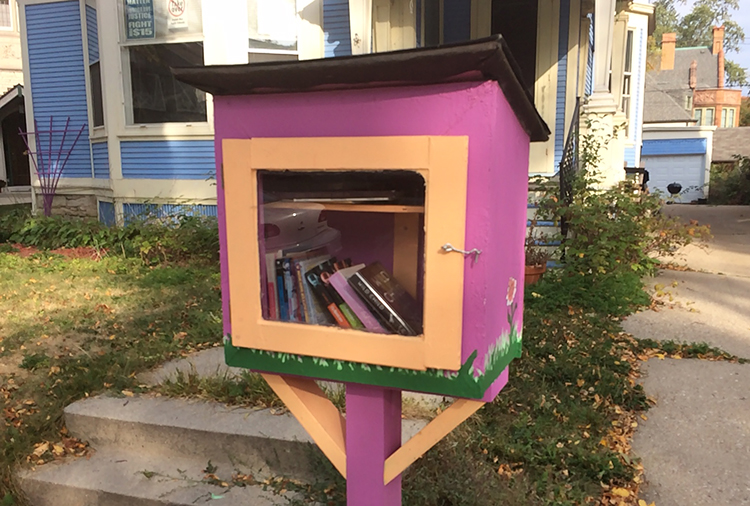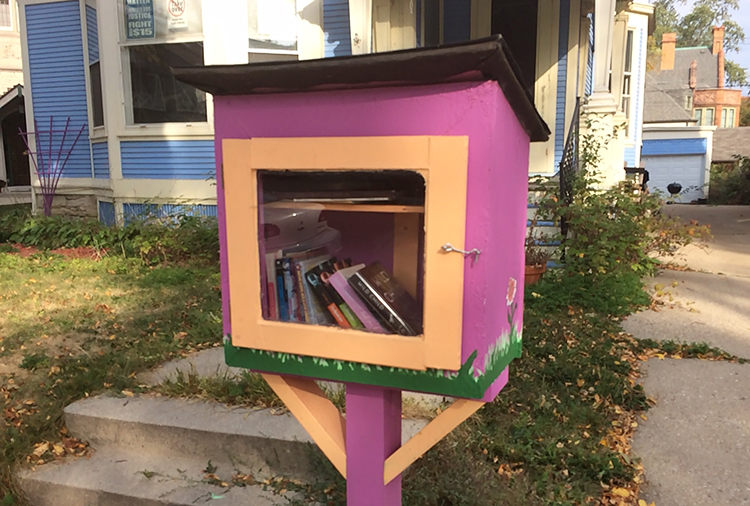 Little Free Libraries are slightly harder to come by on the East Side than in Bay View, but there's still a fair number, especially closer to the UW-Milwaukee campus. This LFL had an unranked collection of Anne Geddes' first five years of creepy baby photography, a well-received children's book entitled Wayside School Gets A Little Stranger, and titles like Bittersweet Sixteen and Harlon Coben's Promise Me.
Total East Side rating: 3.85
Riverwest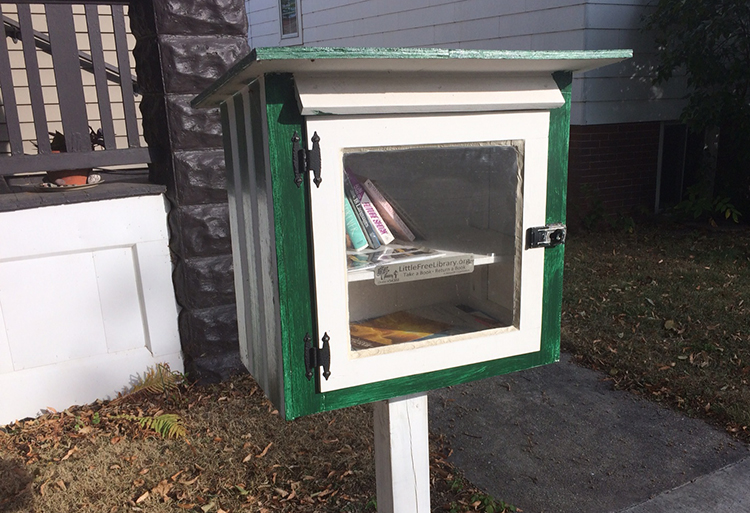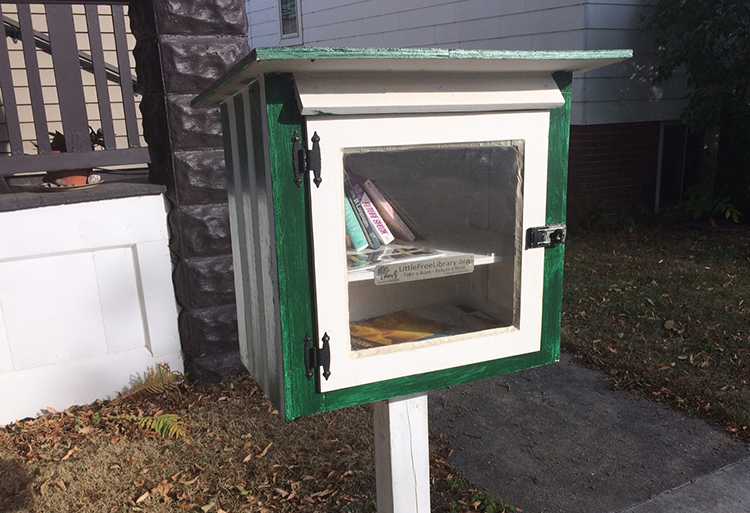 Down the block from Company Brewing, you'll find this shabby-chic pillar of knowledge. Though its selection was limited, it had a pretty diverse collection when we glanced inside. We saw The Faces Of Ground Zero, a graduate study guide, and an anthology for British libraries. There was also a DVD for instant immersion of 18 languages.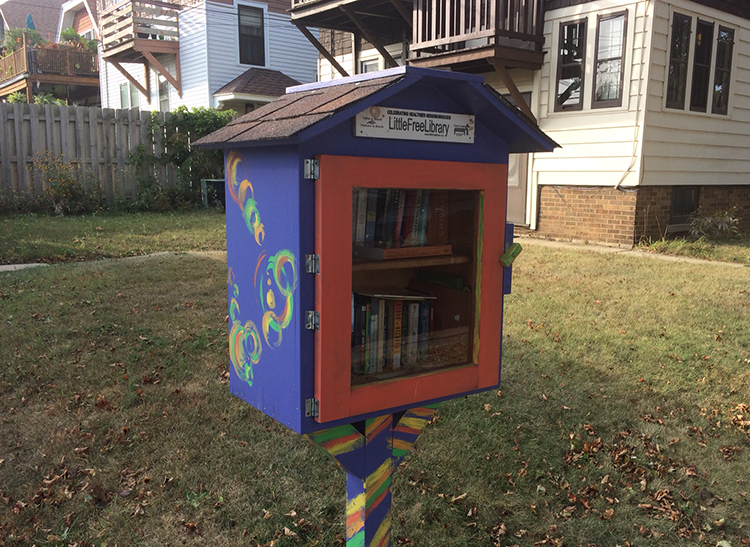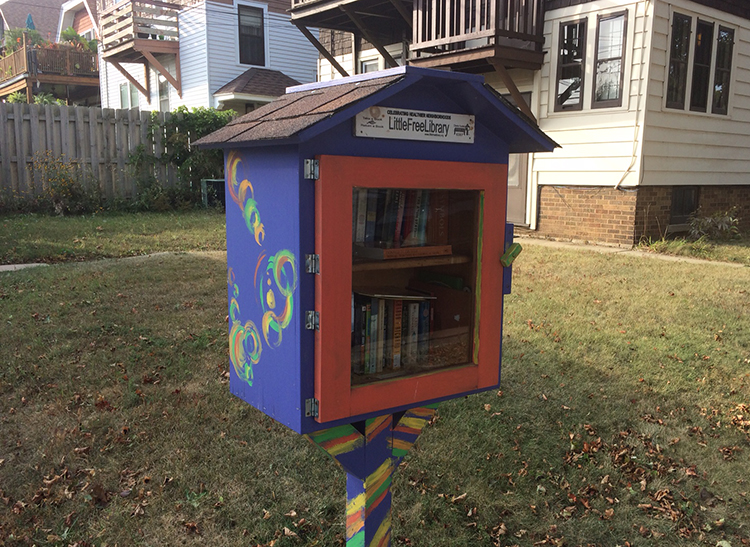 About half a mile north of the other featured Riverwest library, we found this colorful book container (before seeing four or five others in the neighborhood). This one offered passersby dog treats, a copy of Tony Hawk's Underground on Playstation 2, and Family Guy's so-called "Freakin Sweet Collection" on DVD. As far as books go, you may still be able to find Doctor Who: Death Riders, John Grisham's Camino Island, and (for the kids) Steven And The Green Turtle.
Total Riverwest rating: 3.88
Walker's Point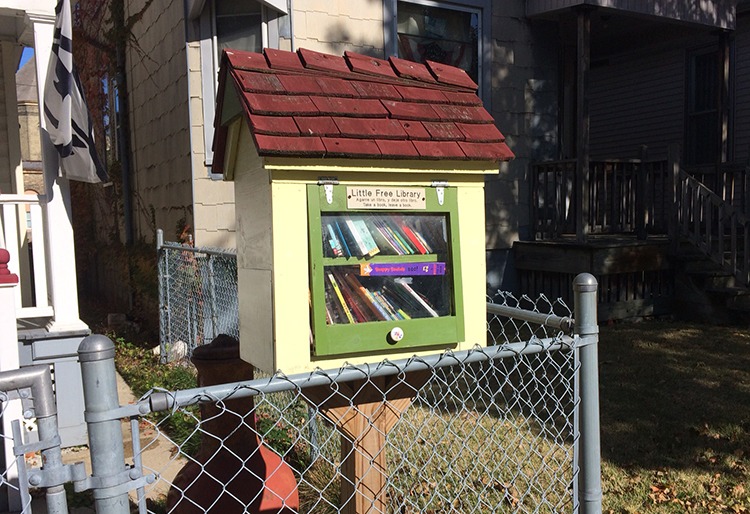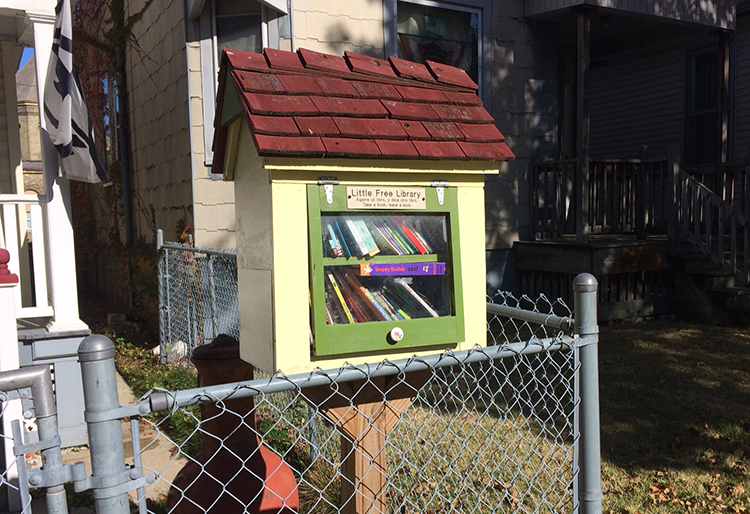 Walker's Point-based free libraries were few and far between, but this one in a yard was replete with children's and Y.A. titles such as Alice's Adventures In Wonderland, Donald Driver's Quickie Makes The Team, and C.S. Lewis' The Chronicles Of Narnia: Prince Caspian. If you act fast, you can also pick up a copy of Mark Twain's underrated (at least by Good Reads standards) classic, The Adventures Of Huckleberry Finn.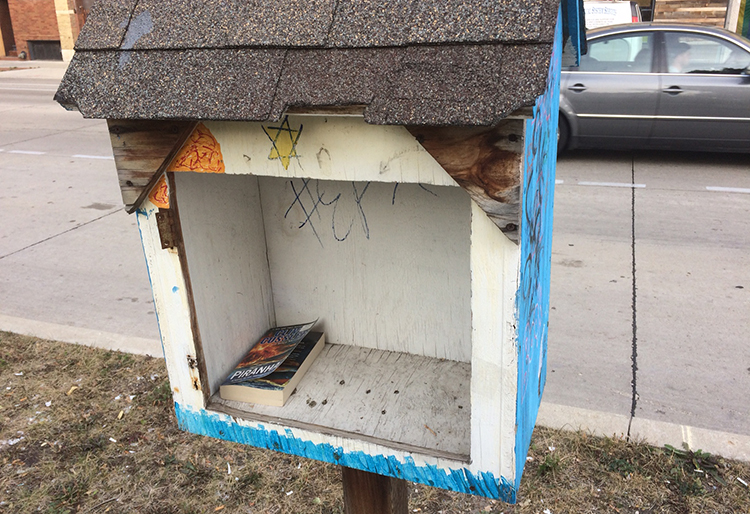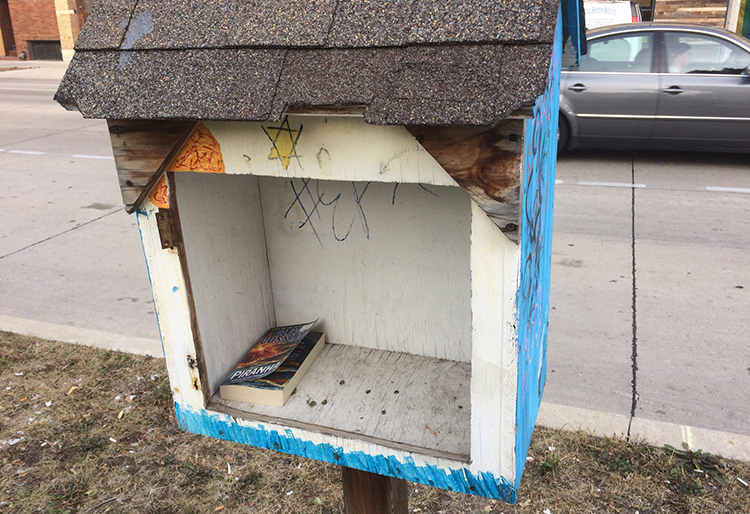 This Second Street library has clearly seen better days, but it's still doing the job. Sadly, just one book was inside when we found this dilapidated depository, but it was New York Times best-selling author Clive Cussler's apparently high-rated adventure novel, Piranha.
Total Walker's Point rating: 3.94
Epilogue
In this admittedly imperfect examination, we learned Bay View has the most abundant and highest-rated Little Free Libraries in the four neighborhoods we visited. Walker's Point was a close runner-up, but mostly through one impressive location and a critically-acclaimed novel being the only title in another. Riverwest and the East Side had respectable ratings, even after some strange contributions sunk the average.
Really, at least one Little Free Library in every neighborhood we went to had at least one book we were interested in taking with us. To avoid throwing the numbers, we did not, but that's not to say we won't soon. The next time you pass by one of these decorative yard accents, consider opening the latch and looking inside. You might like what you find…or you might just see Lee Iacocca's autobiography.