A hearty bowl of soup can be restorative, comforting, and tasty—and, with a thick slice of bread, a nourishing meal. Milwaukee, with its frigid temperatures and foggy days, is host to many places to enjoy a steaming bowl of soup. Listed below are a handful of cozy cafes to choose from.
1. Riverwest Co-op (733 E. Clarke St.; 414-264-7933)
The Riverwest Co-op, a natural foods store and vegetarian/vegan café run by volunteers, has been in operation since 2001. Besides breakfast and lunch specials such as enormous vegan pancakes and the Phamous Philly (seitan, grilled peppers and onions, melted cheese, and Veganaise on a hoagie bun), the co-op has a variety of healthy homemade soups on its menu.
All of the soups are gluten free and vegan, says cafe manager Gina Devecchis. Most soups are seasonal, depending on what type of local produce is available. "We really work with farmers," Devecchis says.
Favorites include the Thai lentil; a mild curry soup; and the African peanut stew, which sells out quickly, according to Devecchio. The Not-Chicken Soup uses Beyond Meat, an ingredient similar to tofu that is made out of pea extract.
Soup prices: $3.50 a cup; $5.00 a bowl; chips and bread as a side. Gluten-free bread available for extra charge.
2. The Soup House (324 E. Michigan St.; 414-277-7687)
Former Soup House employee Ruby Erickson bought the downtown restaurant, complete with its charming retro décor, with her mother, Mitz, eight years ago. Together, they serve both traditional and ethnic soups to the downtown Milwaukee lunch crowds.
The Soup House has six daily soups on the menu, which change week to week. Ninety-five percent of soups are gluten-free, says Ruby. "We don't use flour. We have other secrets," she says.
Traditional soups include split pea with ham (also available as a vegan option), and creamy mushroom. The buffalo chicken soup is a spicy twist on an old favorite. Thai pumpkin and chicken tikka masala—a soup with a creamy tomato base and Indian spices served over jasmine rice—are also popular. For soup sides, the Ericksons provide Sciortino's breads and their own cornbread, baked in-house.
Business is slower in the summer, but the restaurant offers seasonal chilled soups, Ruby says.
Soup prices: $6-$8 for 16 ounces; $16 for a quart.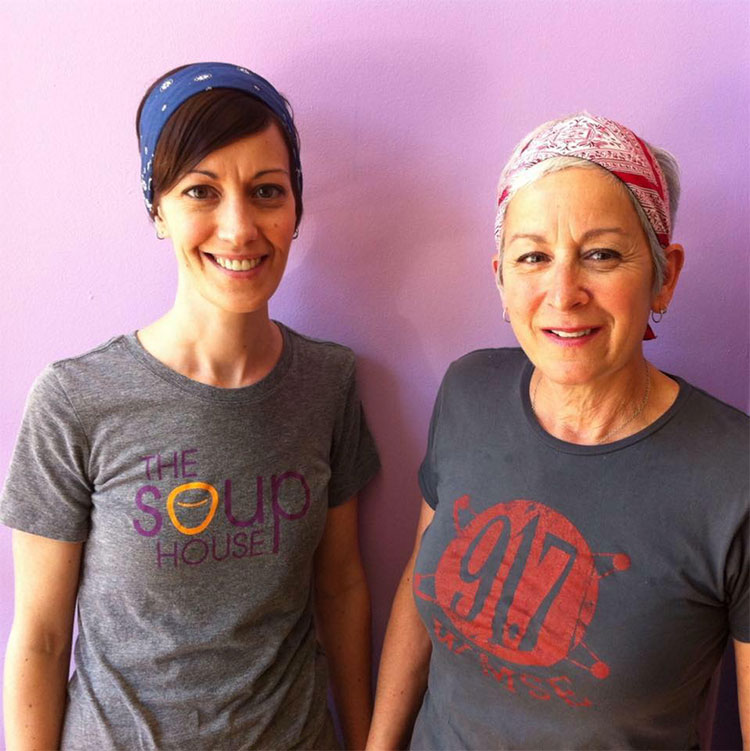 3. The Soup Market (various locations)
What began in 2004 as a single lunch spot in Bay View has expanded to five locations, including Vliet Street, Hales Corners, the Milwaukee Public Market, and the Milwaukee Center, serving around 200 different kinds of soup and different deli and grilled sandwiches, including egg salad, turkey and swiss, mozzarella and tomato, and a Reuben.
Owner Dave Jurena says customer favorites include chicken dumpling, vegetarian tomato bisque, and African peanut and chicken stew, which has been voted a Milwaukee Magazine readers' favorite. Meal-inspired soups, such as bacon cheeseburger chowder and meatloaf and mashed-potato soup, are also hot sellers. The Soup Market has 18 chili varieties, including a five-alarm chili, which is surprisingly popular, according to Jurena.
"It definitely lives up to its name," he says.
The Soup Market also makes homemade cookies and other desserts, and offers different beverage options including Haley and Annabelle's root beer.
Soup prices: Dependent on ingredients. Cups start at $4, bowls at $7, quarts at $11.
4. The Soup Otzie's (3950 S. Howell Ave.; 414-747-9670)
Named after its owners, the Otzenberger family, this snug south side joint mostly sticks to tried-and-true soup recipes. Cream of potato, old fashioned chicken with noodles or dumplings, and cream of chicken and wild rice are family favorites.
The Mom's Pot Roast and Texas Chili depart from the traditional a bit, but are still crowd-pleasers. Each soup comes with a slice of homemade sourdough, French, and whole-grain bread, which can be purchased separately. Besides soup, the restaurant makes a plethora of panini sandwiches, including turkey and swiss, portabella mushroom, and artichoke and tomato.
Soup Otzie's also has a wide beverage selection, including Izze sparkling juices, Sprecher and Dang! Soda, coffee, hot cocoa, and milk. Soup Otzie's hours do vary, so it's wise to call ahead before stopping in for lunch.
Soup prices: $3.95 a cup; $5.75 a bowl (dine-in). $4.25 a cup; $6 a bowl (carryout).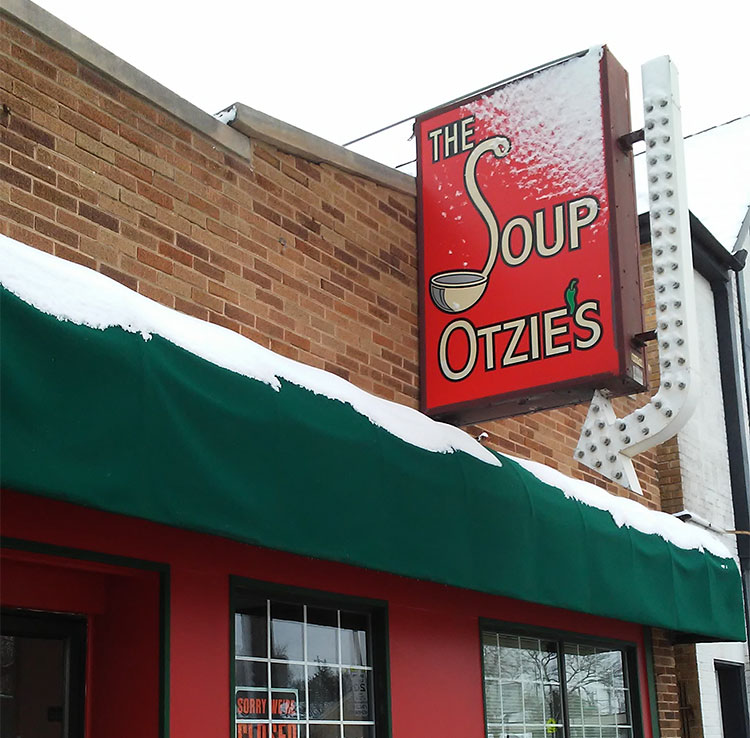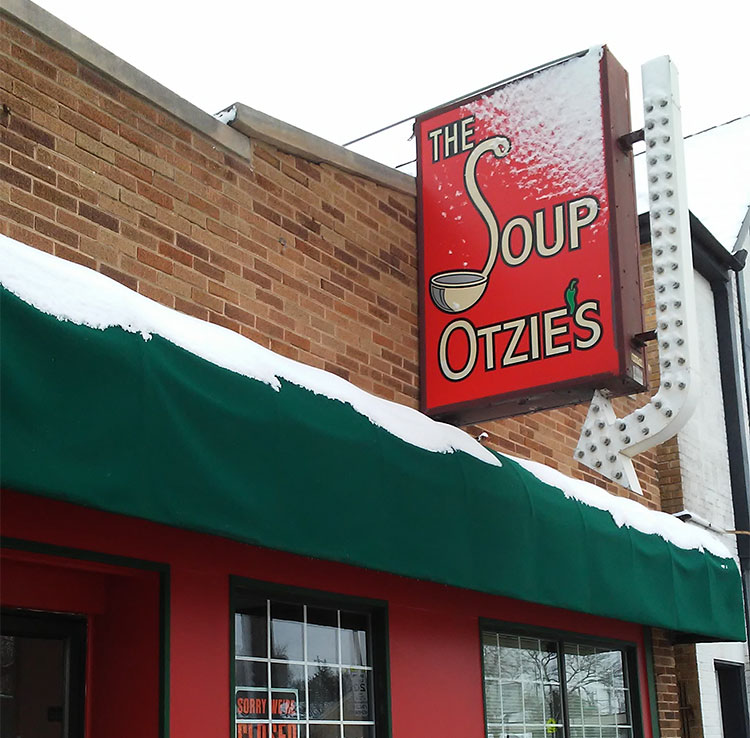 5. Soup Bros. (209 W. Florida St.; 414-885-1532)
Veteran chef Richard Regner has been serving artisan soup in his Walker's Point establishment since 1998. The restaurant is small, and often busy, but with savory soups such as the red pepper bisque, Cowboy Dick's Chunky Chili, and wild mushroom and duck, it's easy to see why lines form out the door. Regner tops many of his soups with wild rice.
Vintage kitchen utensils, polyester T-shirts hanging from the walls, and retro plastic fruit and figurines create an atmosphere that blends in perfectly with the area's antique stores. Regner says he was inspired by New York restaurant décor, and that his restaurant reminds some patrons of both European and South American cafés.
"It just comes out of my wild imagination," he says.
Customers longing for a sandwich to go with their soups can select from a few, including turkey and swiss or Genoa hard salami, or head next door. To satisfy customer demand for sandwiches, Regner opened Boo Boo's Sandwiches in August 2017 in the former Philly Way next to Soup Bros. Menu items include the Milwaukee cheesesteak, turkey and swiss, and albacore tuna sandwiches, all which come with a generous helping of french fries. Boo Boo's also carries several Soup Brothers soups.
"It's cross-marketing," Regner says.
Soup prices: Varied due to cost of ingredients, but start at $5.75 for 12 ounces, and $7 for 16 ounces.
6. Brewed Café (1208 E. Brady St.; 414-276-2739)
Brady Street's brightly painted, funky, hippie-inspired coffee shop might be best known for its espresso drinks such as the Nutty Pedestrian, and its tasty, healthy sandwiches like the Heidi, but Brewed Café makes a mean bowl of plant-based soup as well.
"All of our soups are vegetarian, but we try to make them vegan," says owner Sheila Pufahl-Bettin.
Soups selections change weekly, and include curried carrot apple, vegan vegetable dumpling, and lentil potato. Vegetarian chili is always available, and each soup comes with half of a Breadsmith baguette.
Soup prices: $4.50 a cup; $5.50 a bowl.