It's an unprecedented and incredibly difficult time for restaurants right now. It's especially tough for restaurants in Wisconsin, where COVID-19 numbers are currently off the charts. Wanting to highlight local establishments who are keeping food quality high while also keeping its customers and employees as safe as possible, we're going to focus on restaurants that have completely shifted to carryout and/or delivery service in a series we're calling "Carryout Chronicles."
There's a special place in Milwaukee Record's heart for Transfer Pizzeria Café. During the "before times," the pizza place located at 101 W. Mitchell Street was a site of a monthly staff meeting. Some of our best ideas…and, yeah, some of our worst ideas were also hatched at those tables. The pizzeria also partnered with us on our Public Domain music video series, which released its final installment for the foreseeable future last February. Also last February, we hosted a belated holiday party at our office to thank contributors and ad partners for all their support in 2019. Naturally, we ordered a hefty amount of Transfer to feed those in attendance.
Less than three weeks after enjoying an array of specialty pizzas with others, the world changed in an instant. To Transfer's credit, the pizzeria announced that due to COVID-19 concerns, it would be stopping all in-person service after March 16 (even before the statewide shutdown was announced). When restaurants got the go-ahead to reopen with limited capacity in June of last year, the pizzeria kept its doors closed to the public, limiting service to just a few scattered tables on its spacious new side patio during the warmer months, along with its ever-present offerings of delivery and carryout. We ordered Transfer a few times since last March, but found ourselves with a craving—both for high-quality pizza and the comfort of a once-monthly ritual that we now sorely miss—that prompted us to place an order on a snowy Milwaukee afternoon.
Policies And Procedures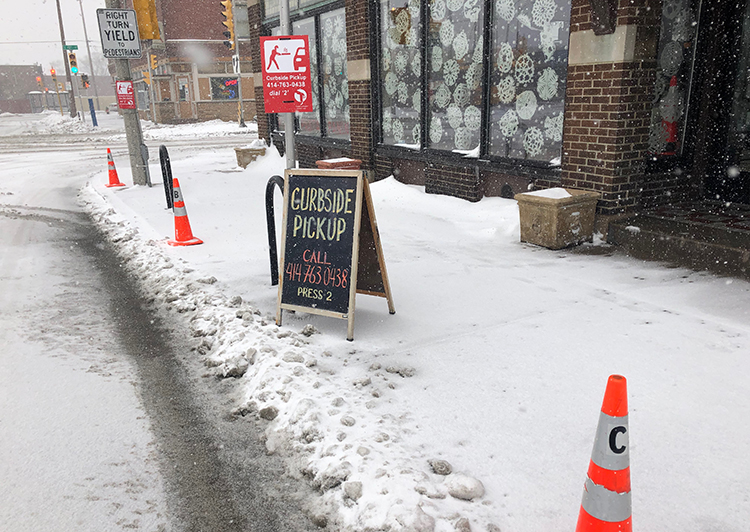 As we noted above, Transfer has offered delivery and carryout throughout the COVID-19 crisis and, in fact, has offered those options for years. Carryout and delivery orders can be placed online or by calling 414-763-0438. It's also worth noting that Transfer's entirely contact-free "Ding-Dong Ditch" delivery is done in-house, not through third-party meal delivery services that mercilessly gouge restaurants and refuse to pay drivers a living wage.
Anyway, we've had good experiences with Transfer delivery in the past, but since the restaurant was on our way to work anyway AND because we didn't want to send a driver out into Tuesday's blizzard for a $20 check, we decided to give the restaurant's carryout a shot. After placing our order online, we were told our food would be ready to pick up curbside in 25 minutes. Some 23 minutes later (we overestimated how long it would take to shovel!), we got to Transfer, parked in one of its designated Mitchell Street spots, called the number and dialed extension 2, and gave our check number to the person on the phone. Less than two minutes later, a masked employee brought out our food and handed it to us through our passenger side window. Sure, delivery is always easier, but this is about as fast, simple, safe, and painless and carryout can get these days.
Carryout Quality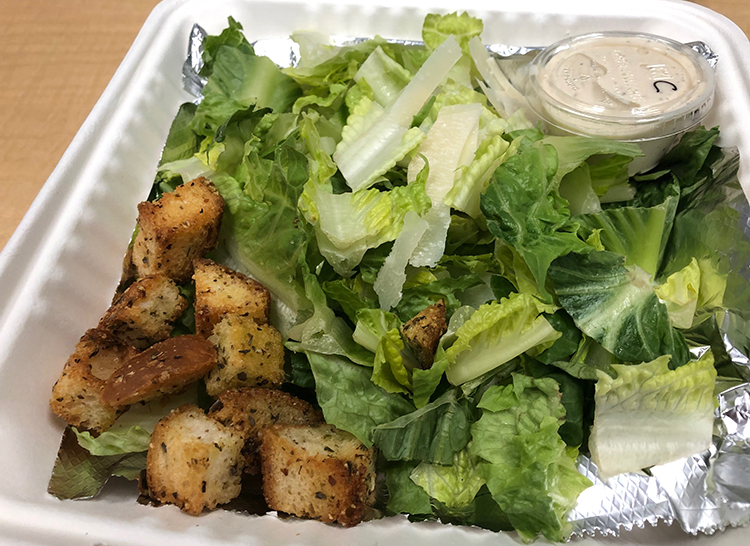 Since we received our order right at the expected time, everything was very fresh. While the Bruschetta Salmon is one of our favorite appetizers in the city, we resisted the temptation of smokey salmon fillets, rich garlic sauce, and capers atop toasted Italian bread on this solo lunch mission in favor of a more standard—and at least slightly more healthy—Caesar Salad ($5). With chopped romaine lettuce, sizable seasoned croutons, shaved Parmesan, and creamy homemade Caesar dressing kept in a separate container to ensure freshness, it was a nice and simple way to start our meal. That said, we were in no way expecting a salad to change our life, so this absolutely did the job it was asked to perform. Honestly, the $5 "small" salad could pass as a meal for one, or be split between two people. If you're feeling extra hungry for salad or splitting it as an appetizer between two or three people, there's also a large Caesar available for $9.
Of course, we followed up our salad with some pizza. Actually, we ate half the pizza immediately, then had the salad before going back for more pizza. Whatever. We're not on trial here! While many restaurant have pared their menus down of late to adjust to changing demand and customer volume brought on by the COVID-19 crisis, Transfer has kept its voluminous list of offerings completely intact. All 28 specialty pizzas are still available, including a respectable number of vegetarian, vegan, and gluten-free options to guarantee there's something to suit all tastes and dietary restrictions.
We deviated from our usual go-to (the trusty "S.M.O.") this time around and, instead, tried the Hot Rod ($13.50 small and $20.75 large). The mix of fresh mozzarella, house marinara, chopped basil, bacon pieces, and spiced sausage liberally spread on top of fluffy dough was just what we needed on a snowy day during a harsh Wisconsin winter and a harsh point in human history. It held up quite nicely after the maybe 10-minute ride to Milwaukee Record headquarters. To quote Rod Kimble, the titular character of the criminally underrated 2007 comedy classic Hot Rod, the Hot Rod pizza was "Cool Beans." We also recommend checking out Transfer's rotating Pizza Of The Month.
Other Info
Transfer is open for delivery and carryout every day from 11 a.m. to 9 p.m. Make sure to keep an eye out for promo codes. In fact, not long after we were done eating our meal, we noticed there was a HOT5OFF promo code for $5 off Monday through Thursday orders. Use that while you can. Transfer also sells wine and craft beer, but only for carryout (and to people 21 or older, of course).
In March, Transfer Pizzeria Café will celebrate its 13th anniversary. With your support and continued patronage, you can help make sure year 13 isn't an unlucky one for the business that's been a source of great food as well as an ardent supporter of Milwaukee arts and entertainment since the restaurant opened in 2008. Cool beans? Cool beans.