The semi-raunchy 1989 baseball flick Major League is known for a lot of things: star turns from Charlie Sheen, Tom Berenger, Wesley Snipes, Renee Russo, and Corbin Bernsen; a glorious and endlessly quotable extended cameo from Bob Uecker ("That's all we got? One goddamn hit?"); and that scene where Lou Brown pisses on Dorn's contract. But as anyone who has spent more than five minutes in Milwaukee knows, Major League is also the movie where the crappiness of Milwaukee briefly stands in for the crappiness of Cleveland.
Yes, there were countless local Major League filming locations back in the summer of 1988 (including, of course, County Stadium), but sadly, many of those locations are long gone (including, of course, County Stadium). 4th Base (5117 W. National Ave., 414-647-8509) still stands. The small West Milwaukee bar makes an appearance during the film's climactic one-game playoff between the "hometown" Cleveland Indians and the Pete Vuckovich-led New York Yankees. "C'mon, join in wherever you are out there!" exclaims Bob Uecker's Harry Doyle. "Let's hear you, Cleveland!" Cut to a motley crew of Indians fans watching the game in a crowded bar, hooting, hollering, and chanting "Go!" That's 4th Base.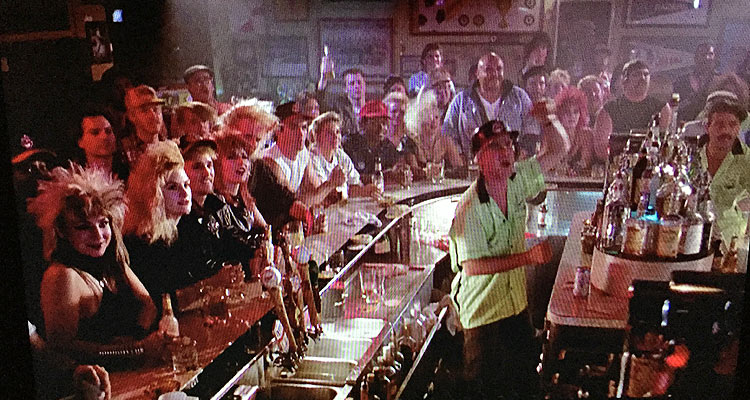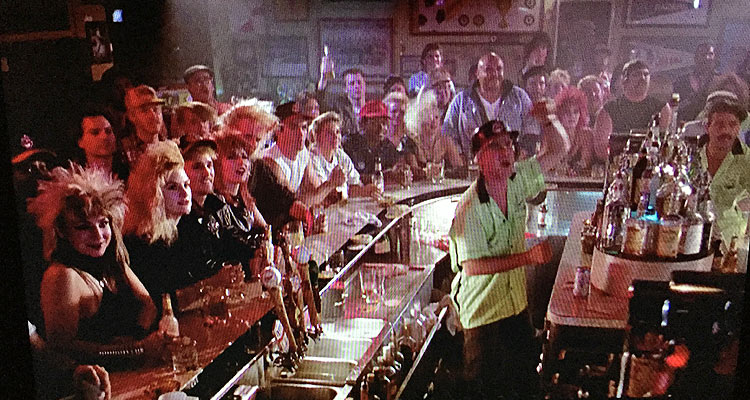 There's a lot to take in in these brief shots: 4th Base's horseshoe bar, the walls covered in old sports memorabilia, and the weird mix of blue collar fans and folks dressed like Cyndi Lauper and/or C.C. DeVille.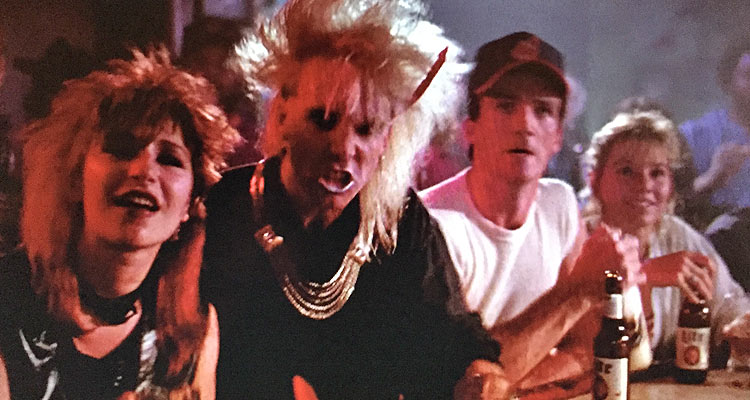 Later, when the Indians win the big game via a zany trick play (SPOILER!), we return to 4th Base and witness one of the blue collar dudes (a.k.a. the "Janitor" from Scrubs) embracing one of the C.C. DeVille dudes. Blue collar dude pulls away in a moment of "I'm hugging another dude?!" panic before going in for an "Ah, what the hell!" re-embrace. It's one of those throwaway jokes from the '80s that would send the Internet into an absolute fit in 2016.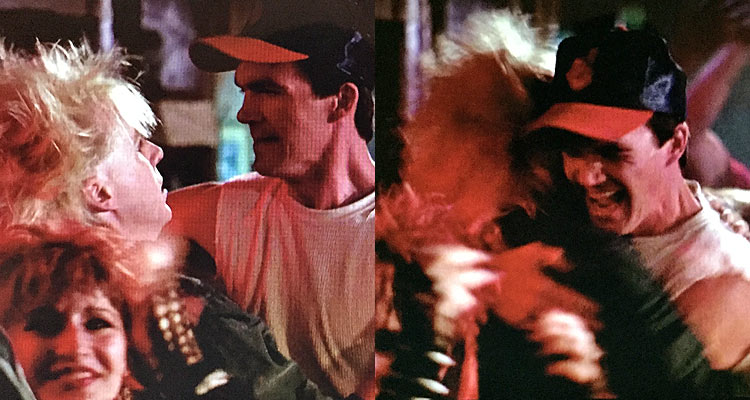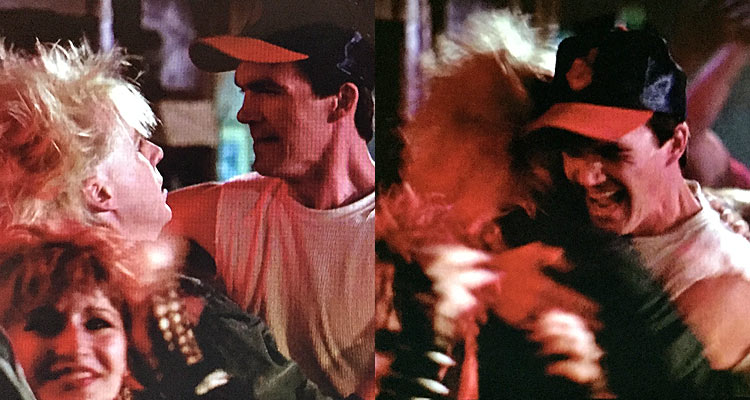 Speaking of 2016, not much about 4th Base has changed in the nearly 30 years since Major League came to town. The horseshoe bar remains. The walls are still loaded with sports stuff. It still looks like a comfortably random corner bar filled with comfortably random corner bar people. But, just like the ragtag Indians club assembled by the scheming Rachel Phelps in order to move the team to Miami, looks can be deceiving.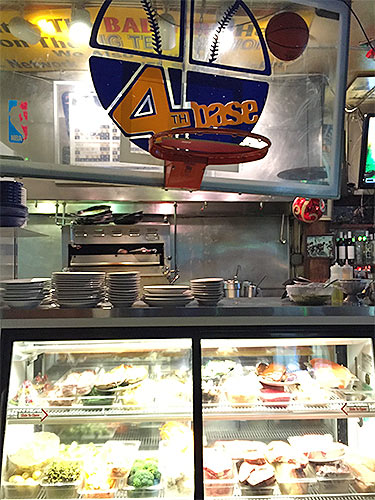 Located in an unassuming brick building just southwest of Miller Park, 4th Base is, in fact, something of a gourmet restaurant. There are no greased-up menus hawking bar burgers and tater tots to be found; instead, boards on the crowded walls tout portabella salmon sauté, crab portabella Florentine, pesto scallops, and blackened walleye. There's no dingy kitchen, either; a bright deli-style display case loaded with fresh meats, seafoods, and vegetables beckons under a basketball backboard. Looking to channel Jake Taylor and call your shot? 4th Base offers everything a la carte, allowing diners to customize their meals while taking in the game on the bar's many flatscreen TVs. It's a cozy, lived-in place that makes you feel instantly at home. It's a sports bar, burger bar, steak house, and seafood restaurant wrapped in dive bar clothes.
4th Base manager CJ Papara, whose father opened the place in 1977, greeted us on a recent afternoon visit. After plunking down next to a guy working on a shrimp stir-fry and a group of businessmen tucking into a walleye sauté, we ordered a burger with all the fixings and a side of scallops. Nothing too adventurous, we know, but we were still reeling at the thought of eating fresh seafood at a place littered with "The Bears suck!" and "J.J. [Hardy] is my boyfriend!" stickers. Oh, and a place that was in frickin' Major League.
Our food was incredible. The perfectly cooked burger was loaded with onions, red peppers, and mushrooms, and the scallops were impossibly tender and buttery. 4th Base is only a short walk from Miller Park, but its food is miles away from any stadium sauce-covered brat or soggy cheese fries served in a mini helmet.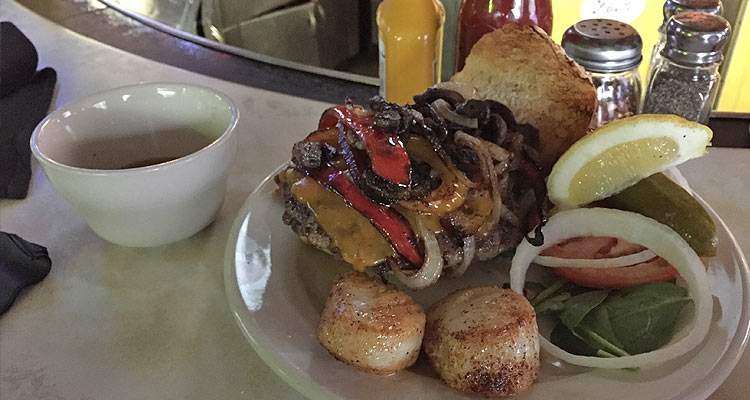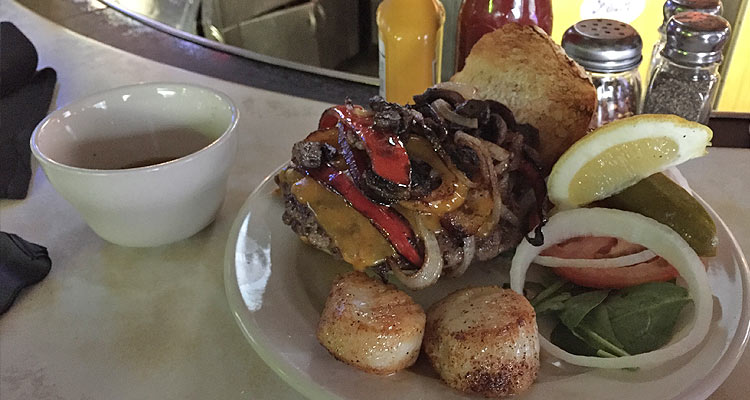 However, unlike the rundown club amenities provided by the devious Mrs. Phelps, 4th Base ain't cheap. You won't find any prices on the boards and non-existent menus. Our meal, plus a Coke, came to $29, without tip. So while it may be the kind of place where everybody knows your name (CJ had a Heineken ready to go moments after an elderly gentleman walked in), it's not exactly light on the wallet.
But that's the charm of 4th Base: high-end food in a decidedly low-rent setting. It's a perfect amalgamation of old Milwaukee and new. Want to down a couple of drinks and watch the game with a neighborhood bar-style crowd? 4th Base has you covered. Want to treat yourself to the kind of meal usually only found downtown or in Bay View? 4th Base has it. Couple that with its connection to the greatest baseball movie ever to feature the lines "You trying to say Jesus Christ can't hit a curveball?" and "Nice catch, Hayes. Don't ever fuckin' do it again," and you have an unlikely, left-field winner.
Join us Sunday, April 3 at the Avalon Atmospheric Theater & Lounge for a special screening of Major League. Tickets are $6, and can be purchased in advance here.