Caleb Westphal hasn't missed a Friday fish fry since 2013. Follow along with his never-ending adventures here. This week: Sloppy Joe's Saloon & Spoon in Hubertus.
A post office, a church building, a red barn, a steakhouse, and Sloppy Joe's Saloon & Spoon (3723 Hubertus Rd., 262-628-1800) are at the heart of Hubertus, a don't-blink-or-you'll-miss-it community in southern Washington County. Sure, no gas station or grocery store is in view while standing at the community's heart, near the crossroads of Hubertus Road and Scenic Road, but Sloppy Joe's has a Friday night fish fry on its menu, meaning Hubertus has everything it—and you—needs to thrive.
It was a few ticks shy of 4 p.m. when I walked into Sloppy Joe's and took a seat at the bar to wait for a friend. He arrived moments later, we grabbed drinks, and we asked for a table so we could get the full dining experience. The dining room—trimmed with historic photographs and a fake fireplace, and located in the west of the two conjoined buildings that make up Sloppy Joe's—was close to empty. (By the time we left, there wasn't a seat in the house, with people crowding around the bar and pouring in the door.)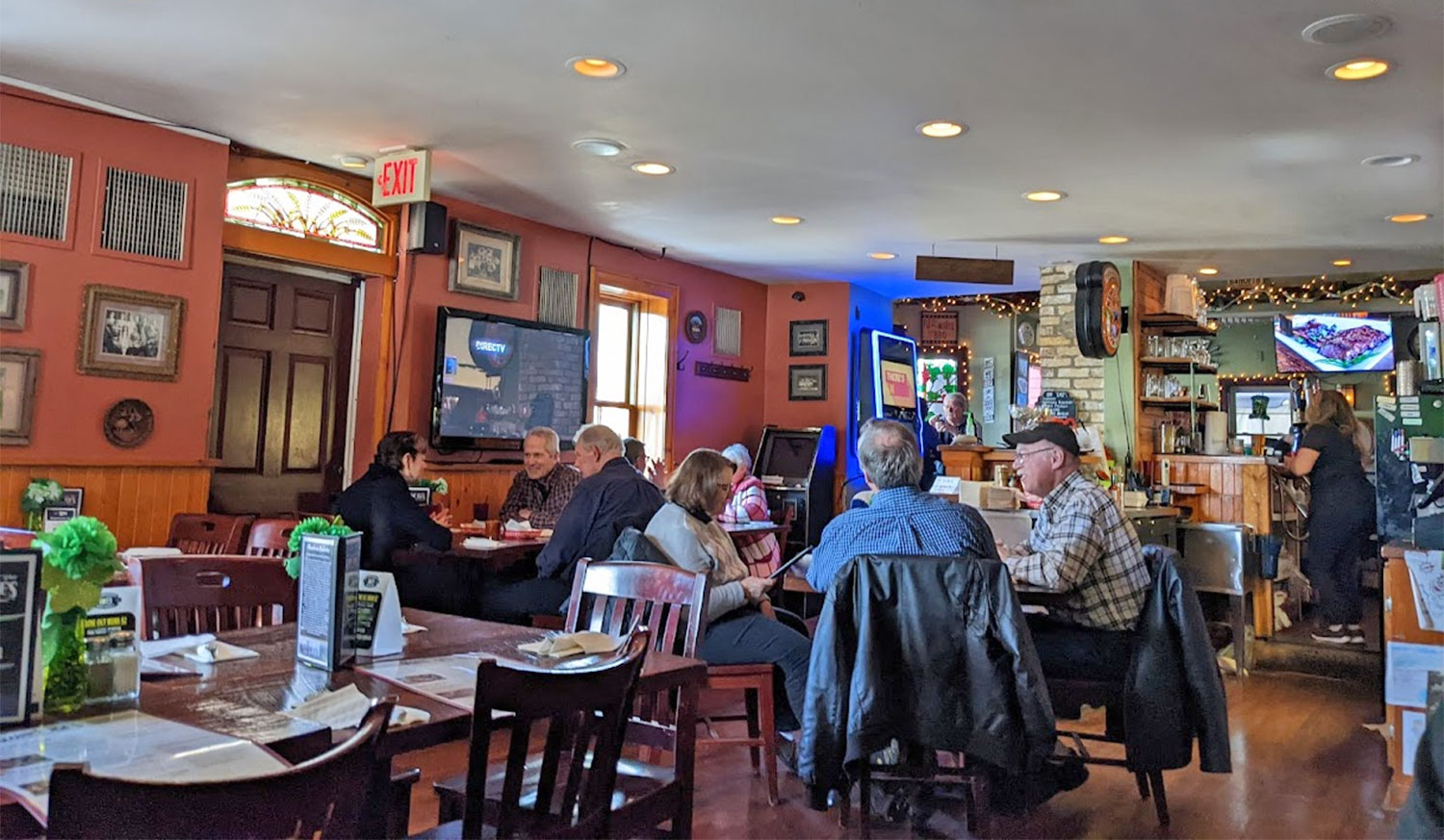 On Fridays, Sloppy Joe's offers beer battered haddock ($11.99 / $2 for additional pieces), baked haddock ($13.99), and beer battered lake perch ($15.99). Each comes with rye bread, coleslaw, and a choice of french fries, a potato pancake, or clam chowder. They also offer pan fried walleye ($18.99) with garlic and cajun seasoning, served with wild rice and sautéed vegetables; wild caught pan-seared Pacific salmon ($24.99) roasted with lemon beurre blanc and caper sauce and served on top of fresh sautéed vegetables and wild rice; and a fresh lake perch sandwich with fries ($12.99). I cast my net to the beer battered haddock and pancake, and added a cup of chowder ($4) on the side.
Soft, small morsels of potato and clam were found in the thick, creamy, and rich-in-flavor chowder, which was brought out in advance of the rest of the meal. The potato pancake (I could have gone for two of them) was lightly browned with a soft interior. An abundance of green herbs permeated it, which somehow didn't overwhelm it in flavor. Deceivingly alluring in appearance, the rye bread turned out to be rather ordinary. But whoa, boy, the coleslaw toppled any notions of the commonplace continuing. I thought celery seed was sprinkled on top of it, but it was throughout, giving the already crunchy and balanced slaw a jolt of originality.
The light of the room gleamed off the golden brown batter of the haddock. A light crisp and a light beer flavor wrapped itself around juicy, white haddock flakes. The crunch of a pickle broke through the dense tartar, as did a tangy sweetness. I was feeling bullish after a few bites and ordered two more pieces of haddock. Regrets come in life from time to time, but ordering extra fish should never be one of them.
There are plenty of Friday fish fry options in the surrounding area that could be tried. On the way home I drove past Das Barrel Room and Buzdums Pub & Grill. There's Bilda's Friess Lake Pub just to the northwest, and the Landmark Inn about nine miles due east, both of which I've eaten at. But if you find yourself smack dab in the heart of Hubertus, the steady and reassuringly satisfying fish fry of Sloppy Joe's Saloon & Spoon has you covered.
(There won't be an article next week. I'll be back for fish fry #433.)
Takeaways: This takeaways list is better if you pretend each item is the name of a band; Golden brown haddock and the $2 extra pieces; pickle crunch tartar; celery seed slaw; herbaceous pancake; Hubertus has everything you need.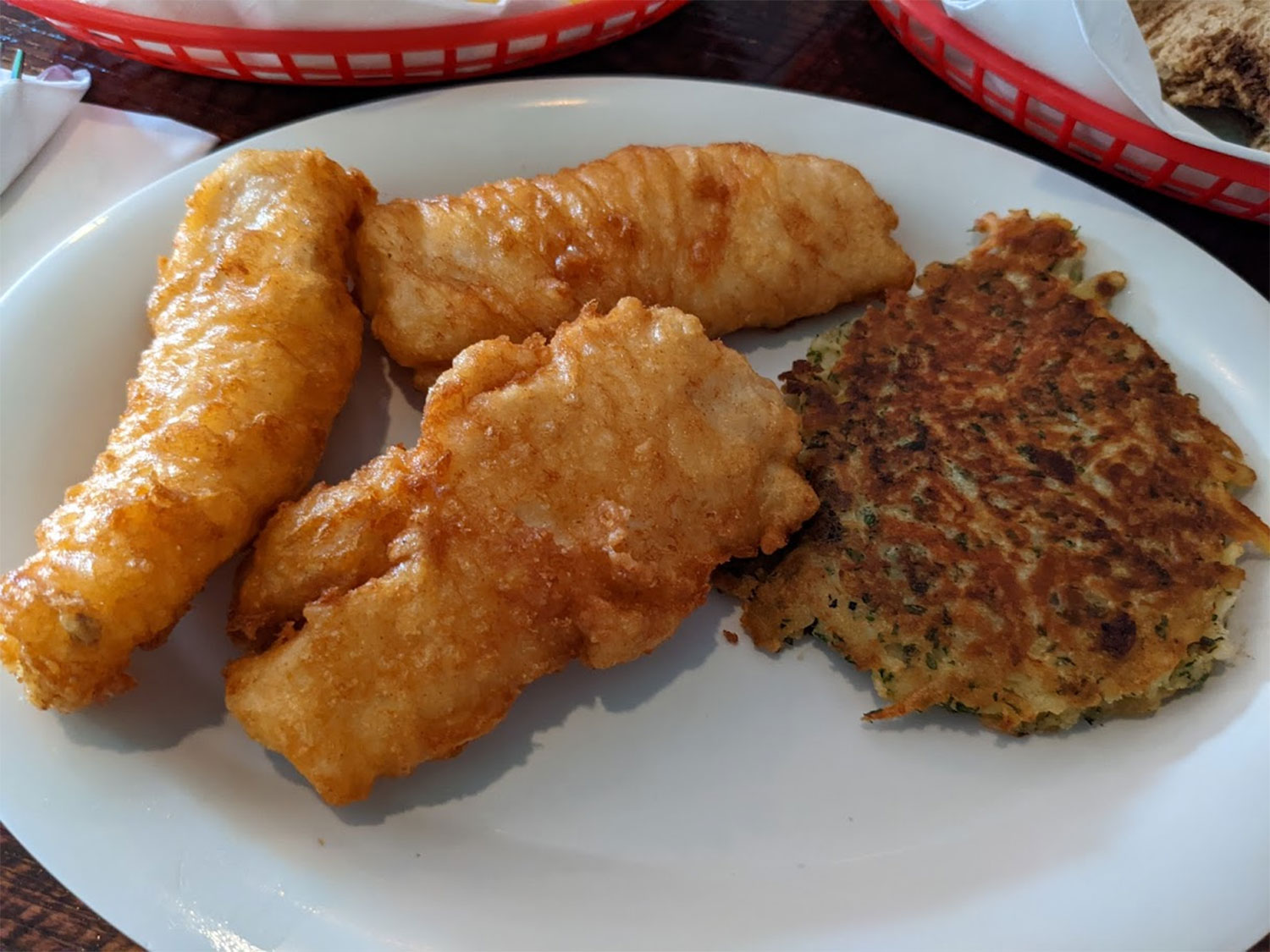 Exclusive articles, podcasts, and more. Support Milwaukee Record on Patreon.
---
RELATED ARTICLES
• The best fish frys in Milwaukee (and beyond)