Caleb Westphal hasn't missed a Friday fish fry since 2013. Follow along with his never-ending adventures here. This week: Dicken's Grille & Spirits.
The slogan of West Allis is "That's Why West Allis." There's even a That's Why West Allis website, and on it there's a page where people share stories about why West Allis is an ideal location for them to live. But all the website really needs is a huge picture of a fish fry with a caption that says "Per capita, we have more establishments that host Friday fish frys than any other city in the world (probably)." Done. Pass go. Collect $200. Muddle the oranges and cherries. Fire up the fryer. Pass the coleslaw.
One of these 3,896 establishments is Dicken's Grille & Spirits (9646 W. Greenfield Ave., 414-258-0888), an unassuming bar on the northeast corner of W. Greenfield Avenue and S. 97th Street that has been in business since 1992. When I walked in last Friday shortly before 5:30 p.m., I was greeted and told I could take a seat at the bar if a seat was open, I could sit at a table, or I could start out at a table and then come to the bar if a seat opened up. The bar seats all looked full to me—and it's a large bar too, a curved and angular one, the kind conducive to conversation—so I sat down at one of the few tables that overlooked the bar. There were a few tables farther back too, in a small room set back from the bar area, but I wanted to be close to the action.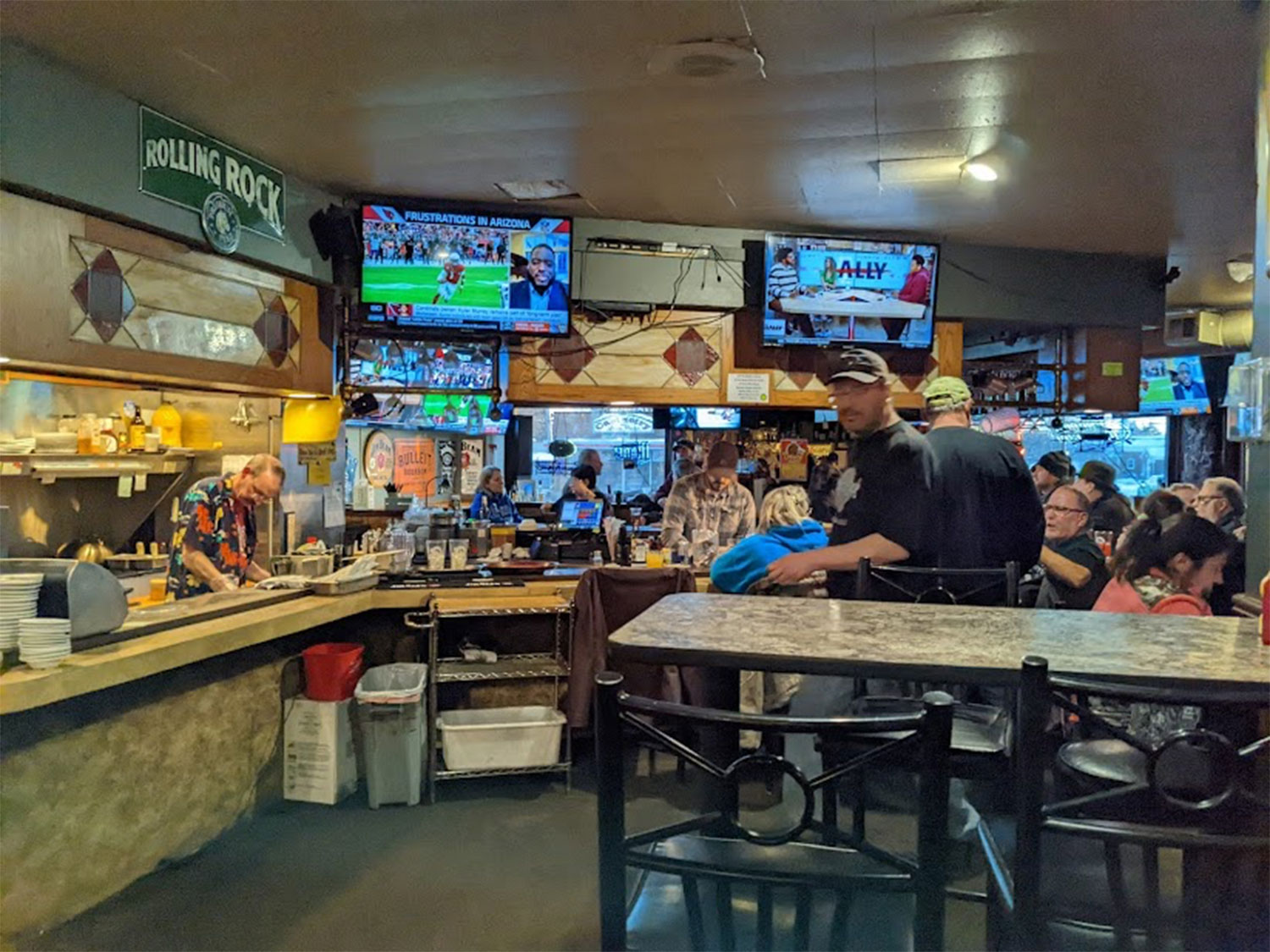 Far from being another dingy-draped, coarse-talking shot and beer bar—not that there's anything wrong with those—Dicken's has some warmth, or at least that is what I felt on Friday. This emanated first and foremost from the manager—or maybe he was the owner, I didn't happen to ask—who displayed an unwavering enthusiasm for his work and consideration for everyone who walked in the door. This was being imparted to my server, too, who was being trained, having recently started at Dicken's. The warmth came from the patrons, too. Right before my meal arrived, one of them walked up to me and said, "We're leaving, you can take our seat at the bar." I stayed at my table, but I felt as if they were inviting me into their bar family.
The first course of gastronomics was the obligatory Old Fashioned. It was non-muddled, but it did have cherries and oranges swimming towards its bottom. I was asked after the fact if I wanted a garnish, and three cherries were brought to me in a small dish. The drink had the right amount of ice, bubbles, and booze, and was nothing more than a standard Old Fashioned—but not much else is needed at a corner bar in Wisconsin.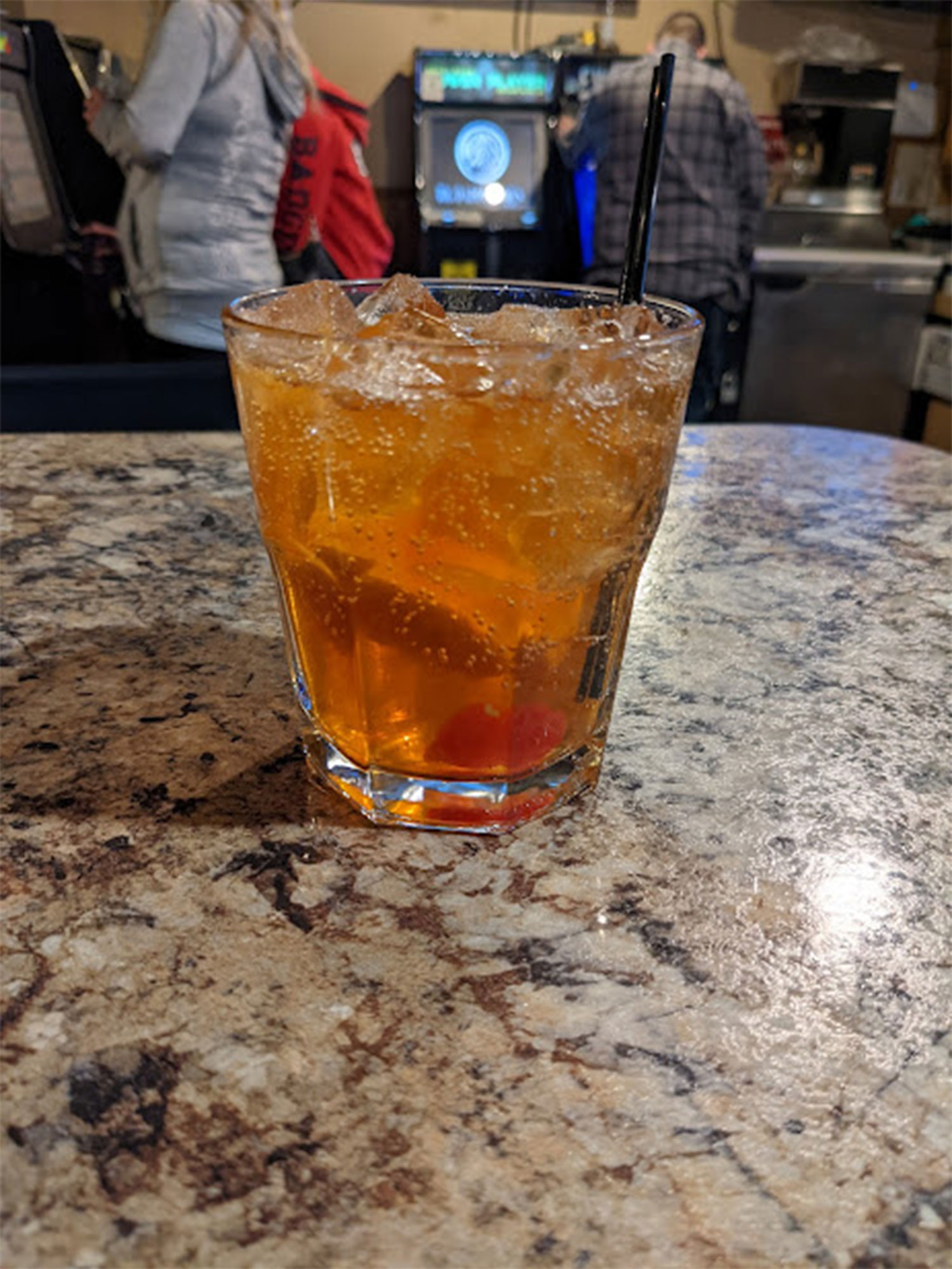 Tater tot cheese soup, not clam chowder, was the Friday soup special. I was told it was the special because it was cream based and didn't contain any meat. But when I ordered it I was asked if I wanted bacon on top of it, and that was the end of the meatless soup. A mound of chopped-up bacon covered some tater tots, and under the tots was a viscous cheese and potato stew.
Dicken's offers pan cooked walleye ($13.95), perch ($11.95), cod ($7.95/ one-piece or $10.95/ two-piece), and shrimp ($10.95). The potato choices are french fries or a potato pancake. I ordered the two-piece cod with the pancake.
The whole fish fry operation at Dicken's is in the open, not hidden behind swinging kitchen doors. A man in a Hawaiian shirt cooked up the fish and other fried food behind one end of the bar, and set it on plates that were placed on a fish fry staging area on the bar. The server went in a cooler to the left of the bar and brought out coleslaw and tartar to put on the plates.
What resulted was a pleasantly pleasing fish fry that exceeded whatever unfounded expectations I had. Creamy, chilled coleslaw came in a ceramic dish, not a throwaway plastic cup, and popped with dill. While rye bread was accidentally left off my plate, some was brought to me as soon as I asked for it, thick and buttered.
The potato pancake was one of the largest I've ever encountered, and must have been over five inches in diameter and well over a half-inch thick. Green herbs were abundant throughout, from the mashed potato-like heart to the browned exterior. I was offered sour cream along with the expected applesauce, which extended the pancake's appeal.
Somewhat crunchy, and without any greasiness but full of character, the cod's topographically rich breading was on the mark, while the fish beneath it wasn't far off. The cod fell in line ably alongside a thick and zippy-sweet tartar, with the convergence of the flavor and texture of both pleasuring the palate.
There is enough distinctness and virtue in the fish fry at Dicken's, particularly when it comes to the slaw, pancake, and fish, to make it worth a try. Dicken's is ideal for a solo fish fry excursion, or for if you want to buckle down at a bar with your friends. Why West Allis? Because Dicken's and so many fish-frying corner bars just like it exist. That's Why West Allis!
Takeaways: Friendly folks; hey, look, I can see my fish fry being made; meatless soup you can cover with meat; dill-heavy slaw in a dish; large bar but larger pancakes; topographically rich breading; thick and tasty tartar; This is Why West Allis.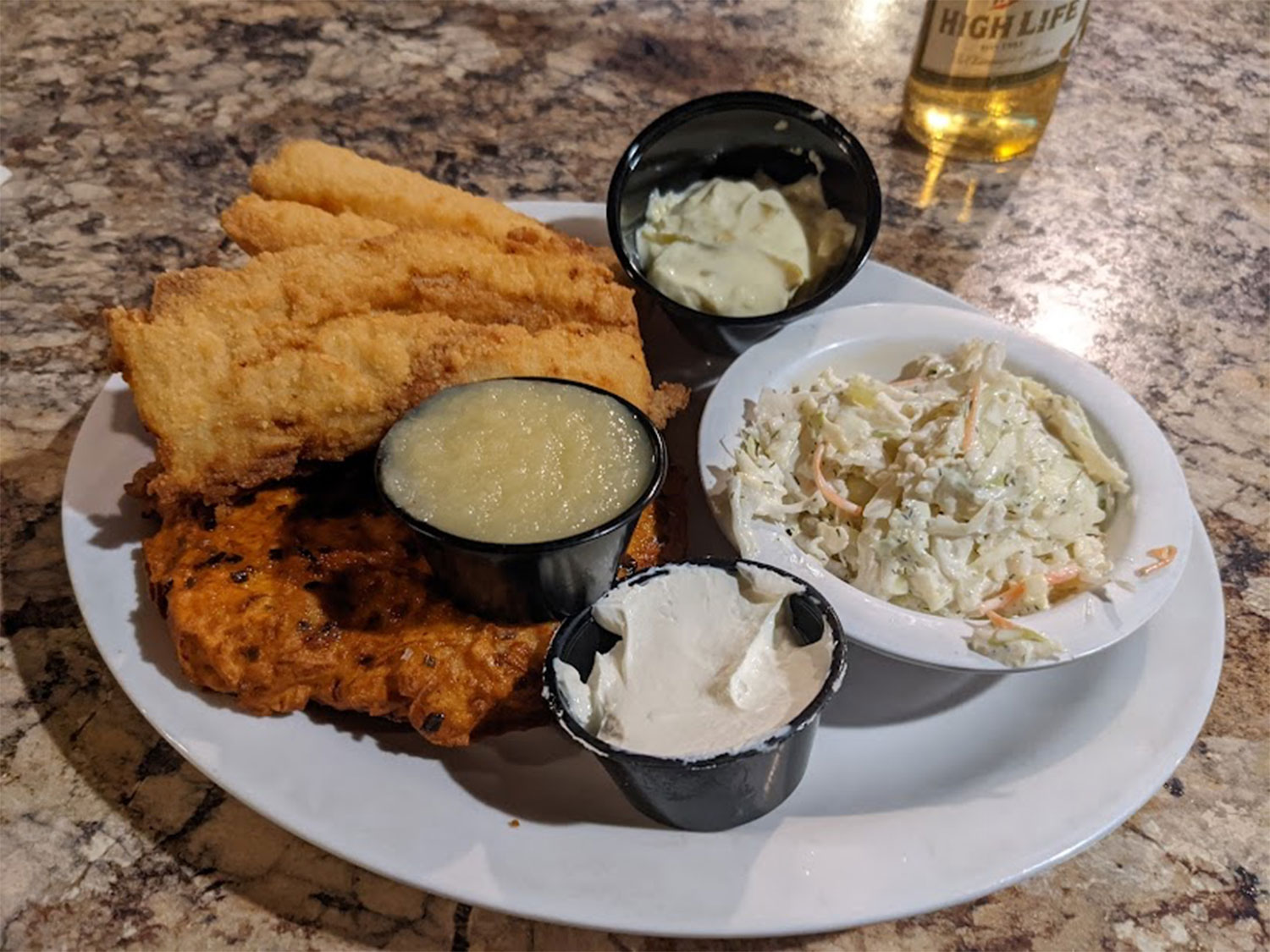 Exclusive articles, podcasts, and more. Support Milwaukee Record on Patreon.
---
RELATED ARTICLES