Caleb Westphal hasn't missed a Friday fish fry since 2013. Follow along with his never-ending adventures here. This week: Country Squire Supper Club.
"The young man watched the snow through the windows. He wanted to stay in that cafe forever. The curious feeling swam through him that everything was beautiful there, that it would always stay beautiful there."
While some of you probably have been going to Country Squire Supper Club in Muskego for decades (S72W16373 Janesville Rd., 414-422-0140), my poor soul somehow never heard of it until January 30, 2022. Did I then add it to my physical list of fish fry places to go to? Nah. Friday was six days away, and I decided at once that's where I'd be going.
"It's gonna be quick," the hostess told me reassuringly, as she put my name down in a spiral notebook—this was despite it being just after 5 p.m. on a Friday with the barroom being moderately full. As I walked the few feet over to the long, padded bar to order a drink—my first since the early morning hours of New Year's Day—I noticed snow gently falling behind the bartenders, beyond the rectangular windows that spanned above the backbar. Had it really started snowing right as I had walked inside the building, or hadn't I been paying attention?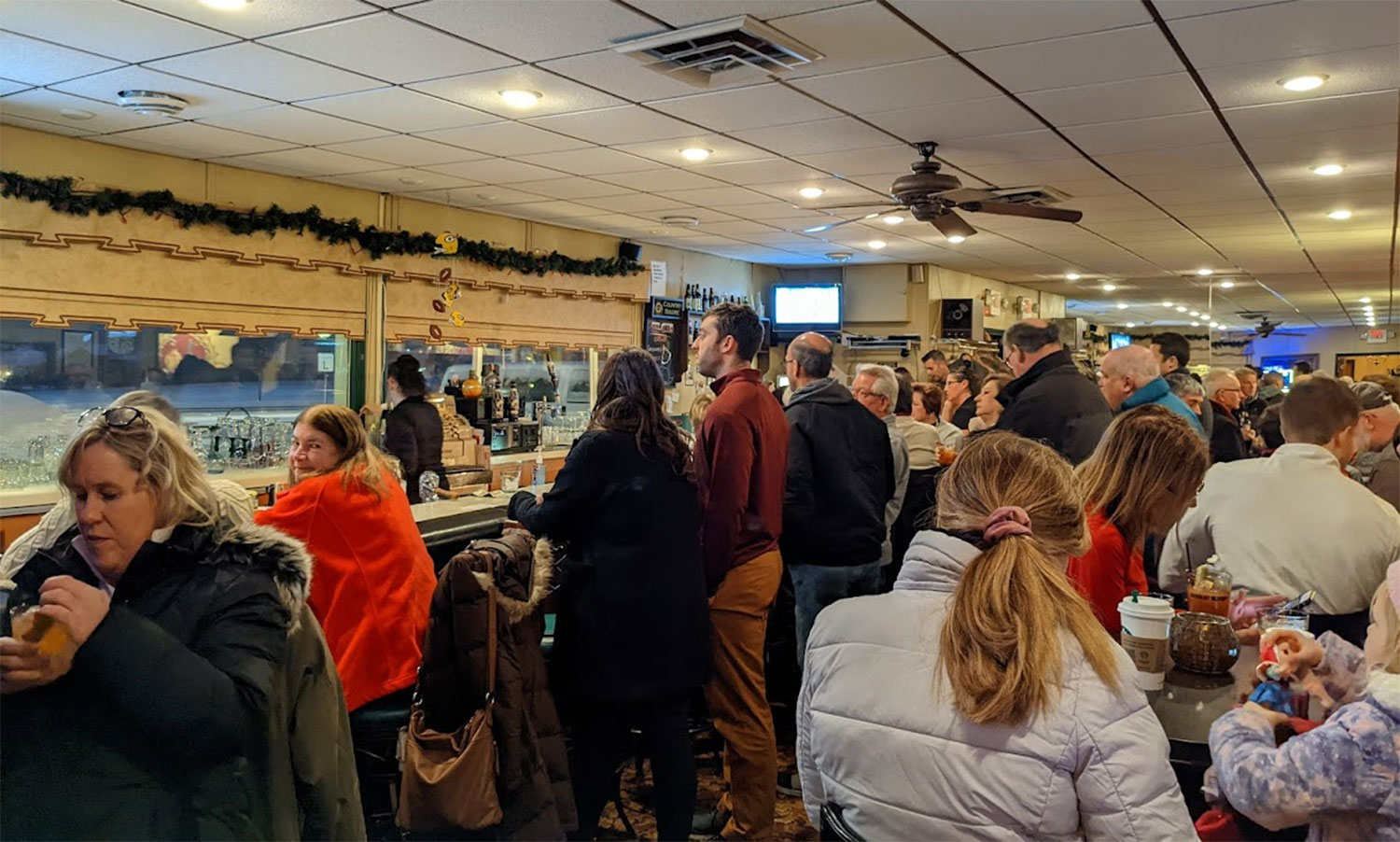 After procuring an Old Fashioned—a well-balanced concoction of brandy, mix, and soda topped with a few cherries—I made my way to the far end of the bar to sip and take in the scene. I watched the snow through the windows. I imbibed the room like I did my drink. It was 2022, but I felt as if it could have been 1990, for the sights were not unlike those I saw at the age of four. The surroundings lulled my mind into a dreamlike state. The curious feeling swam through me that everything was beautiful here, that it had always been beautiful here, that it would always stay beautiful here. Suddenly, the sound of my name cut through the crowd from the other end of the bar. It hadn't been much more than five minutes since I had arrived, but it was time for a fish fry!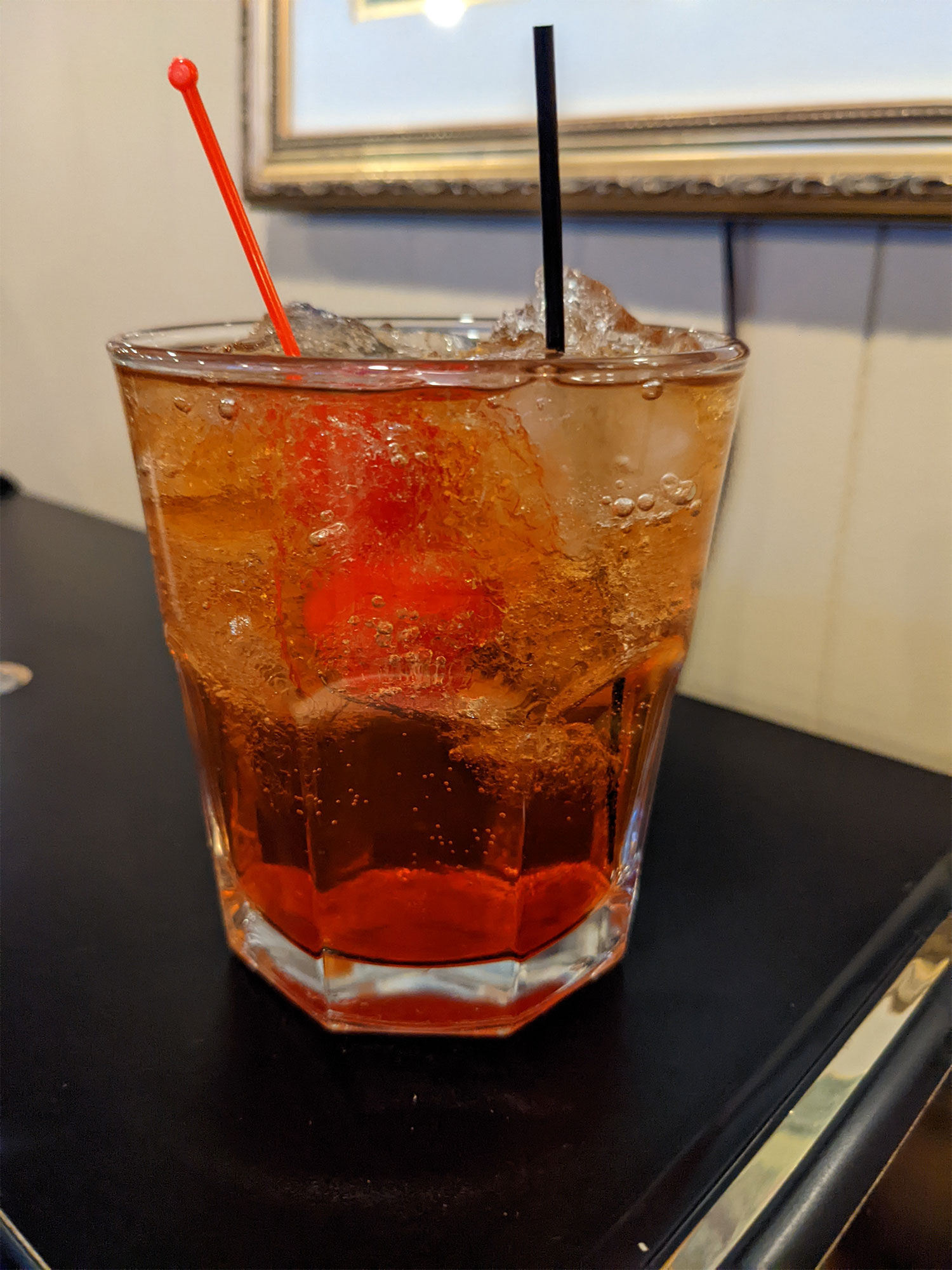 A fireplace is set where the two dining rooms meet, giving off warmth to both. I was seated in the larger of the rooms, and snow continued to fall outside of the window behind me as I looked over the menu. "Friday Fish Fare" choices are deep fried cod ($13.99), baked cod ($14.99), baked cod almondine ($15.99), lake perch ($16.99), and boiled shrimp ($17.99). All come with a choice of potato pancakes or french fries. A side of potato pancakes is available for $4. Parties of three or more who order the deep fried cod are served family style, which made me wonder how they count out the pieces since it is not an all-you-can-eat fish fry.
More seafood options are listed below this, in the "Dinner Entrées" section: broiled walleye pike ($17.99 half/ $23.99 full), poor man's lobster ($18.99), salmon filet ($18.99), sriracha salmon ($19.99), lake perch ($21.99), breaded shrimp ($23.99), and broiled scallops ($24.99). Each comes with soup or salad, choice of potato, and bread. I went with the fried cod with potato pancakes, and ordered a cup of clam chowder ($3.99) too, which I found on the backside of the menu.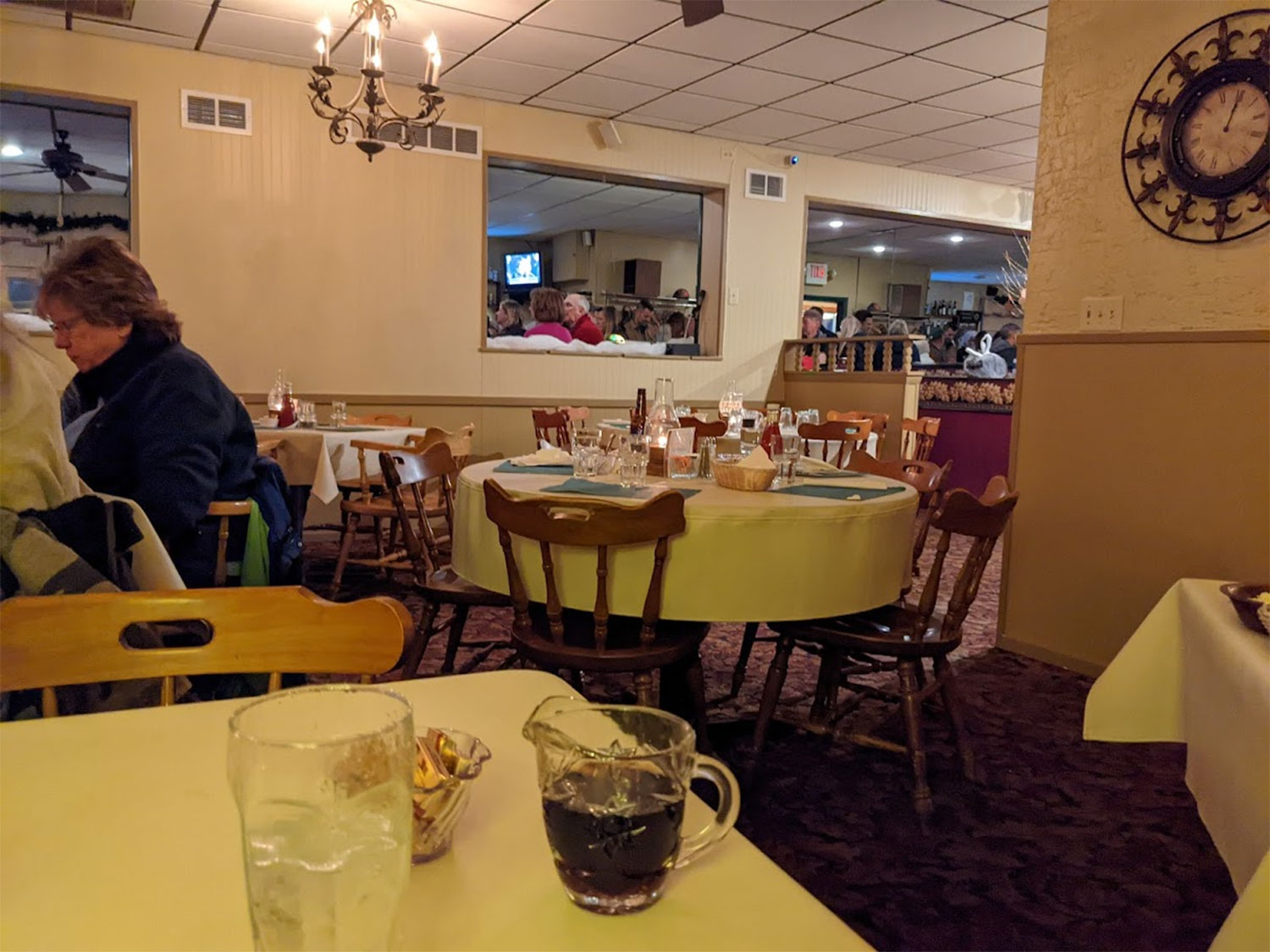 Everything moved quickly—I ordered in no time, and it wasn't long before the chowder arrived. As my server was setting it down, I ordered a bottle of Miller High Life. Before I could get my spoon in the chowder, someone else set down a basket of bread, a small glass container of applesauce, and a salad bowl full of slaw.
Seasonings abounded, but didn't overpower the chowder the least bit. Vegetables were plentiful too, and were tender but not overly soft, while the base was on the thinner side. I shuffled between the chowder and the bread basket, which held smaller pieces of halved marbled rye with a salted crust. Before the evening ended, my bread basket was refilled and emptied once more.
The coleslaw was considerably crunchy, being made with coarsely cut green cabbage and carrot that was bathed in a salad dressing. It bursted with flavor, although if there was pepper or some other seasoning present, I didn't notice it. If I had to guess, the slaw had been whipped up fresh earlier in the day.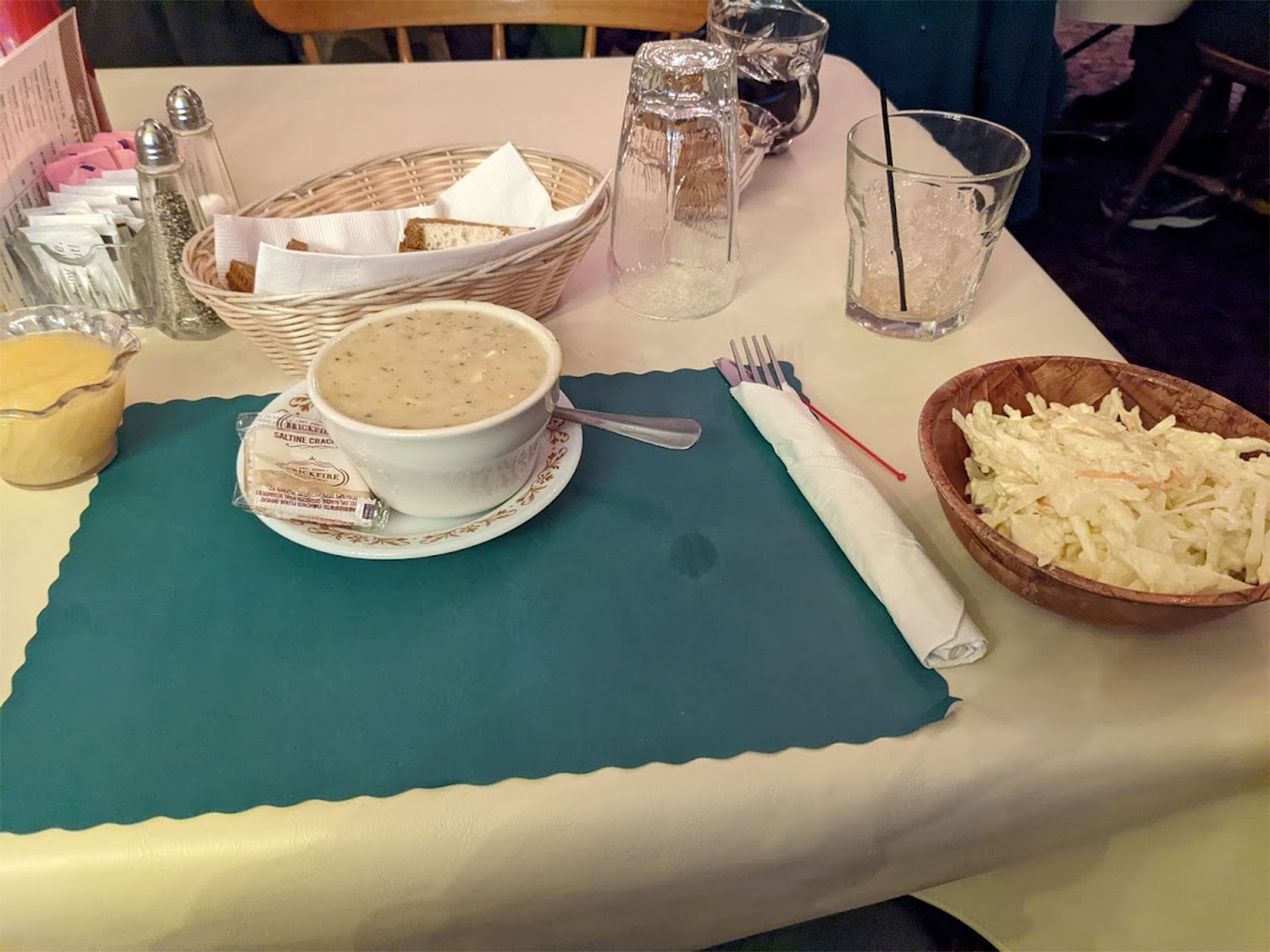 "Ope, here's the next thing," I thought, as I took the final bites of chowder and the plate of fish and potato pancakes was set in front of me. When people say something is as thin as a pancake, they usually are lying to you, even if they are talking about potato pancakes, but these potato pancakes, of which there were three, were as thin as pancakes. Actually, they may have been thinner than most breakfast pancakes, which they looked like. Compared to most potato pancakes, they had more of a mealiness, and perhaps contained a larger proportion of flour and smaller proportion of potato than average.
They were also very neutral in flavor. But there was a glistening creamer glass of syrup sitting on the table that seemed to be crying out to be poured. I went for it, and dabbed a small amount of applesauce on the cakes as well, and by golly if the pancakes didn't come to life and taste quite reminiscent of excellent breakfast pancakes.
The cod was a stand-alone fish, meaning it was good enough that tartar wasn't necessary. Meaty, chunky, and white flaky goodness was covered by a light and thin breading that was easy to cut through. The breading may have been delicate, but it was still ancillary, providing a flavorful and non-greasy gateway to the goodness beneath. While the cod didn't need tartar, I didn't go without it. There was something unique about it I couldn't pinpoint. Was it the type of pickle or relish in it that gave it a distinct crunch? Or was something else at play? I couldn't get to the bottom of it, but regardless, it wasn't a bad pairing with the fish.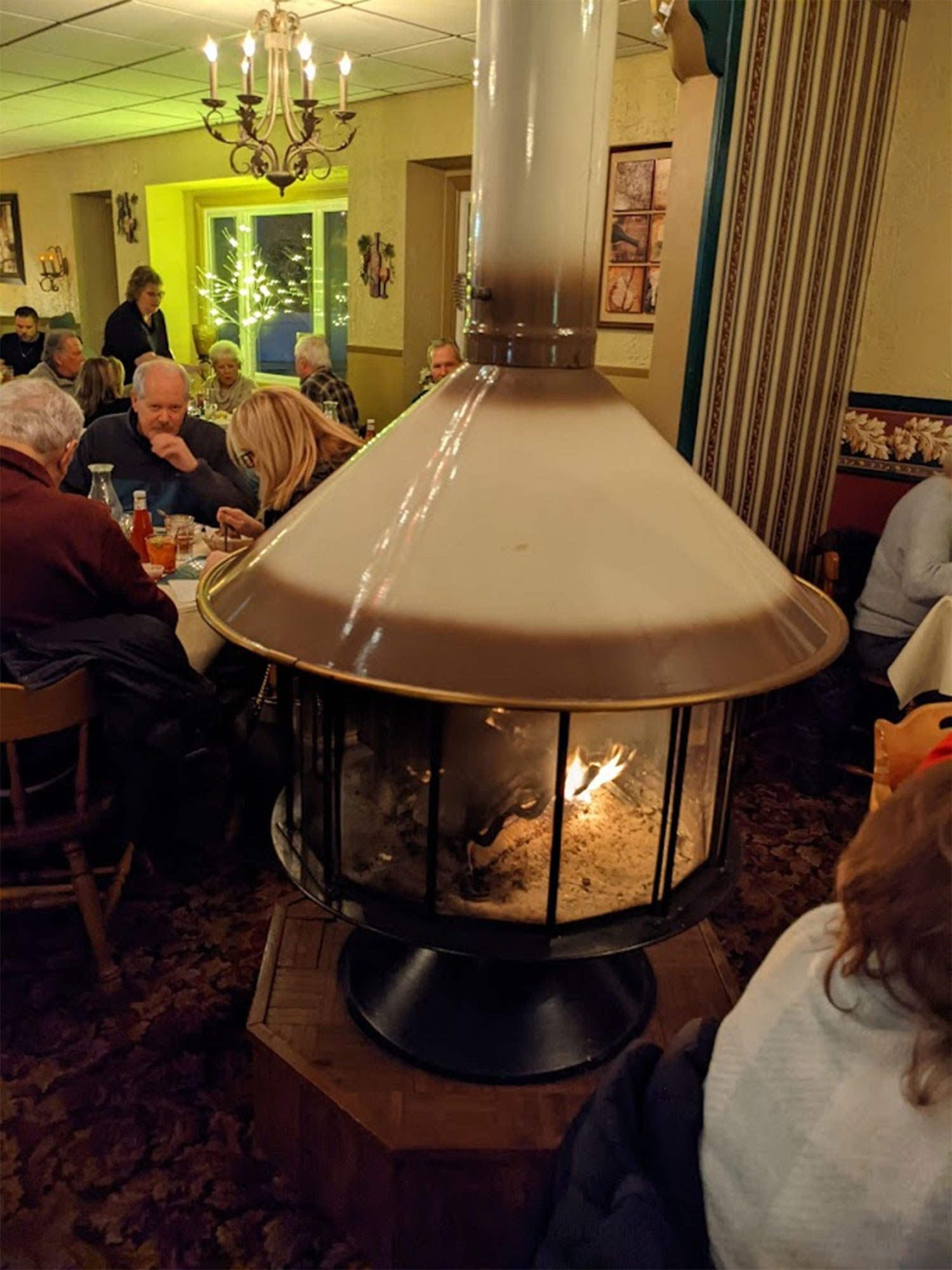 True to its name, Country Squire Supper Club has a supper club vibe. But it is not an intimidating or hoity-toity kind of place. Rather, it is cozy, accessible, and down-to-earth—not in a shabby way, but in a way that exudes charm at every nook. In short, it's the kind of supper club perfectly suited for a Friday fish fry.
Those who enter might feel like they've walked into 1990, but this is an asset. Coincidentally, Ted and Linda Witkowiak have been the restaurant's proprietors since that year. I found records of the Country Squire Supper Club going back to the late 1950s, and for a time in the 1970s its name was changed to the Towne Casino, when the current downstairs party room was a disco called 1 Down Disco. By 1979, new owners brought back the Country Squire name and an all-you-can-eat fish fry was on the menu for $3.50.
As much as I wanted to stay and continue watching the snow through the windows, I ventured outside to what had become a snowstorm in only 45 minutes. Yes, I had just had the full supper club experience in less than an hour. While I was sad to leave so soon, I had the feeling that everything was beautiful there, that it would always stay beautiful there—meaning if I came back this summer or next year, I'd still find the same magic. So I put the car in gear and drove off, and listened to the sound of the engine, the sound of the tires in the snow.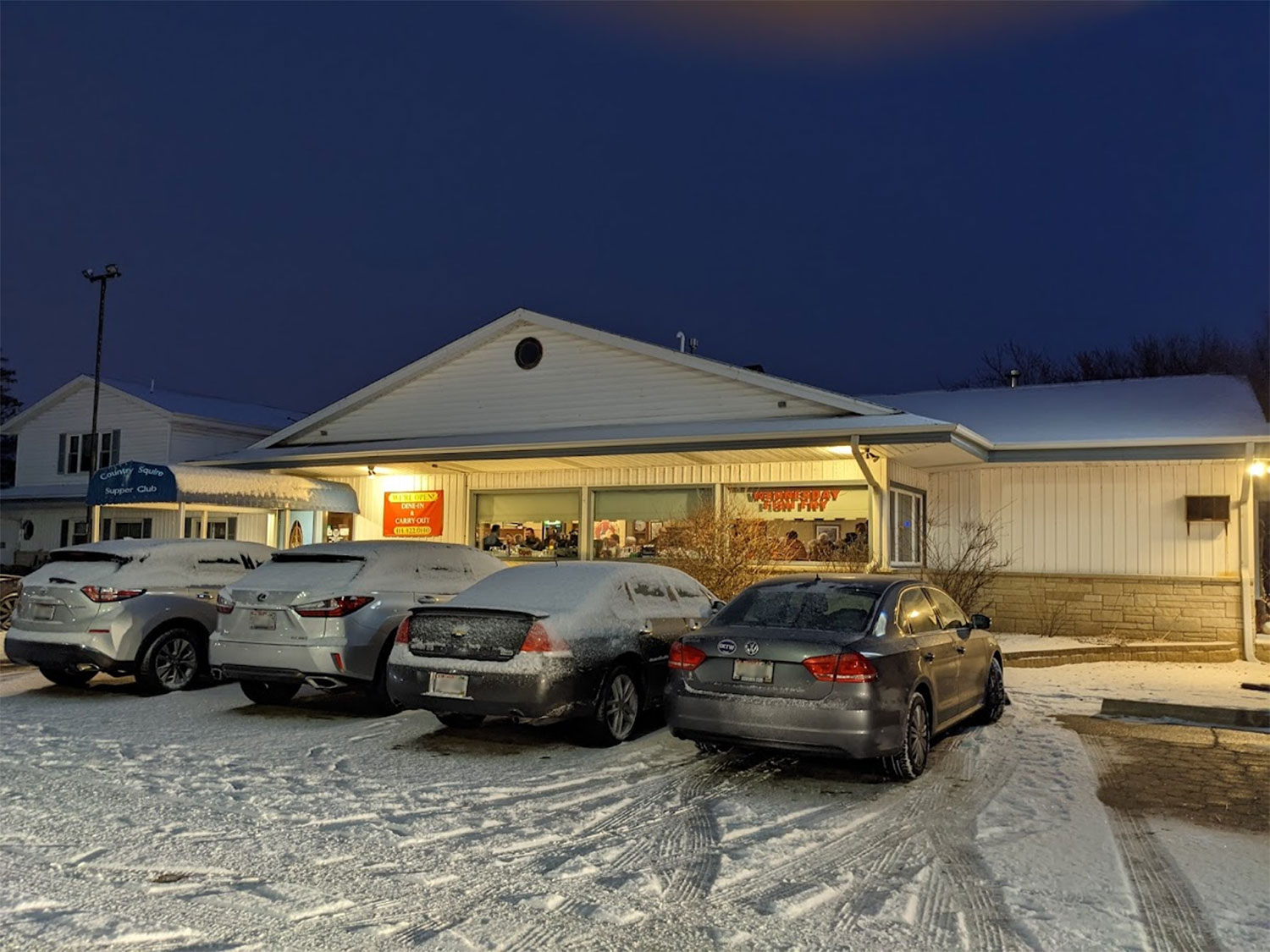 Without a doubt Country Squire Supper Club belongs on the best fish frys in Milwaukee (and beyond) list. But what about the not-often-given "RECOMMENDED" stamp? This I was torn on. Surely I would give it the stamp if all-you-can eat would have been an option. The tartar, pancakes, and chowder were all good, but they weren't exceptional. And did you see those subpar Yelp reviews? All those people can't be lying. But despite that, something keeps pulling me in the other direction. For the standalone goodness of its fried cod coupled with its timeless charm, not to mention its crunchy fresh slaw, and at least in my case, quick and satisfactory service, I'm giving it the stamp. This is the real deal, folks.
Takeaways: Timeless charm; quality service; plenty of fish and seafood options; standalone cod; pancakes made for syrup; crunchy fresh slaw; refillable bread basket. RECOMMENDED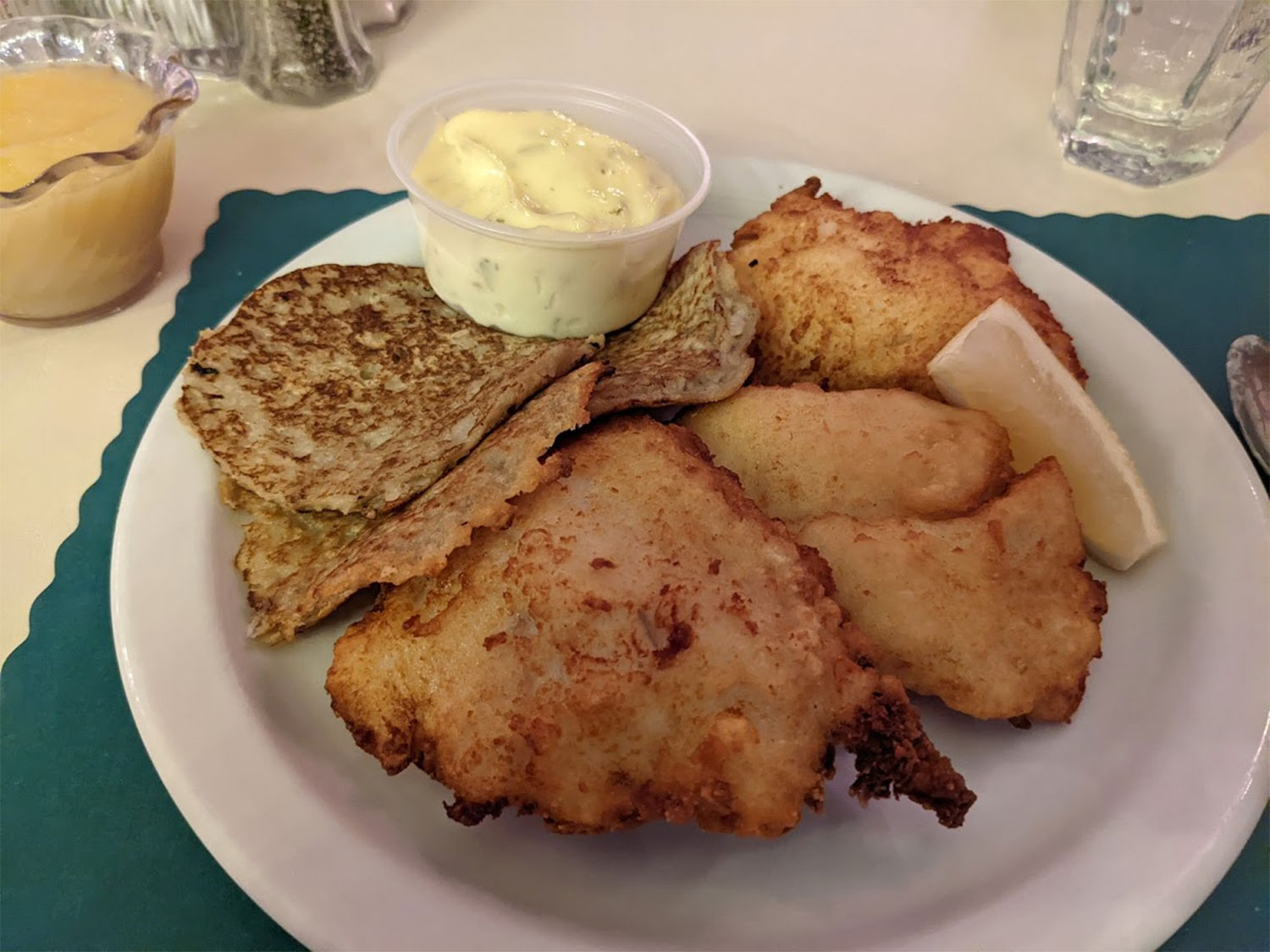 Exclusive articles, podcasts, and more. Support Milwaukee Record on Patreon.
---
RELATED ARTICLES