Caleb Westphal hasn't missed a Friday fish fry since 2013. Follow along with his never-ending adventures here. This week: Brewtown Eatery.
Located on the southwest corner of S. 51st Street and W. Howard Avenue, in the same building as a Dollar General and The Scuba Diver Store, Brewtown Eatery (5121 W. Howard Ave., 414-321-3900) is a bar and grill that has been in business since 2013. I've had Friday fish frys there twice, in 2014 and 2016, and don't remember much about the experience besides that the place was somewhat busy and the food was at least good enough to warrant a return. On the third Friday of my ninth year of Friday fish fry eating, I returned again.
After talking to a host who said I could sit wherever I wanted, I took a seat at a high top in the front dining area, from which I could overlook the bar. Seats were relatively easy to come by despite it being after 5:30 p.m. About half of the 10 tables in the dining area were occupied. The same went for the tables adjacent to the bar, and the bar itself was about half full, or just over.
On the menu I found cod ($12.95 for beer battered, breaded, baked, or baked Cajun), lake perch ($15.25), bluegill ($15.25), the Brewtown Platter ($16.25 for two pieces each of cod, perch, and bluegill), and beer battered jumbo shrimp ($14.25). Each comes with a choice of chips, fries, onion rings, potato pancakes, or a baked potato. A fish sandwich ($10.25) that comes with fries or chips is also available.
I scoured the menu for clam chowder, but the closest thing I could find was "soup of the day." Surely it had to be chowder! But there was no need to ask. Upon looking up from the menu I found "Soup clam chowder" written in chalk on the wall. I recalled what Paul Simon had said: "The words of the prophets are written on subway walls and tenement halls…" The words of the prophets most definitely include clam chowder, so they must have scribed this message too. Maybe they were also trying tell me that it was National New England Clam Chowder Day—something I hadn't realized at the time.
Before long I had ordered an O'doul's Amber, a cup of chowder, and the Brewtown Platter with pancakes. The beer came out soon enough, but I kept waiting and waiting for the rest. Would the chowder come out first? Close to 45 minutes passed before the chowder and fish fry arrived at the same time.
I was in a predicament. The chowder was steaming hot, but I wanted to eat it first. The fish fry was cooling down quickly, but I wanted to eat it second. I dove into the chowder, which had arrived in a bowl instead of a cup. If there ever was a time to call chowder creamy, this was that time. The outsized creaminess provided the chowder with the bulk of its mass, texture, and flavor. Because of it, the clams and vegetables seemed few and far between. This to some extent could have been an illusion, and some pieces of clam were quite large too. I ate the rye bread along with the chowder, to cut the heat. The bread was a little crusty around the edges, but not in an off-putting way, and the bread and chowder were simpatico.
Without a doubt, these were the smallest pieces of bluegill I've had at a restaurant—they fit completely in the container of tartar sauce. That always-distinct bluegill flavor permeated them, but wasn't as robust as it often is. The moderate-sized perch fillets had a bit more zing of flavor. The breading that covered both types of fish was so light that the pieces all but appeared to be pan fried. While the breading didn't provide much flavor, its texture was superb, and overall it was ideal for the fish it covered. The two large pieces of cod were fleshy and bulged out from their beer batter, which had a pleasant crunch and notes of sweetness. The tartar was standard, with a twist: there was a small amount of Thousand Island dressing mixed into it.
Crunchiness and cracked pepper defined the coleslaw. It had a very light cream, which brought out the crunch, and the pungent flavor of peppercorn dotted the cabbage. As for the potato pancakes, they were rather uniform in appearance, but not completely, and had a satisfying mouthfeel. Sliced green onions were their salient feature and driver of their flavor.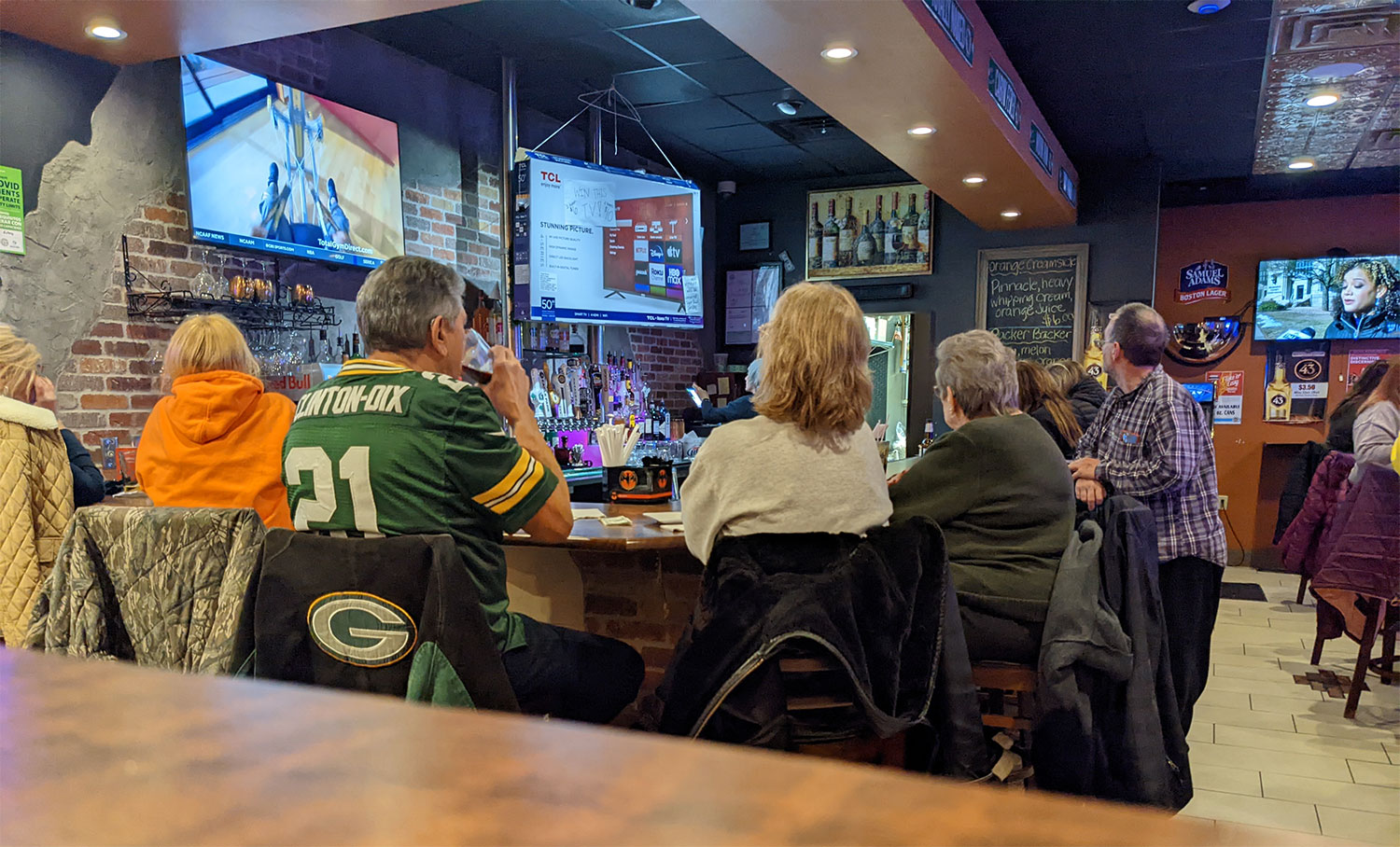 Brewtown Eatery has a solid enough fish fry, but unfortunately, this visit was overshadowed by slow service. Not only did it take almost 45 minutes to get my meal even though it wasn't busy, but trying to get my bill after I was done was also a chore. I witnessed at least two other tables having similar issues, so I know I wasn't an outlier. Of course, with the pandemic still in full swing, a lot of places are short staffed and that should be taken into consideration. But that didn't seem to be the issue here. I couldn't put my finger on what the issue was, as things seemed to be running smoothly on the surface. Maybe it was an off night and Brewtown Eatery still would be worth your time. They have a drive-thru too, which just has to move quicker.
Takeaways: Extra creamy chowder; light breading; tiny bluegill; crunchy and sweet batter; was that Thousand Island in the tartar sauce; appetizing green onion pancakes; lots of sitting around; drive-thru option.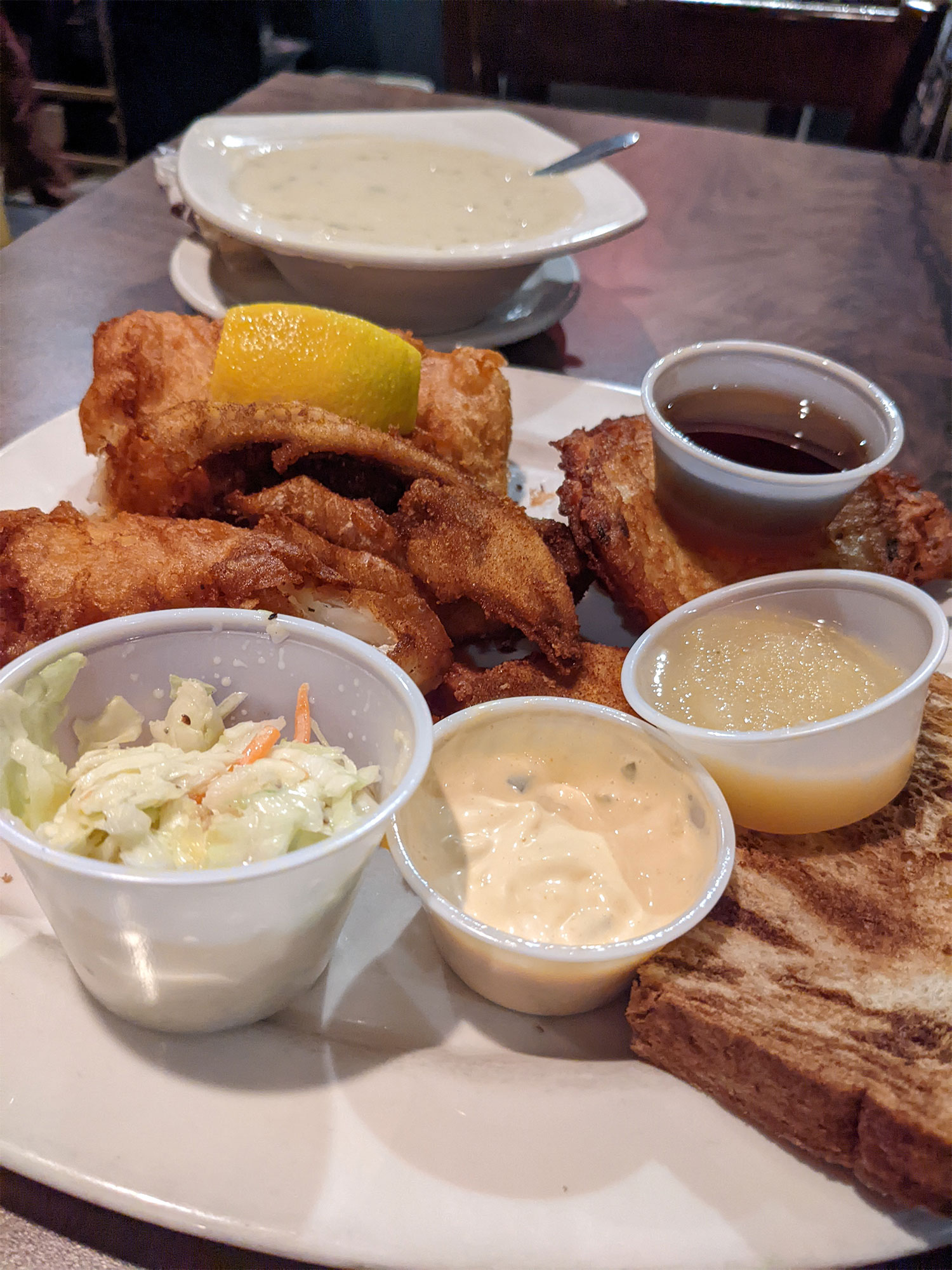 Exclusive articles, podcasts, and more. Support Milwaukee Record on Patreon.
---
RELATED ARTICLES