Caleb Westphal hasn't missed a Friday fish fry since 2013. Follow along with his never-ending adventures here. This week: Spitfires On State.
"We have our doors open for Miller employees leaving or anyone else that needs to stop down," Spitfires On State (5018 W. State St., 414-777-5060) posted to their Facebook page on the afternoon of February 26, 2020, just 12 minutes after they had announced they were closed due to the shooting at Molson Coors. Being only blocks away from the brewery—on West State Street just west of 50th Street—it didn't take long for Spitfires to fill up.
In the weeks that followed, Spitfires On State continued to support the brewery employees, by raising money for the families of those who lost their lives. On the one year anniversary of the shooting, they gave out drinks to any brewery employees who stopped in. Neighborhood bars are usually ordinary places that are frequented during ordinary times, but they sometimes rise to the occasion during extraordinary times. Such is the case with Spitfires On State.
Tammy and Andy Peterson, who had operated Spitfires Food & Spirits in Muskego, opened Spitfires On State in 2012. The State Street building, built around 1895, has been home to many bars, restaurants, dance halls, and soft drink parlors throughout the years. Dino'z, the State Street Retreat, and Jorgy's called the location home at different times going back to the mid-1980s. Prior to that it was owned by the Meister family going all the way back to 1952, known as Meister's and Club 5018. In the 1930s, '40s, and early '50s, it was a tavern—like Si and Flo's Tap Tavern—or a tavern and dance hall—like the Nick Knezich tavern and Knezich Dance Hall. During the Prohibition years it was a soft drink parlor.
Tanya Tucker was playing overhead when I walked in and took a seat at one of the five high-top tables near the bar. It was before 5 p.m., and after sitting for a minute, I decided it might make more sense to order from the bar instead of waiting to see if a server would come around. I stood next to one of the few empty chairs while I waited for a guy to order a Pabst and three shots of Bulleit for himself and his friends. Could these be regulars who had just gotten off of work at the brewery? It seemed possible.
I ordered an Old Fashioned and asked for a menu. The Friday seafood choices at Spitfires are beer battered cod ($12.25); breaded cod with "Italian style bread crumbs" ($12.25); baked cod in garlic butter, lemon pepper, or cajun seasoning ($15.50); a fish "samich" ($9.00); and shrimp, either garlic, beer battered, or breaded ($13.75). Side choices are french fries, chive fries, potato pancakes (not homemade), tater tots, onion rings, and chips. The menu also lists a "Catch of the Day," but it was not available. Clam chowder sure was though. I ordered some of it and beer battered cod, got my drink, and returned to my seat.
Muddled fruit, an abundance of ice, and a moderate pour of brandy were the defining components of the Old Fashioned, which was mixed in a half-pint mason jar. The clam chowder came in a big cup, or maybe it was a small bowl, and was topped with parsley. It had a thin consistency, and clam and potato pieces were split almost evenly in it. If there was another vegetable present, it should have spoken up, because I did not hear it. What I did notice is that the chowder stayed hot until it was gone. Like the Old Fashioned, nothing set the chowder apart, either above or below the mark.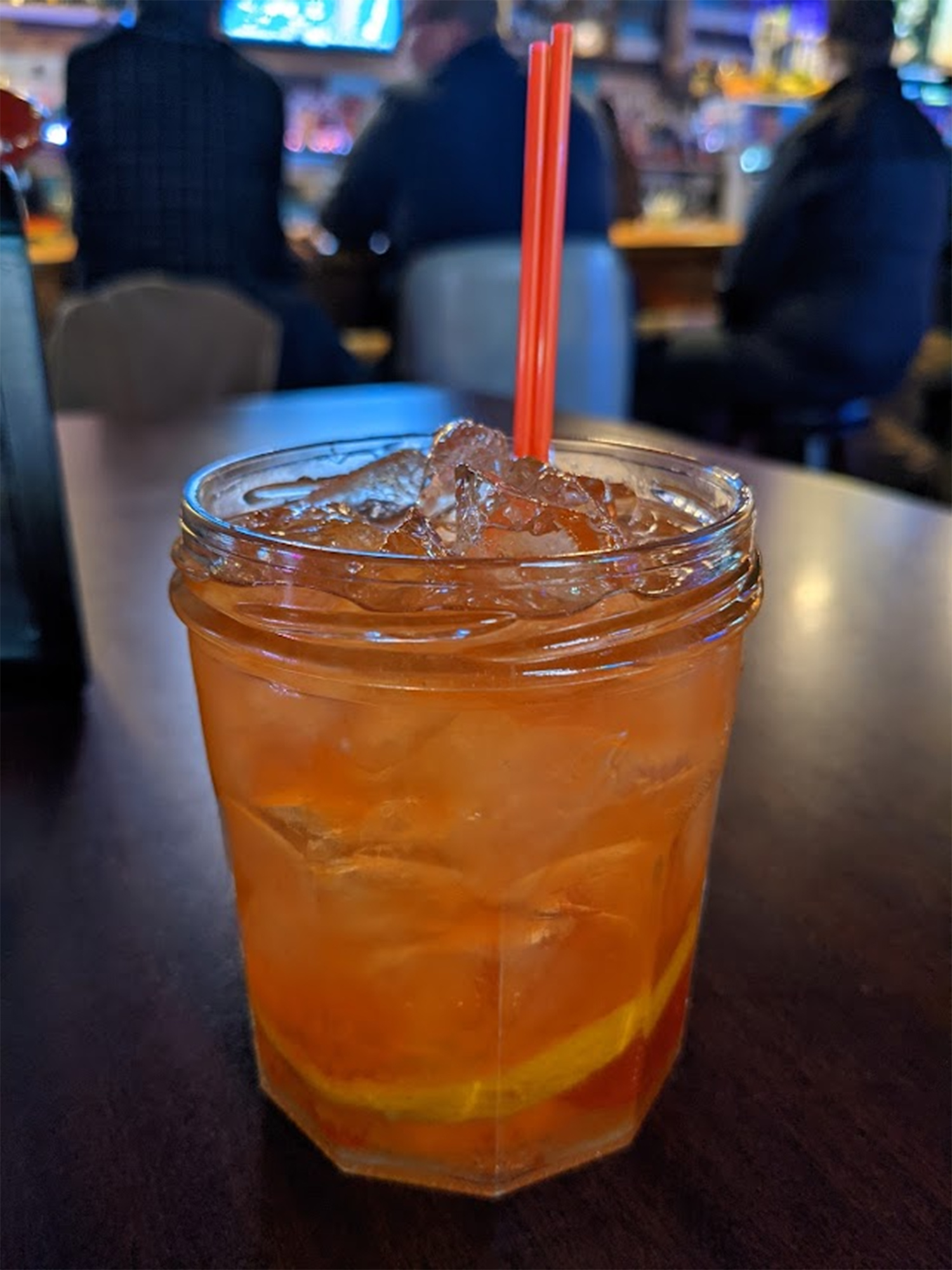 Spitfires may be known for their "Award Winning Chicken Wings" and homemade sauces that go with them—31 of which I counted on the menu—but I came for fish and only one kind of sauce: tartar sauce. The meal had five pieces of cod. Smaller and of standard quality, they were elevated by the batter, which had a fairly strong beer flavor, as well as uniformity, holding onto the fish perfectly and not being too crunchy or soft.
The tartar was thin, with a piece of relish here and a piece of relish there, and maybe one more piece of relish there, but that was about it for relish. Now, the lighting in the room was low, which gave the tartar almost a yellowish color. Or maybe it actually was yellowish. The taste seemed to have a honey mustard tint to it, too. Maybe it was just the lighting, or maybe I was losing my mind, but maybe there was something unique about the tartar sauce. Whatever the case was, I dug it.
A healthy heap of french fries covered close to half of the basket. They were skinny and salty, but not overly so. The cabbage and carrot coleslaw was mildly creamy and rather crunchy while the light color and soft texture of the rye bread belied its robustness.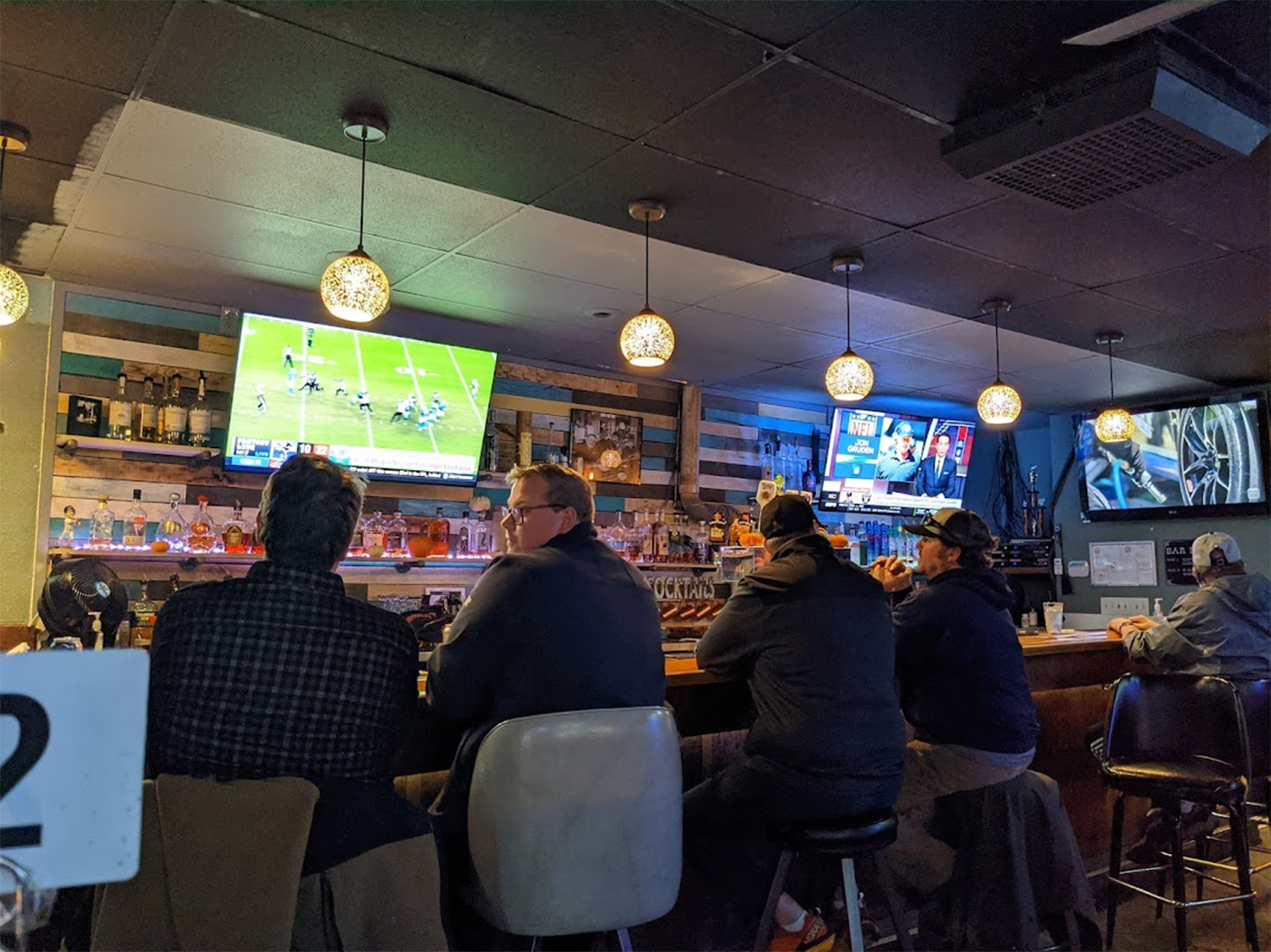 The fish fry at Spitfires On State checks off all the boxes for what is needed for a fulfilling fish fry. But with the exception of the batter, and perhaps the tartar sauce, it doesn't extend the merriment of the meal beyond what is expected. This isn't necessarily a drawback unless you are going far out of your way—if Spitfires is your neighborhood bar, it's a different story. If I lived in or around the Miller Valley, or worked at Molson Coors, this would be my go-to bar, and likely my go-to place for a fish fry. Like many neighborhood bars, Spitfires may seem rather ordinary. But it also serves a fish fry, and it's been known to rise to the occasion during extraordinary times. What else do you need?
Takeaways: Standard Old Fashioned in a mason jar; hot potato-and-clam chowder; beer batter that actually tastes like beer, and also hangs onto the fish; I think the tartar had something unique about it, but I might just have been the lighting and my brain; skinny, salty fries; the rye bread sneaks up on you with its robustness; known for chicken wings; they often run shuttles to Bucks and Brewers games, and to the Summerfest grounds.
Exclusive articles, podcasts, and more. Support Milwaukee Record on Patreon.
---
RELATED ARTICLES